After checking in, we reunite with Scott in the hotel bar and I order a 'Balkan Grill'. To the envy of everyone it turns out to be an amazing and delicious meat feast. Scott fills us in on his Mongolian adventure and how his flight was cancelled due to Donald Trump's son taking his plane. We discuss our plan for our short time in Irkutsk. Our decision was only to spend one day and night here in order to maximise our time on a tour of Lake Baikal.
Browsing the internet for things to do and see in Irkutsk, we decided on a walking pub crawl incorporating numerous sights and landmarks. The city was an interesting mix of new and old architecture. Predominantly the hideous Soviet block style of buildings. We found many trendy bars and restaurants which we enjoyed moving between, eventually setting in an area overlooking the river. Calling it a night, we decided to head back to the hotel in order to get a fresh start for our tour tomorrow.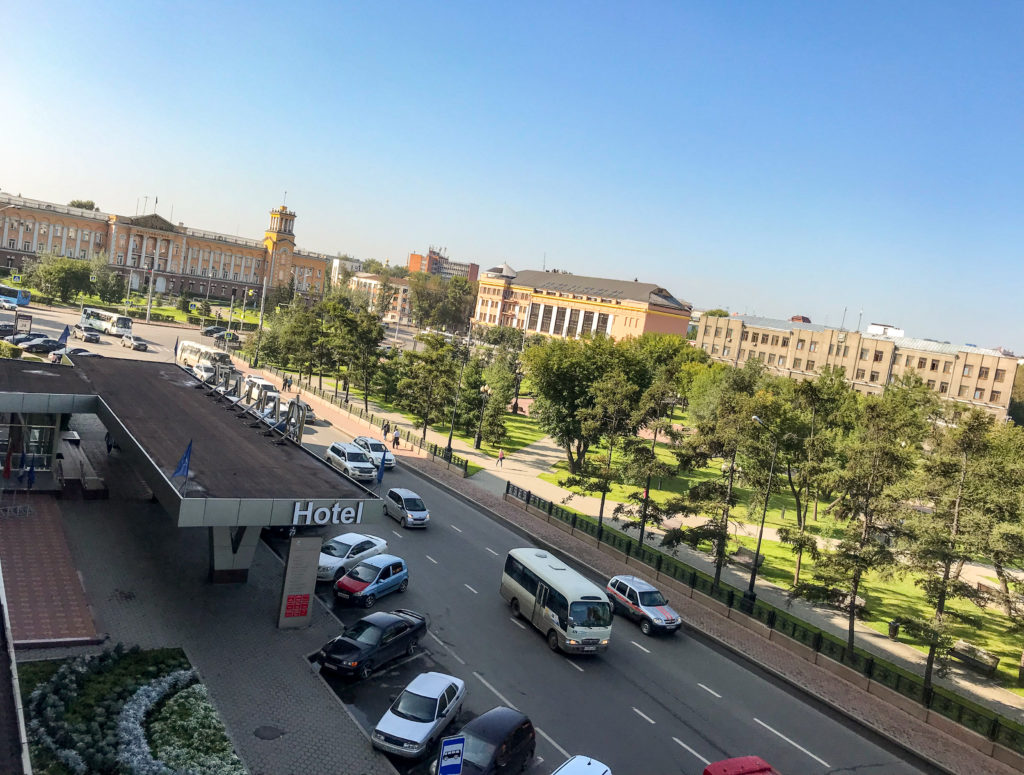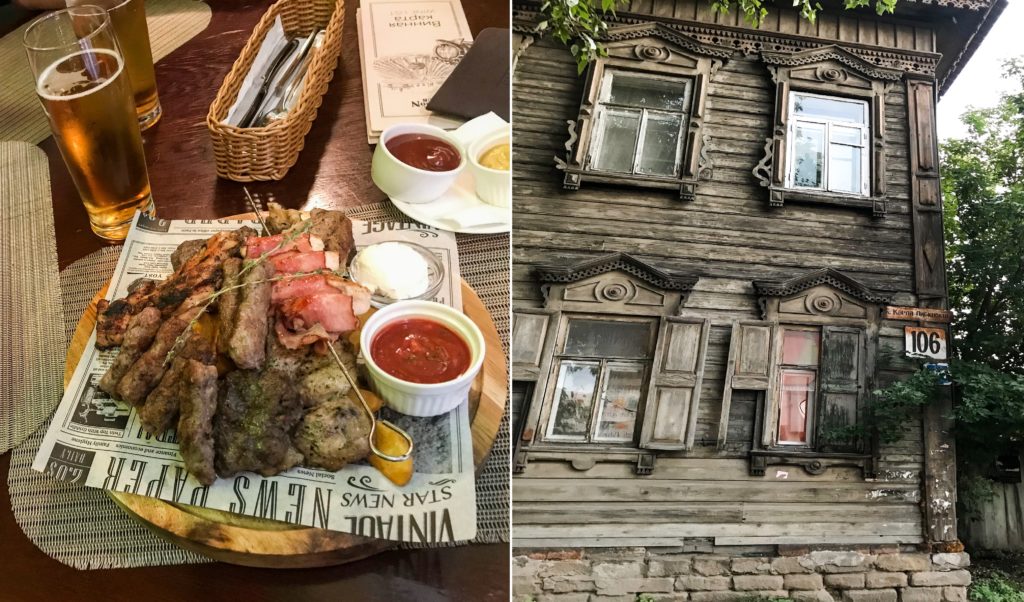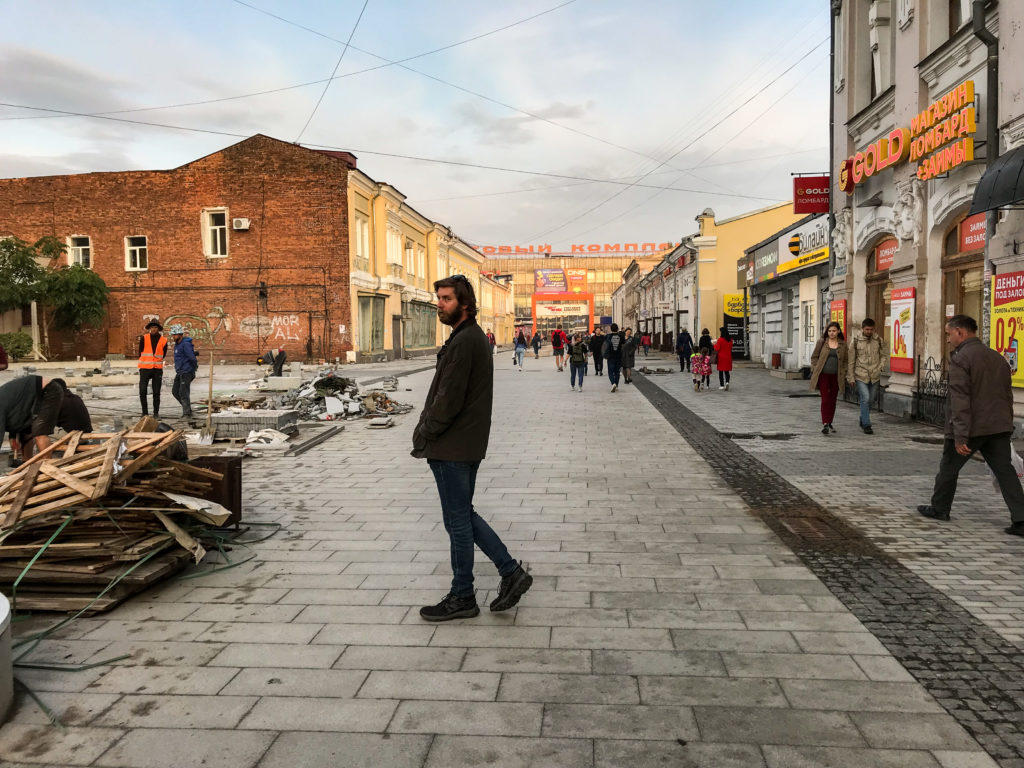 After a typically very unusual Russian breakfast assortment we find our guide waiting for us in the lobby. Leaving our suitcases at the hotel, he leads us to his van and we start our drive to Lake Baikal. Lake Baikal is the largest lake in the world by volume and also the deepest in the world. Our guide's constant speeding makes us feel uneasy and we drive a considerable distance before stopping at a roadside restaurant. Dining on extremely cheap but basic food, fellow diners make no effort to hide their seemingly hostile glares as they hear us speaking English. This is often the case is Russia, even in Moscow.
After finishing our prison food we are on the road again. Speeding at 130 km/h to where we will board a ferry to Olkhon Island, one of the islands on Lake Baikal. We will spend the night in a small town on the island called Khuzhir. The next morning we will drive to the northern tip of the island in an old Soviet style 4WD van. The Republic of Buryatia borders most of the lake and most of the people on the island appear to be ethnic Buryats, a people similar to Mongolians. They are the largest indigenous group of Siberia and their culture is heavily represented on the Island.
A short stop at a lookout with a dramatic statue provides a view of the lake and the surrounding area. We continue on and soon arrive at the small port of Sakhyurta where we board our ferry to the island. There are lots of foreign tourists, many from China. We have a third encounter with a group of retired Spaniards who we first met on the Ulaanbaatar – Irkutsk train, out in Irkutsk last night and then again today. Our guide asks someone to take a photo of us on his Polaroid camera and gives us a copy. A flock of seagulls descend upon the ferry and they circle above and beside us. A very entertaining incident then occurs, a seagull defecates right onto a Chinese tourist's face. There is screaming and their group runs for cover.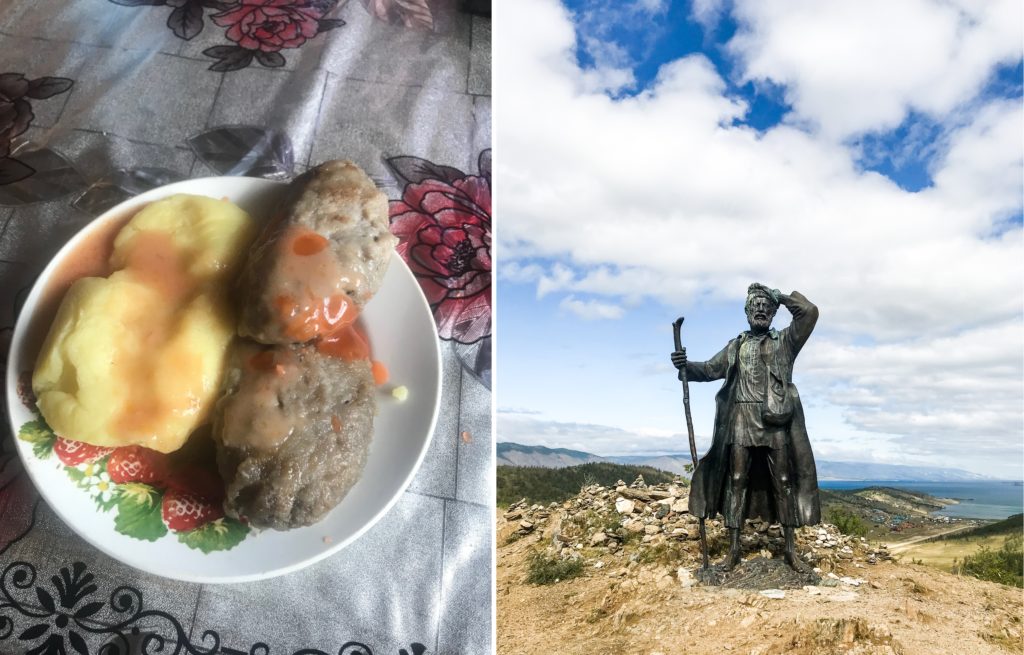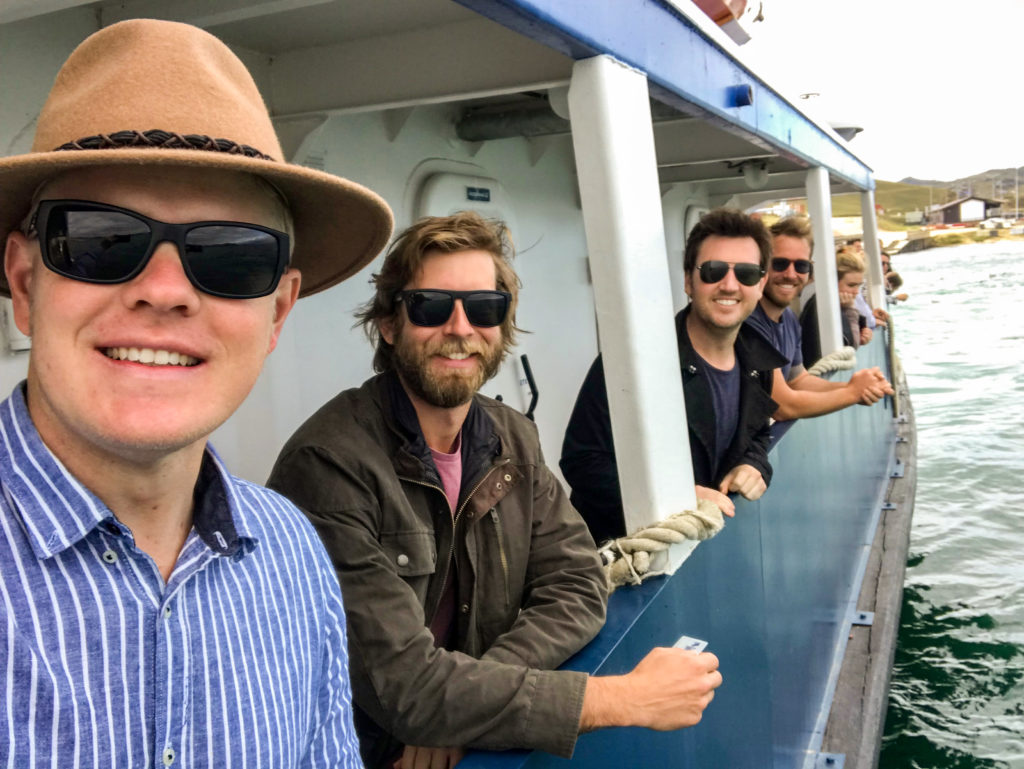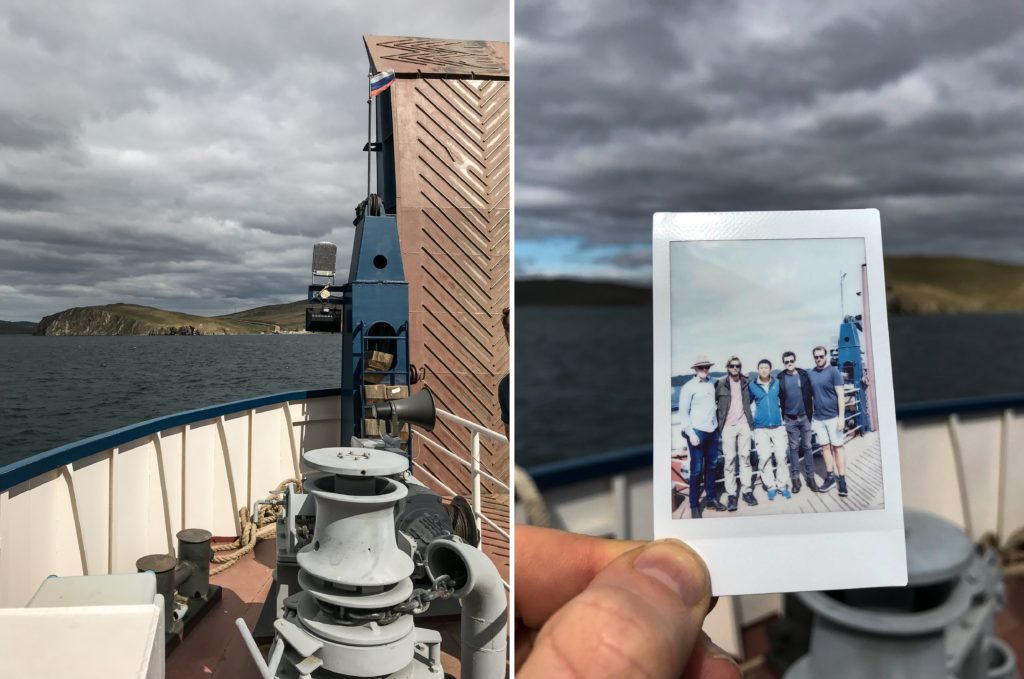 Disembarking from our ferry, we look around to see dozens of those old Soviet vans waiting to pick up passengers. Noticing some souvenir stands we gather around and purchase some vodka glasses and other mementos. A slow and tremendously bumpy journey commences. Our van is quickly overtaken by the Soviet vans. It soon becomes apparent that these are the preferred method of transport on the unpaved roads of the island. Our guide tells us we will conduct tomorrow's excursion in one.
Arriving at the small town of Khuzhir, a drunk man sitting outside a shop yells at us. Our guide leads us to a guesthouse and we pass through a gate. A lone traveller stands there looking at us, confused and disorientated. We greet him and he turns out to be a lone Australian tourist from Melbourne. He is also staying at the guesthouse and only just arrived a moment before us. We invite him to join us as we explore the town and purchase supplies.  Our guide leads us on a walk to a hill that overlooks the lake and the famous Shamanka Rock.
Olkhon Island is a holy place for the Buryat people, and Shamanka Rock is an important pilgrimage site. We come across a series of wooden poles covered with colourful fabric. Our guide tells us that it is customary for pilgrims to tie a piece of ribbon onto the pole and say a prayer. They believe the wind will blow and spread their prayers across the land. We are treated to a home cooked dinner at the guesthouse then spend the evening watching the sunset over the lake and drinking at a small bar in the main street.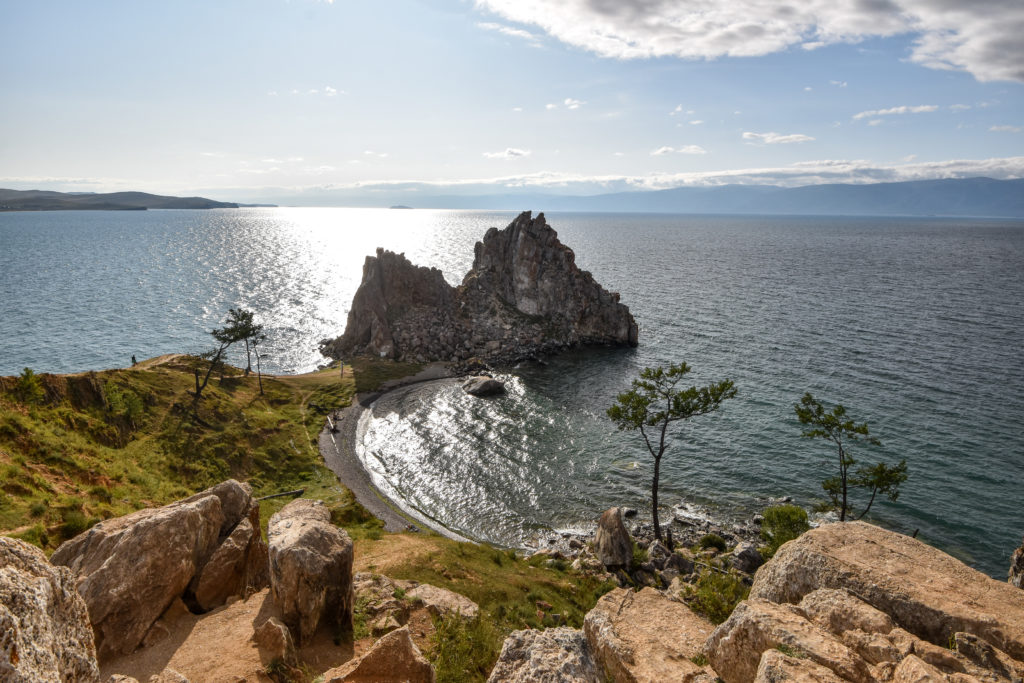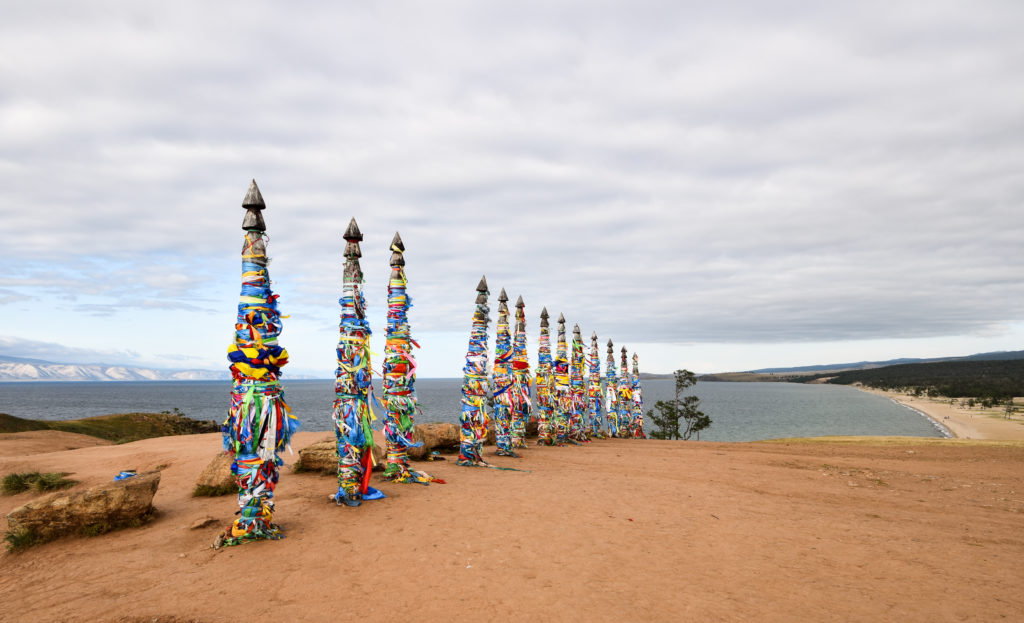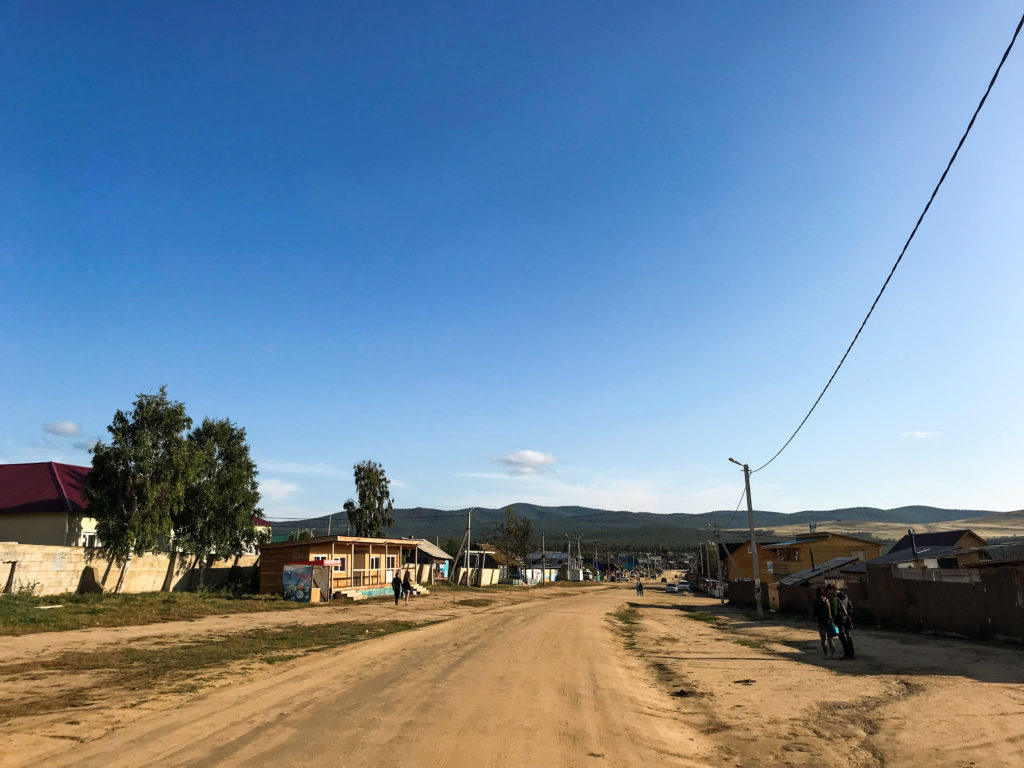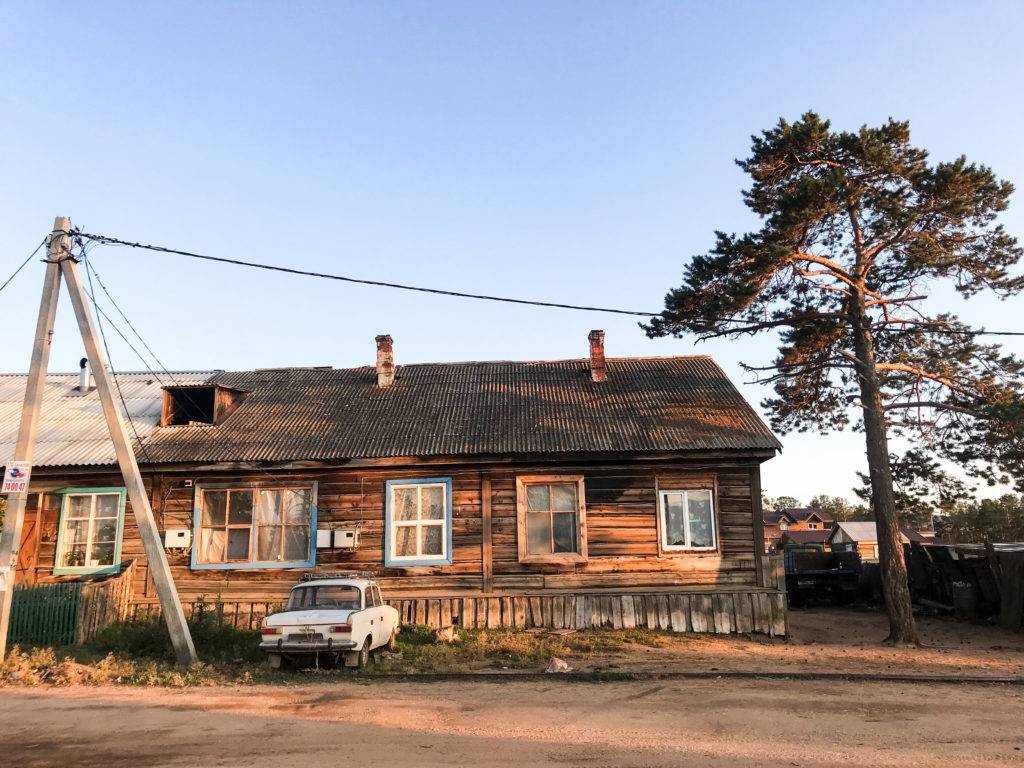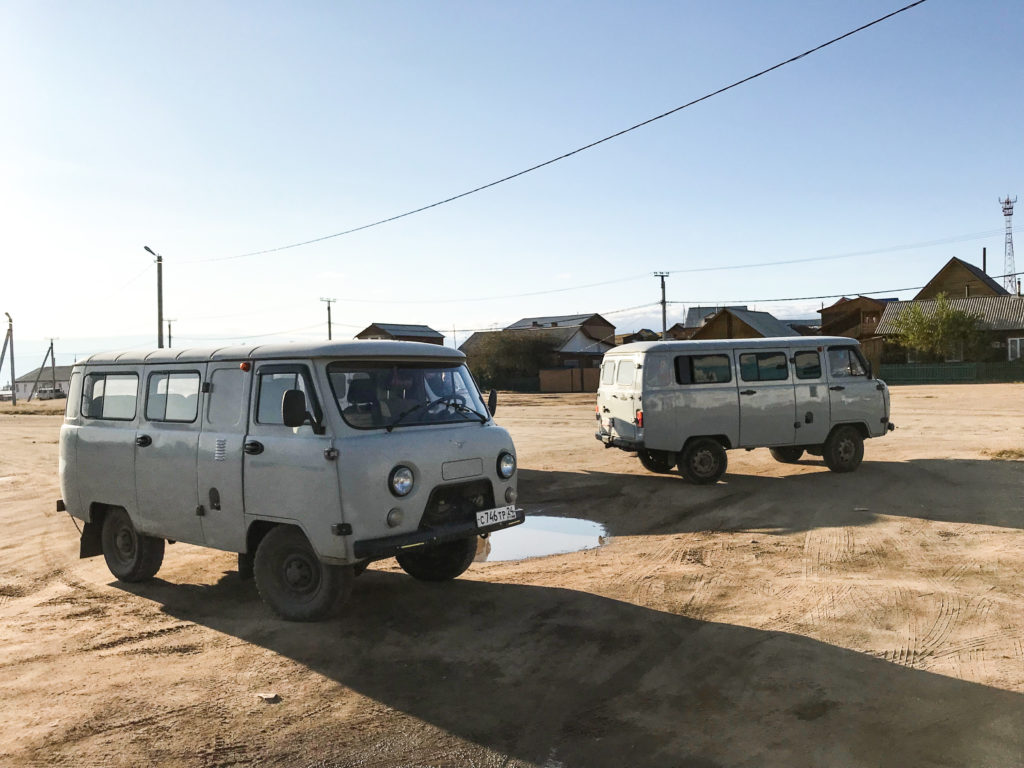 The next morning we enjoy another home cooked meal and meet our driver for the day. He is driving one of the old vans we had seen everywhere around the island. It is his birthday and our guide gifts him a bottle of vodka. We set off and our driver speeds over dirt roads covered with deep ruts. It is interesting listening to him tell us about life on the island and how dependent on tourism their economy is. The views are spectacular and the landscape varies between long yellow grass and dense pine forests. We stop at numerous locations on the way to admire the picturesque views of the lake. Scott takes a brief swim.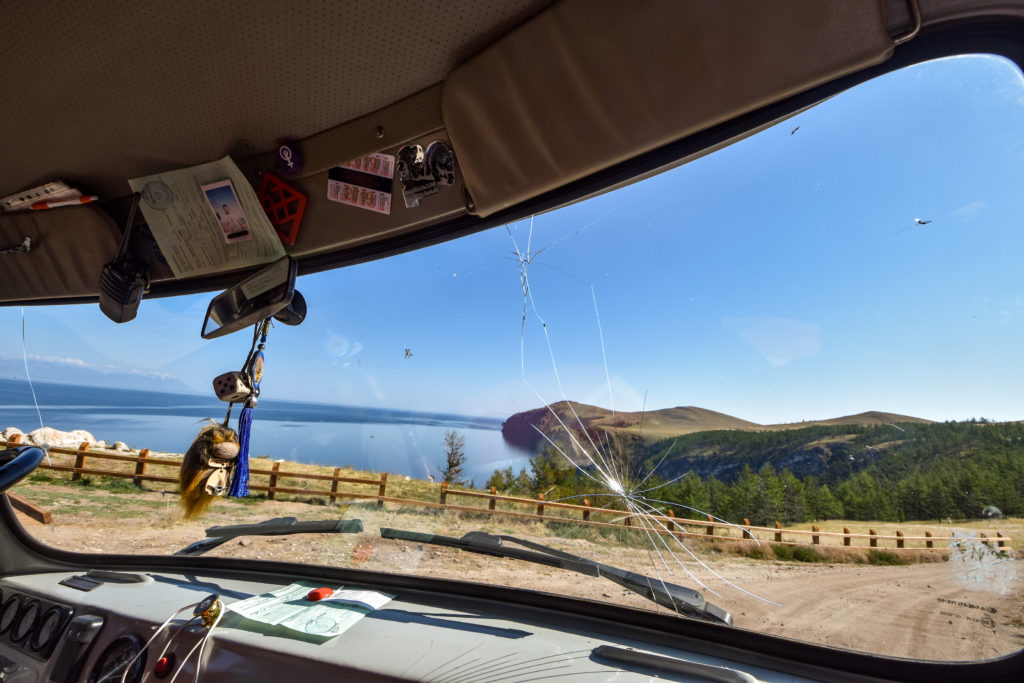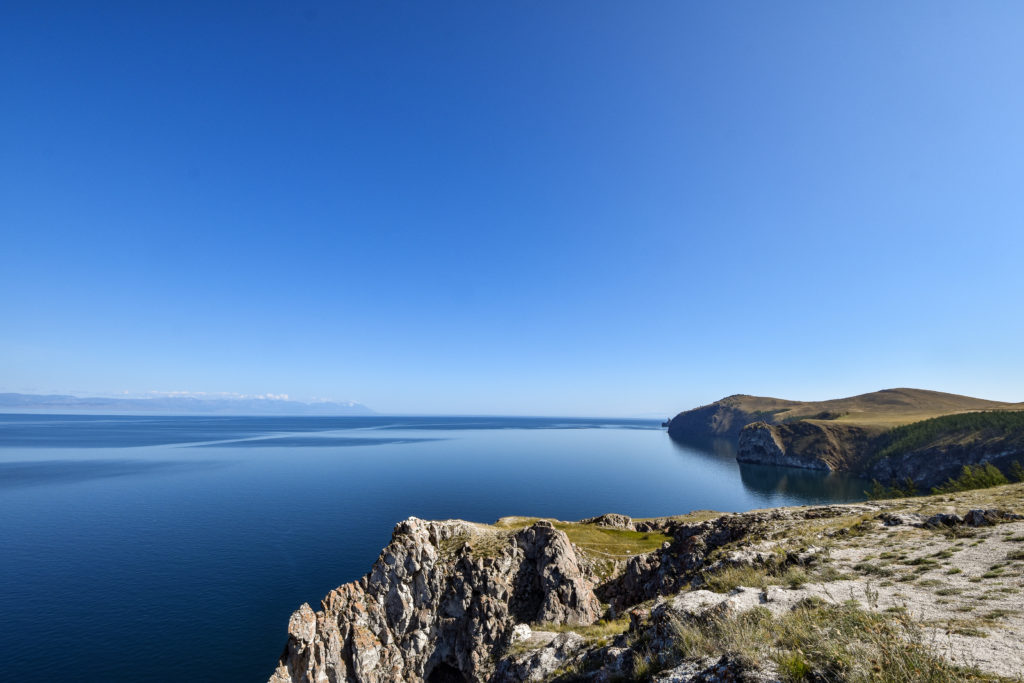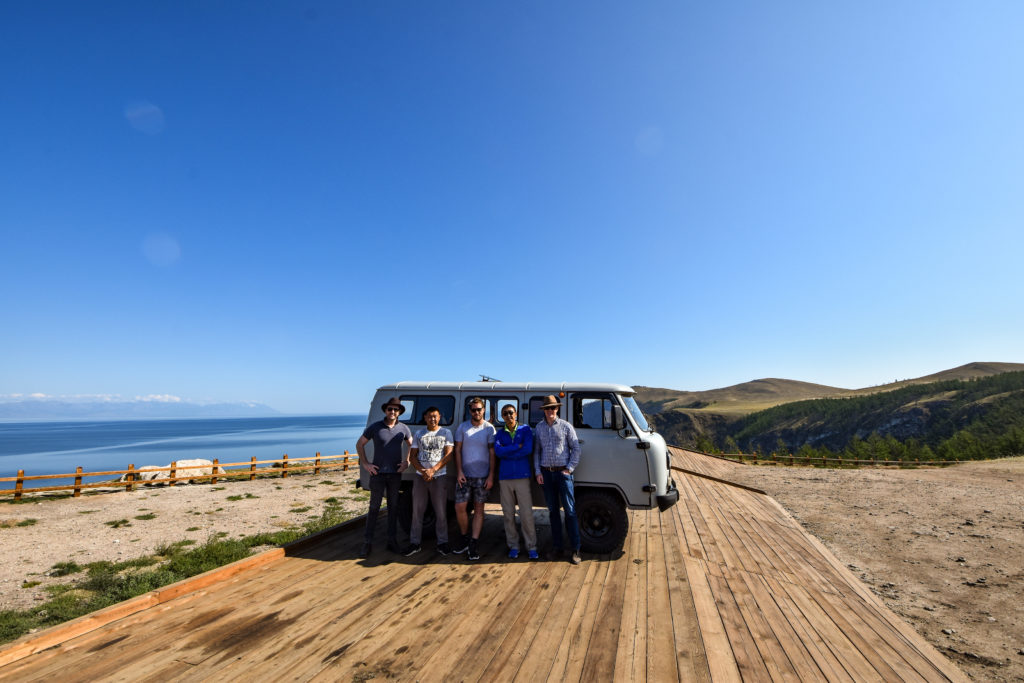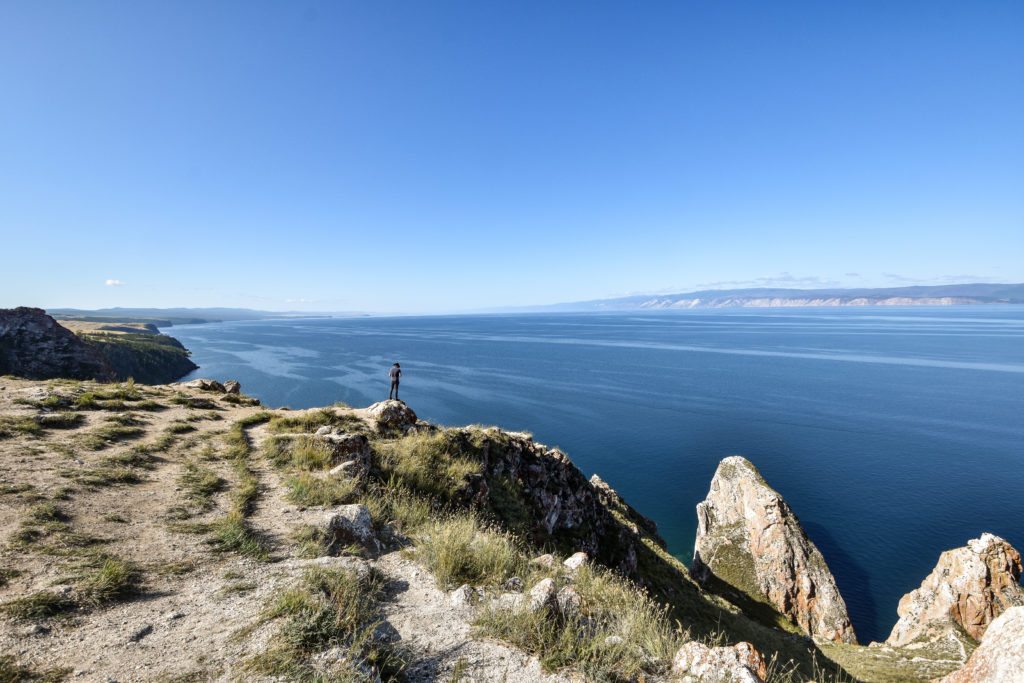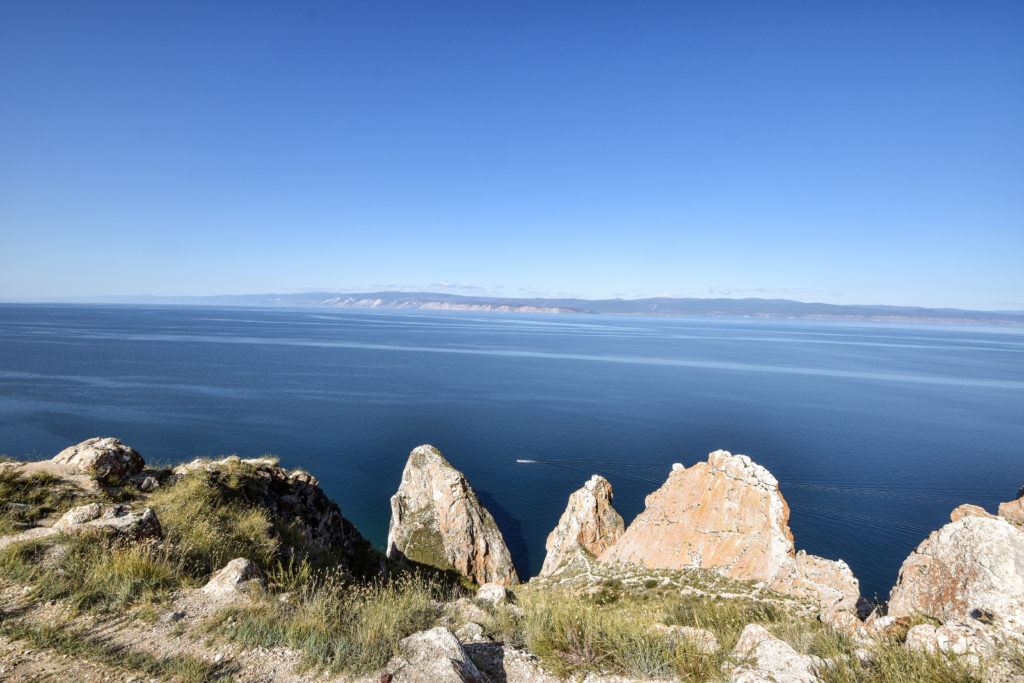 Eventually we park and set off on foot for a hike to the very northern point of the island. Meanwhile, our driver prepares our lunch. Making our way along jagged clifftops and rocky tracks we are met by stunning views of the lake and the shores of the mainland. The blue water edges right up to the dramatic cliff faces and it is hard to believe that water this blue is not the ocean. In winter the surface of the lake is frozen and it is possible to drive and ice-skate on it.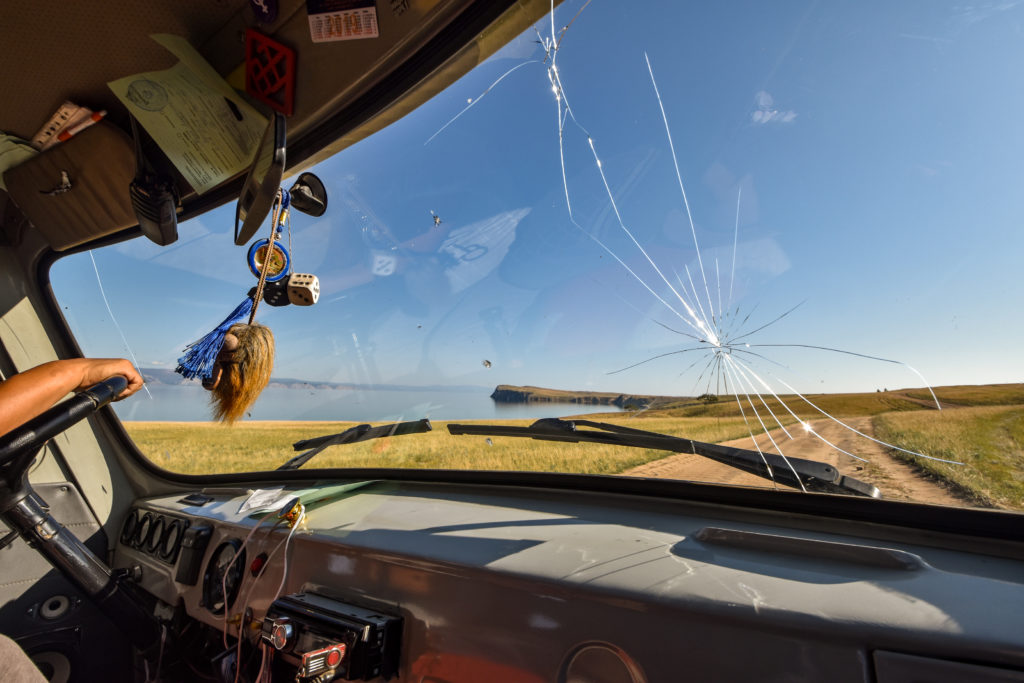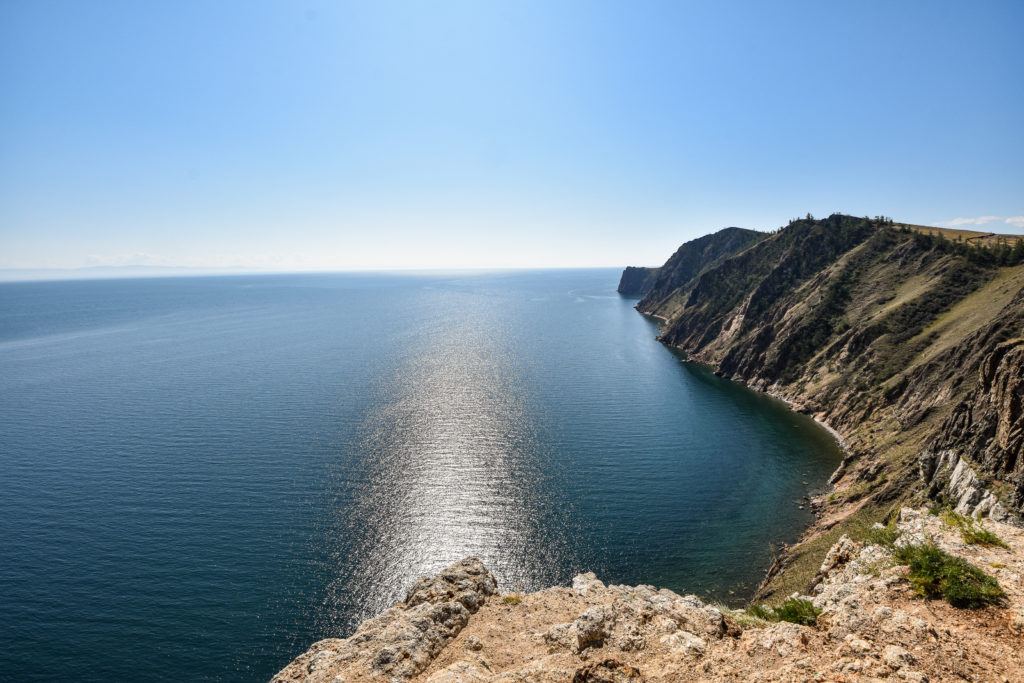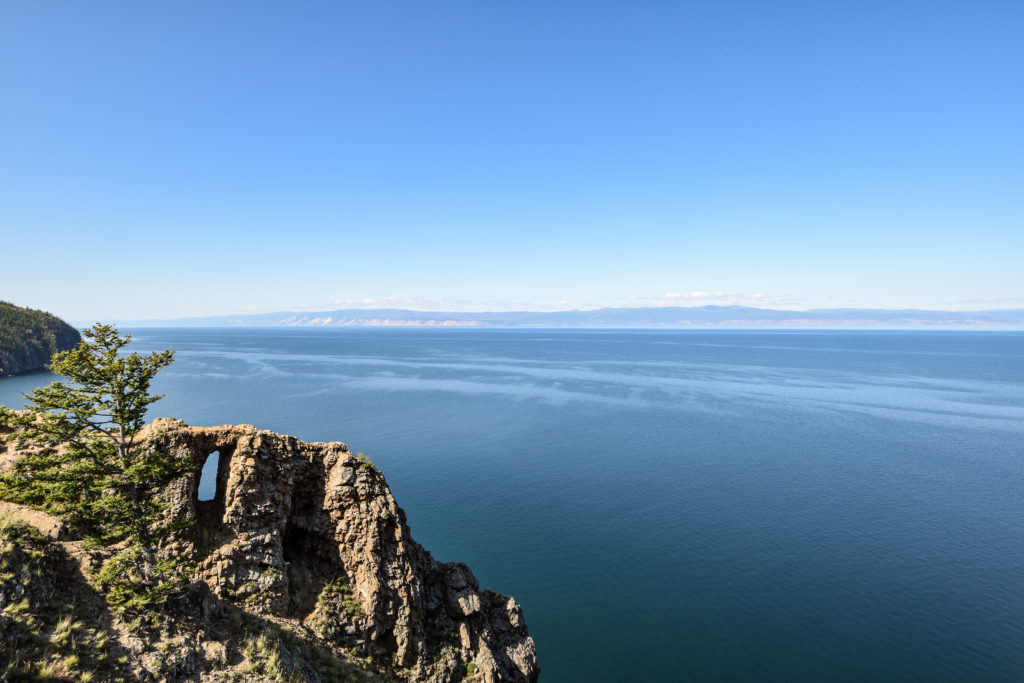 We return to the van and sit down for lunch. Lunch consists of soup and Russian pancakes. Our time on Olkhon Island is finished and we return to Khuzhir to exchange vehicles. Bidding farewell to our driver we make our way back to the ferry along the winding bumpy road. The views are still remarkable. We discuss whether it would be better to visit in summer or winter. Crossing back to the mainland, we commence the long journey back to Irkutsk. After another Balkan feast with our guide back at the hotel, he drops us off at Irkutsk Railway Station. We thank him for his services and resume our journey west to Moscow.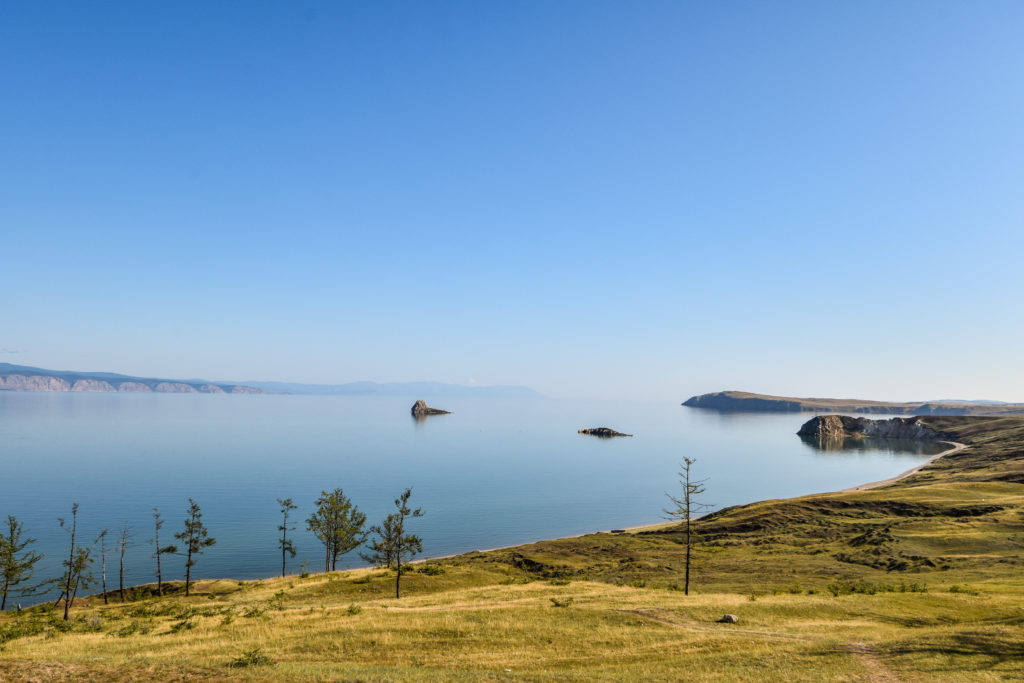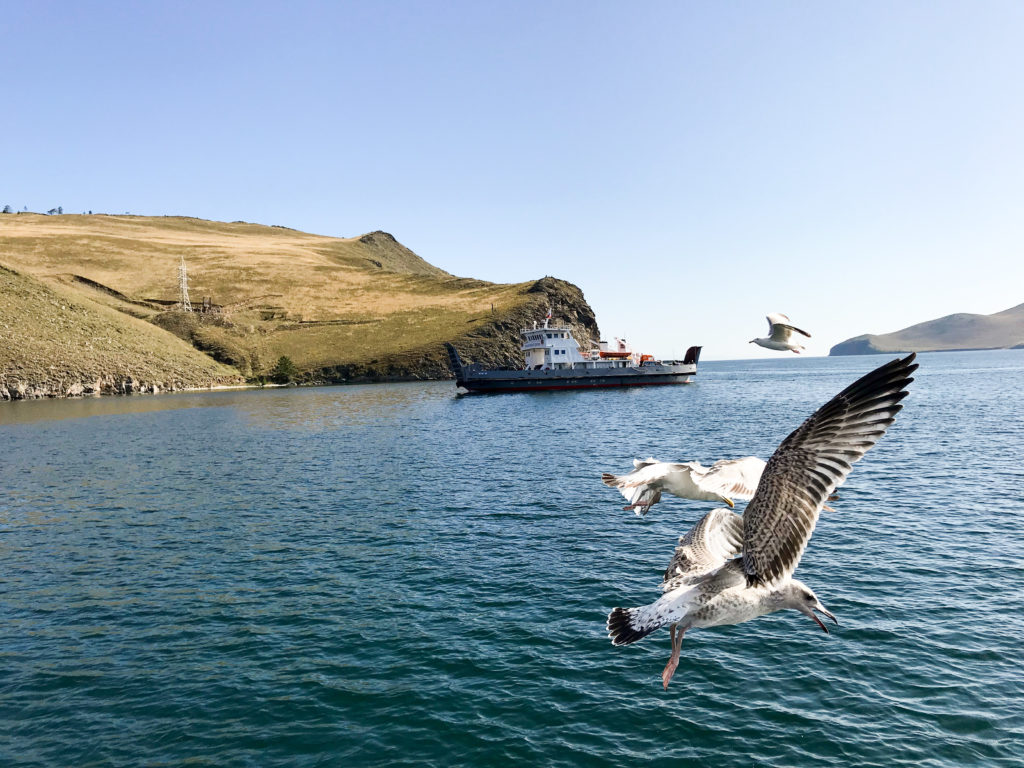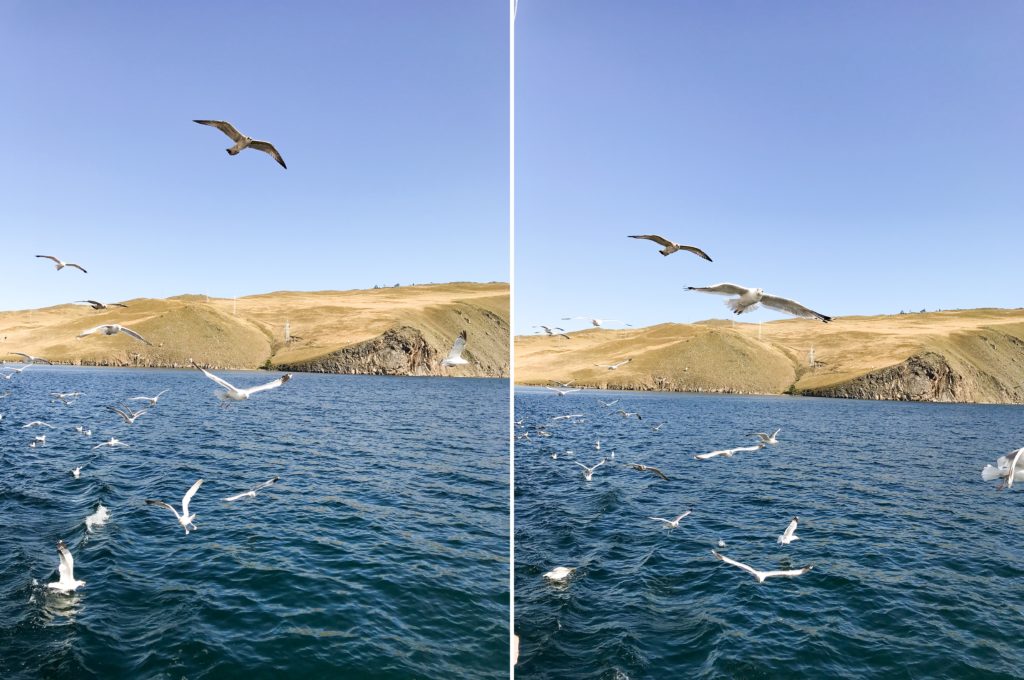 Comments
comments