We'd only just arrived in Mongolia but it felt like we had already seen so much. That is the beauty of rail travel. We arrived at Ulaanbaatar Hotel, it would have been considered grand back in communist times. Which is where its decor and finishings were still from. It sure was dated, but certainly good enough for us. Having only eaten twice in the last 48 hours our first destination was a bar not far form the hotel, an Irish bar as it turns out. We sat, drank, ate and discussed our journey. We then spent the rest of the afternoon walking around the city until we found a bar on the top floor of a high rise building which provided an excellent view of Ulaanbaatar and the surrounding area. Drinking cheap cocktails we watched the sun slowly set in the distance. Later, we looked up the best Indian restaurant in town which turned out to be some of the best Indian food I have ever eaten.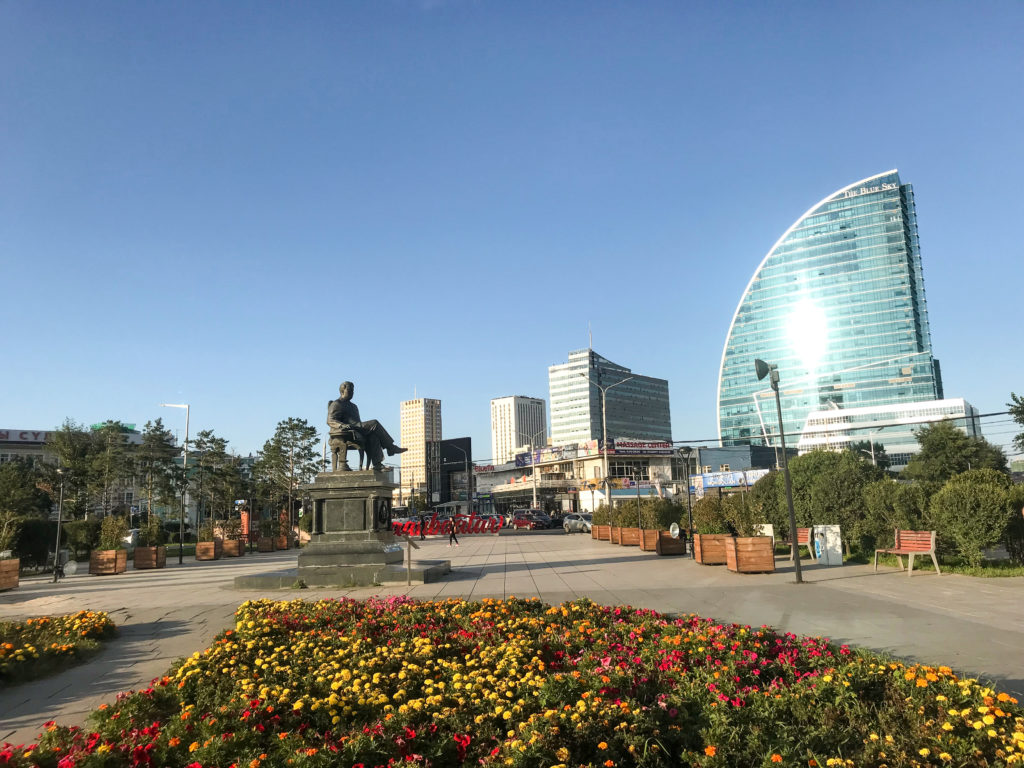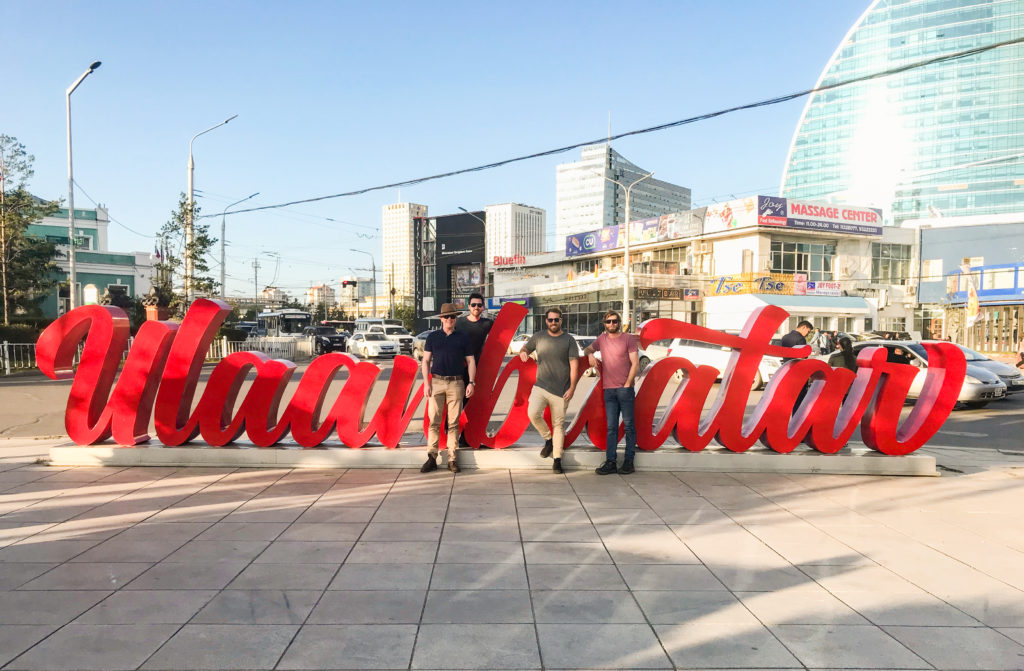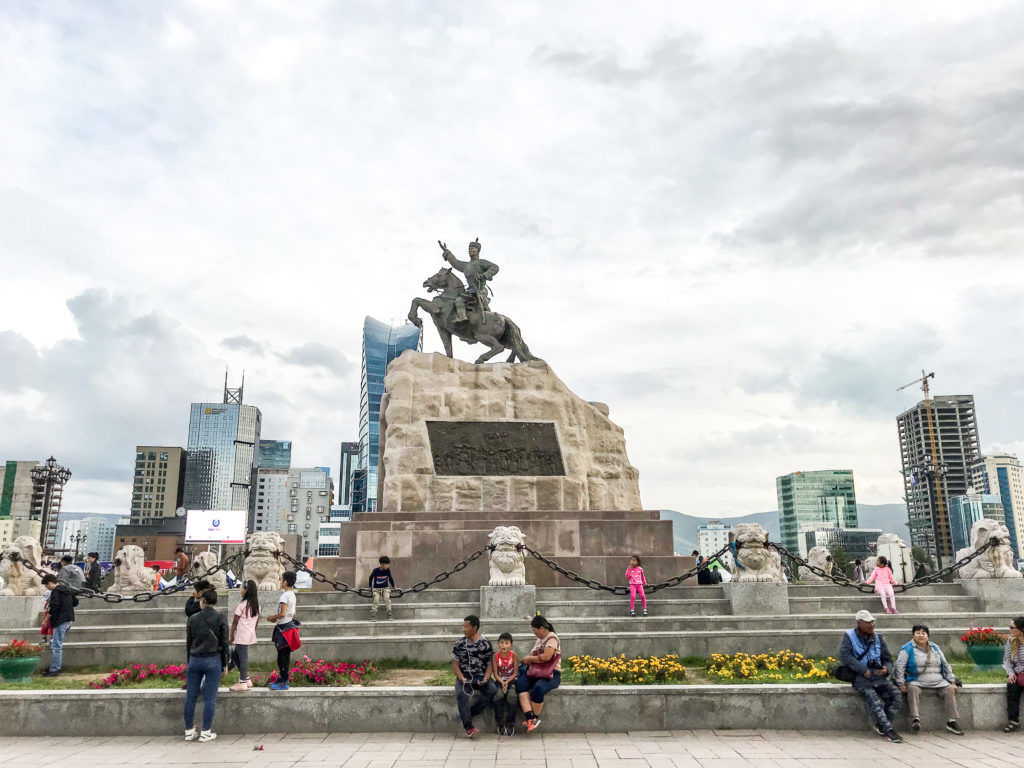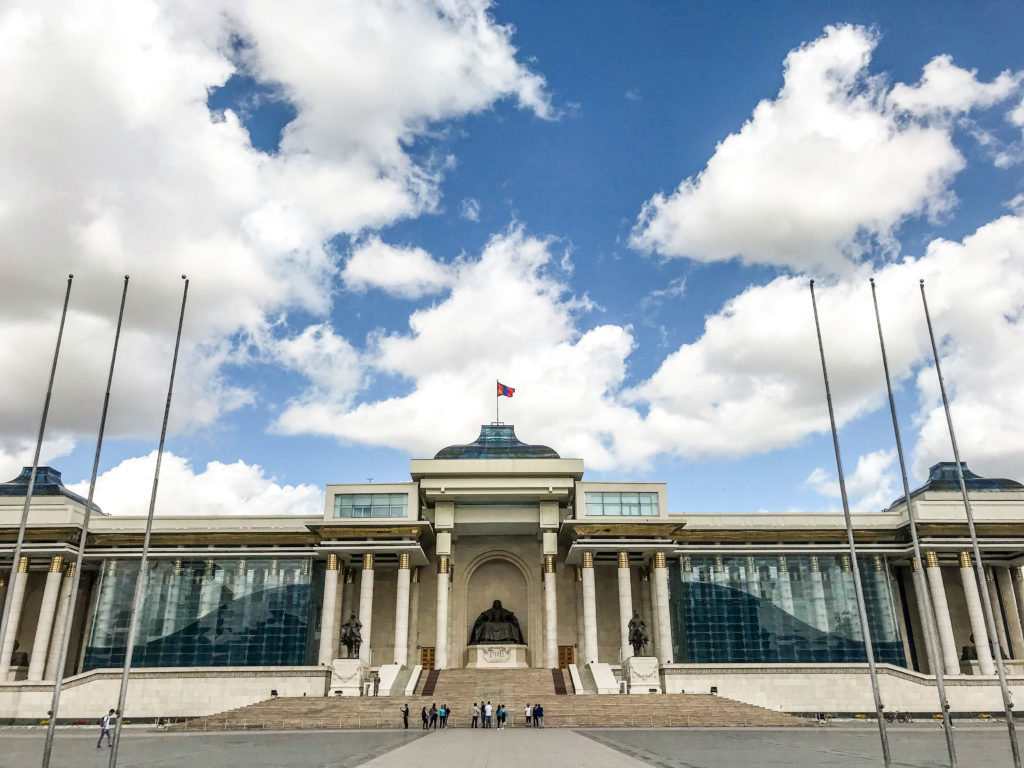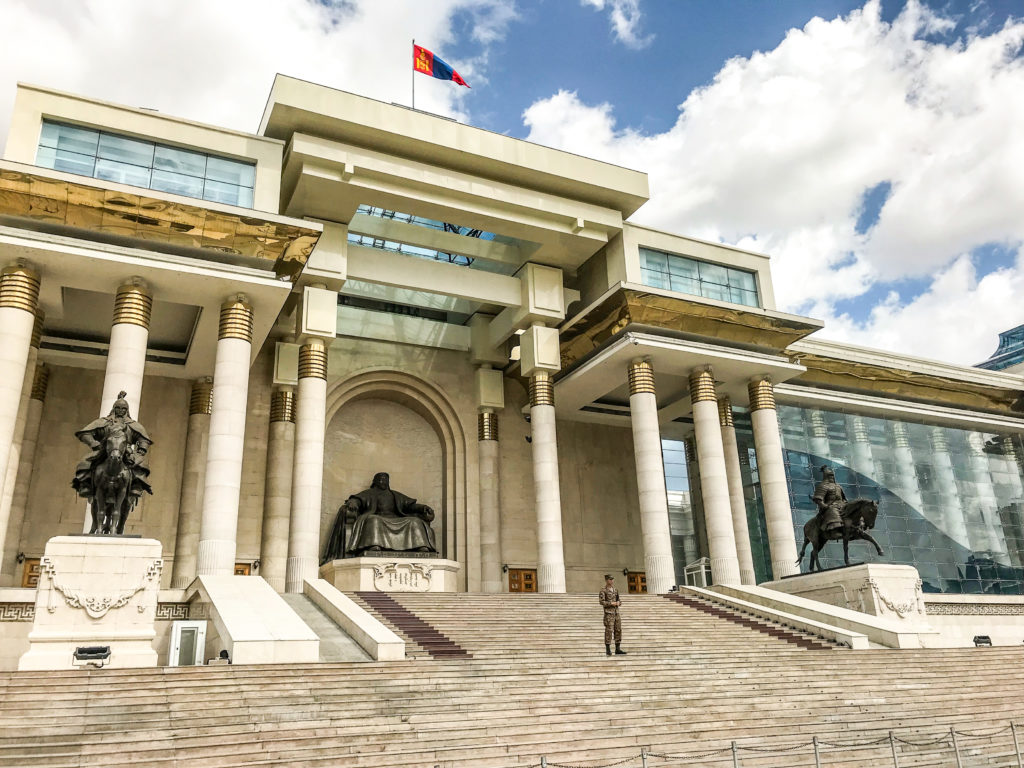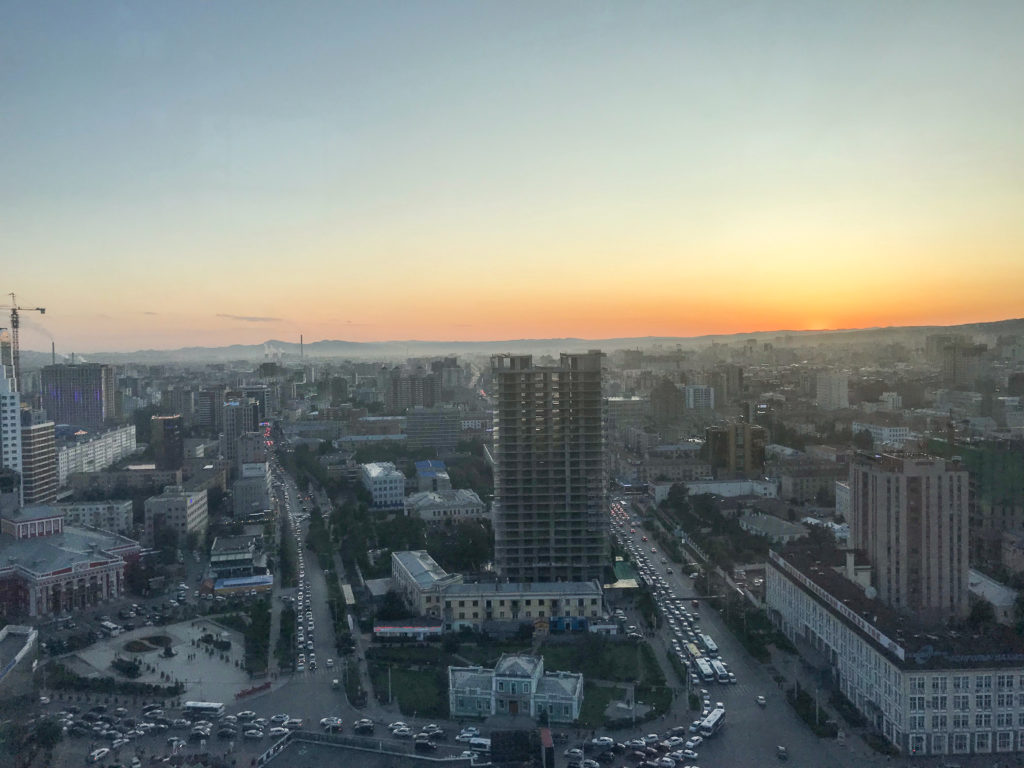 The next morning we sat down to a very unusual hotel breakfast. Our tour guide would soon meet us in the lobby for our two night tour in regional Mongolia. We were to spend a night each with two different nomadic families in a traditional Mongolian 'ger' or yurt as they are also known. Scott, had organised another tour which he was doing alone. This required a flight to Ölgii in the far west of Mongolia. He was going to spend time with a family of Kazakhs who hunt with eagles. We were also tempted to join him on this tour but were worried about the return flight which landed only a few hours prior to our train's departure to Russia.
We met our guide and her driver downstairs. Our first destination was a monastery on the outskirts of the city. Most Mongolians are devout Buddhists, a religion repressed during Mongolia's period under communism. During that time most of the monasteries in the country were destroyed and the one we were visiting was one of the few that wasn't completely destroyed. There are now around 150 monks living in the monastery and we were very fortunate to witness them throat singing.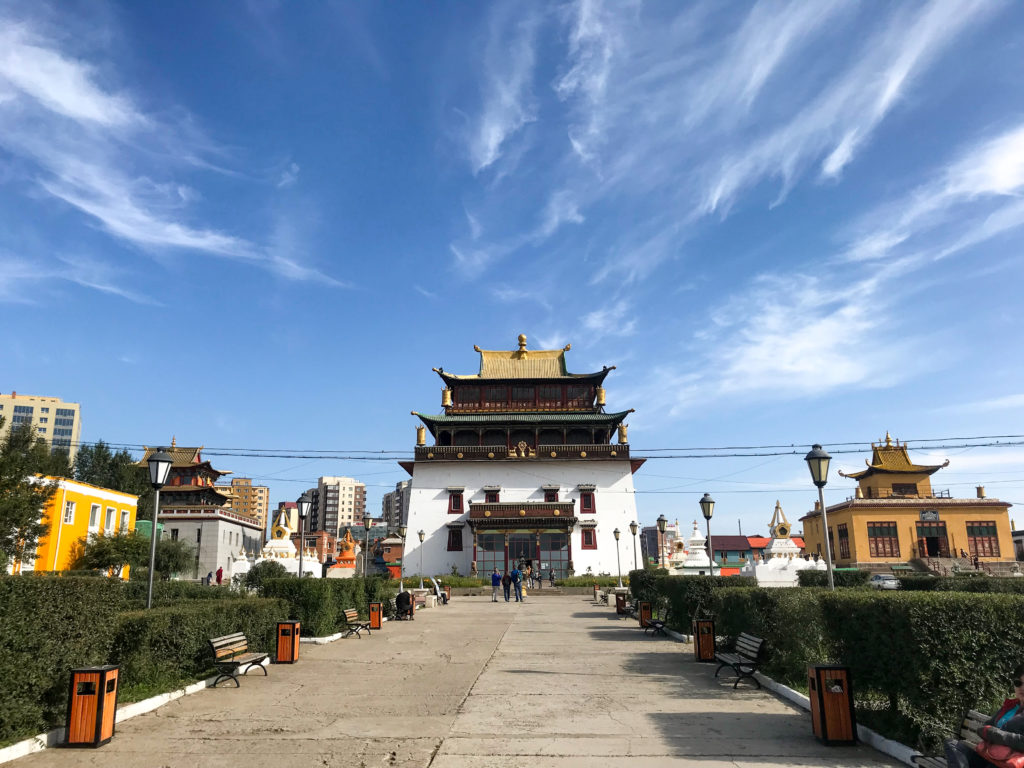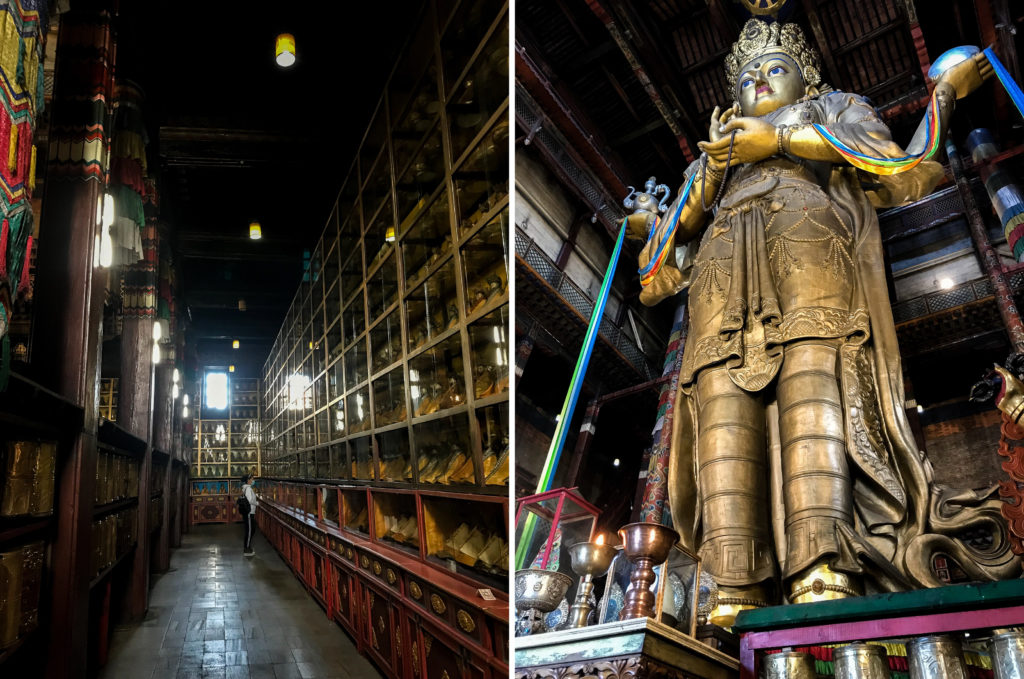 We drove north-west and stopped at a supermarket to purchase supplies and gifts for our host families. We decided on a bottle of vodka each. Soon the scenery turned to vast open landscapes with tiny specs of white from the gers dotted around in the distance. Stopping at a roadside restaurant we enjoyed a high quality and cheap lunch. There were dozens of tourists, many appearing to be on long distance motorcycle trips. The guide handed us a cultural guide book which lists what we should and should not do to offend our host family. The list is quite long and we fear that we might cause offence as we try to remember each instruction.  Passing through the small regional town of Bulgan we stop and take a short walk. There are no paved roads and only two small shops. Herds of sheep part to let us pass as we drive on bumpy dirt roads through lush green valleys.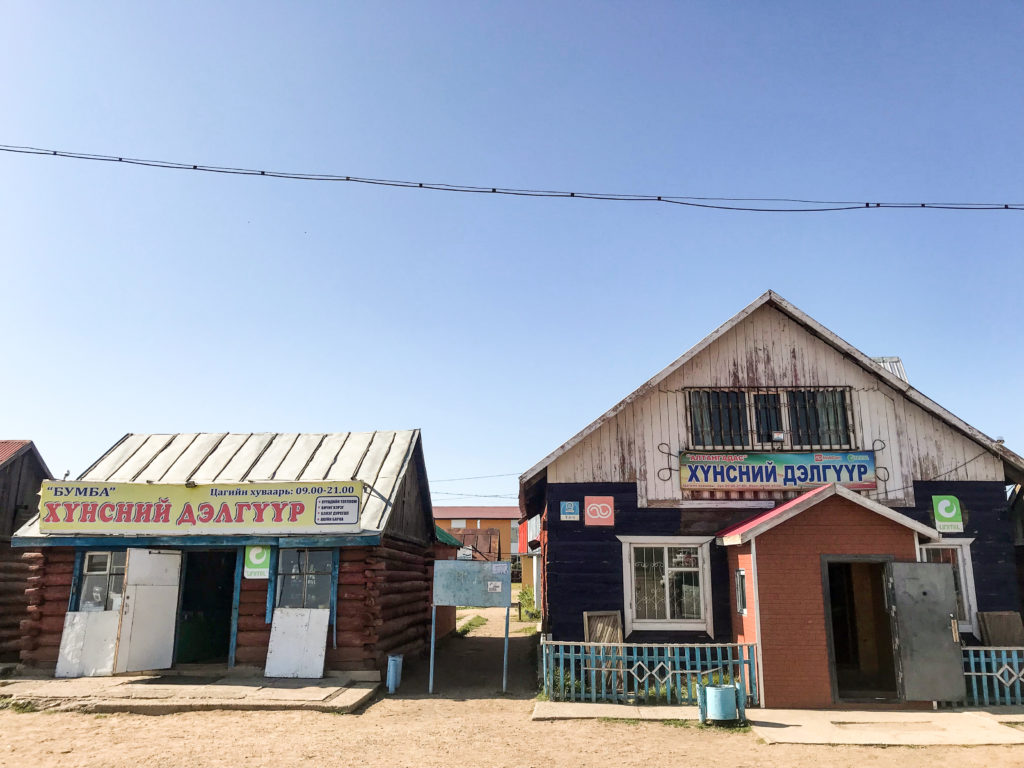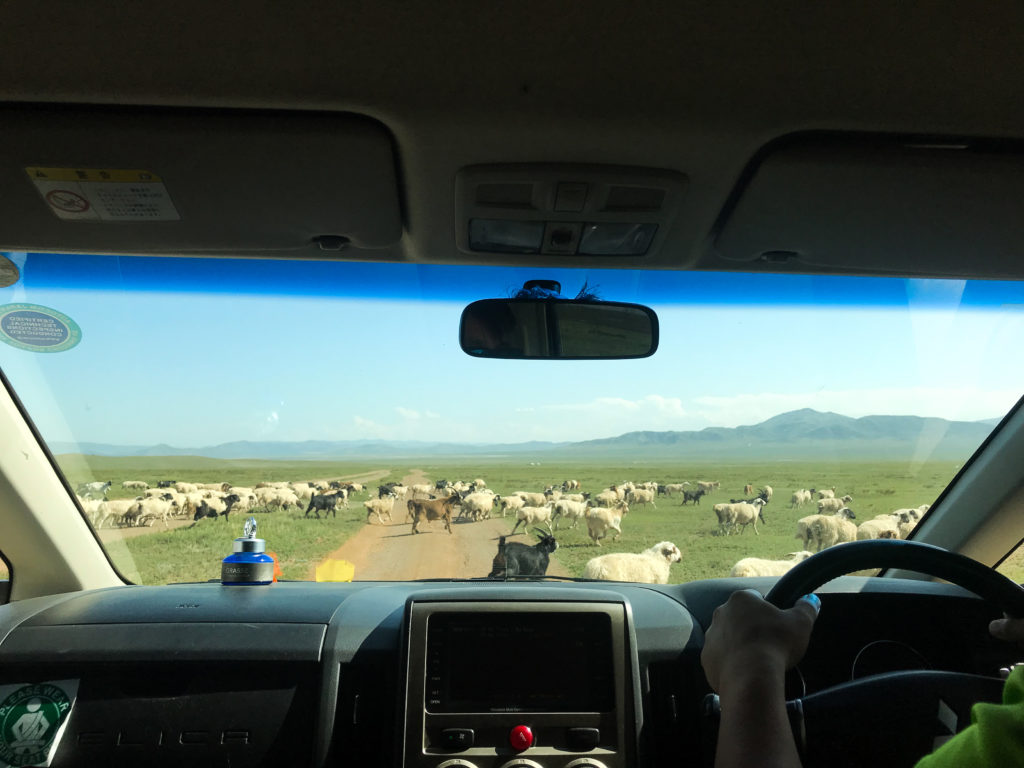 Stopping atop a hill to survey the surrounding landscape, our guide points to some gers scattered in the distance. She tells us that it's where our family live and that they are horse breeders. The scenery was beautiful and green with the occasional sand dune. The family greet us and invite us into their ger for a meal. Our host offers us his 'snuff bottle' to sniff from which we pass around. It contains powdered tobacco and it is customary for these nomadic people to offer to their guests. Our hosts thanks us as we present them with the bottle of vodka we bought, hoping it is good enough. They then offered us an assortment of very unusual snacks which, remembering our cultural guidebook, we dare not refuse.  We then drink fermented mares milk which is passed around the table. We all drink from the same bowl as we struggle to swallow without our body language reflecting its true foul taste.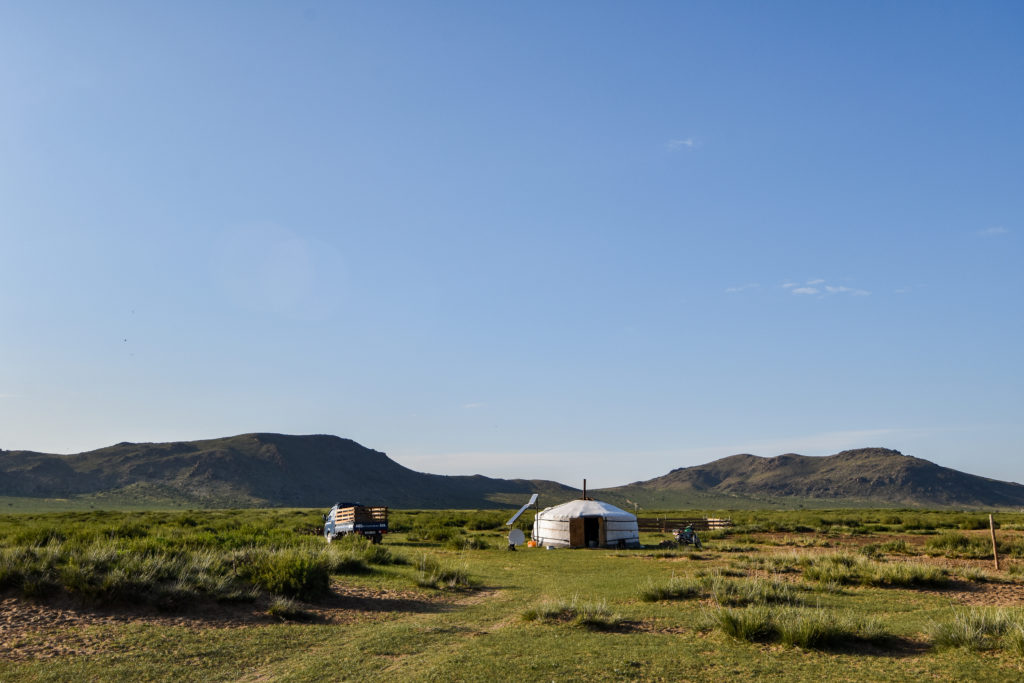 Our hosts then give us a tour of the land they are currently living on. Their son and his wife live in a ger several hundred metres away, we are introduced and also welcomed into their ger. We are amazed and impressed that in such modern times that they still live a nomadic lifestyle. Moving from one area to the next every few months. Our host shows us his horses which consist of some young foals. His wife milks one of the mares in order for us to drink later. Soon we return to their ger and they start preparing some fresh lamb for dinner. They cook from a stove in the middle of the ger using fairly basic ingredients and hot stones. The meal was delicious. As the sun begins to set we go on a short horse ride around the area which looks remarkable in the afternoon light. Our night is spent quietly sitting outside our ger and sharing stories and drinks.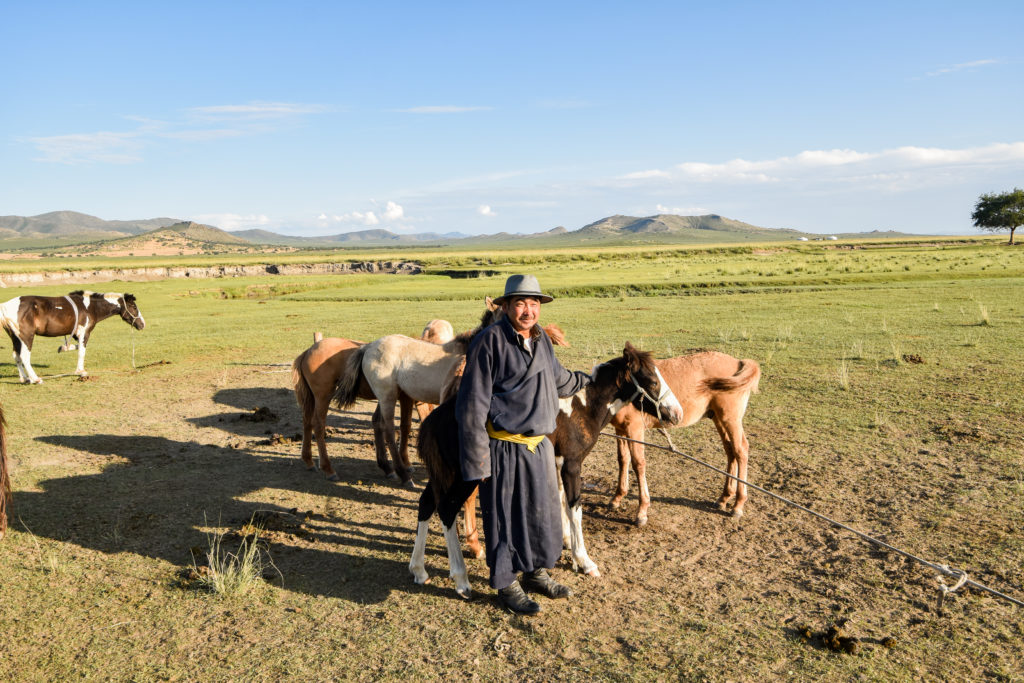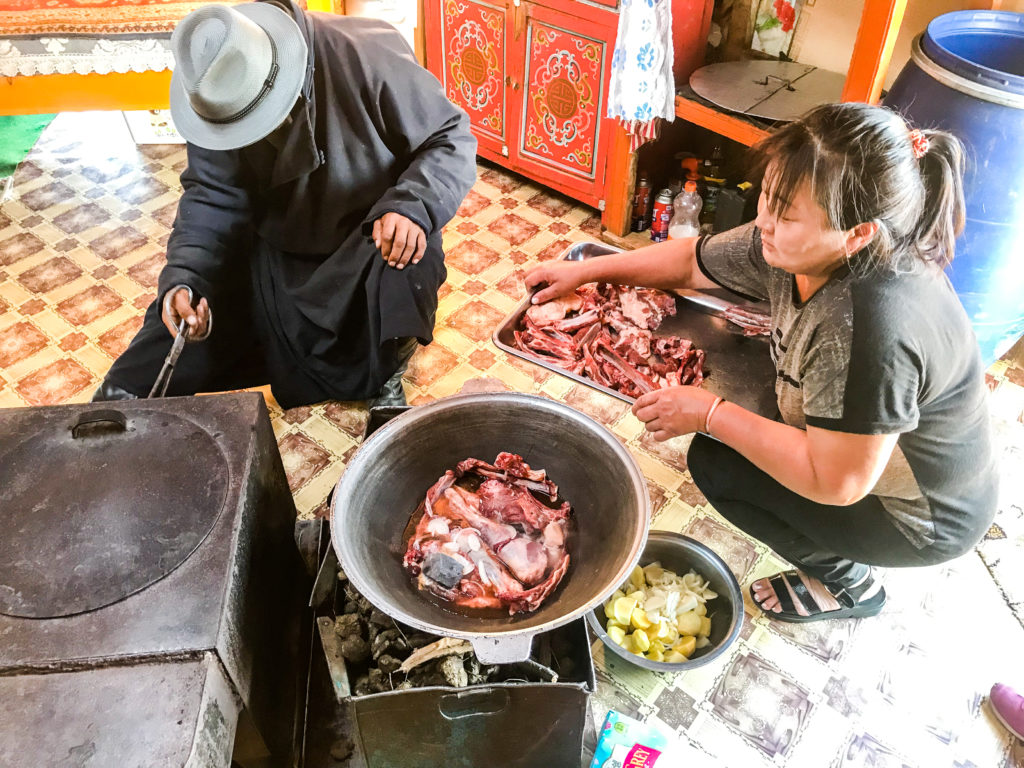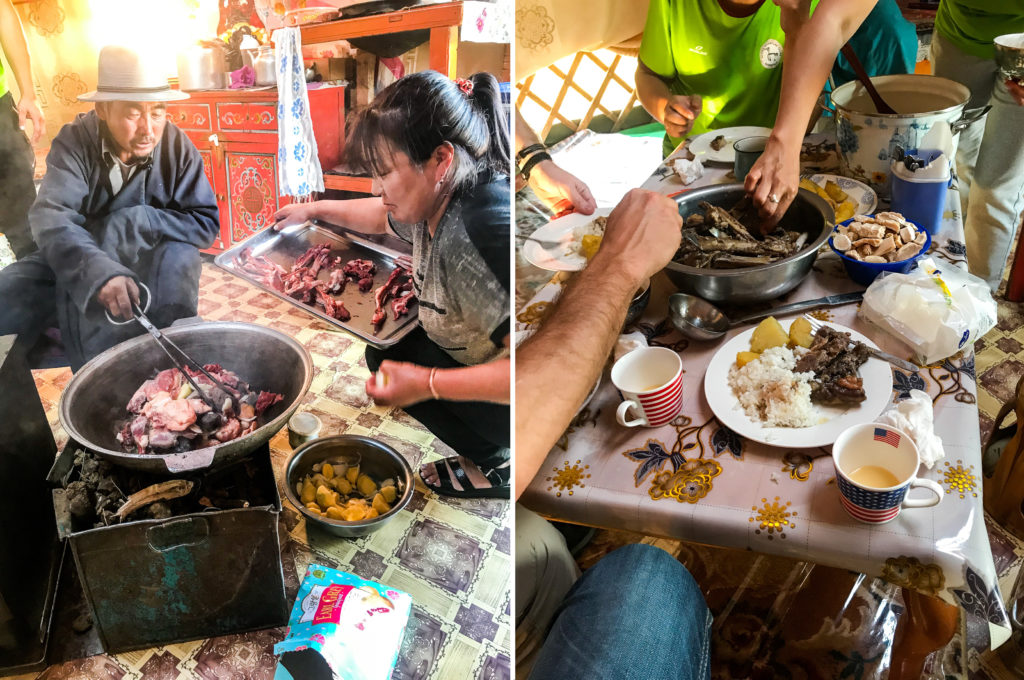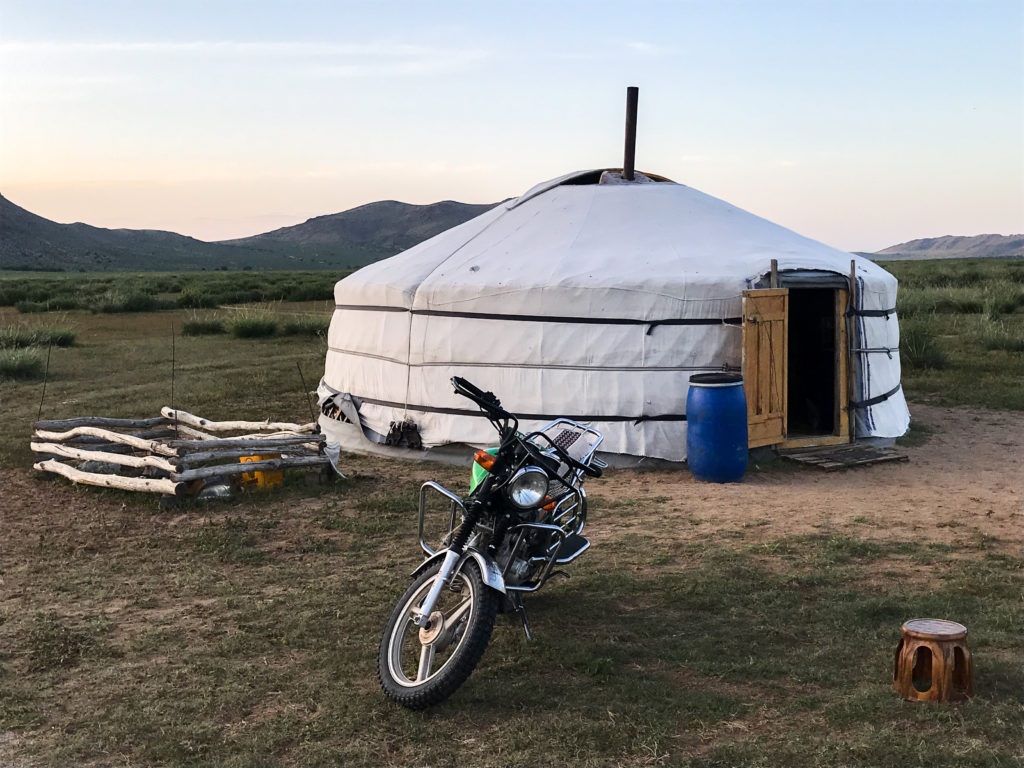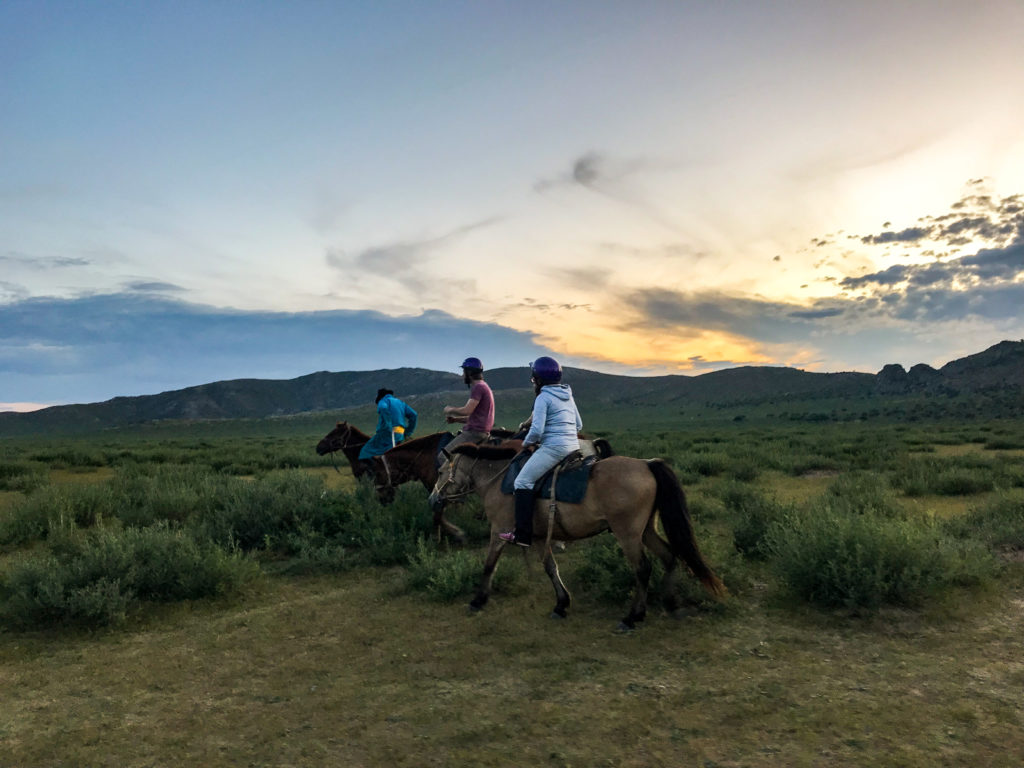 Awaking to another beautiful day we stroll around the area taking photos and enjoying the morning sun. Various neighbours and family friends drop in on horseback. We share a breakfast of bread and eggs as our guide tells us the plan for the day. Bidding our generous hosts farewell, we depart and continue driving further down the valley. After a long and picturesque drive we came to the end of the valley and the beginning of a mountain range. Here we find Uvgun Monastery that had been rebuilt in the 1980s. The original monastery complex had been destroyed and the monks executed during the communist period.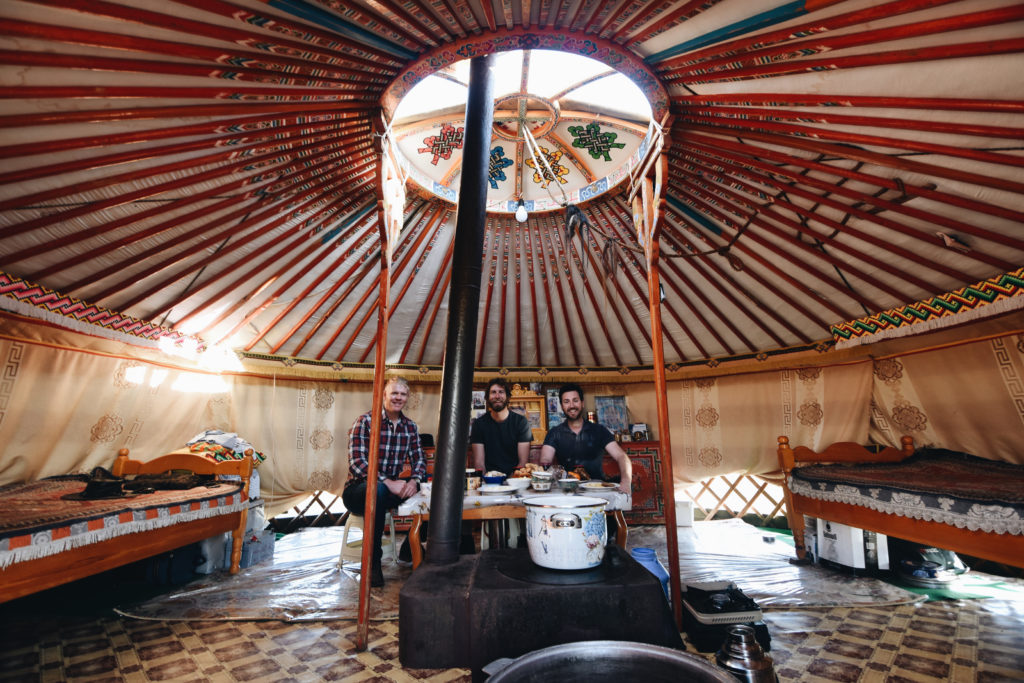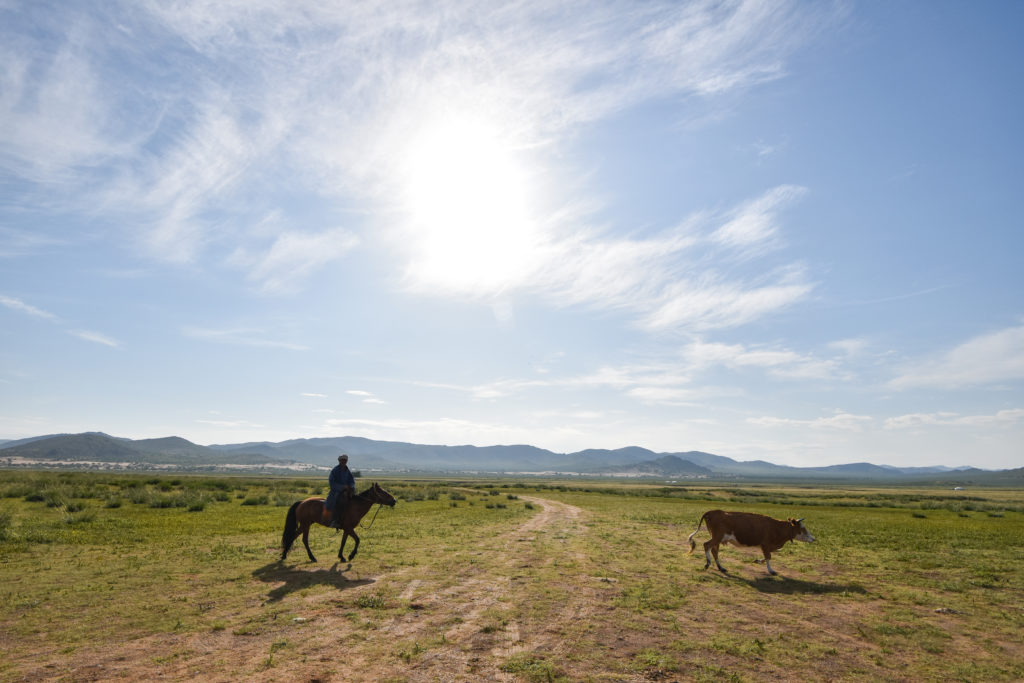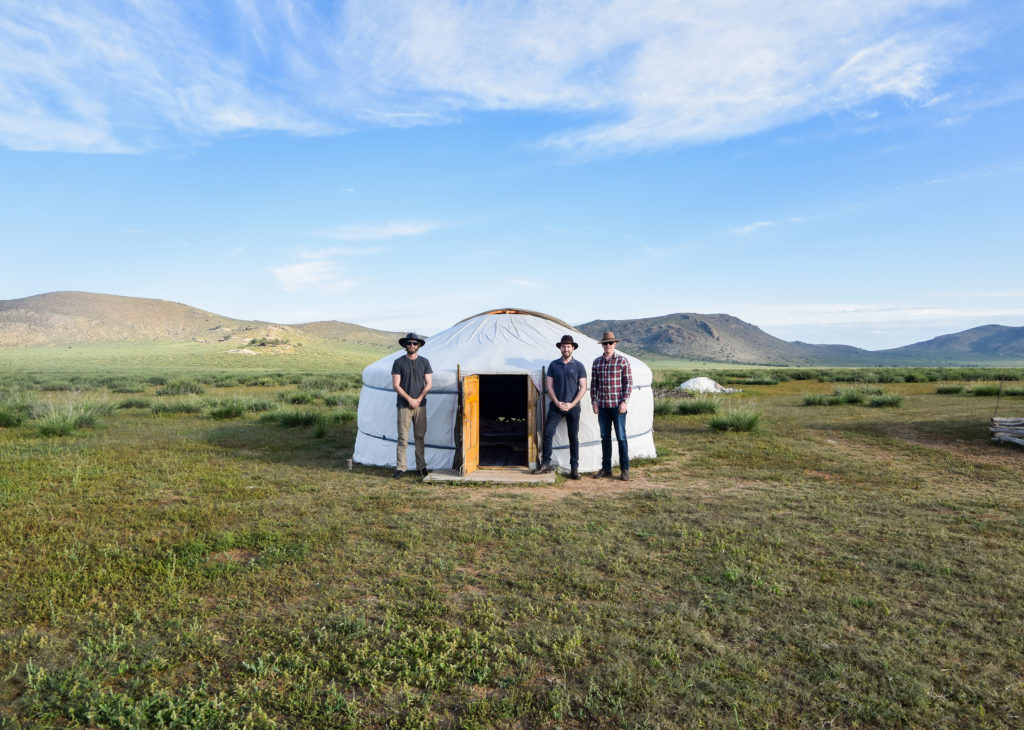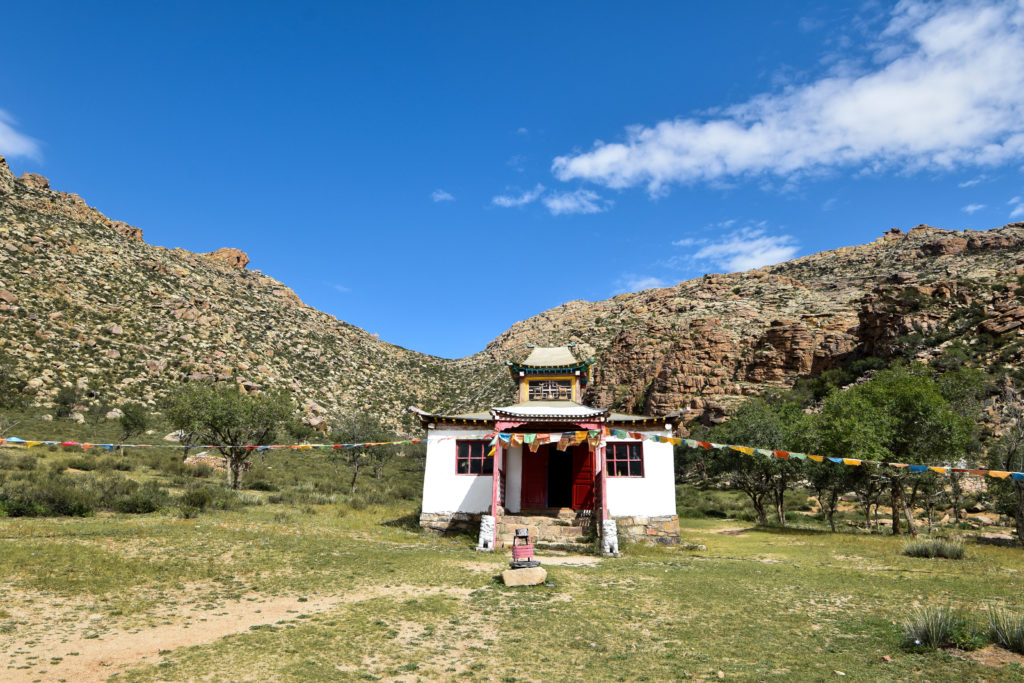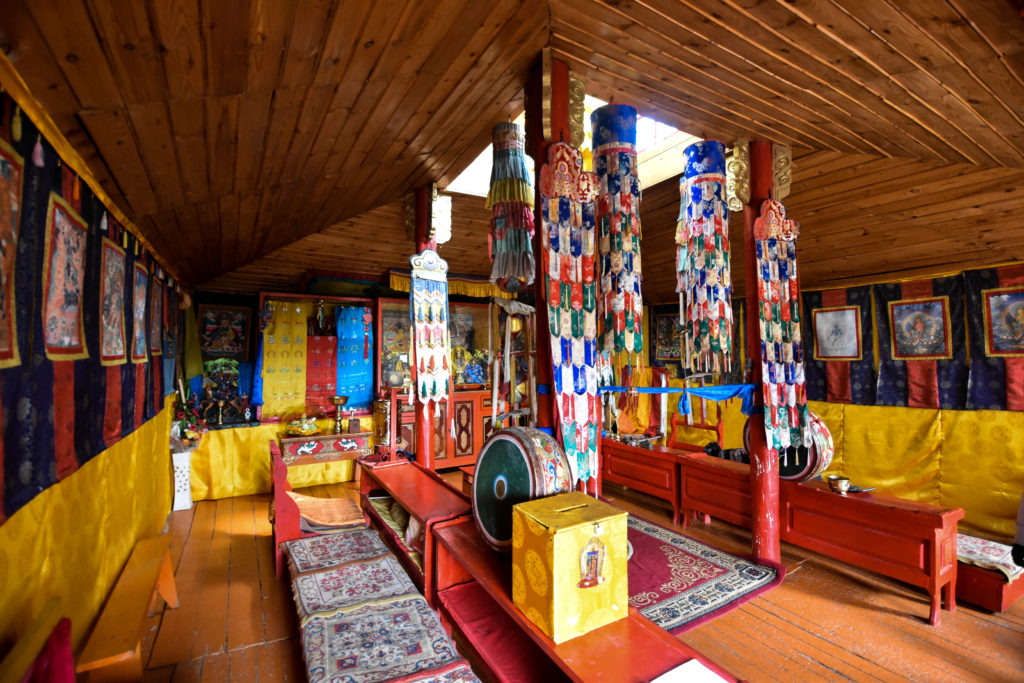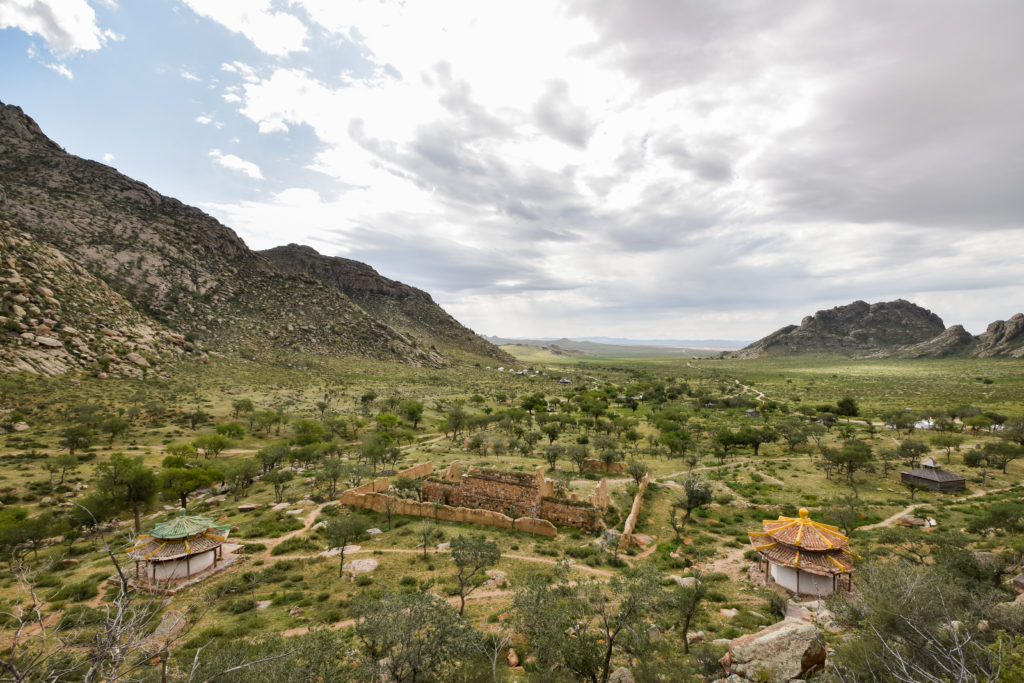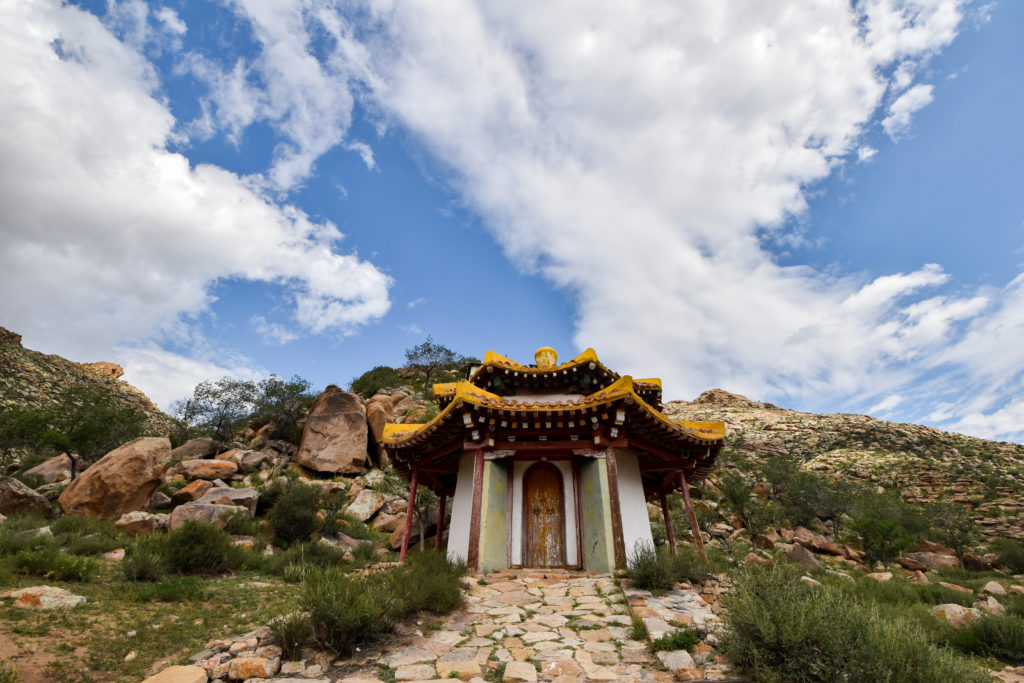 As we drive back through the valley our guide tells us the next family are camel farmers. She says that they are known for having some of the tallest camels in Mongolia and that we will also go on a camel ride. We drive over eroded dirt tracks amongst scenery that is starting to look very familiar, but still beautiful. Greeted by a large and jolly man wearing a tee-shirt which reads 'Mongolian Golf Association' he welcomes us inside. As we sat down to another amazing feast we learn that although they live a nomadic life out here amongst the pastures and mountains, they are not completely separated form the modern world.
Our new host tells us that his son lives and works in Sweden and we discuss current affairs. He often visits friends and stays in the city of Ulaanbaatar. We present him with our gift of vodka. He thanks us and opens a bottle of Mongolian 'Chinggis Gold' vodka which seemed to have taken pride of place on his shelf. This Mongolian vodka turned out to be the best I have ever had and later we purchase more bottles for our onward rail journey.  He shows us photos of his time in the Mongolian Army and once we finish drinking the milk from our bowls, he begins to fill it with Chinggis Gold.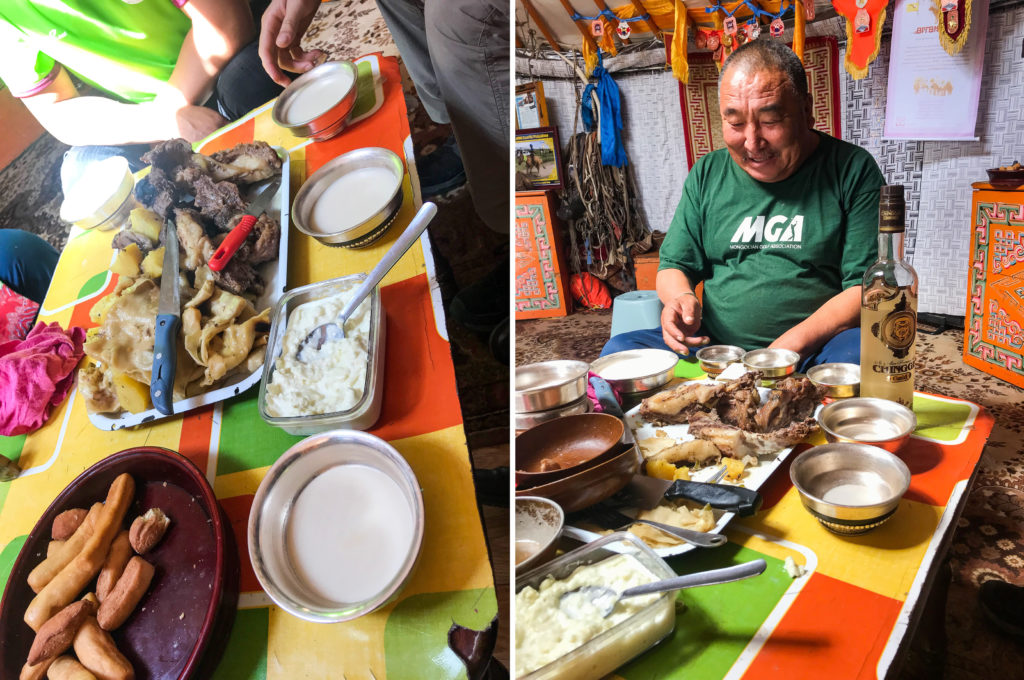 After lunch we are shown to our ger and we settle in. A sudden rain shower delays our camel ride which we commence soon after. His camels certainly were tall, and somewhat aggressive. While riding mine, it kicked the face of the guide's horse behind me. We had drunk quite a lot of vodka which certainly made the ride more interesting. Another evening was spent quietly enjoying the serenity and peace of our rural setting. As there was hardly any light out here, the night sky was simply amazing. I did my best to capture a photo of it.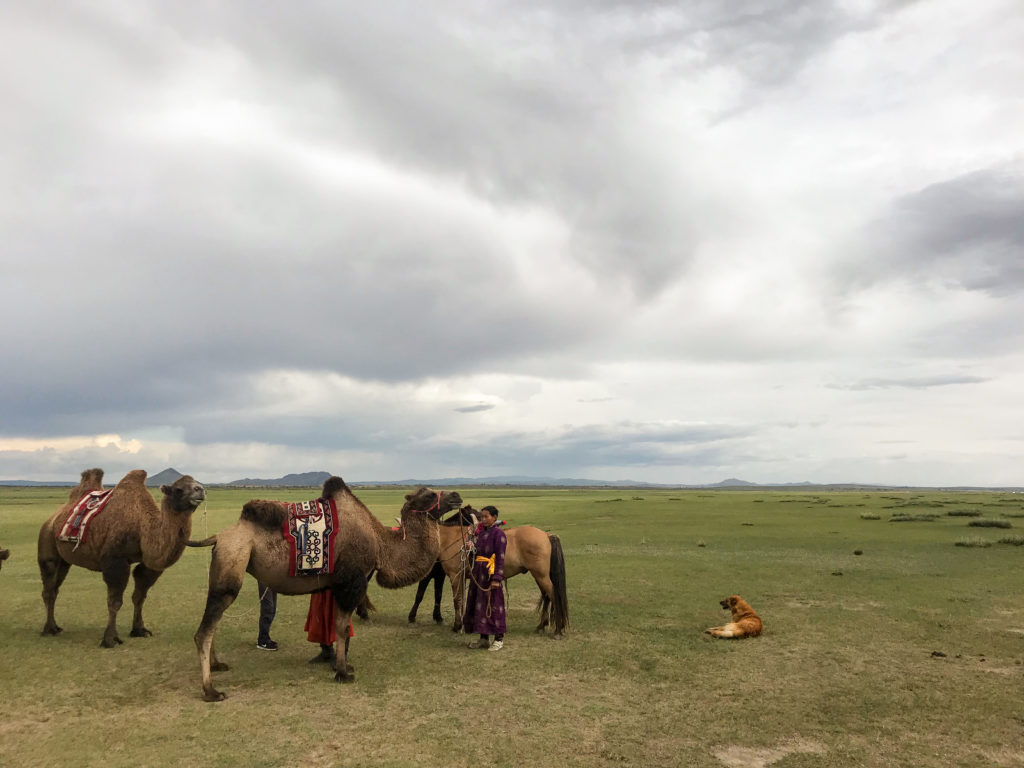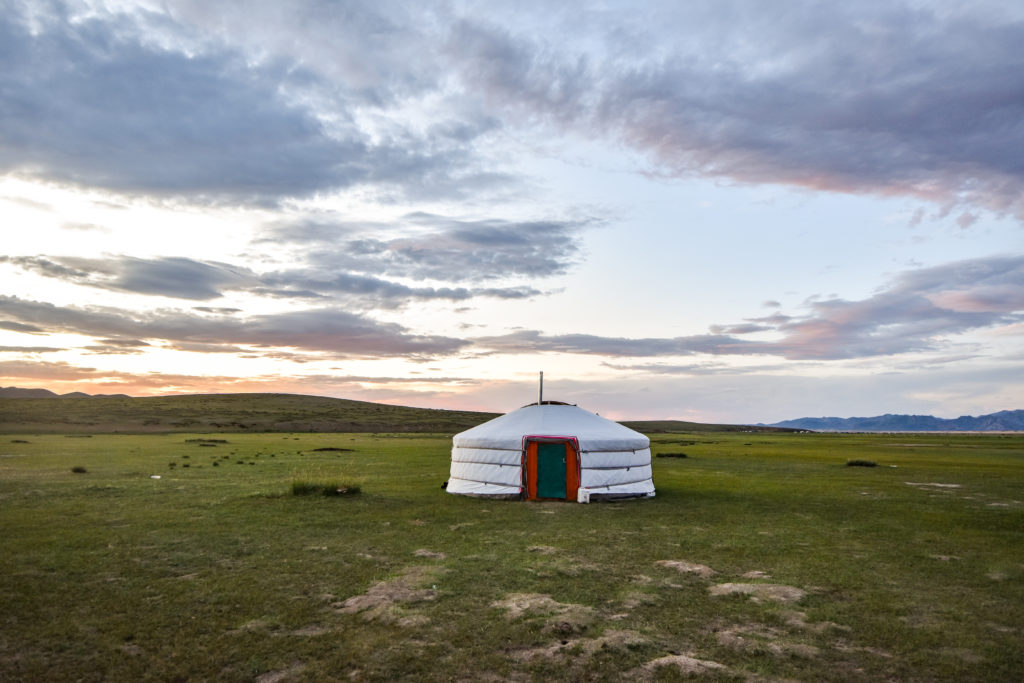 The next morning we were treated to another wholesome breakfast. We wished our hosts well and set off for Khustain Nuruu National Park. The park is home to a very rare and endangered breed of wild Mongolian horse. We drove deep into the park and were fortunate enough to spot some with the aid of binoculars. After a long drive back to our hotel we said our goodbyes and thanked our guide and driver. We spent the afternoon and evening seeing the rest of the city and decided to go back to the sky bar to enjoy another sunset. Later, we dined at an authentic Mongolian restaurant where various horse dishes were on the menu. After checking out a few more bars Matt and I decided to call it a night. Brett decided he hadn't seen enough and chose to stay out.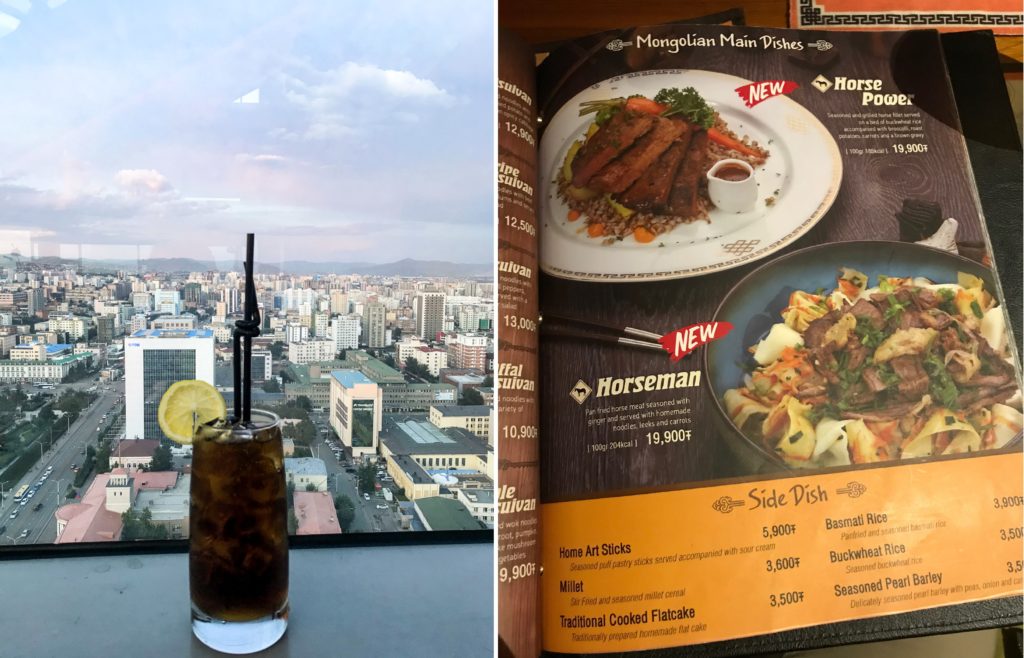 Meanwhile, Scott was still in the far west of Mongolia on his eagle adventure. This was the same region that holds the famous annual Golden Eagle Festival. He was staying with a family Kazakh descent. Many of these Kazakh families had fled to Mongolia to escape communism after the Russian revolution in 1917. There are that many Kazaks in the region that the dominant language is Kazakh and not Mongolian.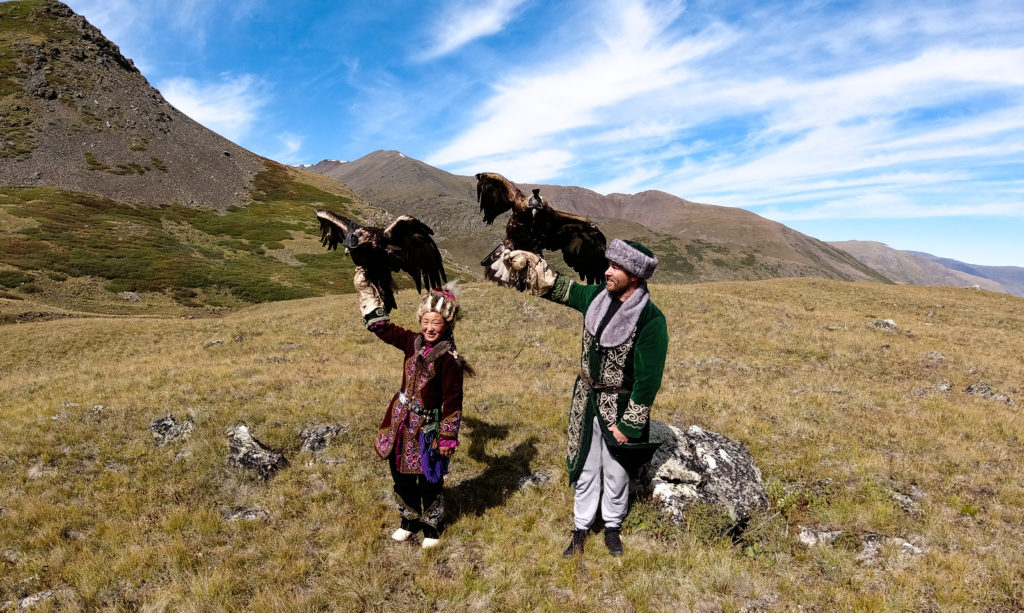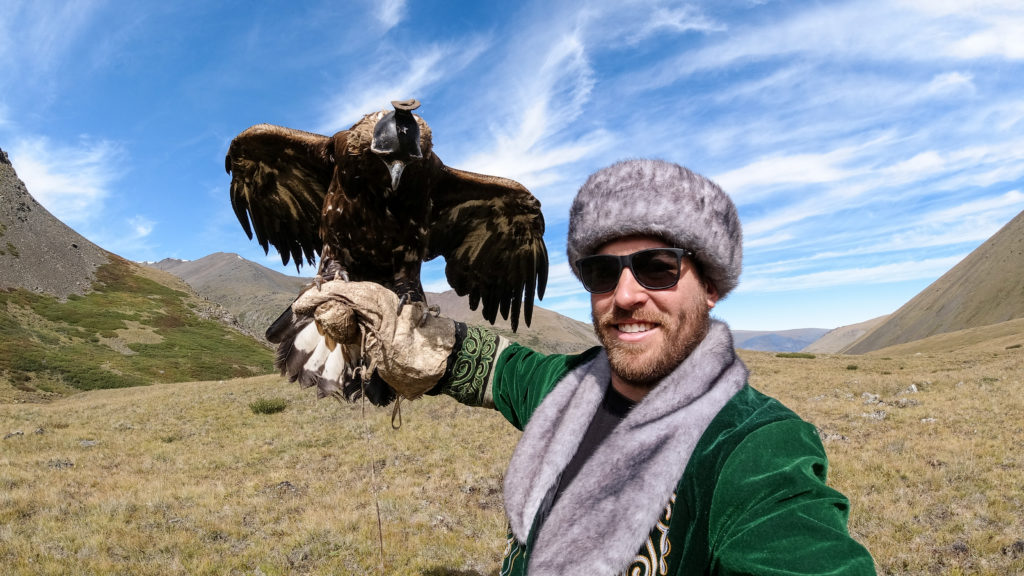 Comments
comments