Standing amongst other passengers in the central hall of Irkutsk Railway Station we watched the screen to see which platform our train would arrive at. Unable to avoid a conversation with a lingering drunk, it made me realise the frustrating level of Russian I knew. Enough for basic conversation, not enough to proceed once the subject drifts to deeper topics. Excited for our first real Russian train experience we make our way to the platform. Our last two trains had been Chinese and Mongolian. Now we would experience a Russian State Railways (RZD) train. The journey to Novosibirsk would take 32 hours at a distance of around 1400 km.
As our train pulls into the station we check our tickets to see which carriage we are in. The carriage was usually identified by a number on a digital display or laminated piece of paper in the window. I had the electronic copies of our tickets on the official RZD app. However, I had decided to print them using a machine at the station just in case the carriage attendant did not accept the electronic version. I was unable to ever conclusively find out if they accepted the tickets displayed on the app or not. The carriage attendant checks our tickets and passports and we board the train, making our way single file up the narrow carriage walkway to our cabin. It sure is a tight squeeze with four people each with a suitcase, backpack and grocery bag of supplies. We make it work and settle in for a good night's sleep.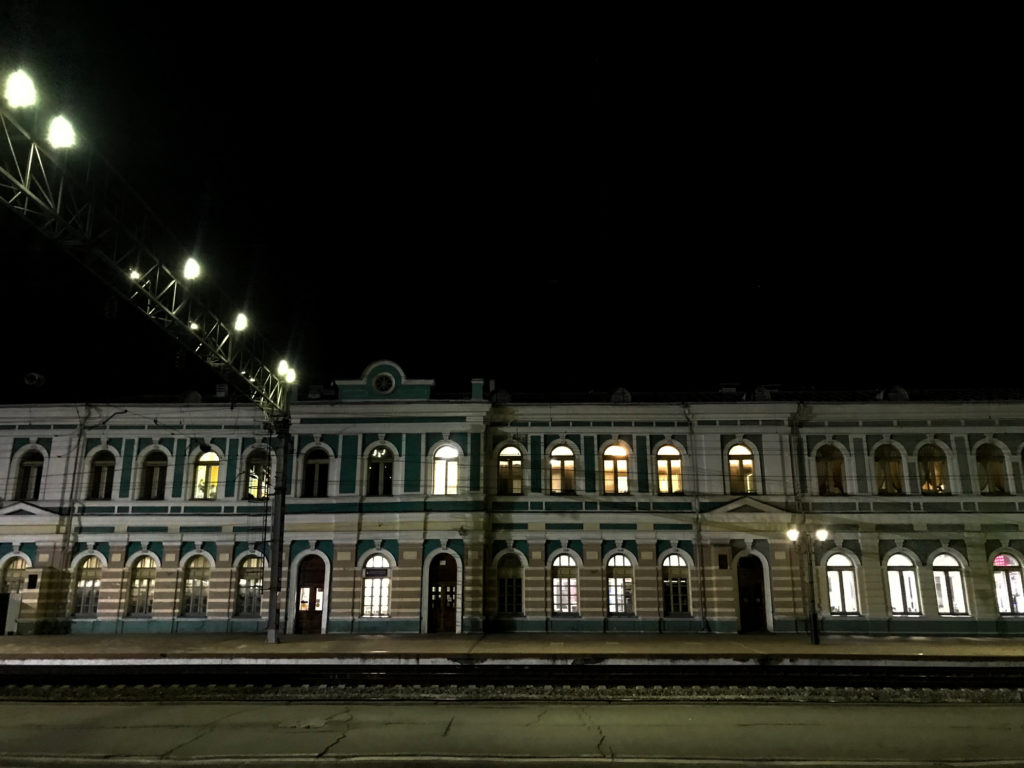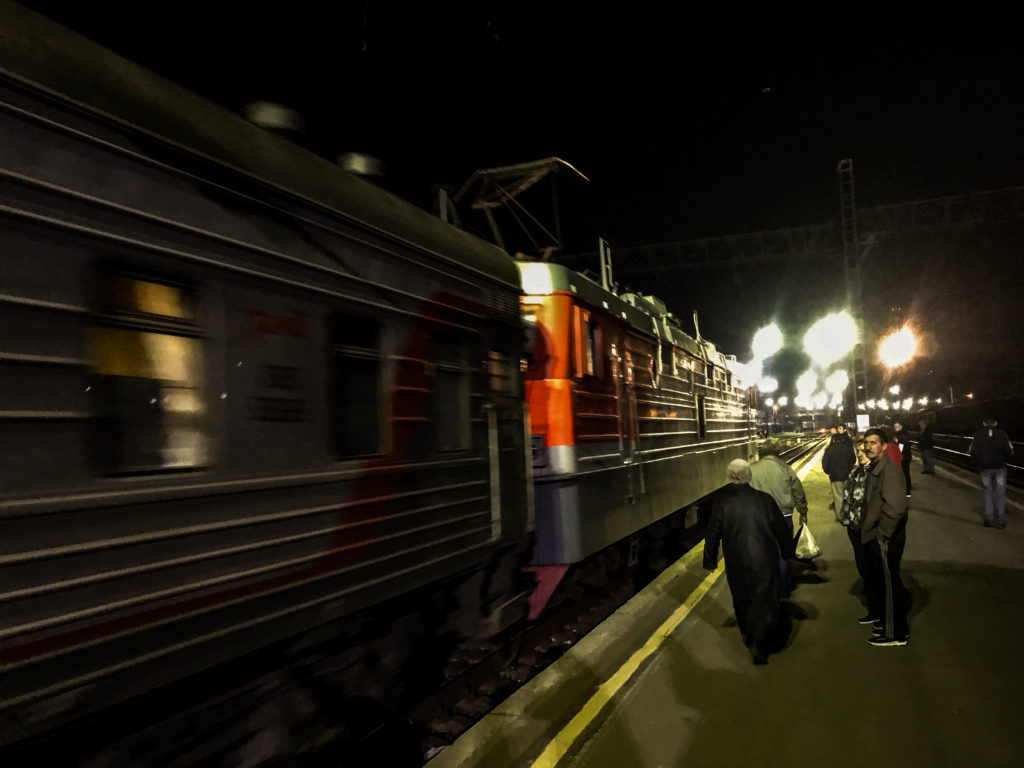 The sun shone through the gaps in the flimsy blind covering our window and we all slowly wake at around the same time. The beds are small but surprisingly comfortable enough. Each carriage has a toilet at one end and the attendant's room and a large urn of boiling water at the other end. Small snacks and souvenirs can also be purchased from the attendant.
Looking forward to our first Russian dining car experience, we make our way to the dining car for breakfast. We were certainly in for an unusual experience. Sitting down in a bare, 80s style cafeteria we are presented with a menu in Russian and English. A grand and formal setting was depicted on the cover of each menu. Oh let me tell you ladies and gentlemen, our experience was to be far from grand and formal. Opting for an unusually worded egg dish and coffee we sit and enjoyed the scenery passing by.
Soon our coffee and meals arrive. An uninviting pair of fried eggs covered in a mashed tomato like substance is placed in front of us. Certainly an unusual sight, almost like something you would make at home when you have no ingredients left for anything else. This wasn't the end of the unusual events that were to unfold in the dining car.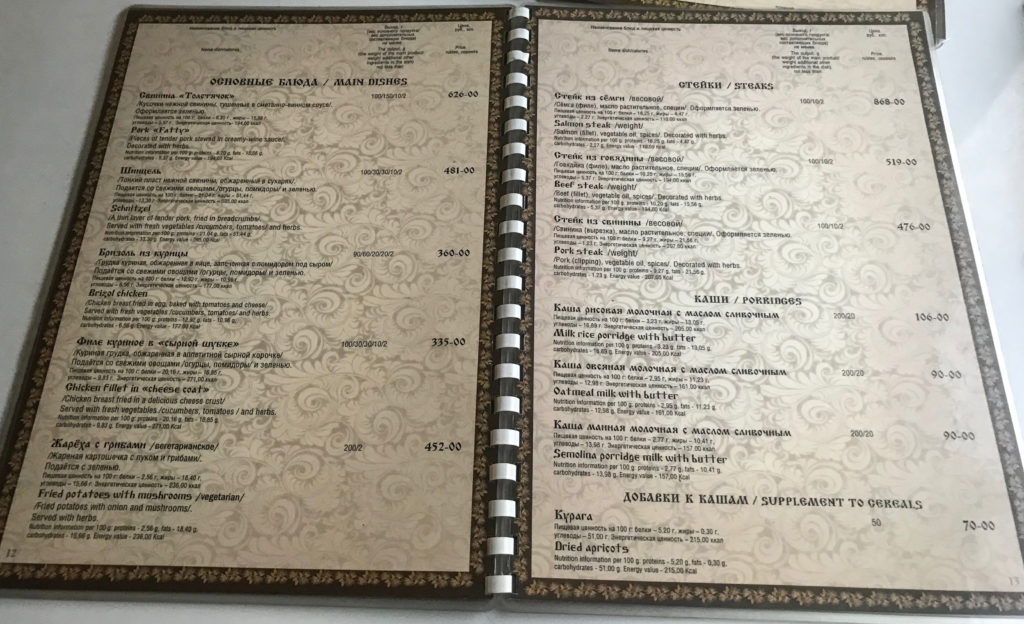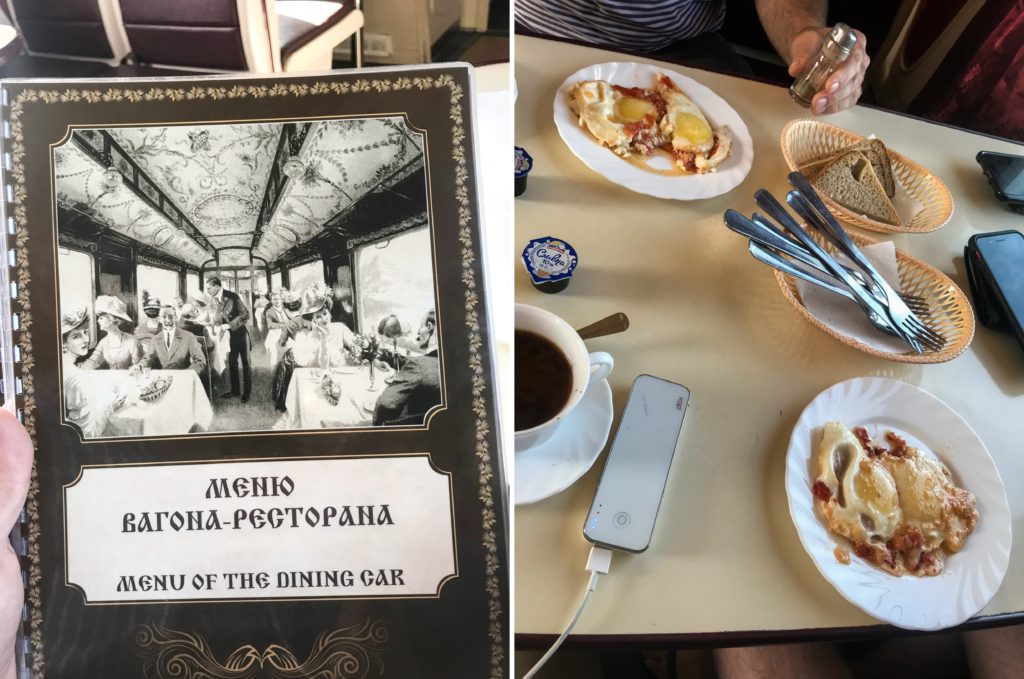 Unsatisfied yet amused, we return to our cabin to relax and enjoy the view. Possessing books and a chessboard we would not find ourselves without entertainment. The train would frequently stop at stations to take on and let off passengers. Sometimes the stops could be up to half an hour long and we walk out of the station and into the street to see the town. Snacks, drinks and fresh food can be purchased on most platforms.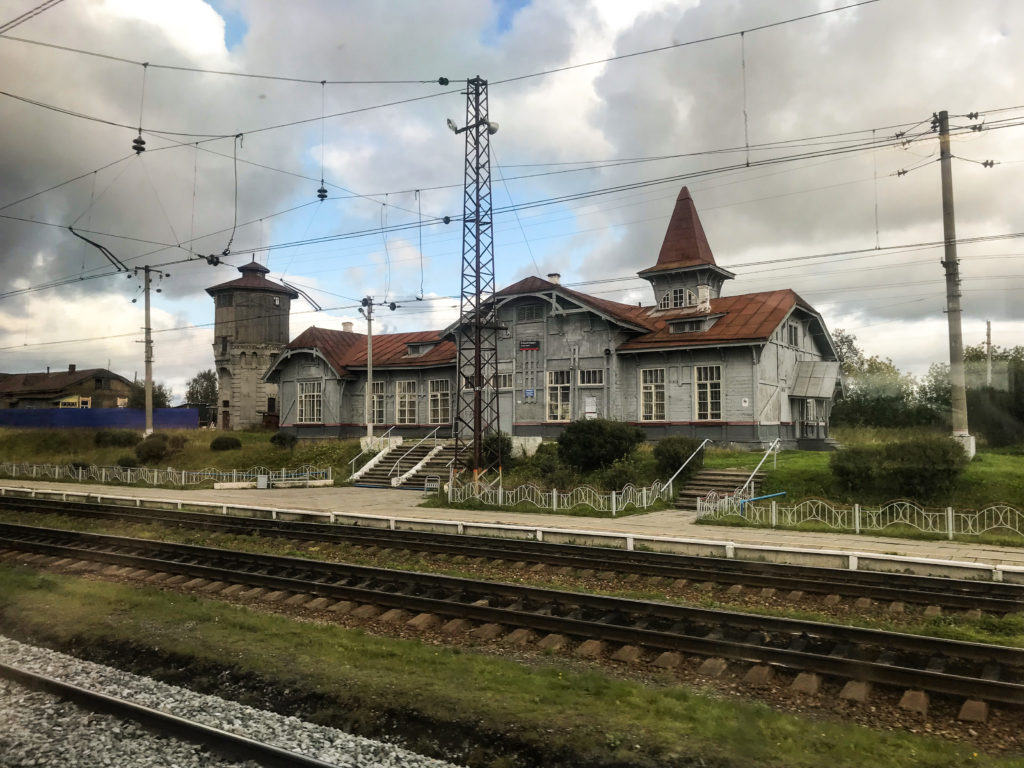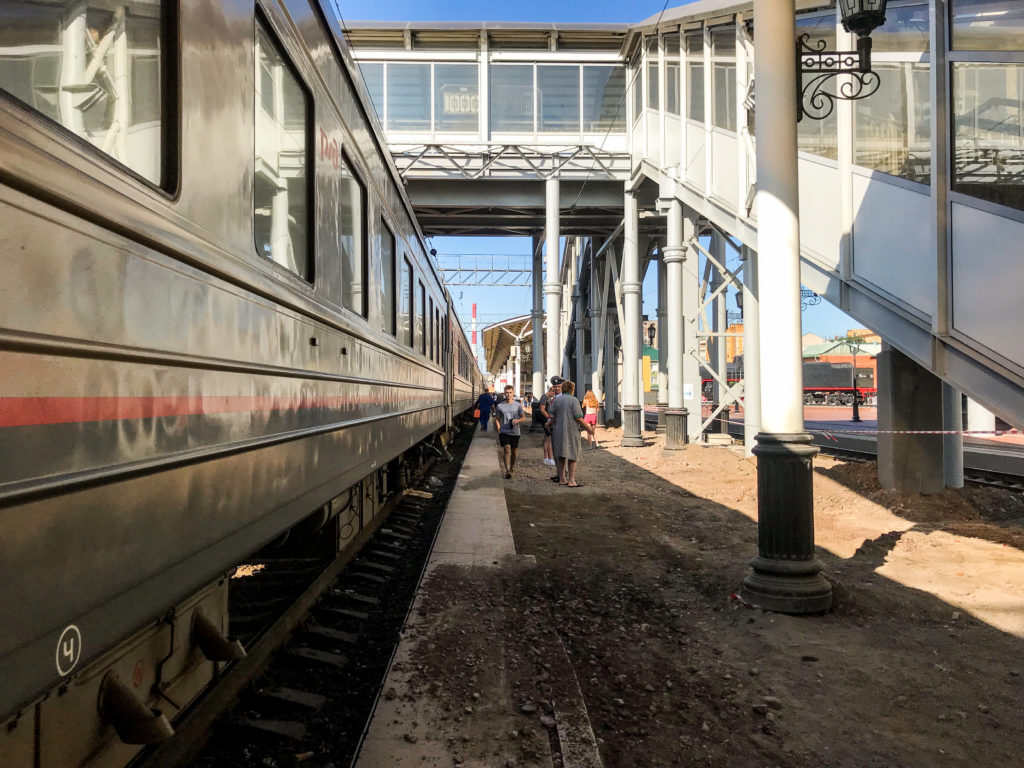 In the early afternoon we return to the dining car to brave what they are offering for lunch. Numerous rounds of beer are ordered to allow us to prepare for whatever unusual creation will be served. Prior to ordering lunch, one of the two female waitresses hands us her mobile phone with a message translated into English on it. They ask us to purchase a meal for them saying they are hungry and that they were not well fed on the train. We find this very bizarre and are confused as to whether they are being serious. Having spent time in Russia before I encouraged the group to err on the side of caution and we responded with confusion and dodge request.
Soon our lunch arrives, chicken on buckwheat. A bland meal requiring a large amount of seasoning to make it enjoyable. We sit in the dining car until the evening, playing chess and discussing our upcoming destinations. We thoroughly enjoy the train experience and the views to be seen from the window. Colossal factories with chimneys pumping out God knows what, abandoned villages, imperial railway stations still containing the infrastructure required for facilitating steam locomotives and the endless rows of pine forests that stretch to the end of the horizon.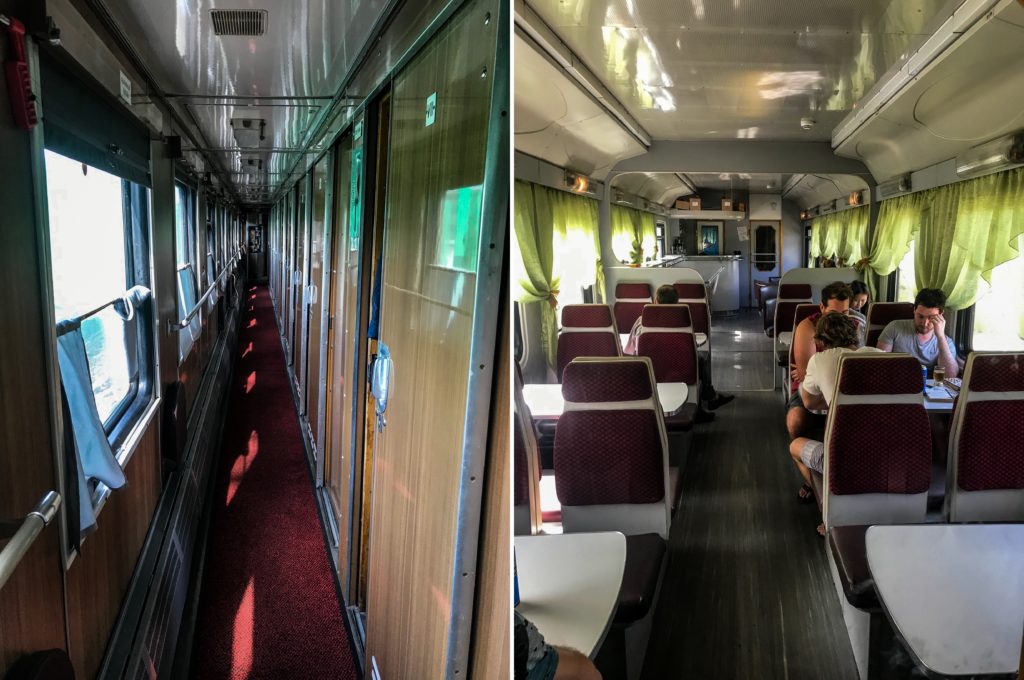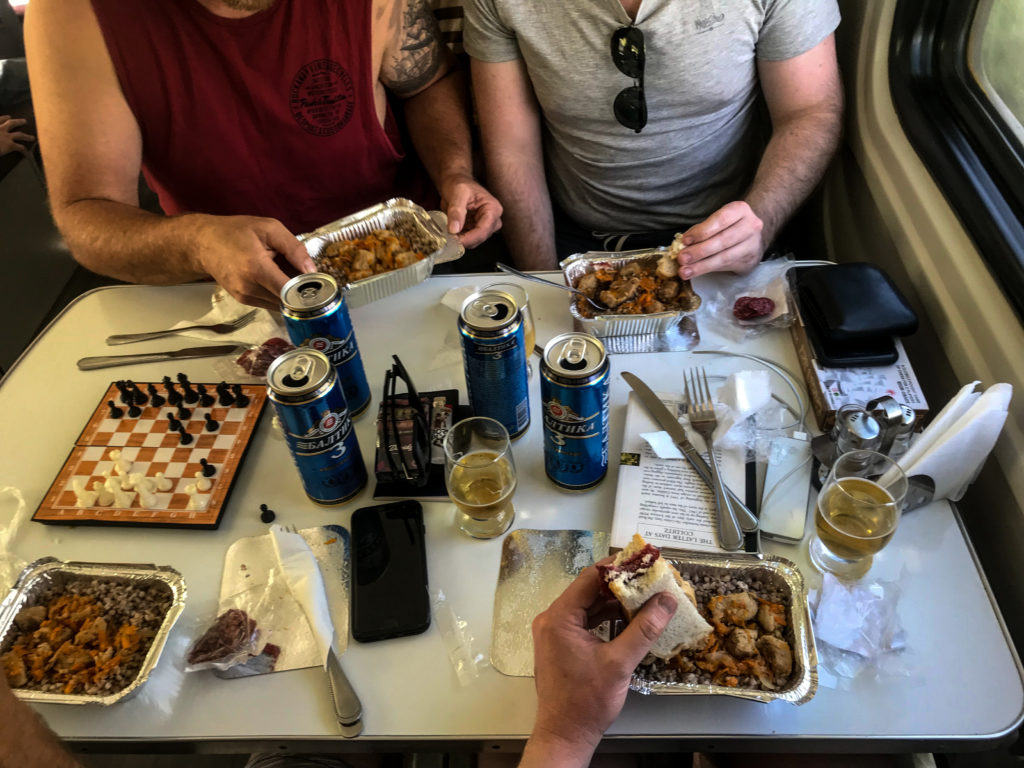 The evening is spent enjoying each other's company while discussing past times and memories. We study the landscape and the towns and villages we pass. The train is going quite fast and often it is too difficult to read the signs on the stations we travel through. A stunning sunset in the distance reflects off the surface of a river as we discuss our plan for Novosibirsk. I had found us a hotel right across the road from the station and we hoped we would be able to check-in early as our train arrives at 05:56. We say goodnight and settle in for our second night's sleep on the same train.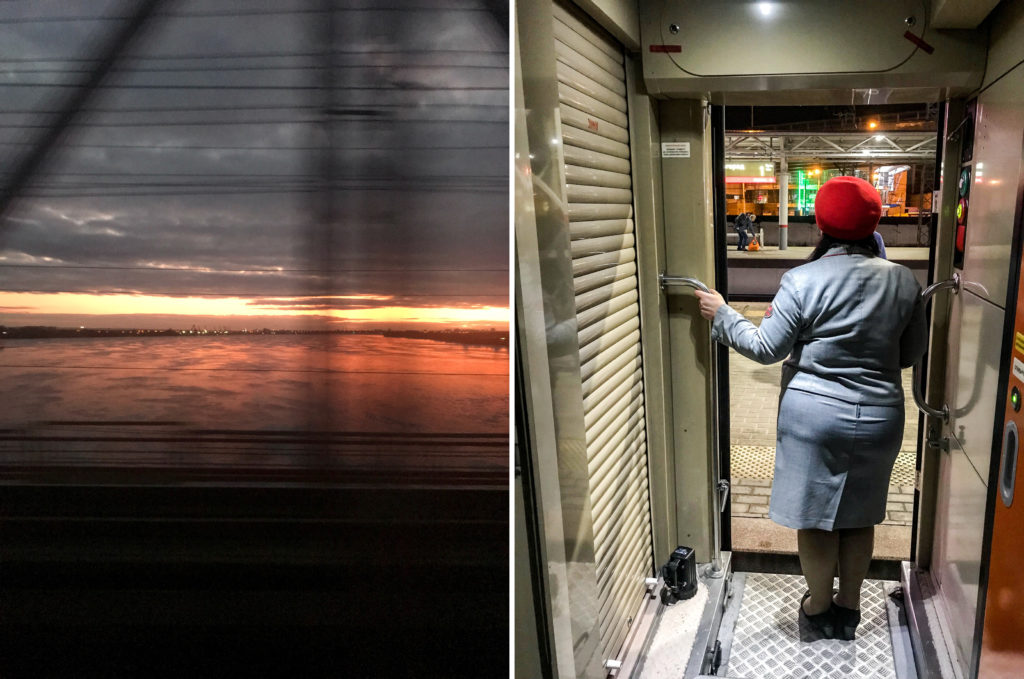 The train slows down as we wake to our alarm. Four people getting dressed and packing bags all at the same time in a tiny space is quite a challenge but it doesn't cause any problems. A morning glow appears through the windows as we begin disembarking and set foot in Siberia. Dawn is just breaking and we are unsure what we would do if we can't get an early check-in. Surely there aren't that many people staying in Novosibirsk on a Thursday night that our rooms can't be ready? We locate our hotel and they offer us a very generous early check-in rate which we all accept. This happens several times throughout our trip, sometimes letting us check-in extremely early free of charge. Their relaxed policy on this puts hotels back home to shame. Deciding to catch up on a few hours sleep we arrange to meet in the lobby in a few hours. I study the surrounding area from my window and look forward to exploring.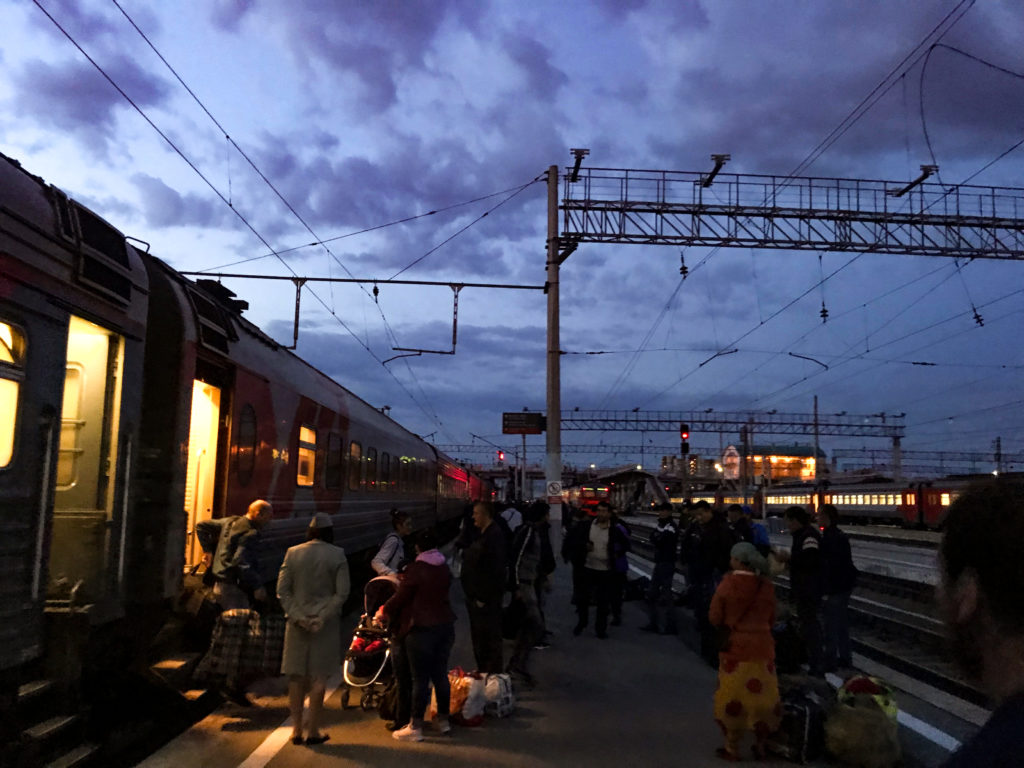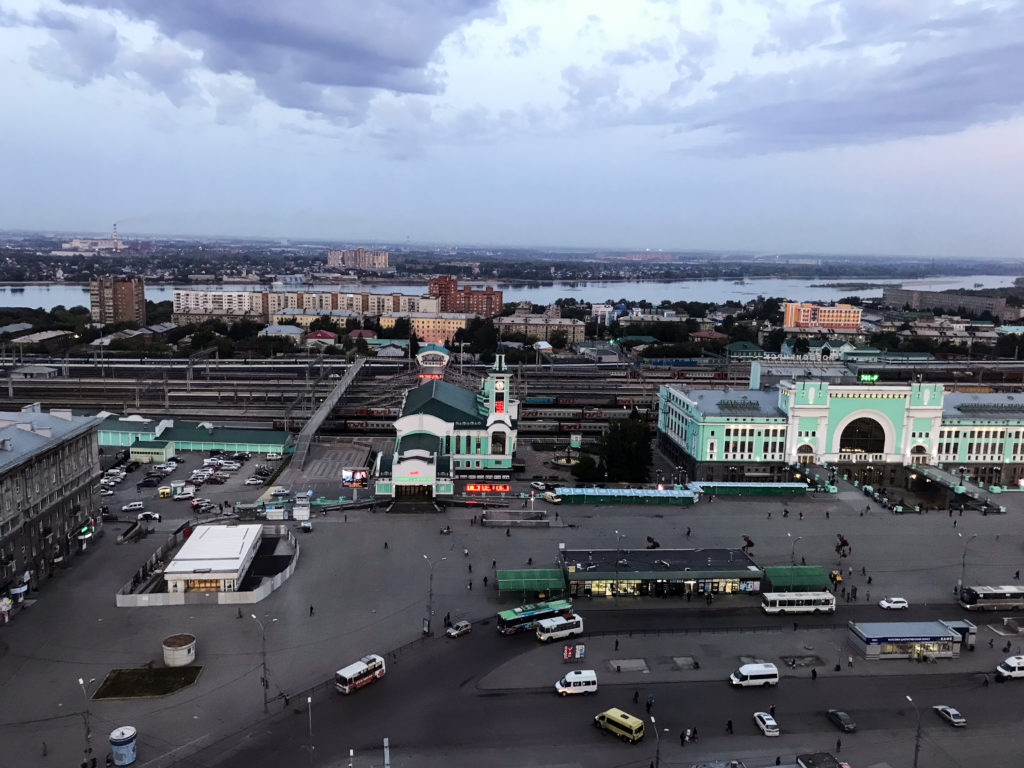 Meeting in the hotel lobby we head to a restaurant which forms part of the hotel complex. Enjoying a surprisingly good coffee and eggs Benedict we discuss our plan for the day. It is Friday and we looked forward to finding some venues for a pub crawl later in the evening. We set off on foot to explore the city. There were not many Imperial-era buildings and the city area consisted predominantly of massive Soviet era apartment buildings and busy wide streets. This might have something to do with the city being ravaged during the Russian Civil War. We head to what seems to be the town centre and stop at numerous bars along the way.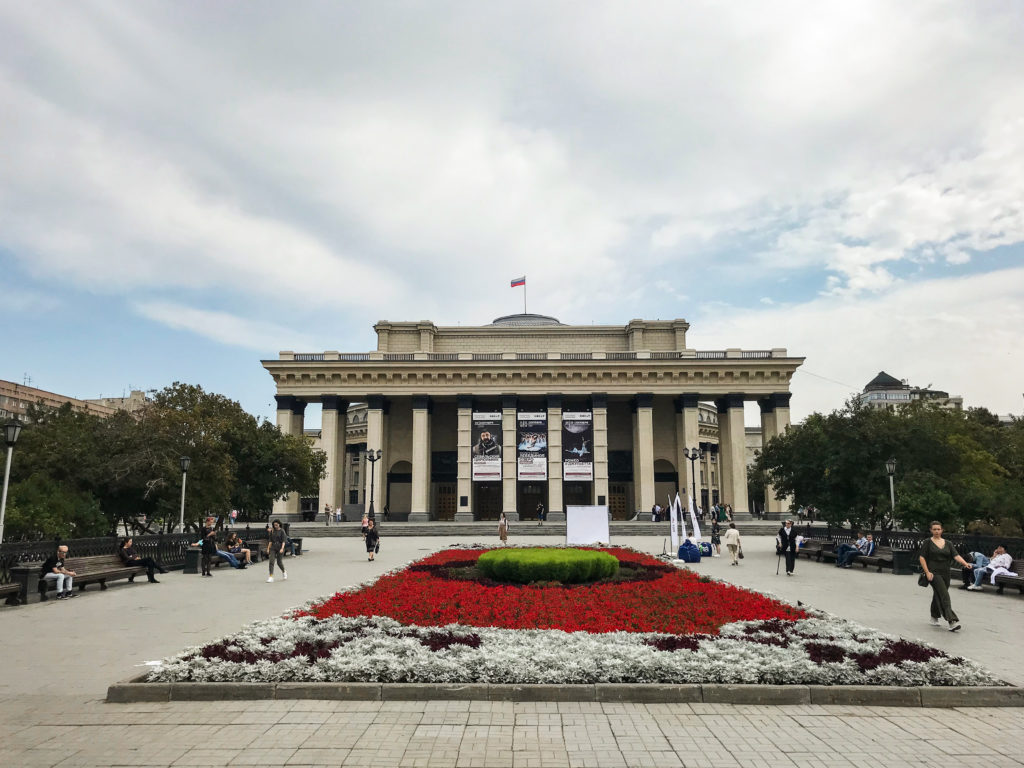 After a day of exploring we return to the hotel and try one of the other restaurants in the complex. The food is cheap and amazing. We all enjoy cheap cocktails and Russian shashlik cooked on charcoal. On our evening pub crawl we discover that there are some great bars here in Russia's third largest city. We soon settle in an absolutely packed Irish pub with a live band. People stare as they overhear us speaking English while we chat and struggle to order drinks. It seems funny being in a pub packed with decorations and references to Western culture but being stared at like you've got two heads when they realise that you're from there. Most of it is friendly curiosity but the body language makes it evident that it is not always that friendly.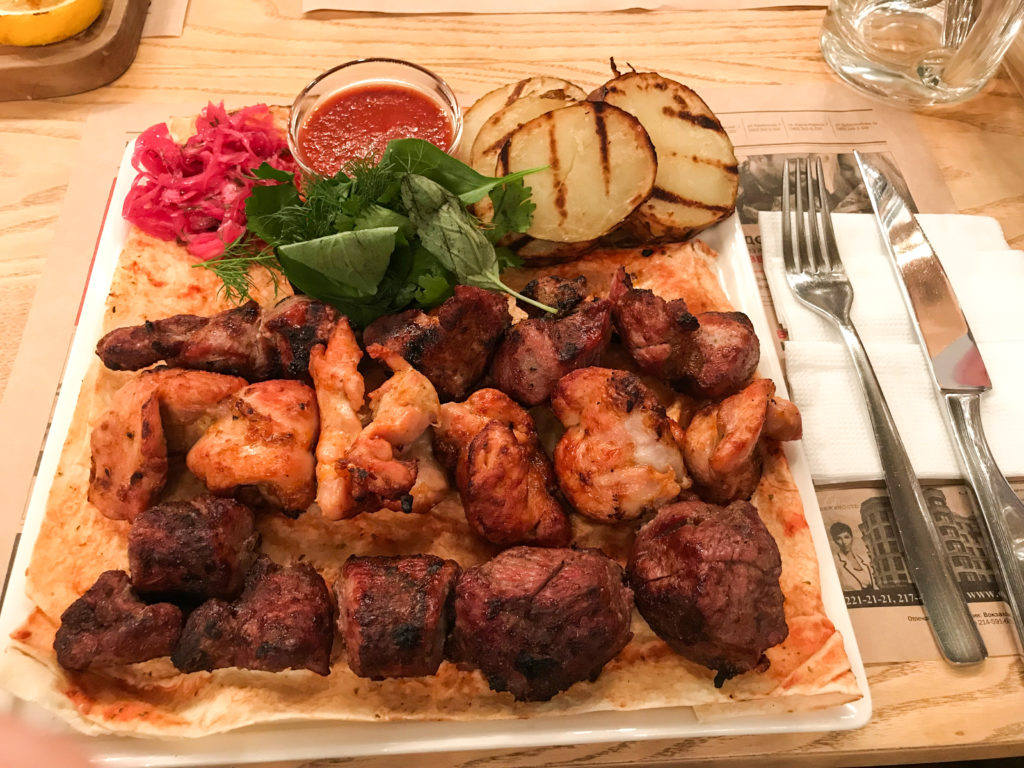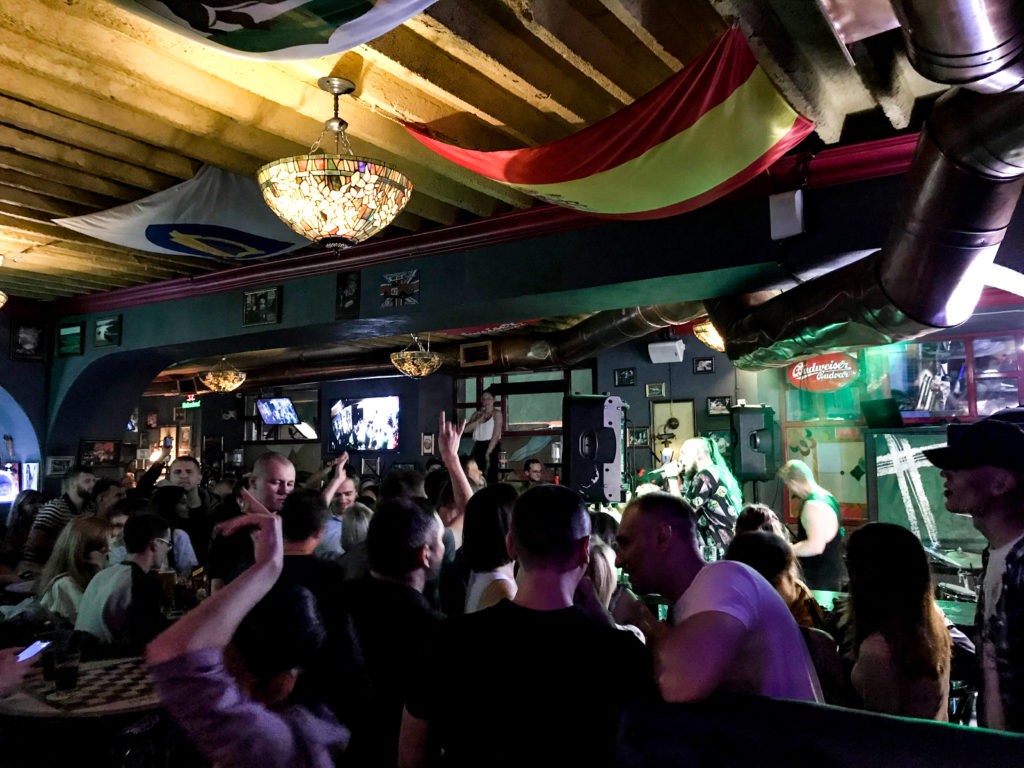 The next morning Scott and I head to the Novosibirsk Museum for Railway Technology which is a 30 minute train trip away. There is an awesome collection of old Soviet steam locomotives and other locomotives and carriages from  various periods of Russia's rail history. We return to the hotel who has washed our clothes for free while we were out. Meeting Brett and Matt for some more shashlik and cocktails we make the most of the great food before another 22 hour journey on the train to Yekaterinburg.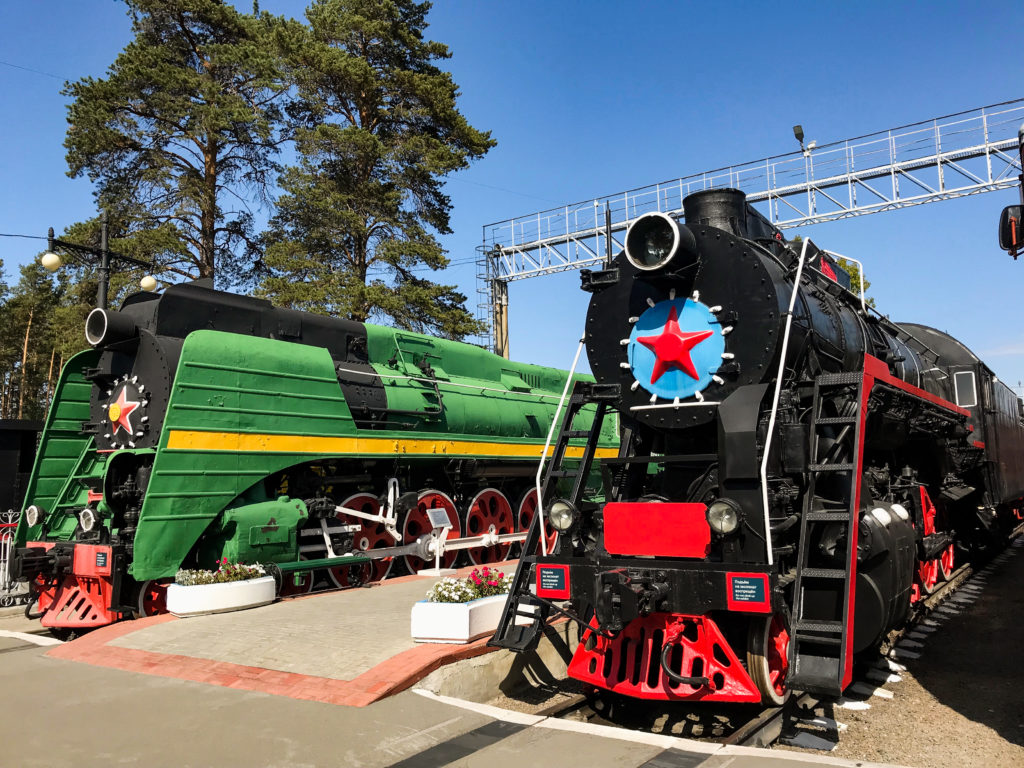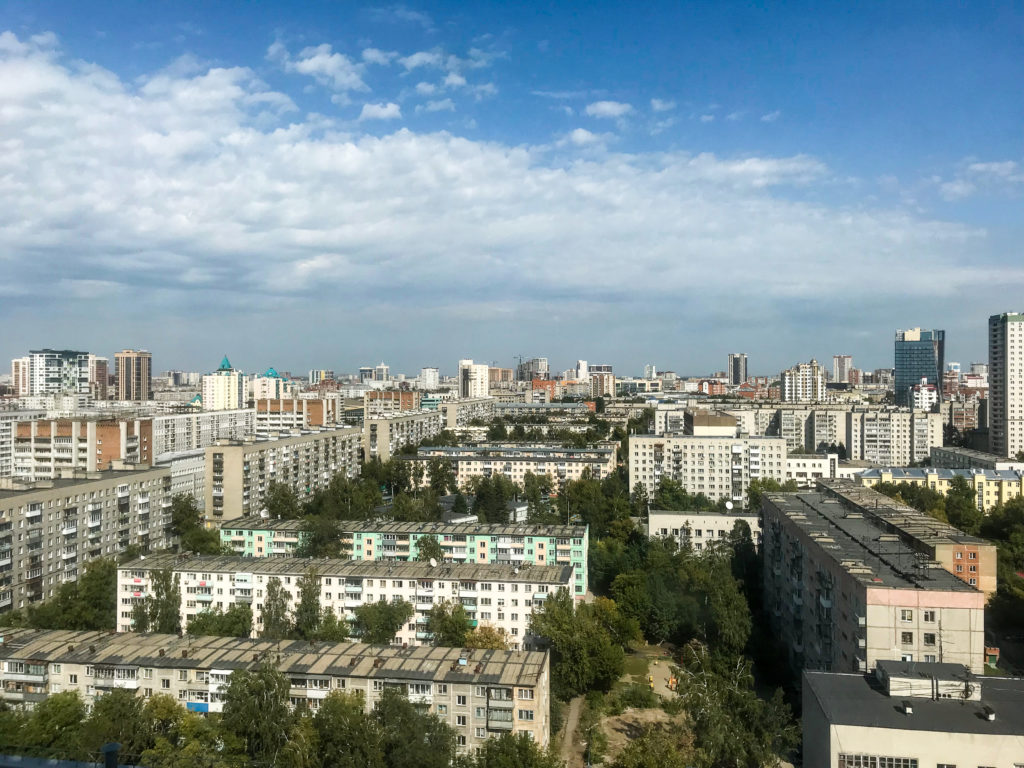 Arriving back at the grand halls of Novosibirsk Railway Station we purchase supplies for our upcoming journey. We decide that our cabin has more atmosphere than the charmless and bleak vibe of the dining car. Purchasing enough vodka to last us until Yekaterinburg we find our train and climb aboard. Our Bluetooth speaker provides the soundtrack to the Russian countryside scenery which we never grow tired of watching.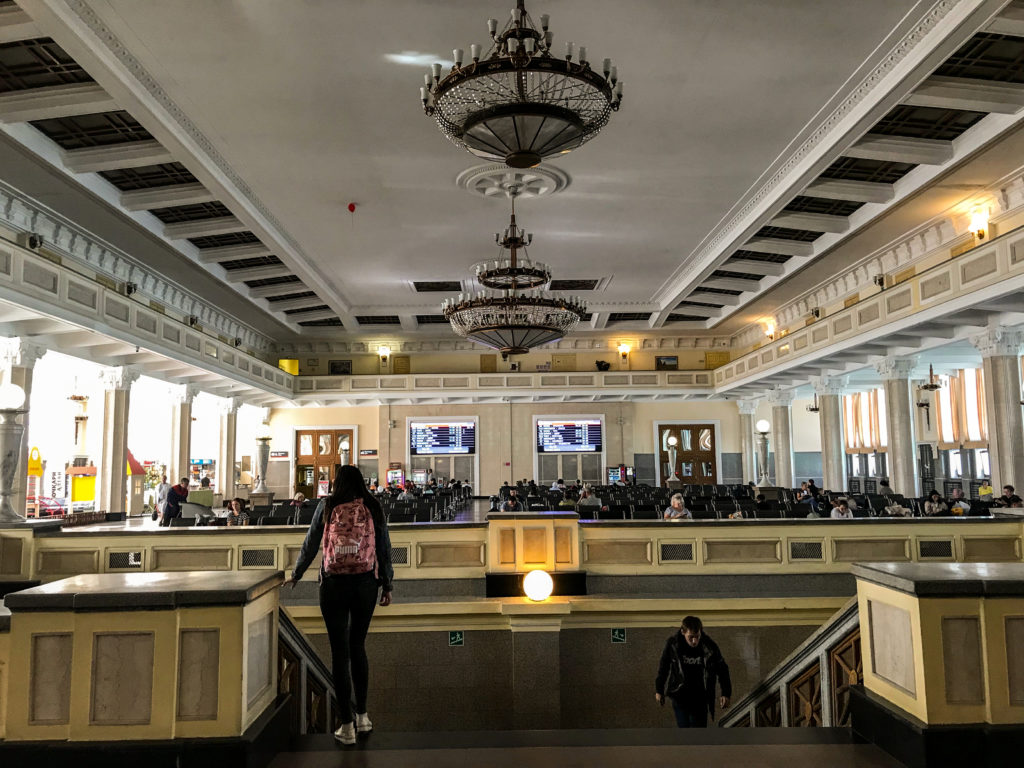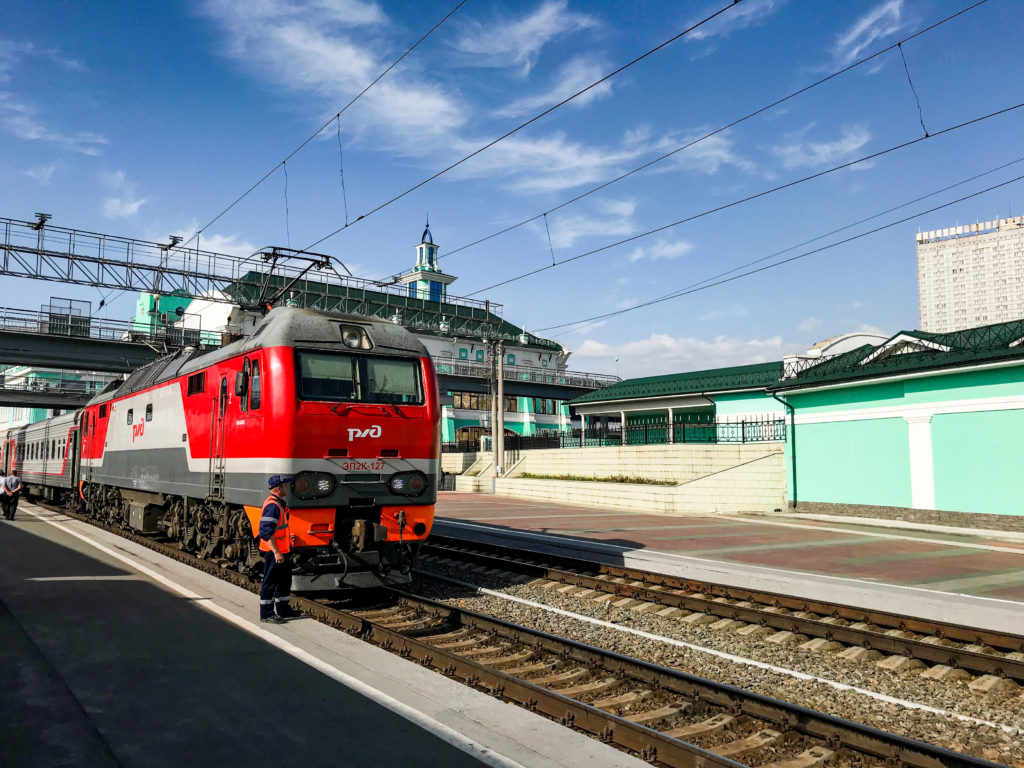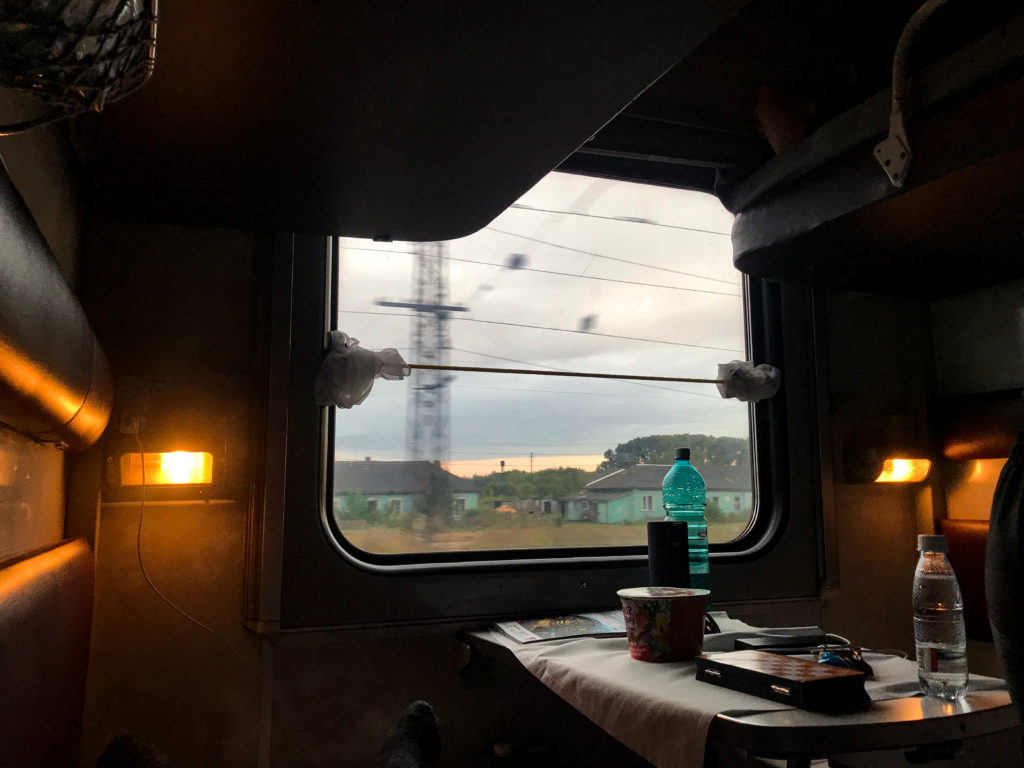 Arriving to a rainy Yekaterinburg we jump into a taxi and make our way to the hotel. The rain clears up and we waste no time in exploring the city. As Russia's fourth largest city with a population of around 1.5 million we soon find an abundance of bars and restaurants to choose from. The city does not seem to be as heavily influenced by Soviet architecture as Novosibirsk and there are numerous grand and beautiful buildings. We soon find a bar where we enjoy the best chicken wings that we have ever eaten. The manager is surprised to meet four Australians and provides us a complementary shot of locally produced vodka. He gives us some recommendations of other bars and restaurants to check out for the remainder of the evening. His generosity extends to even ordering us a taxi which he pre-pays for to take us to his first recommendation.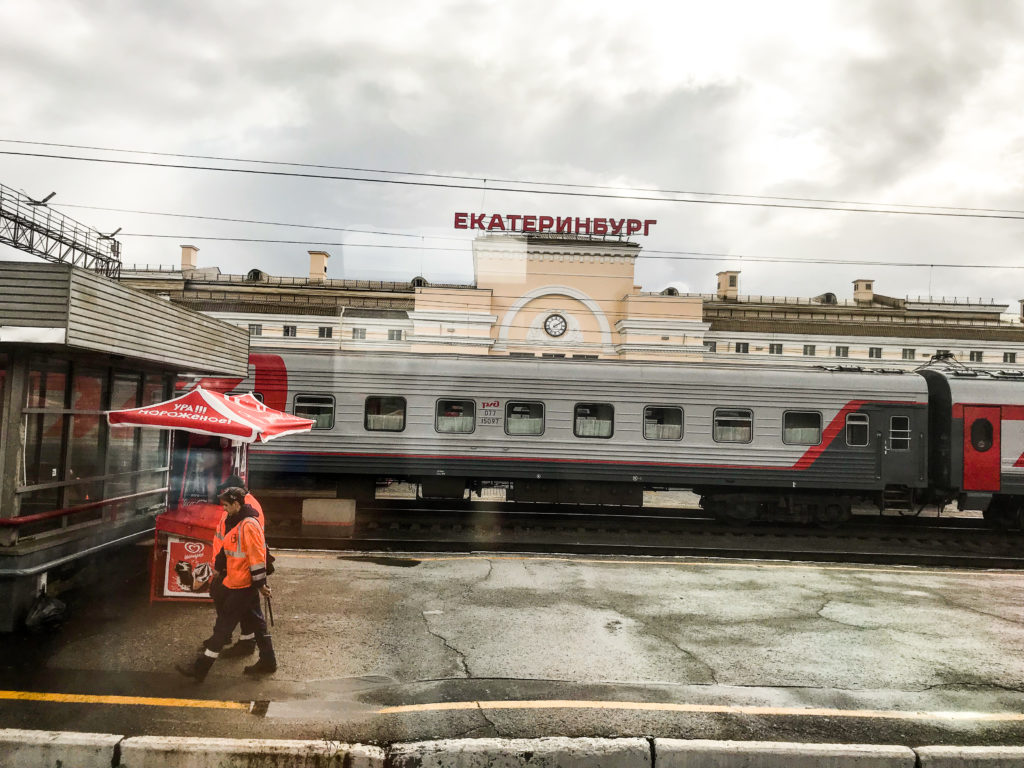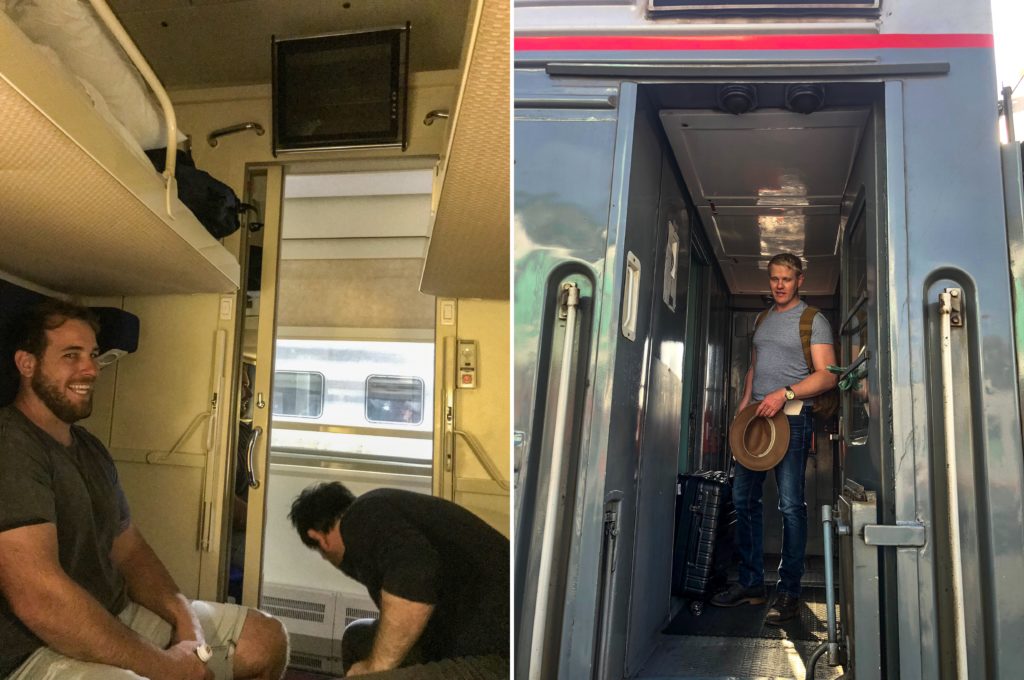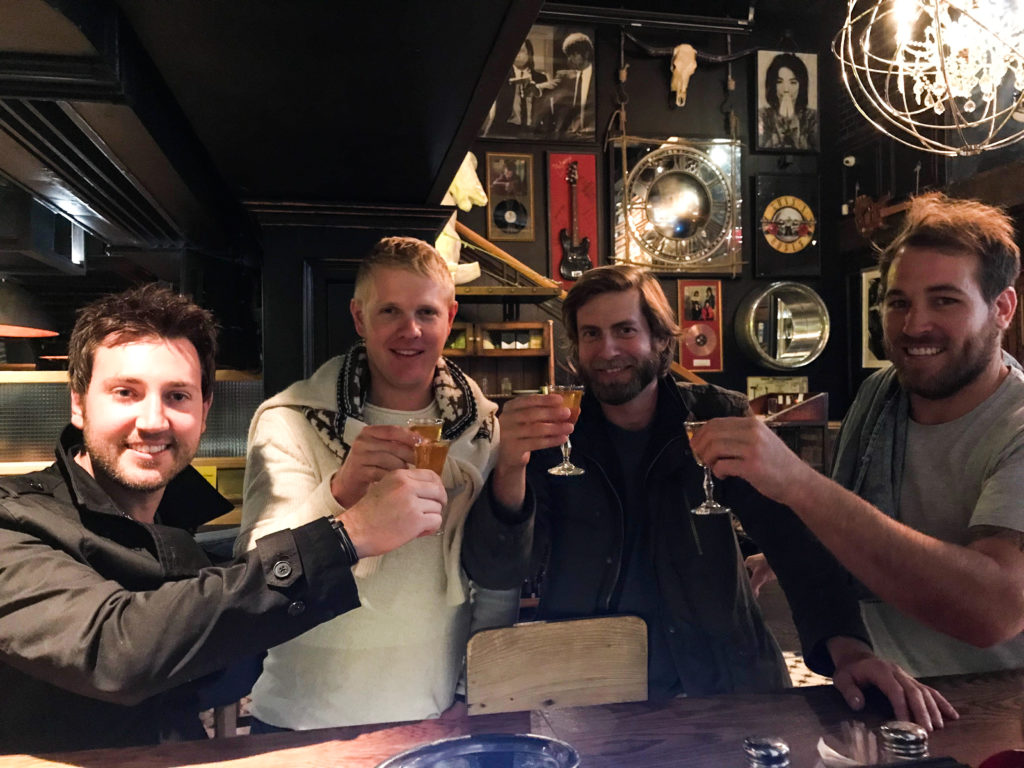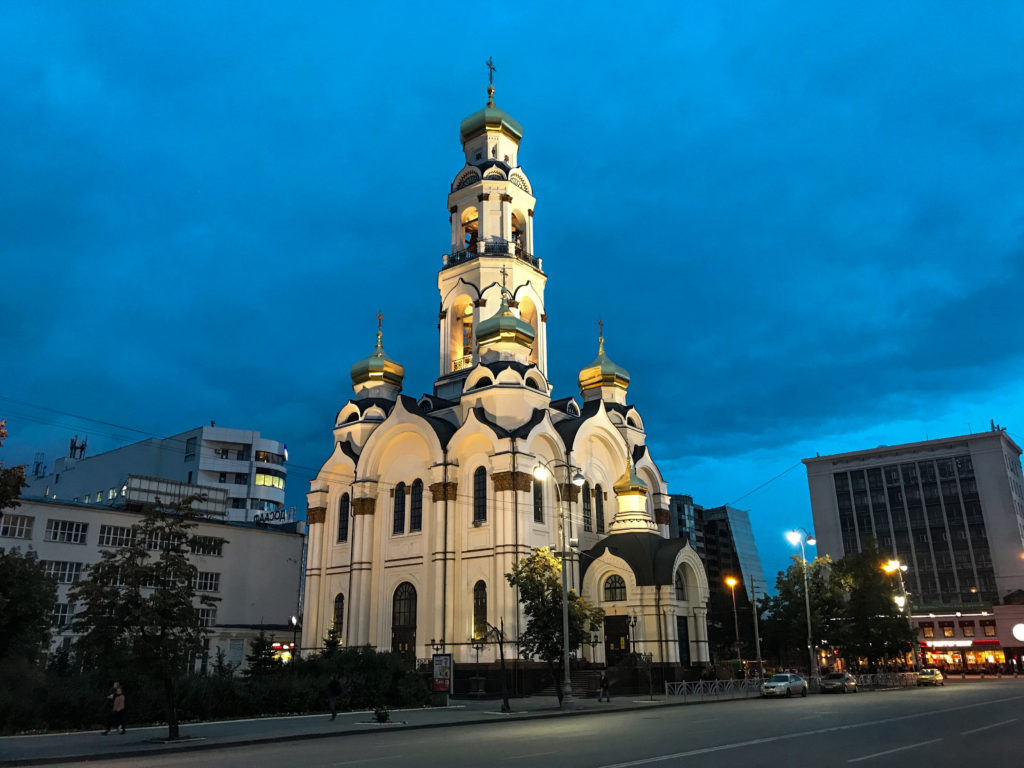 Our second day is spent looking for attractions and museums to visit. Unfortunately, there isn't much happening in Yekaterinburg on a Monday. We had also decided to spend the most time here as we had all read good things. Several of the galleries and museums we attempt to visit are closed. We find a bar high up in an office building that affords us a great view of the city.
Occasional rain lingers as we run out of things to see and do. This doesn't dampen our spirits and we find no shortage of bars and restaurants to try. We are very impressed with the quality of the food in the bars and restaurants we have visited in Russia so far. Our third day in Yekaterinburg is spent enjoying the sunny weather and we discover a new part of town that we had not yet visited. After a half-day of sightseeing we head back to the station for a 22 hour journey to Nizhny Novgorod.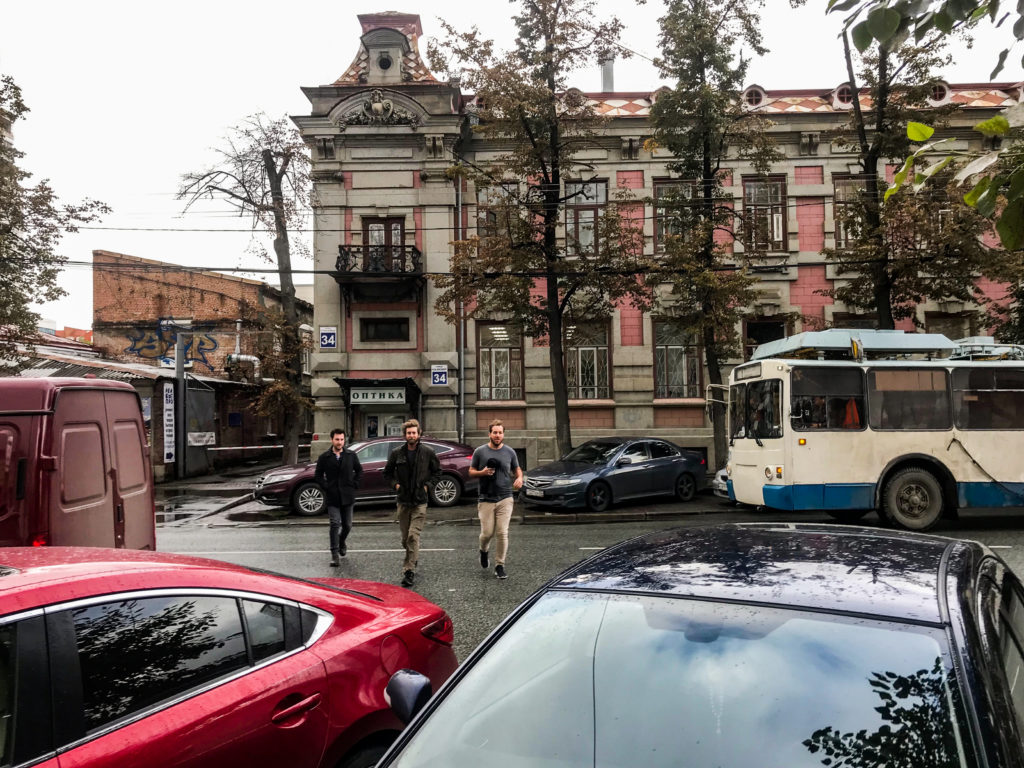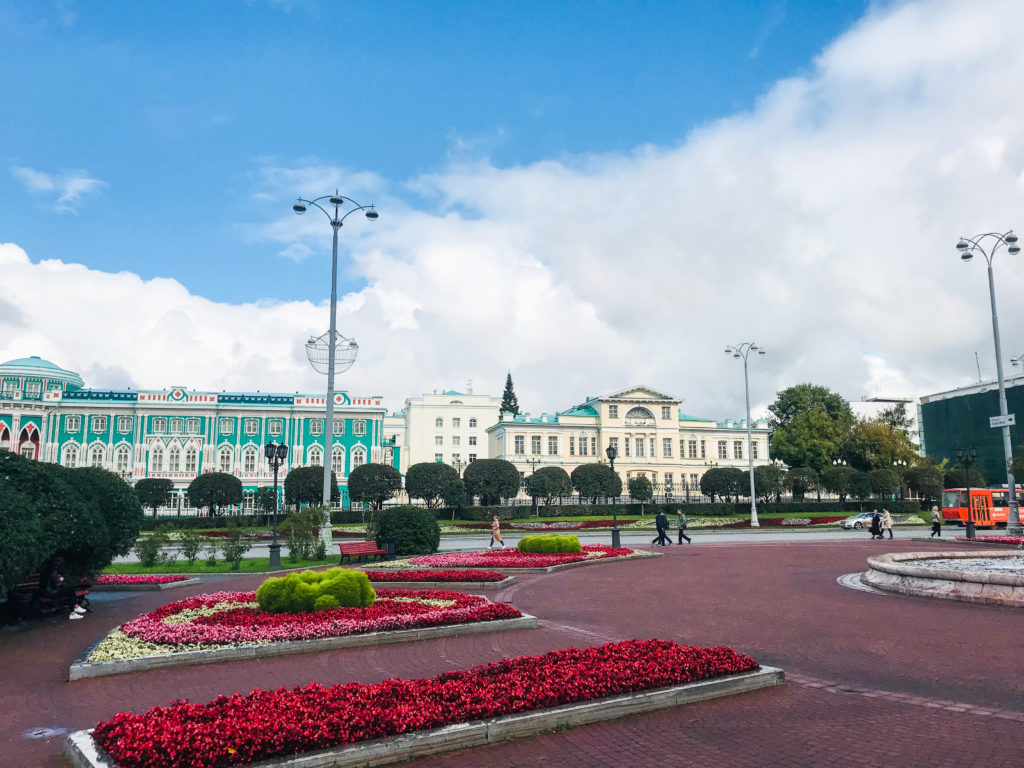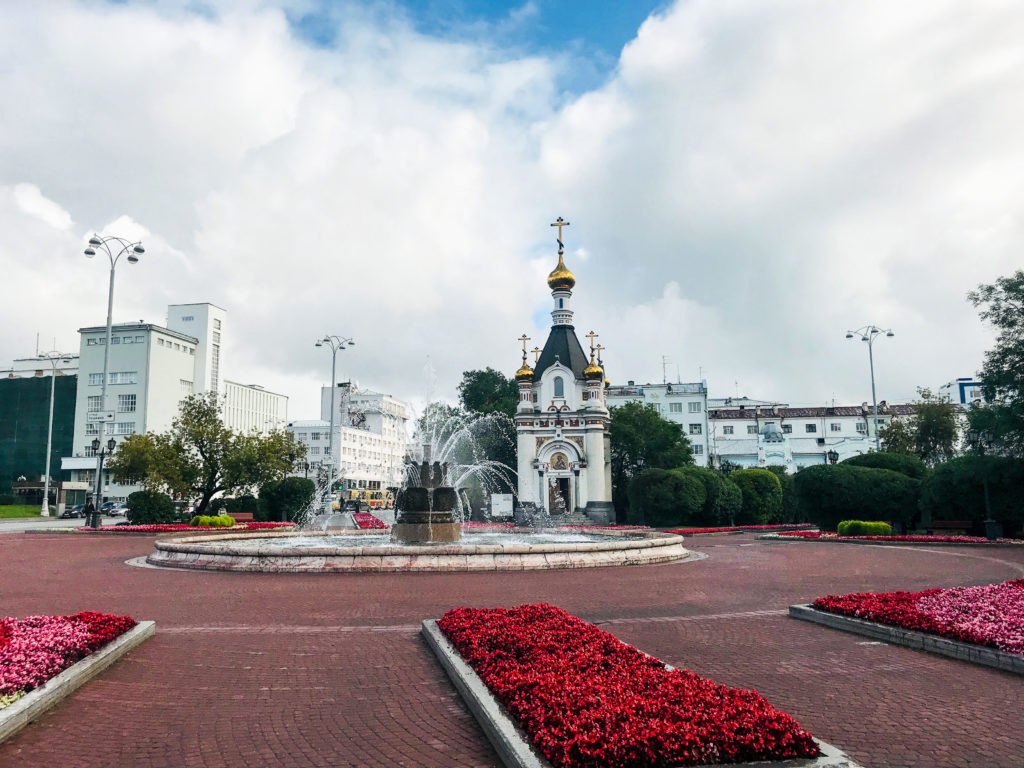 Comments
comments