A small minibus picked us up around midday at our hotel in Antigua. It was one of the only times during the whole trip that we were actually on a bus with other tourists going to do tourist stuff and it felt weird. It wasn't that bad though, there was only about 10 others, all Canadians and some Western Europeans. The Canadians said that they were in Antigua learning Spanish and some of them seemed to be a little alternative. One was wearing this hippie bandanna type garment. Almost straight away Tiny got into an argument with bandanna boy about the war in Iraq. However unlike every other time this hippie had been talking about Iraq, this time he was talking about it with someone who had actually been there and Tiny won the argument fairly quickly resulting in an awkward silence for a few minutes in the small minibus. It would have probably been more interesting if Tiny had been drinking.
We were driving to Pacaya which is an active volcano at an elevation of about 2500 metres. It took about an hour to get there which seemed longer after the tension that the argument had created. We pulled up at an undercover seated area and met up with our guide and some other tourists who were already there. Although the trek didn't involve any serious climbing the guide told us how he was an experienced mountaineer and knew the area well. He reminded me of Indiana Jones and wore one of those fishing type vests with lots of pockets, a weathered tan American baseball cap and a pair of Zamberlan hiking boots. They were probably the Civetta GTs which were tough boots for tough terrain. They provided the support and durability that a mountaineer needs, especially a volcano mountaineer.
After a quick few words from the guide the trek kicked off and we were soon ascending the mountain. I was surprised when the group started breaking up into the various fitness levels and the guide didn't really worry about keeping everyone together. For quite some time the path was surrounded by thick bush until the landscape started getting more and more blacker and covered with ash. At a clearing there were some horsemen who were offering rides up to the volcano for a fee. A few of the group took them up on it and started negotiating prices, I think they paid $10 USD. As we ascended higher and higher we reached cloud level and became enveloped in a thick mist. Tiny had been smoking roll-your-owns for the last few weeks and kept swearing as he fumbled trying to roll one on the move.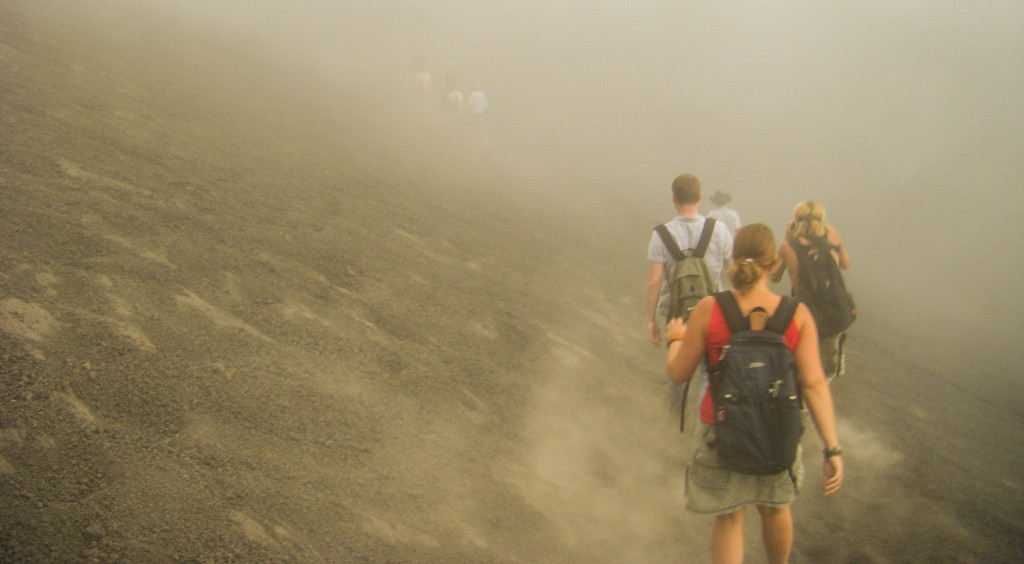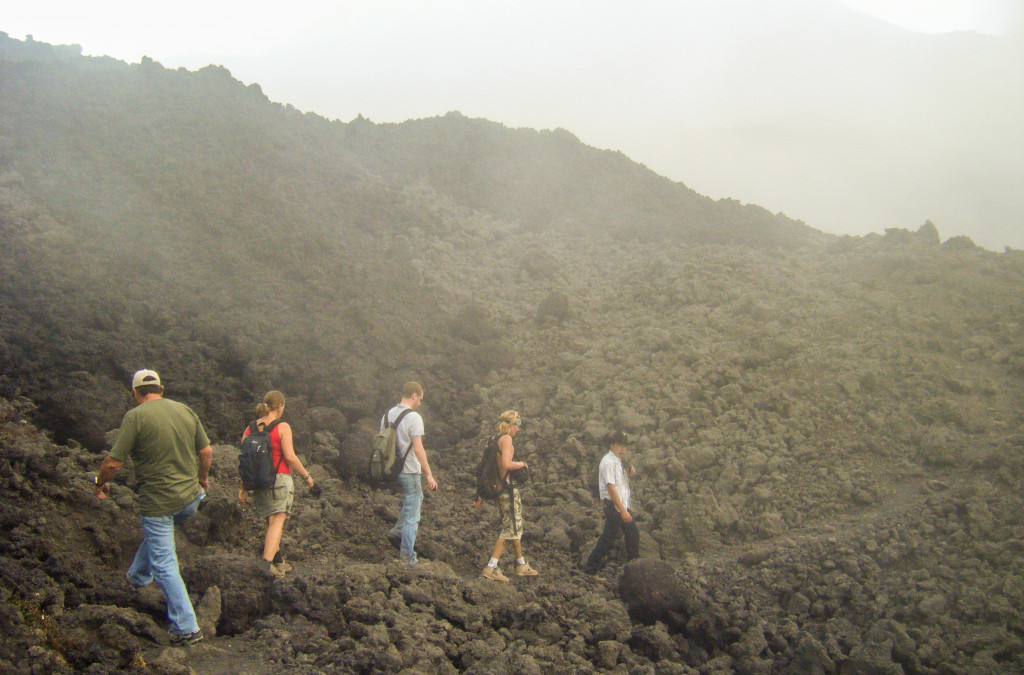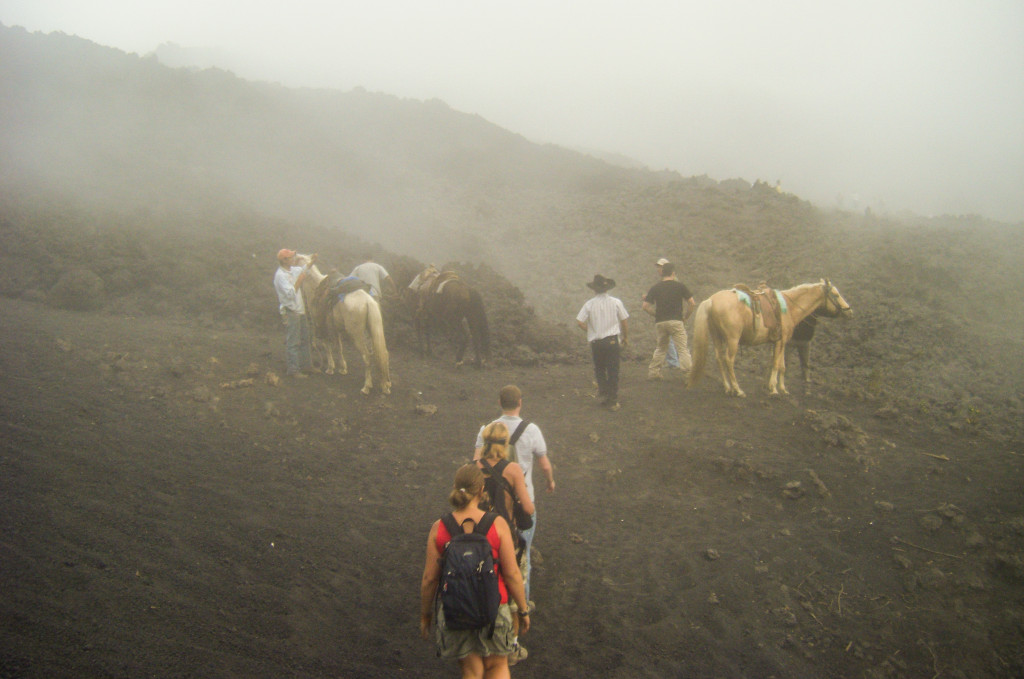 Soon the landscape was completely black and it resembled what you would imagine the moon to look like. Out of nowhere a police patrol passed us approaching from opposite direction. One of the policewomen was quite large and I think I knew why she had been assigned to the Volcano unit. The guide said that due to so many tourists being in a remote location we were an easy target for bandits and some robberies had occurred which had now resulted in a police presence on the volcano. The climb seemed to go on forever, and when you thought you had almost reached the top you realised that there was another peak on the horizon. After a while we could finally see lava in the distance which looked amazing. We were so high that we were above the clouds and as it was dusk the sun started going down which created some amazing views.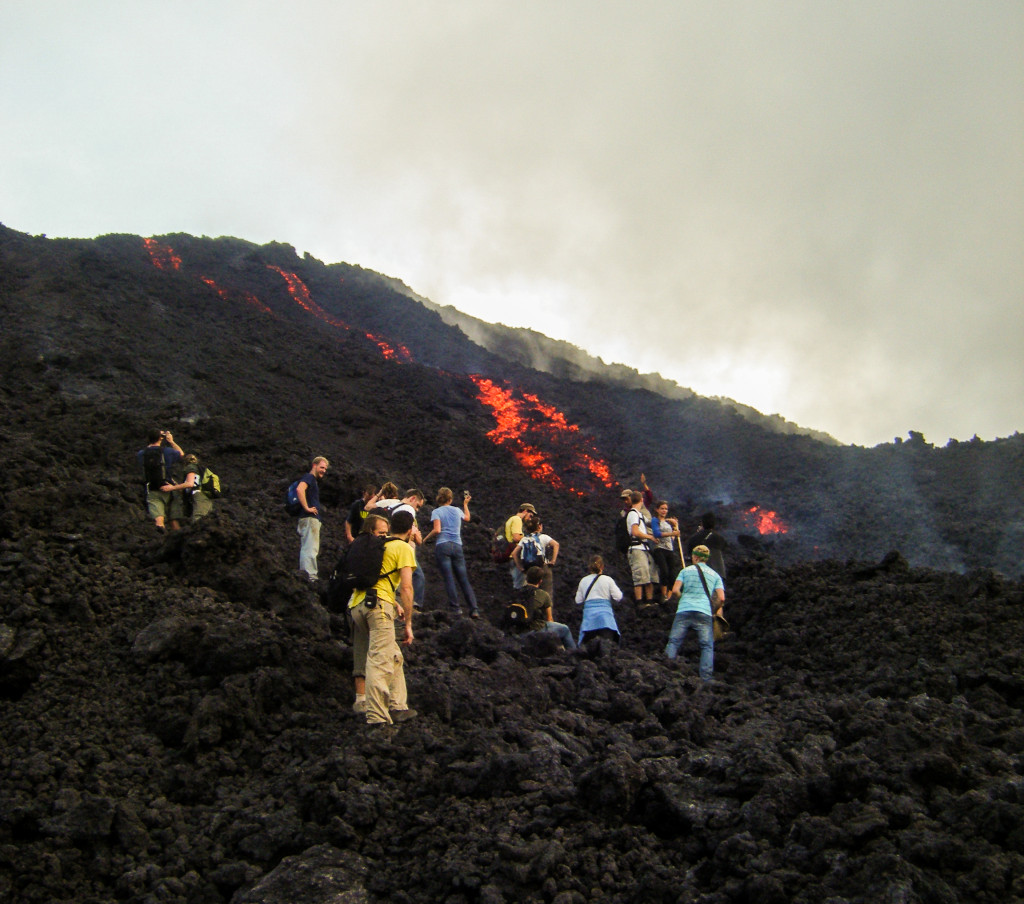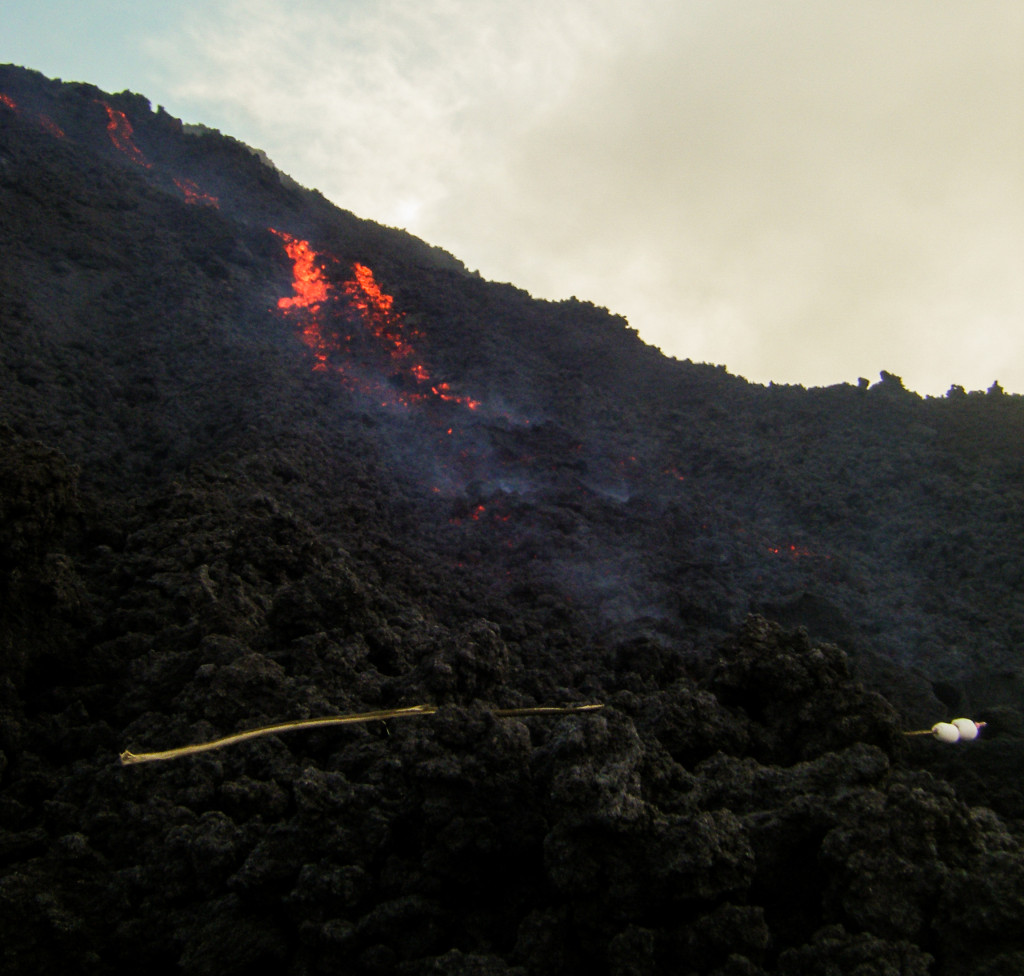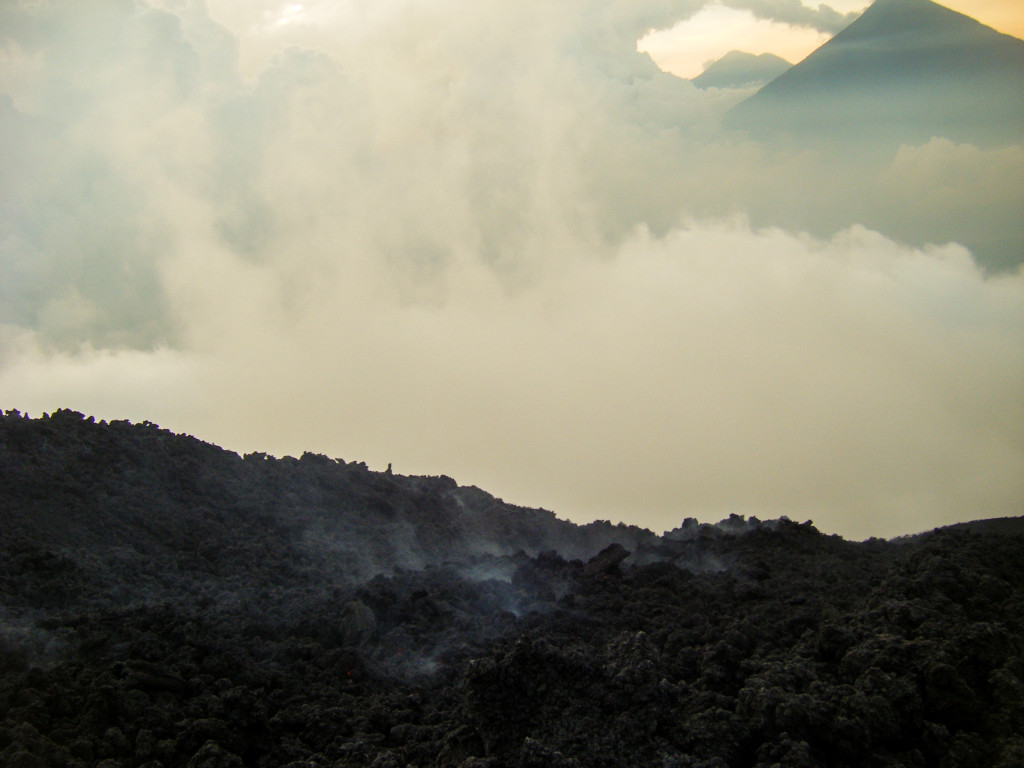 As were approached the stream of lava another group that had already been there started leaving which freed up the place for us to enjoy. Out of nowhere someone opened a packet of marshmallows and started passing them around. I grabbed a stick which had most likely been left there from another marshmallow session and started roasting a marshmallow over the lava. The guide bent down to the ground and stuck his cigarette into a hole between some rocks which spontaneously ignited it. Some of the group ventured too close and their shoes started melting and catching fire. It was an absolutely breathtaking setting. I never imagined that I'd be watching the sunset while roasting a marshmallow on lava flowing from a live volcano.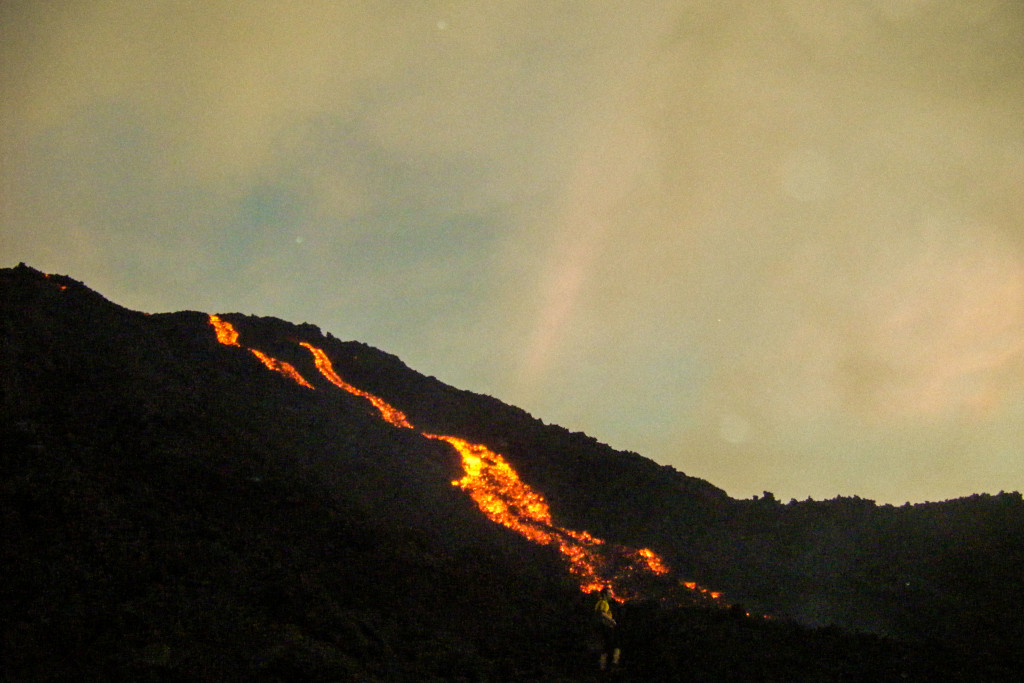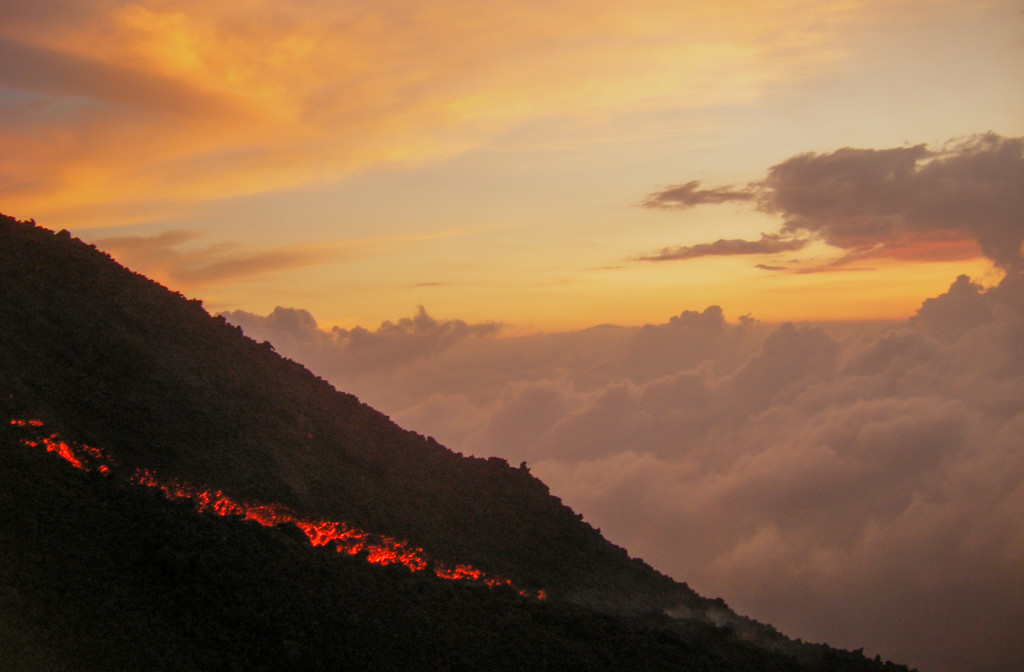 It started becoming quite dark and we began to make our way back down the mountain. I had completely lost sight of Tiny and could find no explanation for where he may have gone. I started asking others from the group and no-one seemed to know where he'd gone. Maybe he had bent down to light one of his roll-your-owns and fallen into the lava river. One of the Canadians asked another one of the guides who didn't speak English if he had seen him and he said that he thinks he saw him riding a horse back down the mountain. I triple checked that the guy he'd seen had been wearing what Tiny was wearing and he seemed pretty sure. The descent was similar to the walk up and the group broke into various different parties. I wondered if the guide had been mistaken about Tiny and wondered what if it wasn't him? Maybe he'd been kidnapped by volcano bandits that the guide had told us about. We eventually made it back down in the dark and I saw Tiny at the undercover area drinking a beer and telling a story to a group sitting around him. A small kiosk had opened which was selling drinks and snacks. He noticed me, smiled and continued telling his story. The idiot hadn't even let me know he was going to go back down without me.
Feel free to leave a comment below if you have anything to say.
Comments
comments