Embarking upon the Baku – Tbilisi night train was an experience I was greatly looking forward to. Having recently completed the epic Trans-Siberian Railway journey, we were eager to compare the onboard Azerbaijani Railways hospitality with our previous experiences aboard Russian, Mongolian and Chinese trains. Was there to be champagne on arrival? An elegantly decorated dining car offering Azerbaijan's finest cuisine? Or perhaps a lounge car offering cognac and cigars? No, unfortunately neither of these scenarios were to be presented.
Looking for the exit on the 2nd level of Baku Railway Station we passed by a rather peculiar sight, something I had never encountered before. Perhaps you, the reader, have encountered a sleeping booth? It was a small cube of about 2 metres high and 3 wide. One could rent this sleeping cube for a fee of course. I'm unsure of how it would be cleaned or the linen changed after each use, interesting nonetheless. Hopefully its presence wasn't a reflection of Azerbaijan Railways' schedule running on time or not.
A friendly policeman happy to practice his English pointed us in the direction of our train. The usual former Soviet Union passenger rolling stock sat at the platform. Each carriage entry carefully guarded by the onboard attendant, or 'Provodnista' as they're known in Russia. She inspected our passport and ushered us aboard. We were three, and therefore hoped that the 4th bed in our four person sleeper cabin hadn't been booked. And if it had, at least booked by someone interesting with an educated taste in vodka.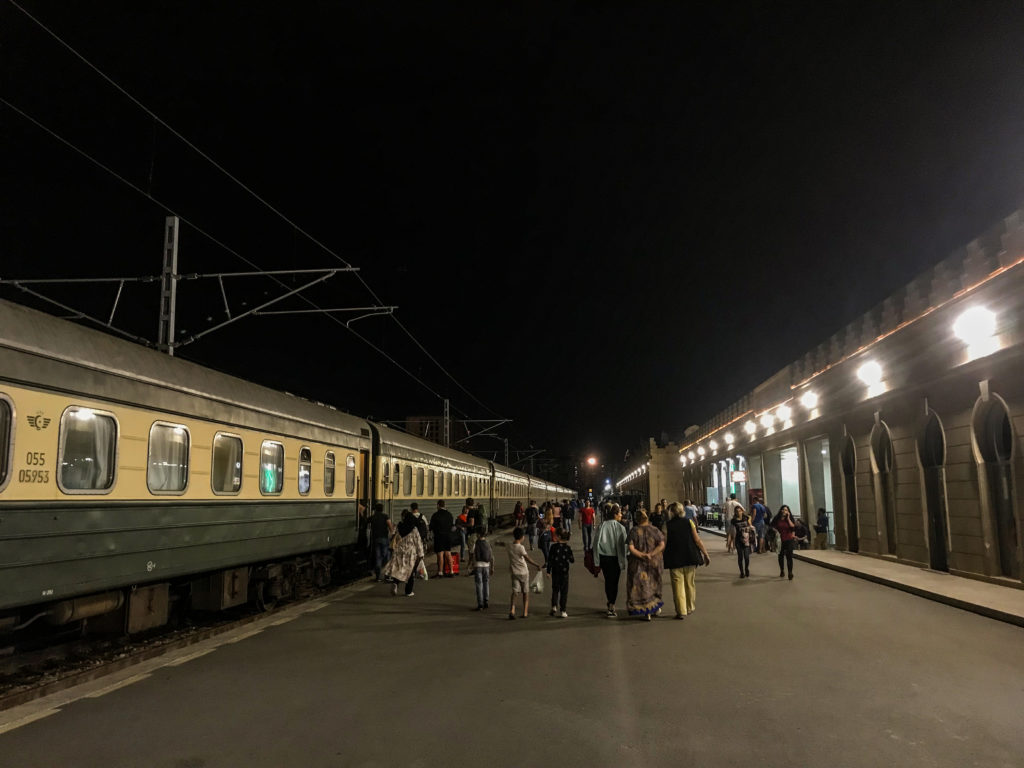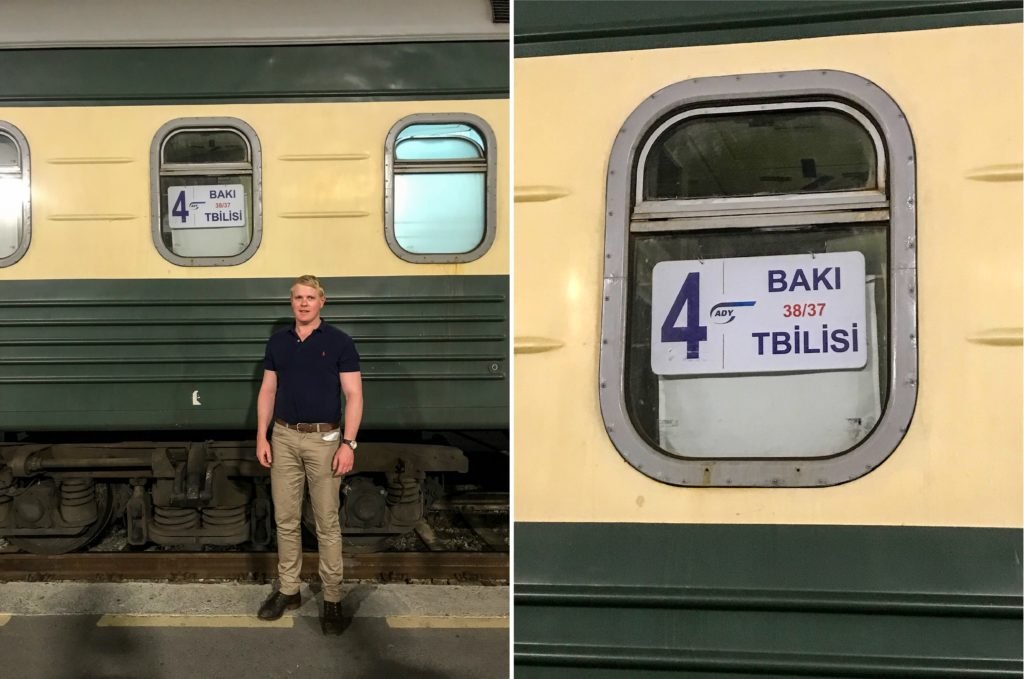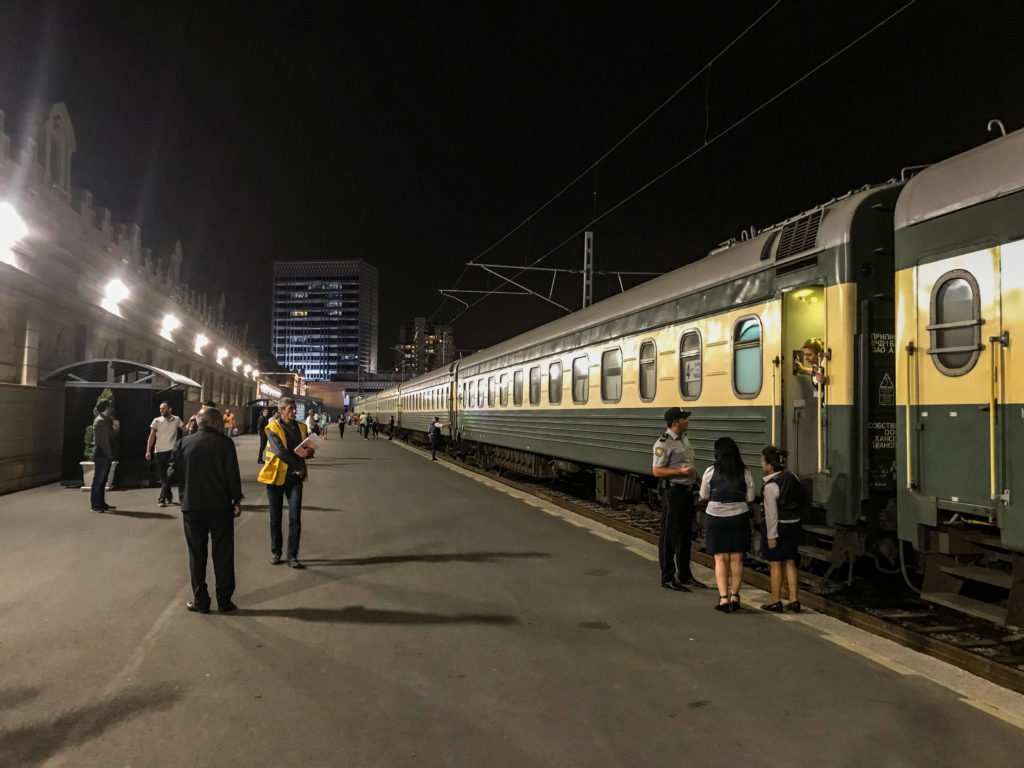 Making our way past passengers of either Azerbaijani or Georgian origin we located our cabin halfway down the carriage. I always tried to book cabins in the middle in the hope that noise from loitering passengers seeking to use the toilet or urn at either end would not disturb my sleep. Or, that the slamming of doors which was often required on these old trains did not add to the many reasons not to enjoy a good sleep onboard a train. Finding a short man of about 50 in our cabin, I said hello first in English than in Russian. Neither assisted in the desired result and he soon left the cabin and returned with a youngster who spoke English.
We were to share our journey with this fellow who had already attempted to occupy my bottom bunk and protested when challenged. Eventually he accepted his fate and established himself in the bunk above mine. The cramped space was not improved by the drab and unwelcoming decor. Our journey hadn't even started before another annoyance was discovered. No dining car, great. There won't be any departure drinks or final Azerbaijani treats to sample.
We studied the Baku – Tbilisi night train schedule affixed to the wall of the corridor. We were to begin our border crossings at 05:25. Too early for me that's for sure. That didn't stop us enjoying a bottle of Azerbaijani wine which we had packed for the journey just in case. Our cabin mate had departed to the neighbouring cabin to converse with what must have been his fellow travellers. Calling it a night, we settled into our narrow beds which were also shorter than any other night train I had travelled on and I struggled to lie straight.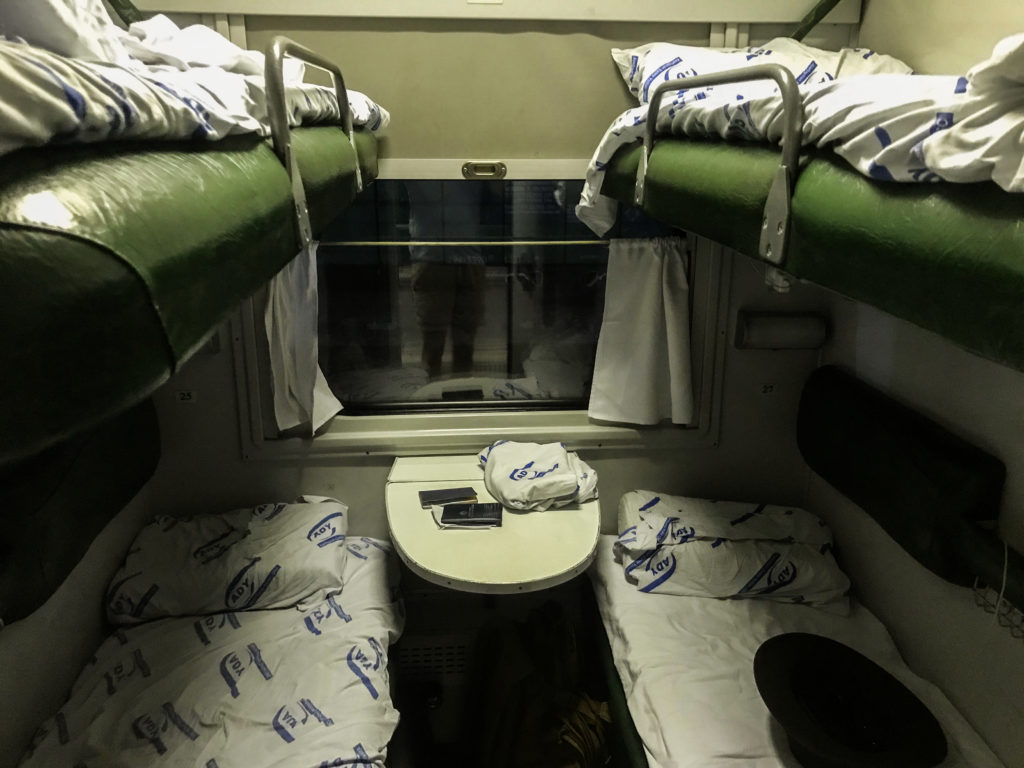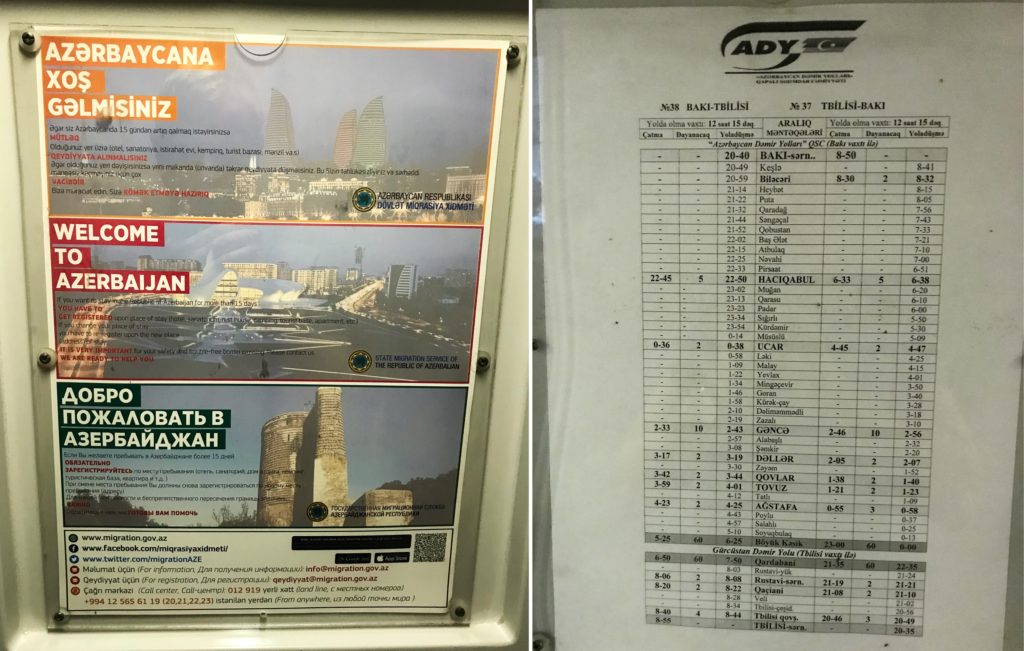 Loud thumping on our door from the carriage attendant woke us all. Our cabin mate dressed and once again joined the neighbouring cabin. It was time to cross the border into Georgia which would take around two hours. Unlike the views of our previous long distance rail journeys of the past few weeks, with dramatic mountains, green pastures and endless pine forests, we opened our curtains to a ghastly bleak setting. During the remaining few hours of our journey our train seemed to pass through a dystopian, post-apocalyptic world. We watched through the window at endless scenes of rubbish, fires, rubbish on fire, decaying Soviet factories, stray animals and abandoned buildings. The grey skies certainly didn't help, but the sun would have only allowed us to see it all easier I decided.
Our passports were collected and returned to us without dialogue as we departed Azerbaijani territory. After a short distance through no man's land where a Georgian soldier returned my wave, we arrived in Georgia. Soldiers stood around our train as another hour passed. A Georgian border policeman showed interest in our nationality. He began speaking about the Australian basketball team and how he had only a day earlier watched a match of theirs on TV. We tried to converse pretending we knew what he was talking about but I think he soon realised we weren't fellow basketball fans. He politely welcomed us to Georgia and moved to the next cabin.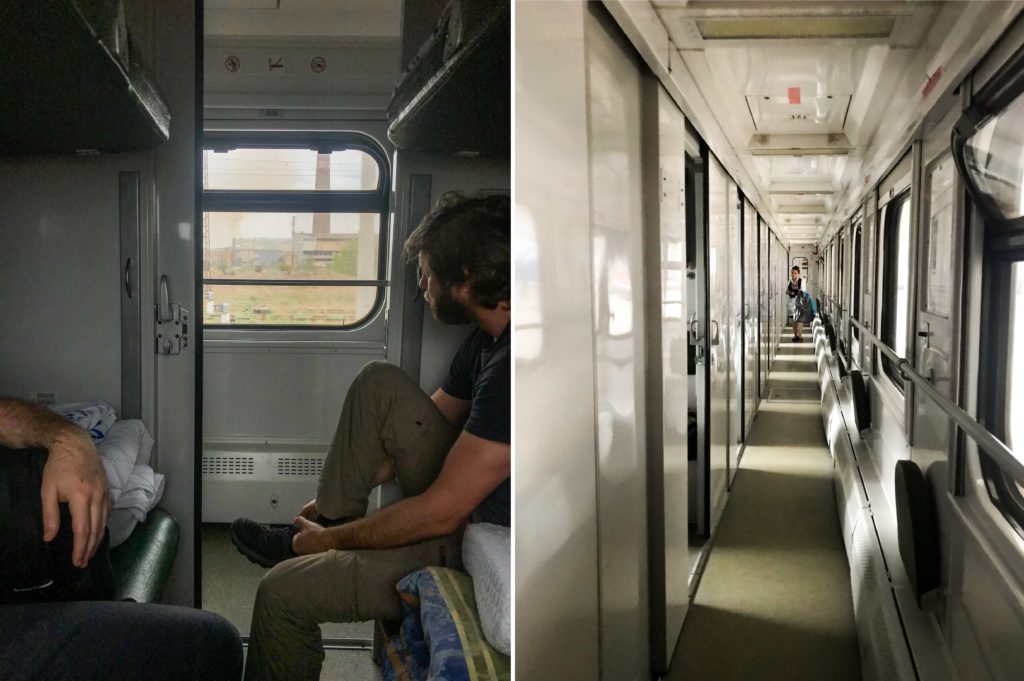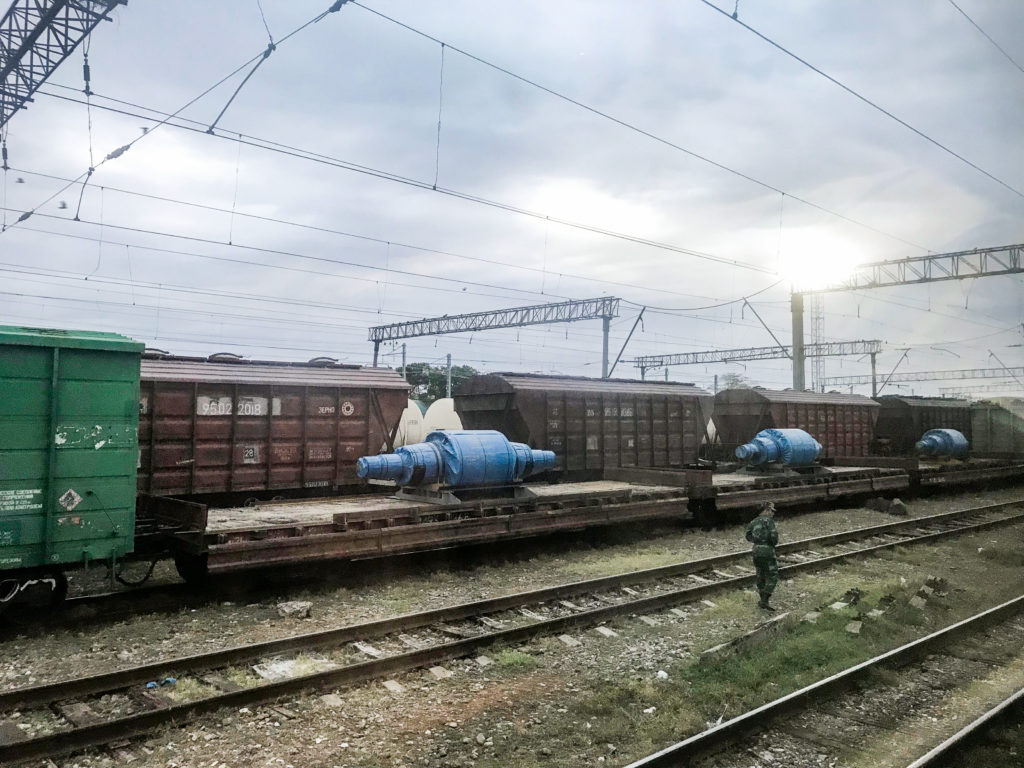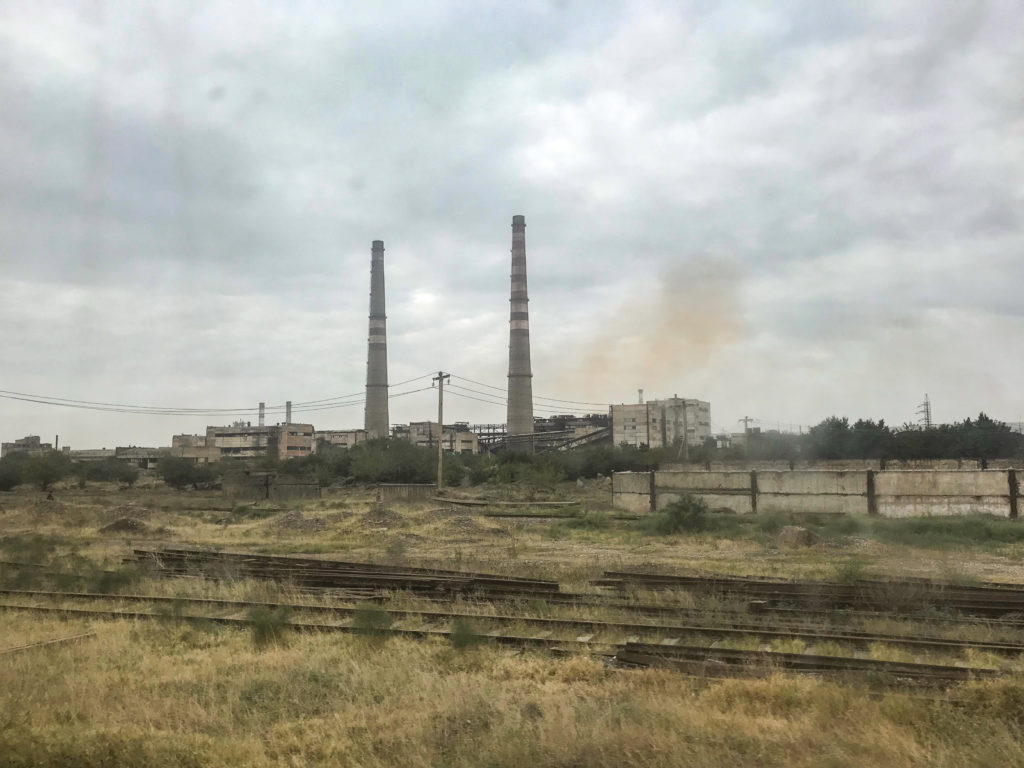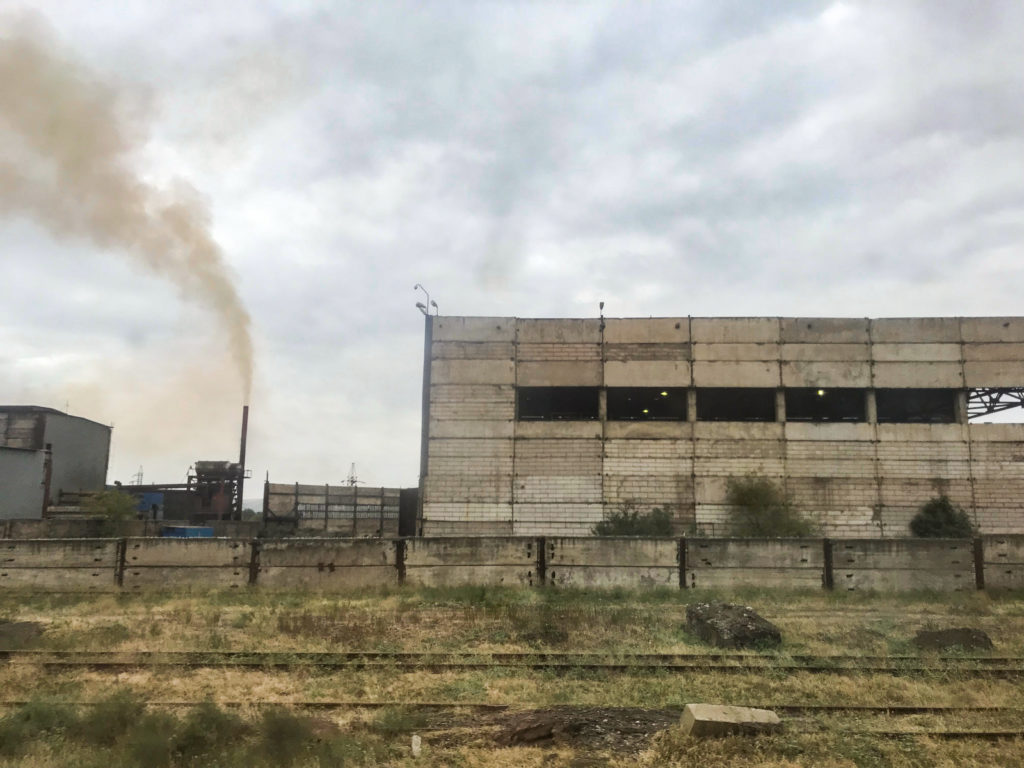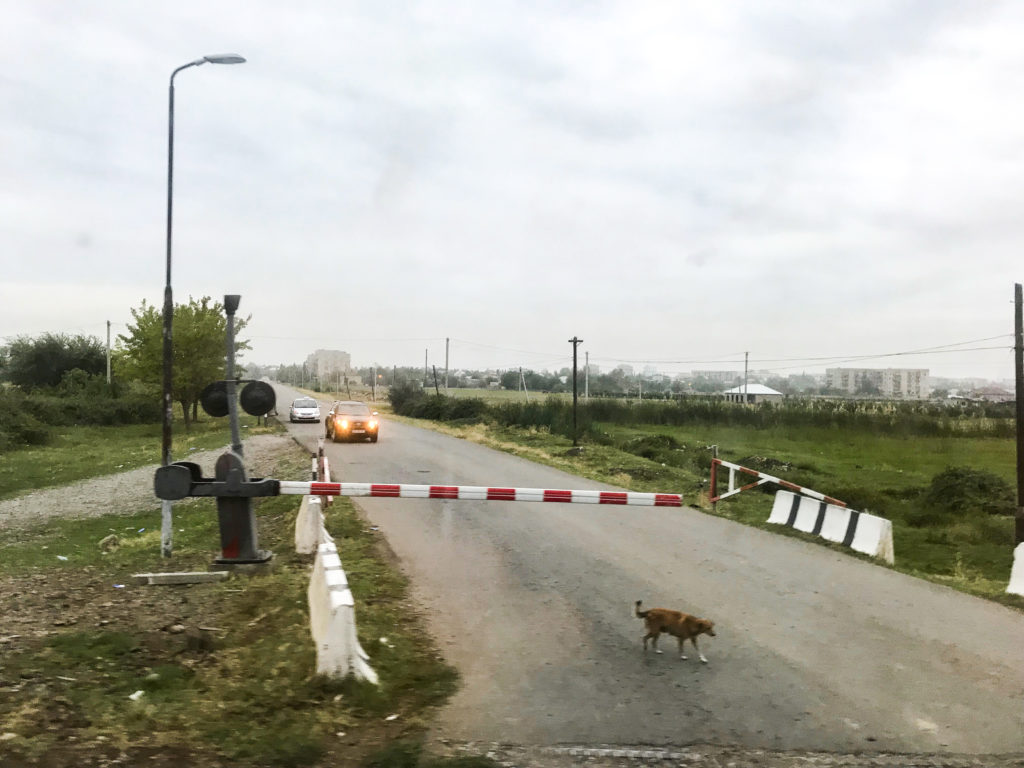 The train's speed slowed as we entered the outskirts of Tbilisi. I studied the landscape, littered with ruins and thought it would be an amazing place to take photos and explore. Perhaps next time. It certainly wasn't the Georgia I had expected, but maybe my expectations were too high. Or it was just this particular area that was rough. Railway corridors often pass through the poorest, least remarkable industrial areas. A few passengers disembarked at some of the brief stops before Tbilisi. I wondered if they were local Georgians or Azerbaijanis coming here for work. There were certainly some uninviting places they were arriving at.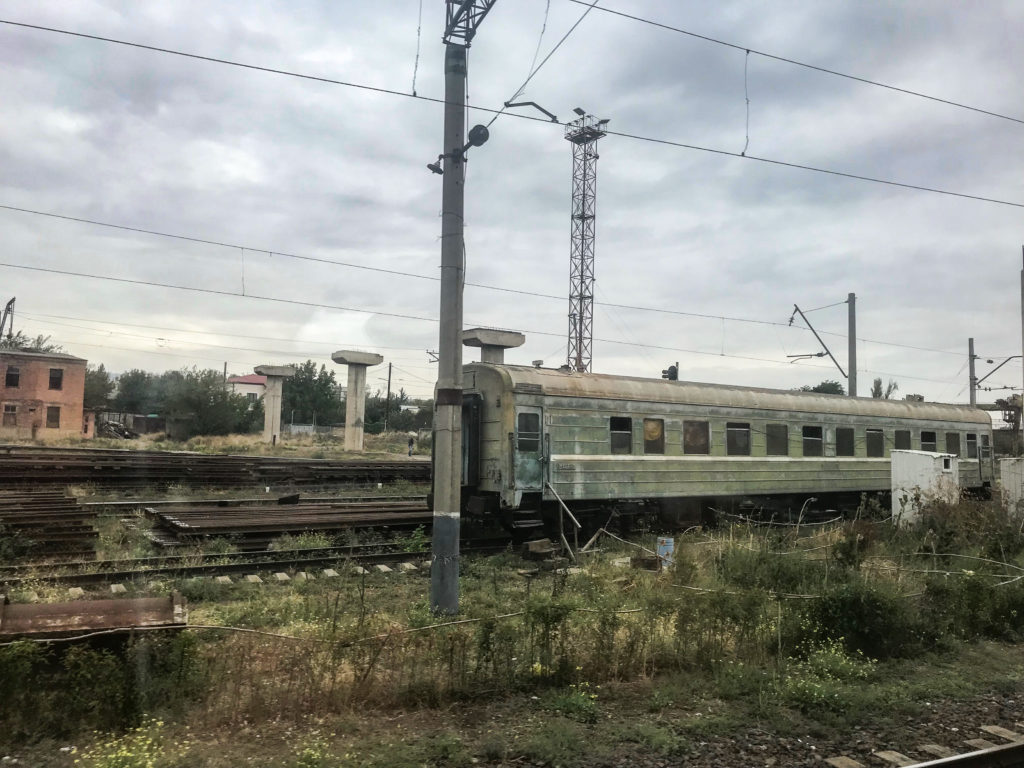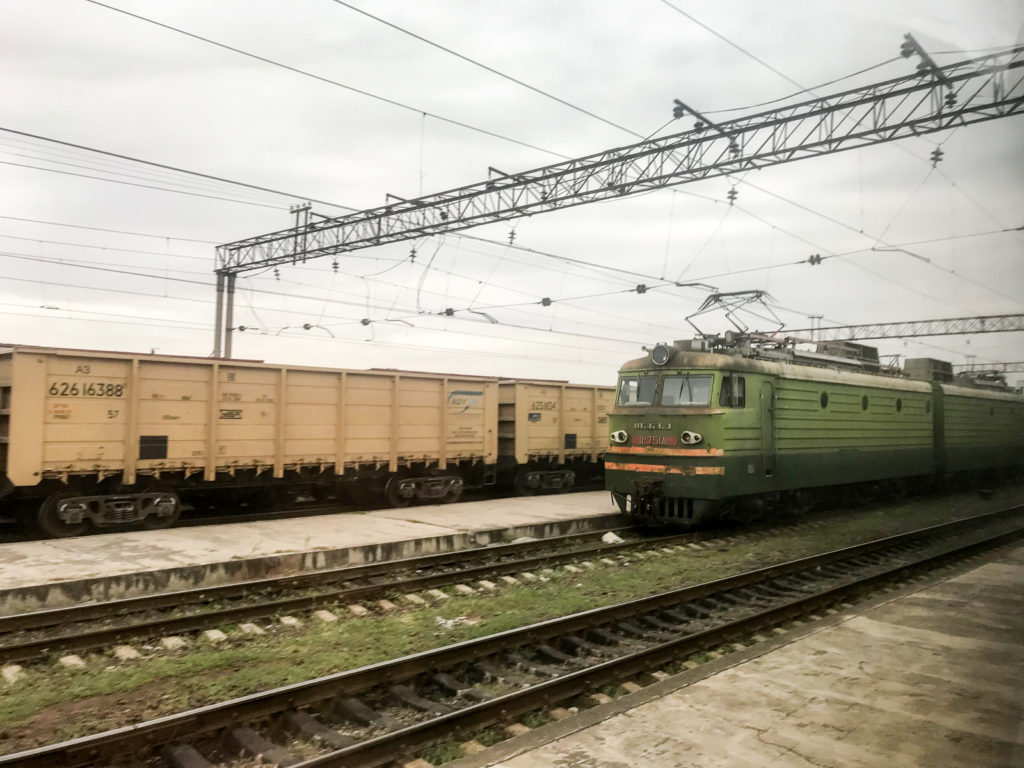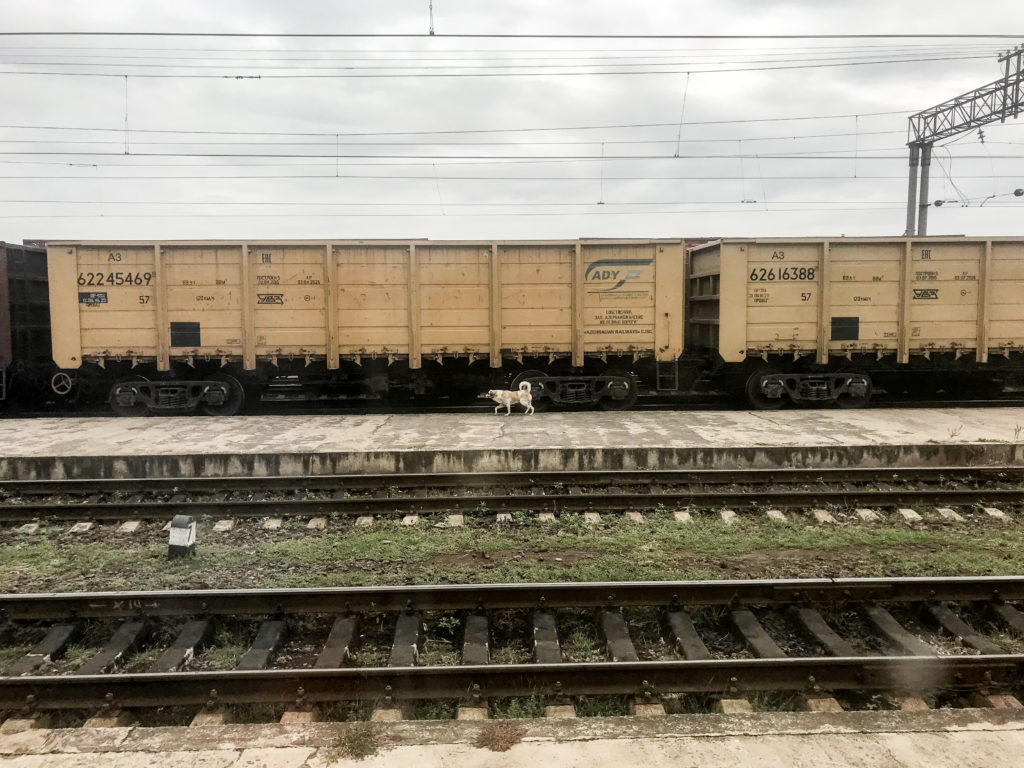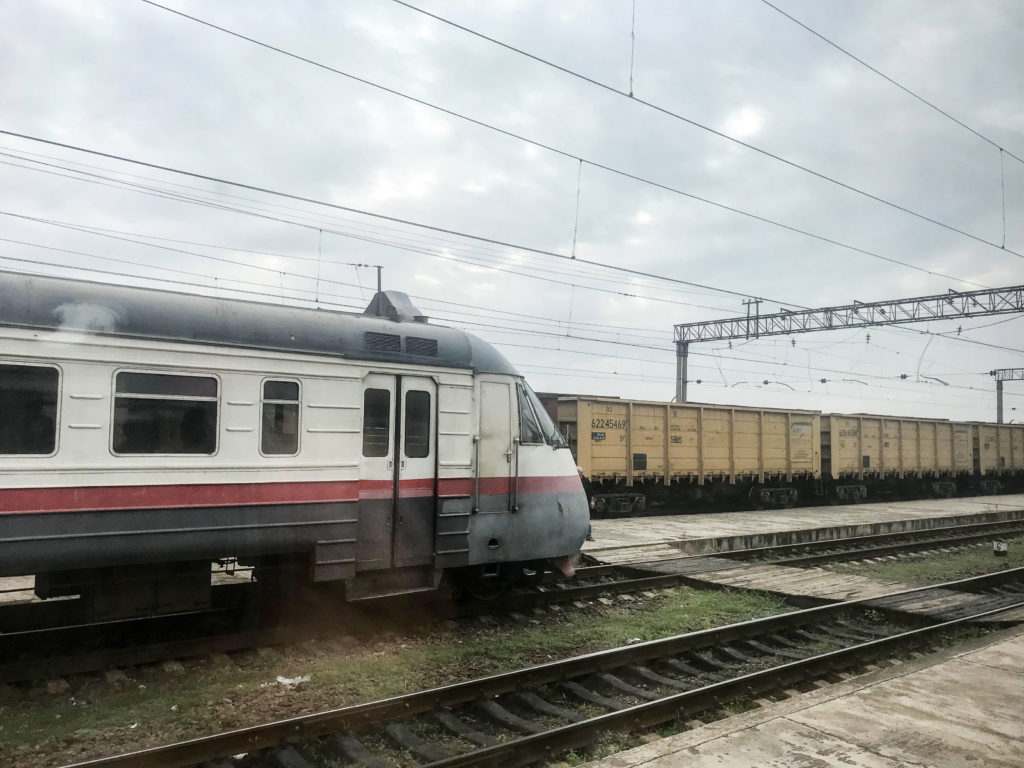 Our carriage attendant collected our linen and advised us that we would soon arrive in Tbilisi. Soviet-era apartment blocks came into view as we approached the city. Large amounts of abandoned locomotives and railway carriages, some derailed, seemed to occupy adjacent tracks and sidings. Being into urban exploration and also a rail fan I seriously considered coming back here to explore if I found any time during our short two days in Tbilisi. Unusual looking suburban commuter trains passed by as we finished packing our bags end prepared to arrive at Tbilisi.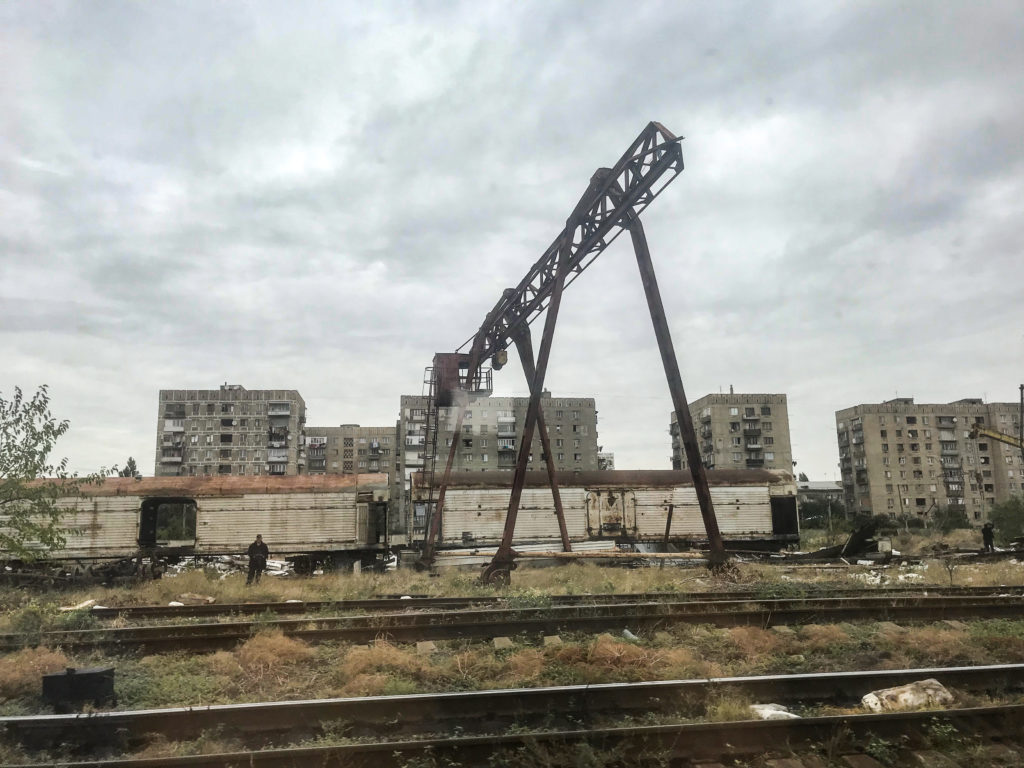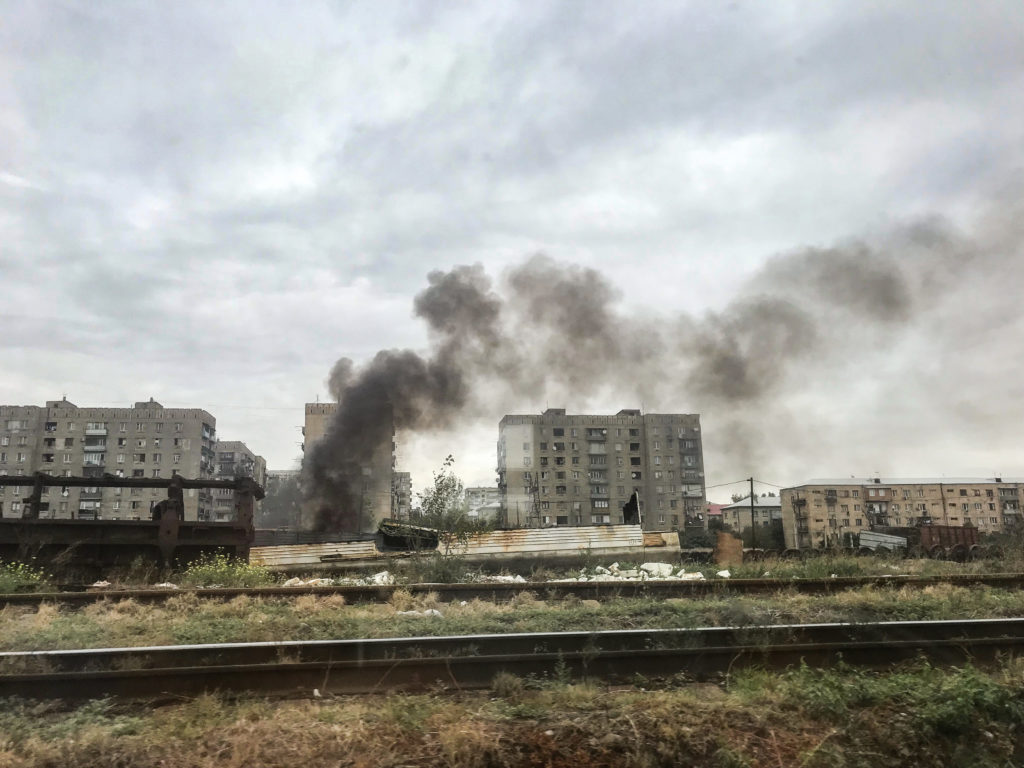 We bid our carriage attendant farewell as we stepped onto the platform and made our way to the front of the train to inspect the locomotive. At the border the Azerbaijani locomotive was swapped for a Georgian one. It sure was old. After about five minutes a passenger ran back to the train and started banging on the locked carriage doors. It looked like he had left something behind. We made our way into the station and decided to have a coffee before looking for a taxi into town. A curious piece of artwork painted on the wall sure did seem out of place for the bleak cafeteria we had sat down at. A nice distraction from the uninteresting and sparsely decorated setting though. The Baku – Tbilisi night train sure had as arriving on time, cant say much about the view though. Our Georgian adventure had begun.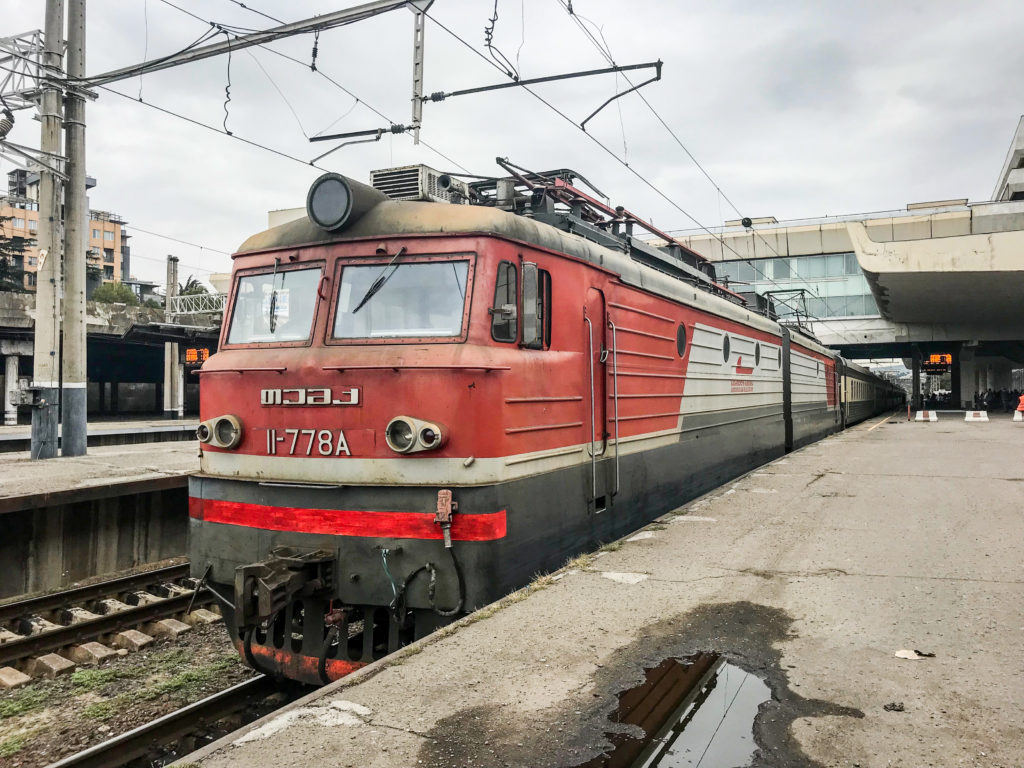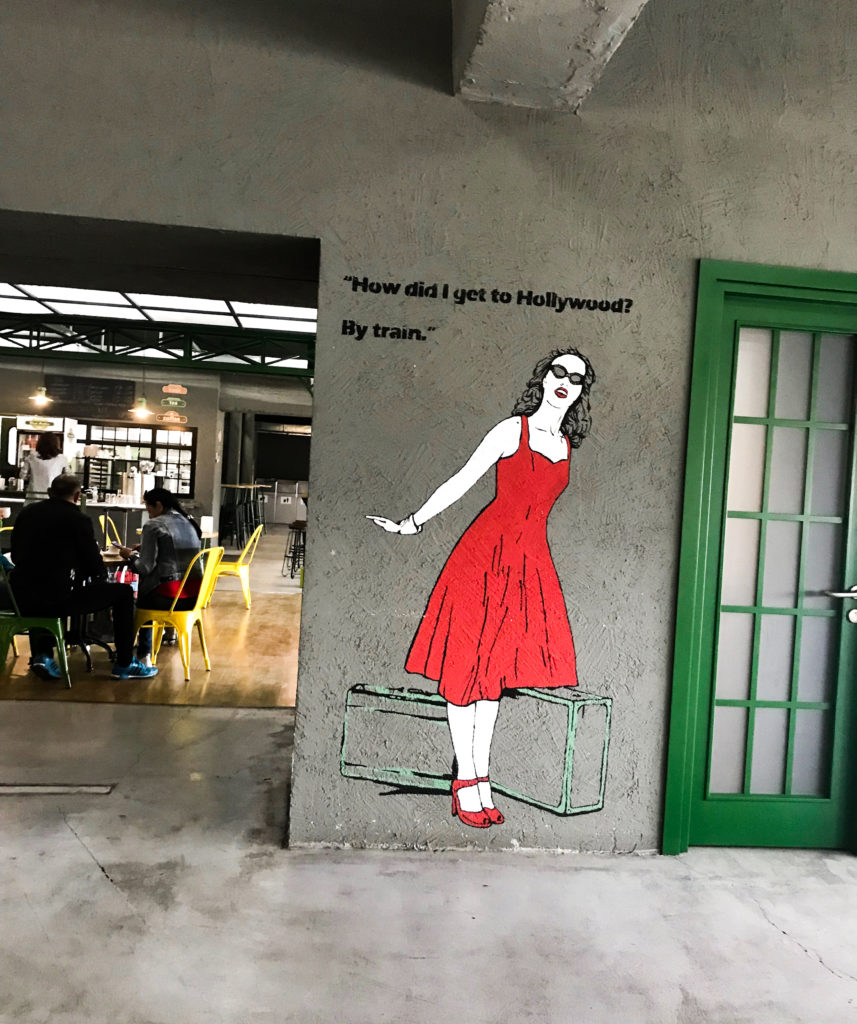 Comments
comments