Our 2 days in Tbilisi begin with our arrival at Tbilisi Railway Station on the Baku – Tbilisi night train. Finding a taxi, I speak to our driver in broken Russia as he speaks of his experiences living through the 2008 Russian invasion. Arriving at Boama Hotel in Erekle II Street, I realise how glad I am on my choice of hotel. We ascend a tight spiral staircase surrounded by grape vines to find an amazing rooftop terrace that overlooks the old city. Our hotel is in a small pedestrian street lined with cafes and restaurants. We waste no time sampling some local Georgian wine on the rooftop while we study the surroundings. Noticing a cable car that runs to the top of a hill overlooking the old city, we decide on that as our next activity.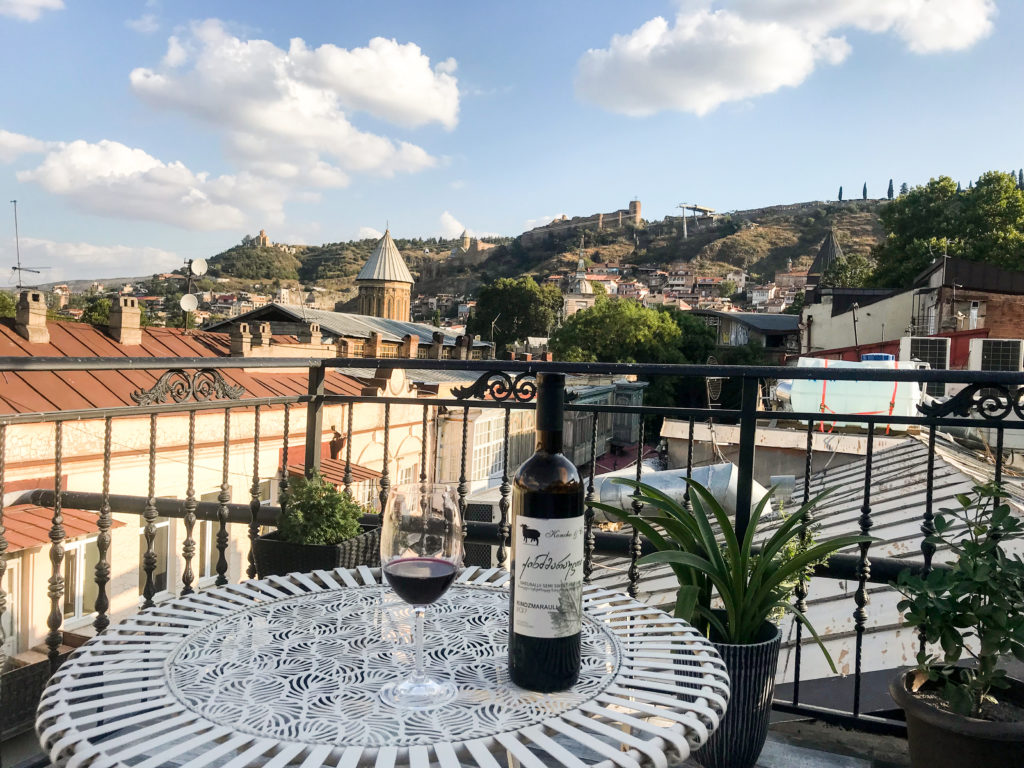 Tbilisi is an interesting city and turns out to be a little more touristy than I had expected. The old city is an unusual combination of the crumbling remnants of once grand buildings mixed with the occasional, plain new build. We cross the Kura River to find the Georgian Presidential Palace atop a cliff above a very modern looking concert hall. Locating the entry to the cable car, we climb aboard and slowly ascend above the city and soon arrive at an ancient fortress which provides an amazing view of Tbilisi and the surrounding area. A massive statue of 'The Mother of Georgia' stands guard atop the hill and watches over the city. In her left hand she holds a bowl of wine to greet those who comes as friends, and in her right hand a sword for those who come as enemies. On the side of the hill, we also find a small outdoor bar where we sit and enjoy the traditional Georgian 'Argo' beers while taking in the spectacular view.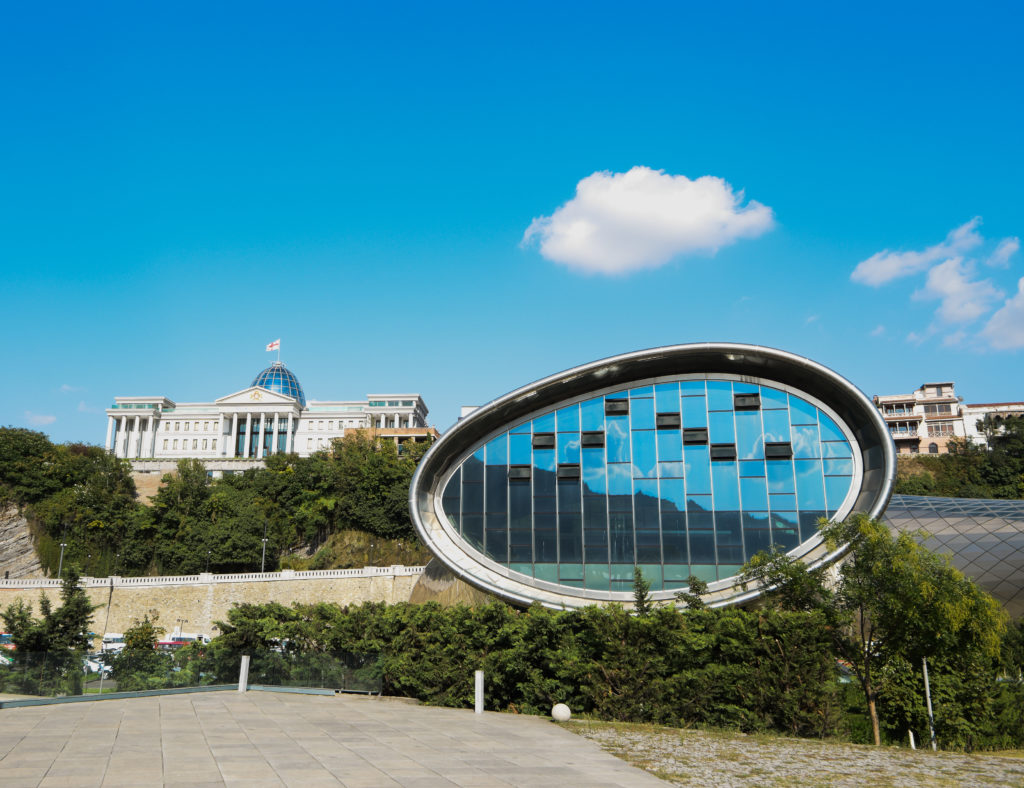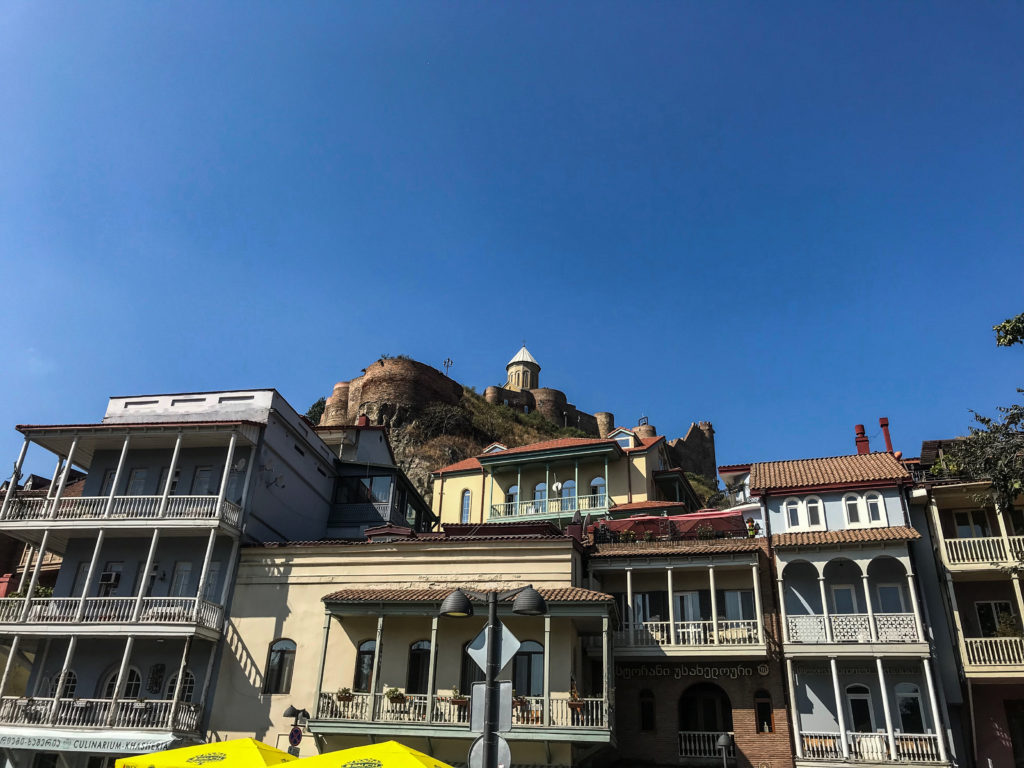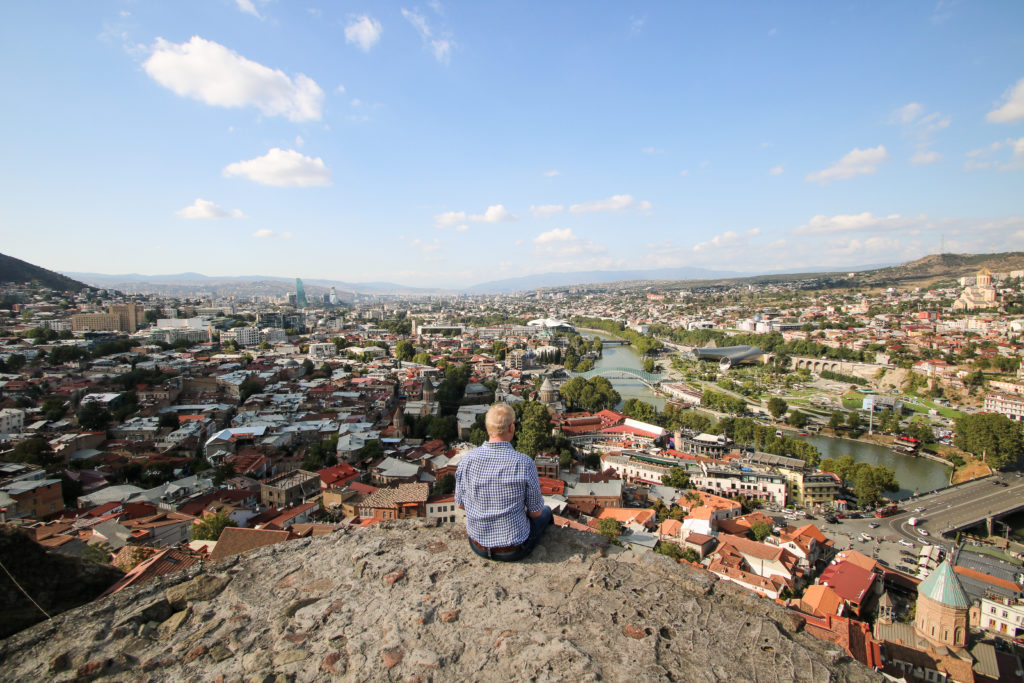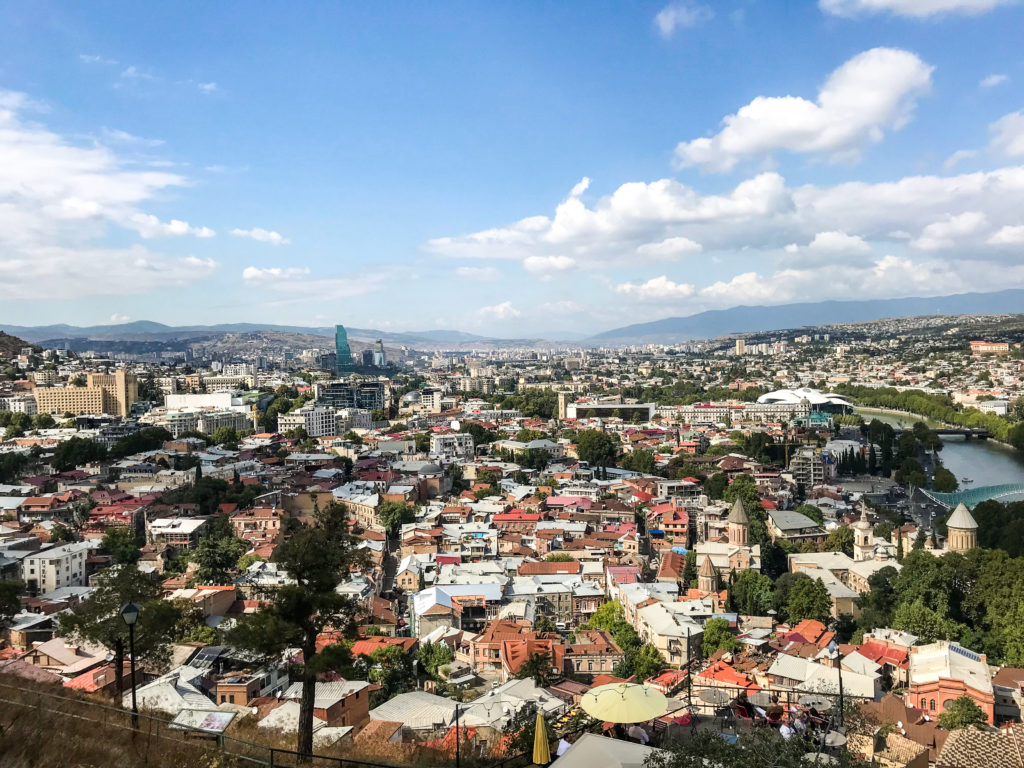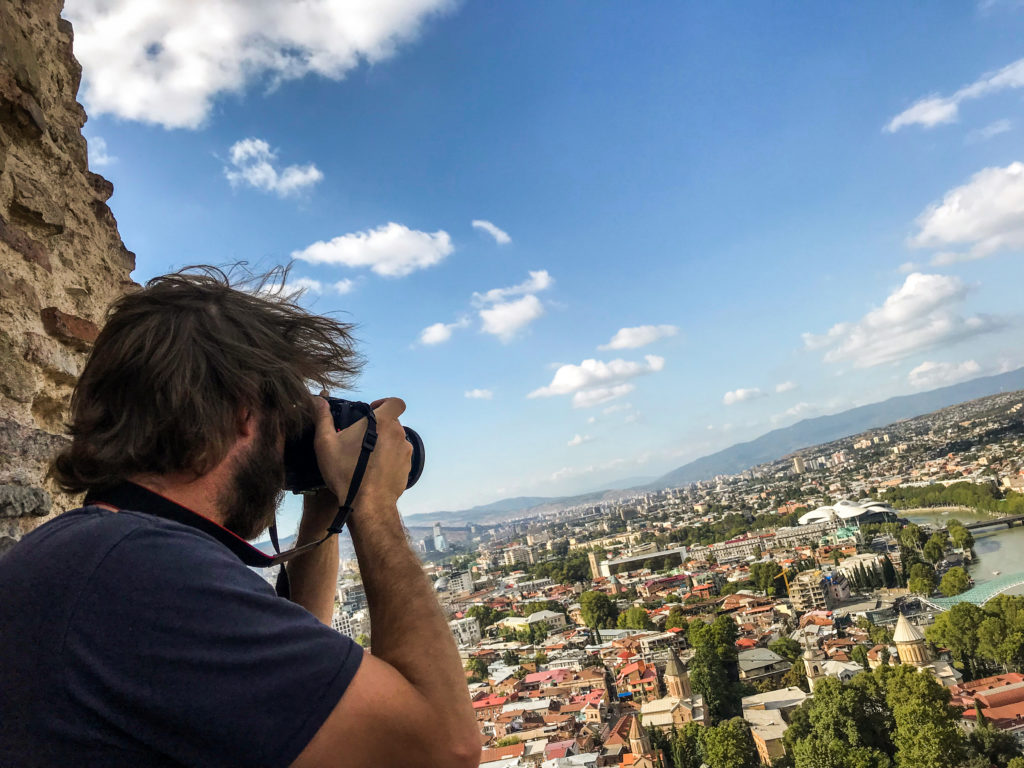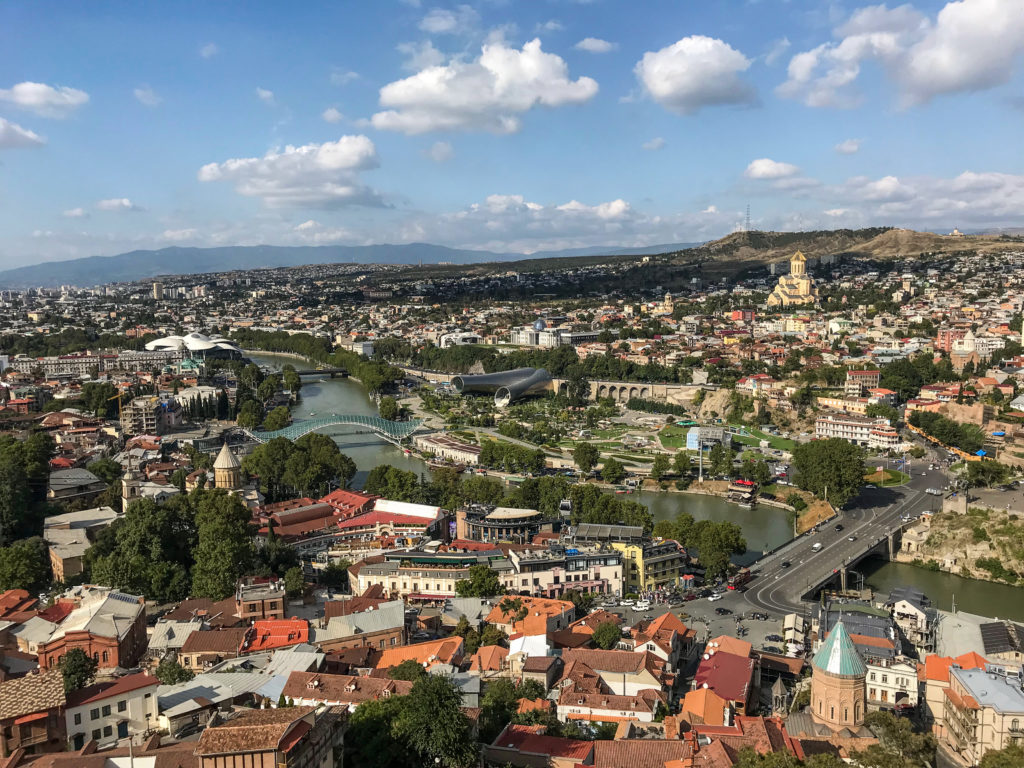 The remainder of the afternoon is spent sampling the bars and restaurants that the old town has to offer, which there are plenty. Making our way to Machakhela for a traditional Georgian dinner, we find packs of stray dogs barking and chasing a food delivery driver on a scooter. After dinner we find a bar not far from Machakhela where we meet a fellow Australian traveller. He tells us of his ill fated conquest at a local strip club the previous evening. Alone he entered a quiet venue and ordered only one drink and a private dance. He soon found himself in a spot of bother. When asking for the bill, they demanded he pay the equivalent of $6000. Protesting, he requests that the police be called. To my surprise, they attend but also say he will have to pay. After the police leave and further intimidation from the club's goons he reluctantly pays. We spent the remainder of evening listening to a live jazz band at a 'Jazz Cafe Singer' on Sioni Street.
The next morning we venture further out of the old city and into more modern areas of Tbilisi. Choosing 'Dots Coffee Shop' for a morning latte we discuss our plans for the remainder of the day. After a few more hours of strolling around and admiring the architecture of the old city we decide to try out the famous Tbilisi thermal spas/sulphur baths. As natural hot springs run under part of Tbilisi, these baths are part of Georgian culture. The baths are very reasonably priced and are located in small brick dome buildings with a Persian style interior. Each sulphur bath rental also includes a private sauna.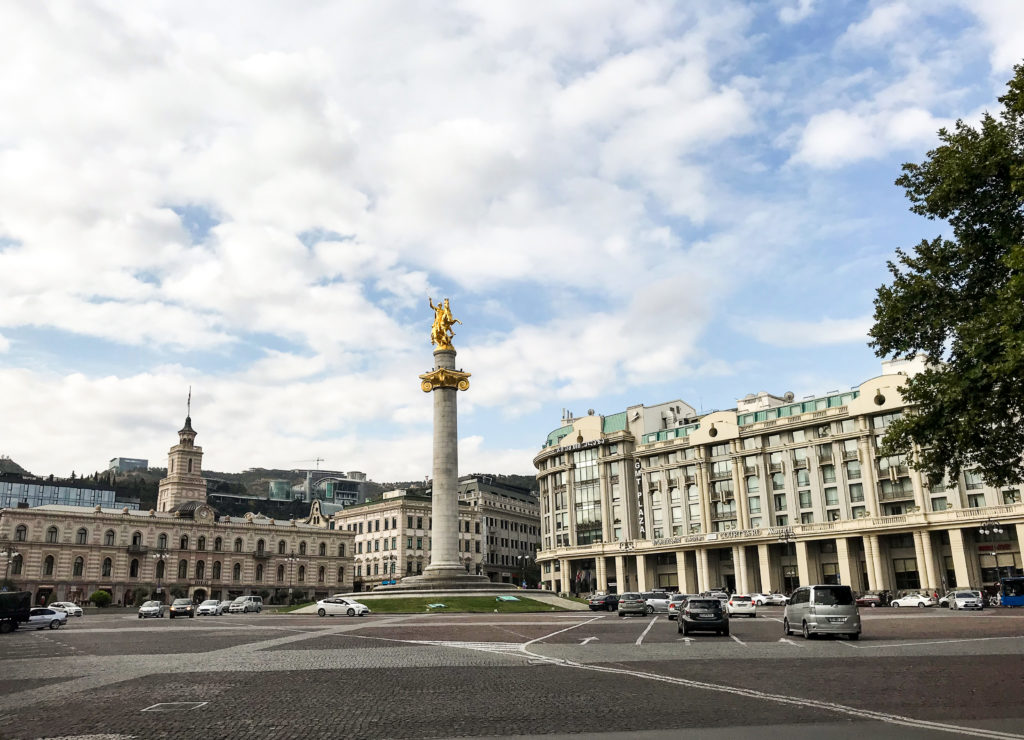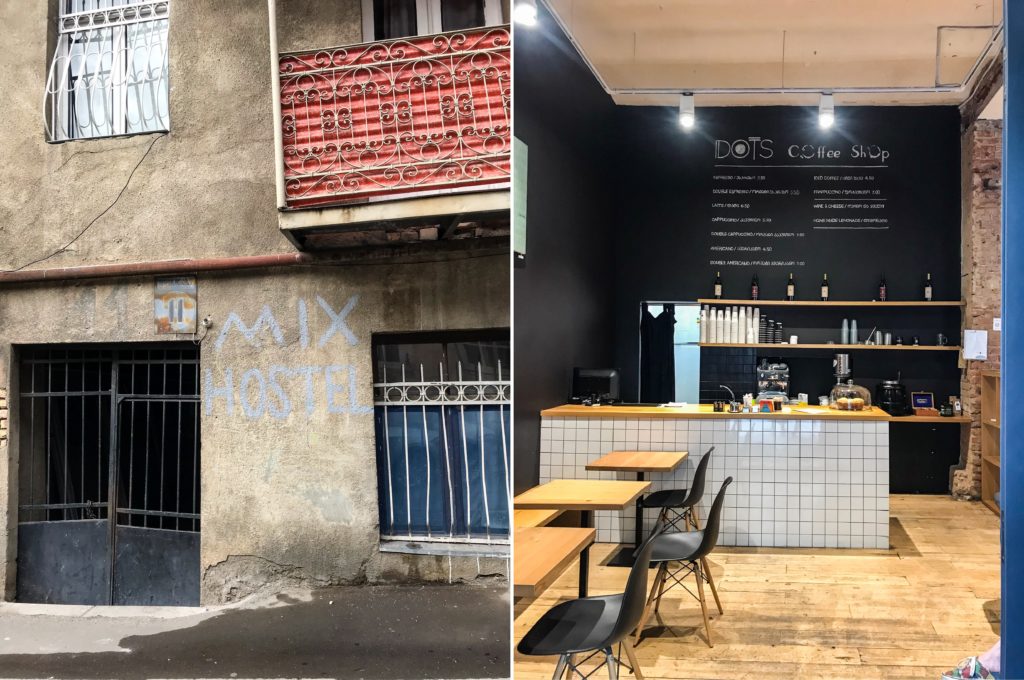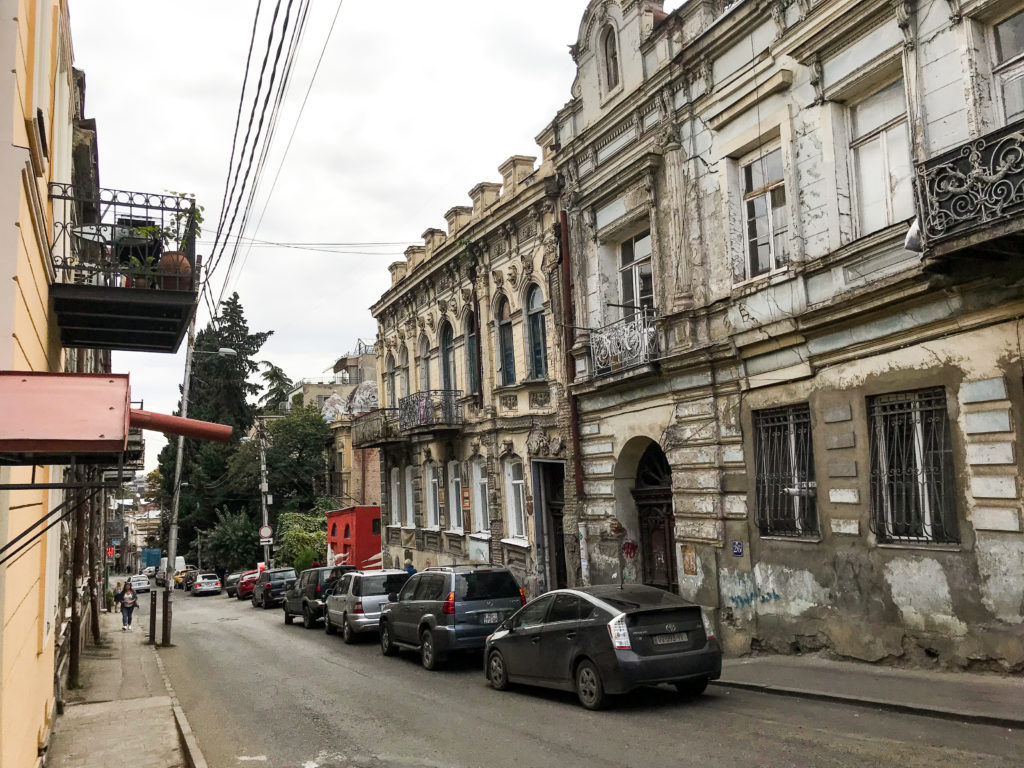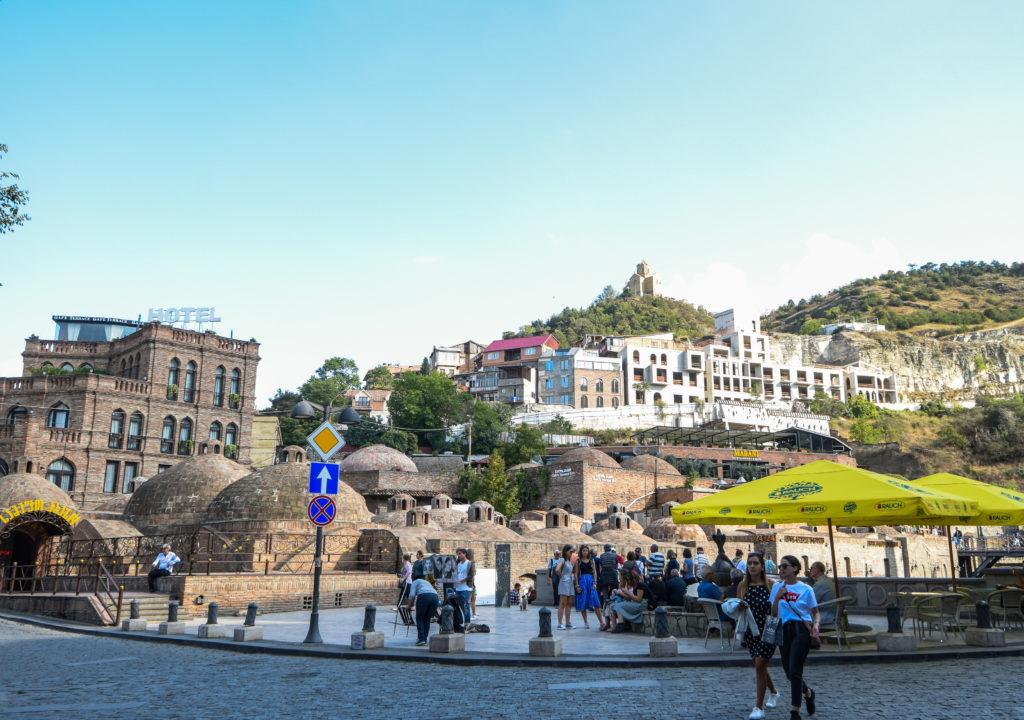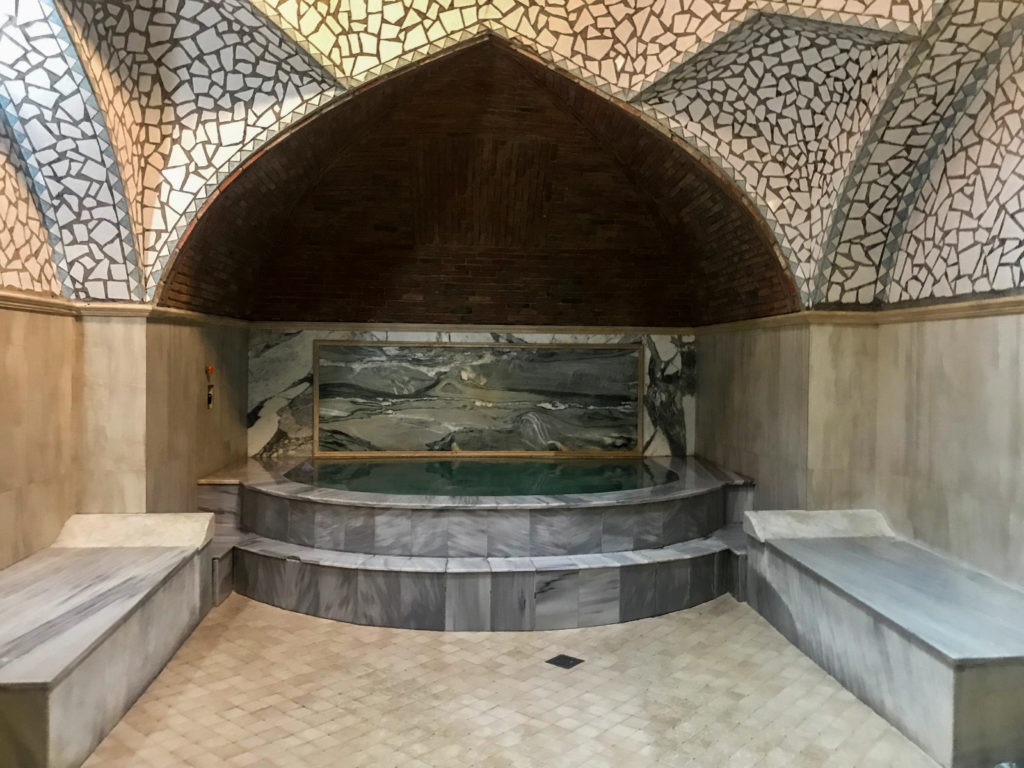 Slowly making our way back to the hotel we detour and get lost down winding streets and soon enter a restaurant and dine on a feast of Georgian kebabs (known as Mtsvadi). We return to our hotel's rooftop terrace and enjoy the sunset accompanied by more wine. It was our 2nd and final night and we could not feel more content with our short stay here. We enjoy the rooftop terrace so much that we decide to settle in for the night and order more wine and food from restaurants close to the hotel which they bring up to us on plates. Opting to also try the famous Georgian egg boat bread, Khachapuri, we are instantly hooked and I now look for a Georgian restaurant in every city I visit to try and have it again.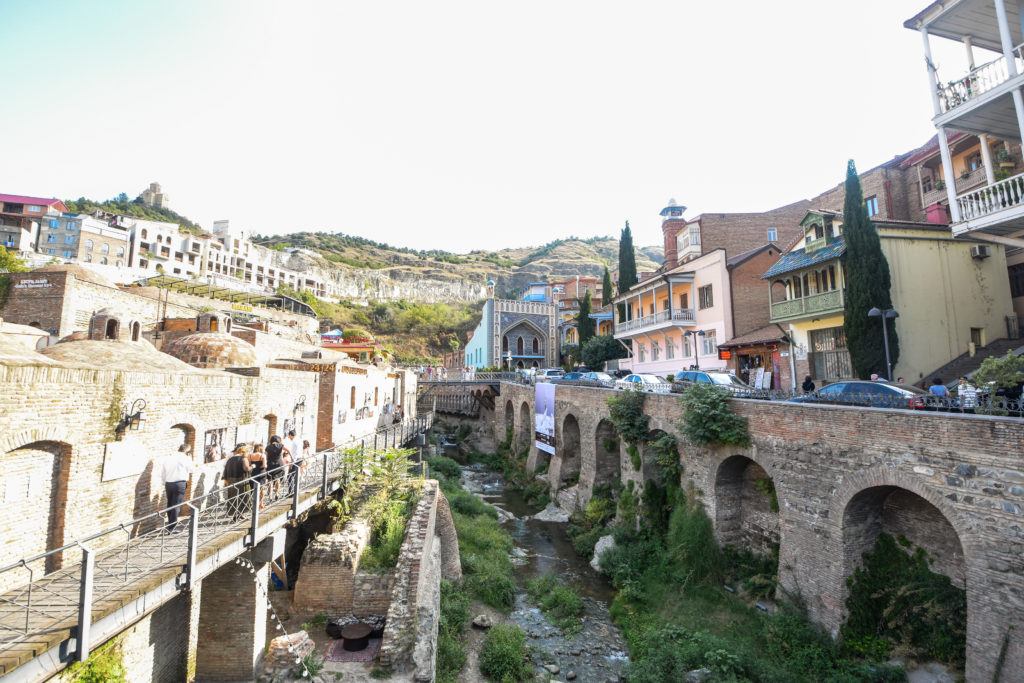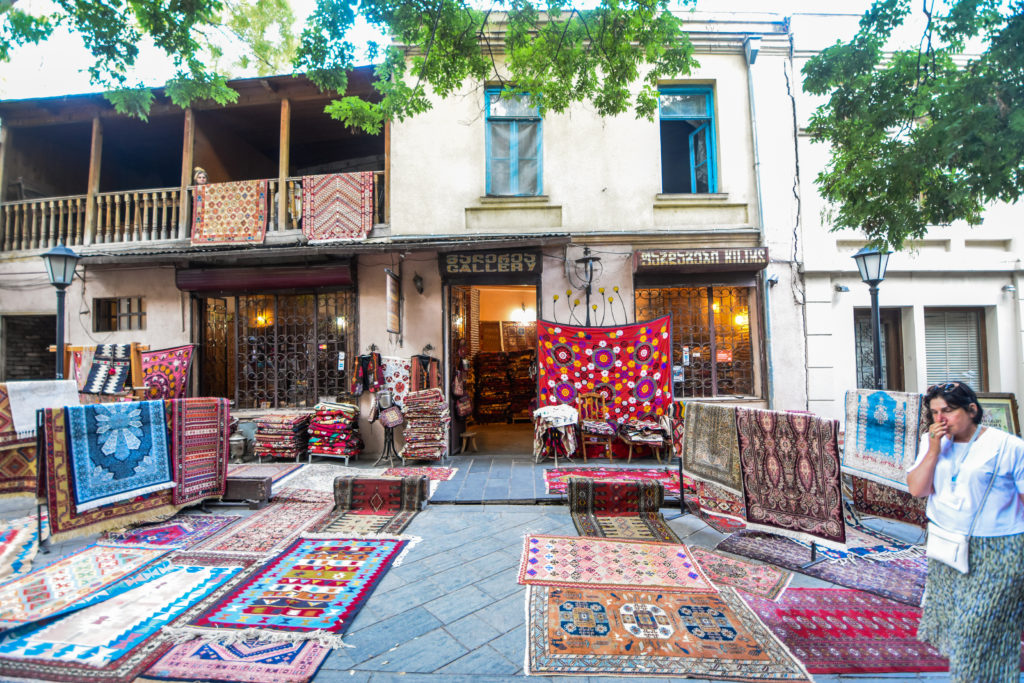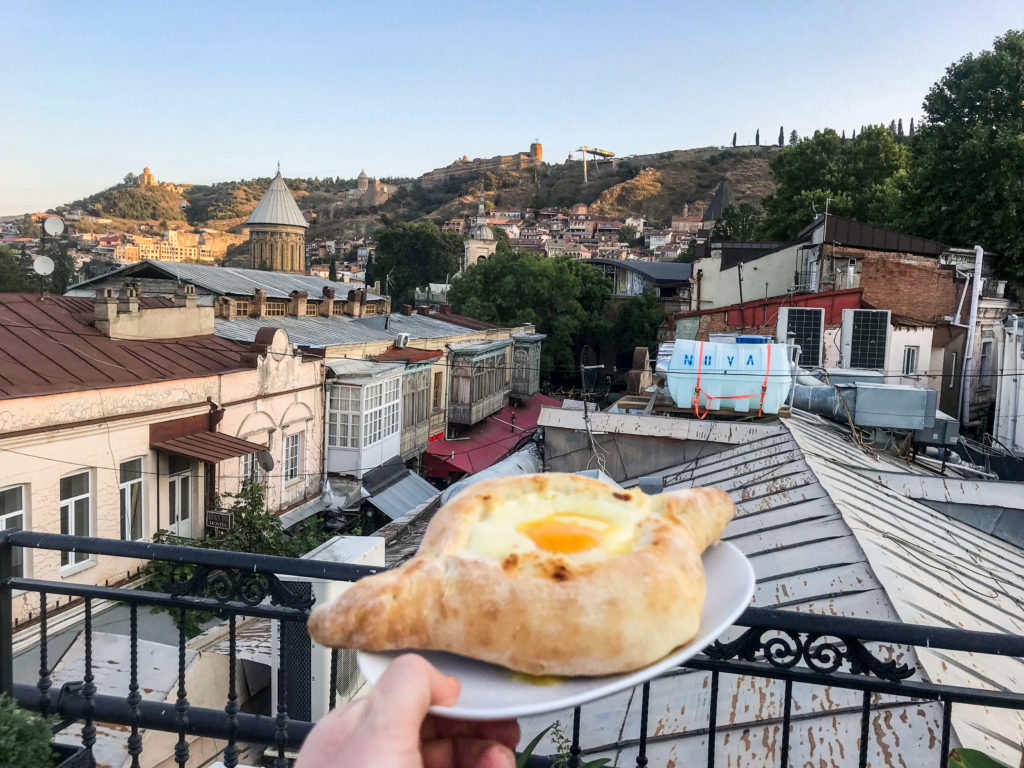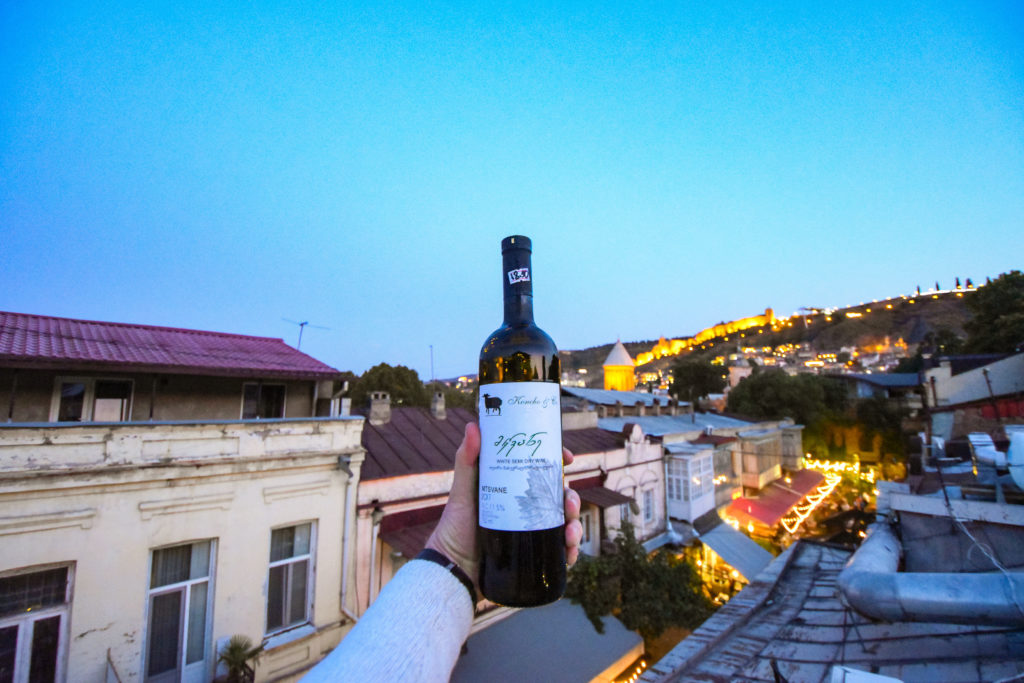 We battle heavy traffic the next morning as we race for the airport. I make the mistake of not finishing a bottle of wine which is confiscated at customs. Our flight home looms as we finish a final beer together. Tbilisi was the final stop in our month long Trans-Siberian Railway adventure. Having been impressed by their wine, ill certainly be back to explore the rugged and picturesque mountains of the more remote areas of Georgia. But until then, back to the real world.
Comments
comments