My iPhone alarm went off. Dammit, why did we stay out so late? Brett was not getting up. It took a few tries to rouse him. We were too early for the hotel breakfast so would have to get something at the station. As we considered it a special occasion and wanted to dress accordingly, we decided to wear suits and continue to do so for special dinners in the dining car throughout the trip. The station was teaming with thousands of people. Eventually finding the right platform we were forced to wait at a closed doorway which would lead us down to the train an unknown time before departure.
In our haste to find the platform we had neglected to purchase supplies and buy breakfast. We figured the dining car on the train would be open so did not risk venturing far from the platform entry. We had also intentionally used the remainder of our Chinese money in order not to have any useless currency in Mongolia. Most of the passengers milling around seemed to be western tourists in their 50s and 60s. Suddenly our train was ready to board and the crowd began to file through the doorway toward the platform.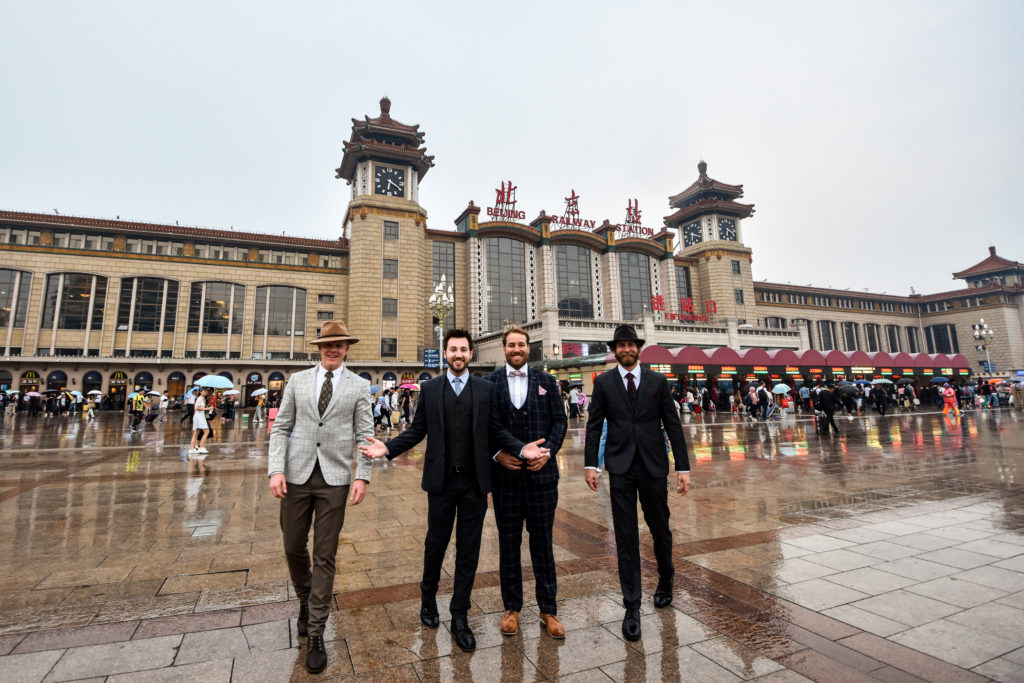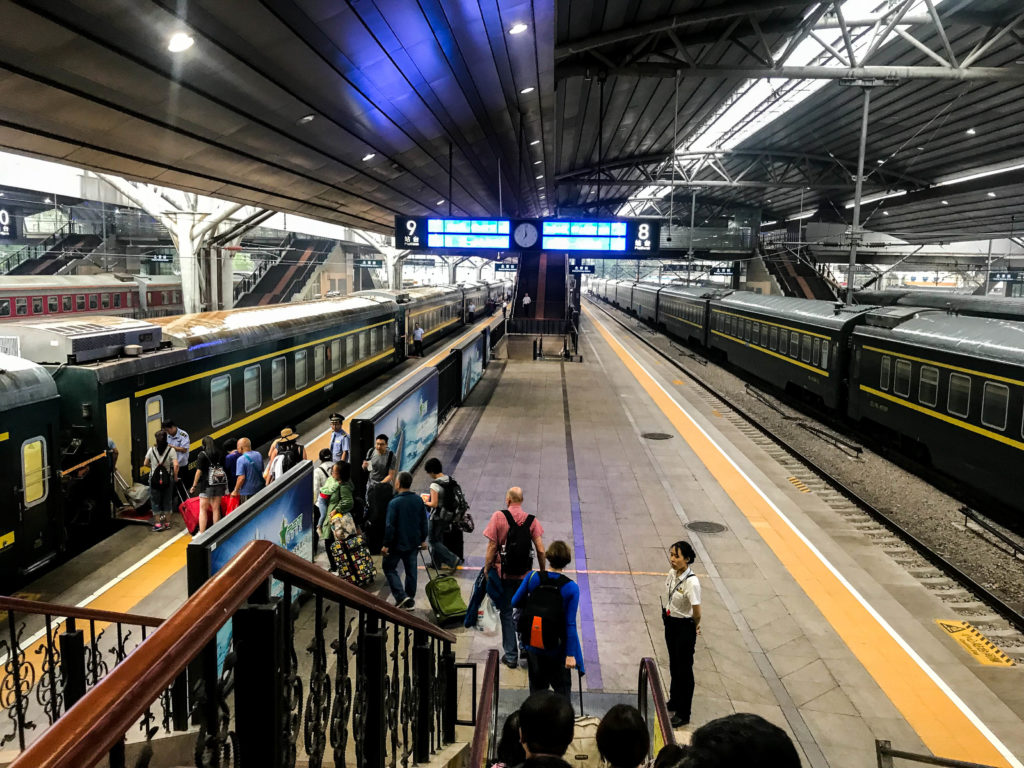 We handed our tickets and passports to a Chinaman standing at the entry to our carriage. Each carriage has its own attendant who, well, I don't know what they do. Not much really. He certainly did not bring us any food or drinks. The only time we saw him throughout the 30 hour journey was to drop off and collect our linen. Nor did he speak English. At a great expense that was more than the entire Russian leg of the trip, we had purchased two person 'First Class' sleeper cabins.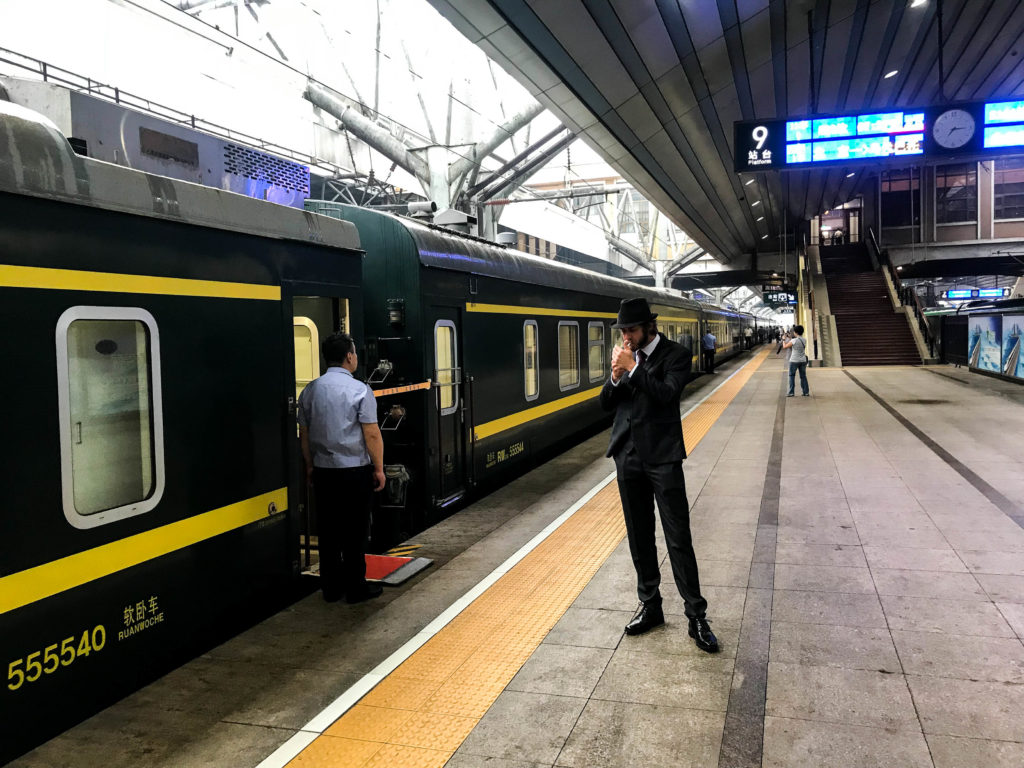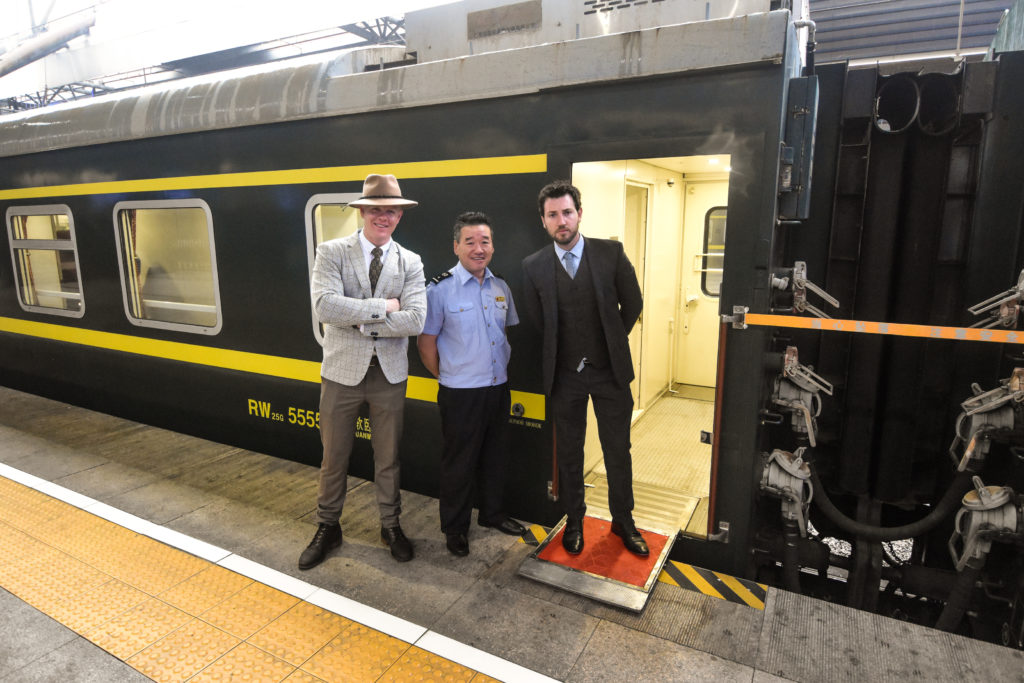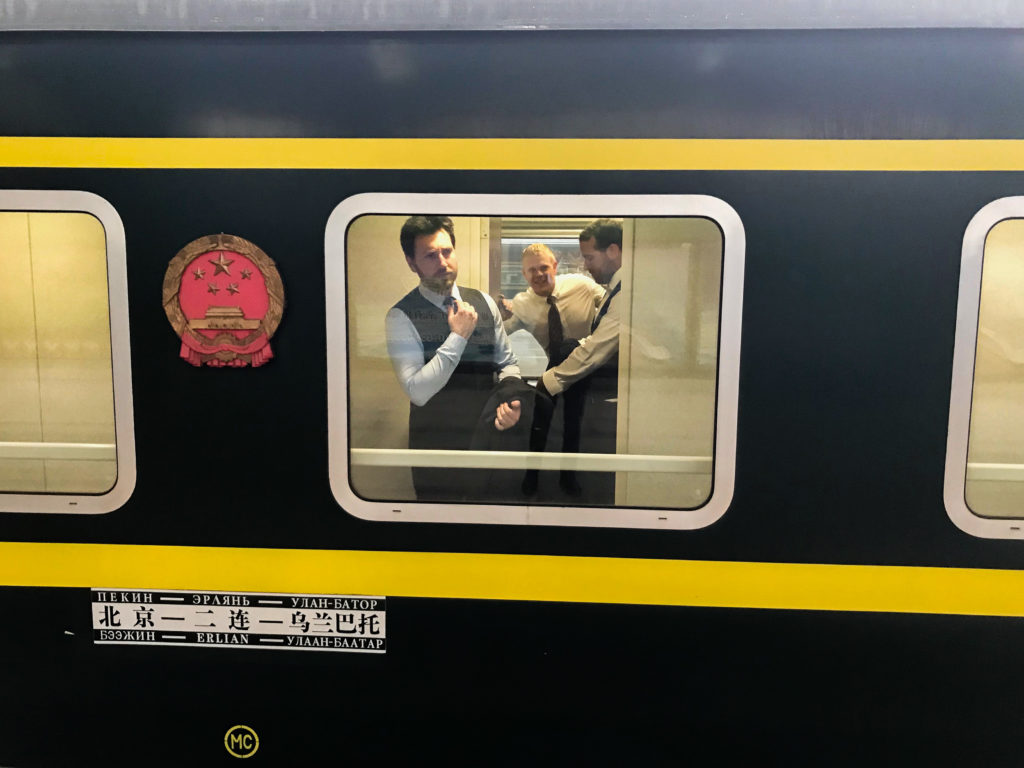 Before settling into our cabins we decided to walk around the platform for a bit and admire the train. It was that long that the front locomotives were not in view from where we stood outside our carriage. As we made ourselves at home in our cabins our intense hunger bothered us, but we were too close to departure to run back into the grand hall of the station and purchase food. Our cabins each had an armchair and a private bathroom. The train lurched forward and we were on our way. Surprisingly, we did not travel for a great distance before the urban sprawl turned to vast empty farmland and dramatic mountains. This surprised us given the reputation China has for being overpopulated and crowded. They still had plenty of room.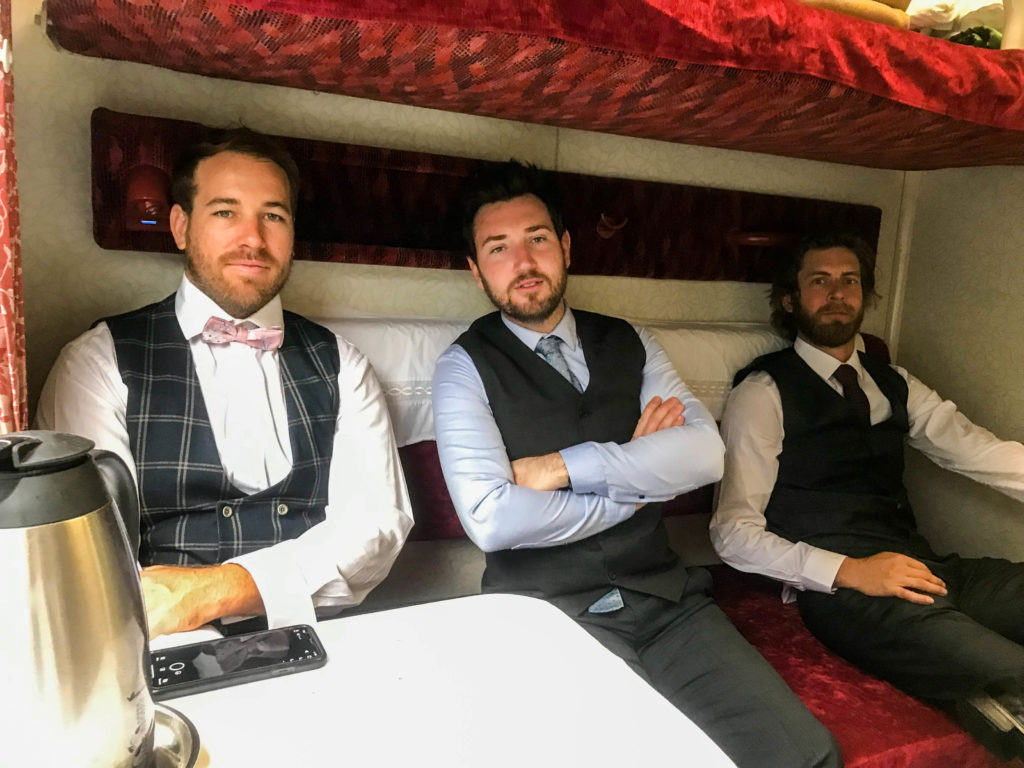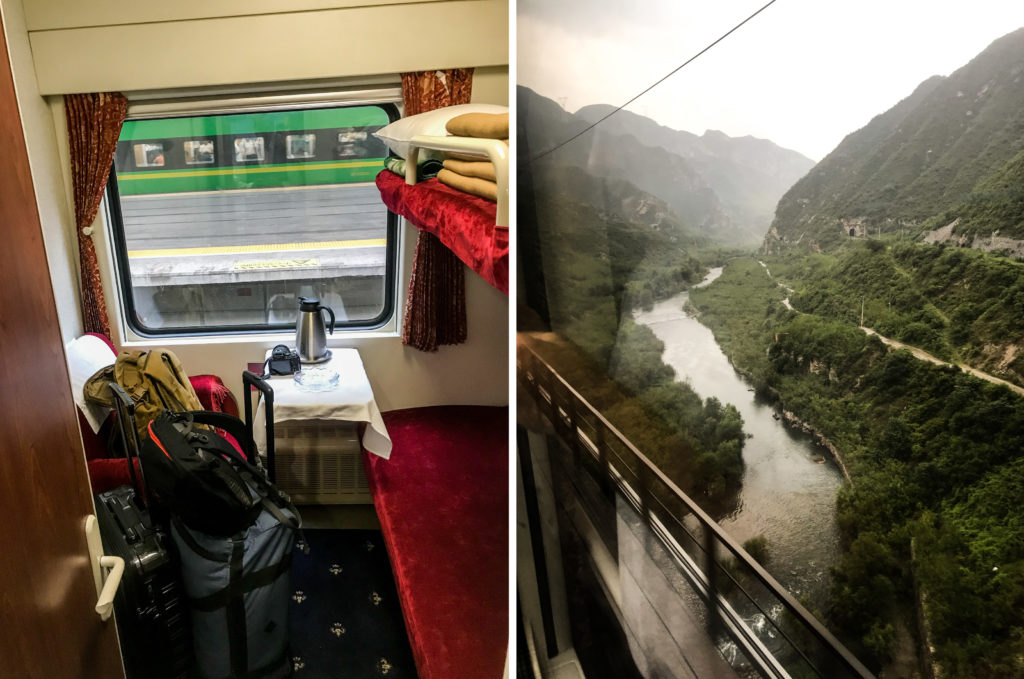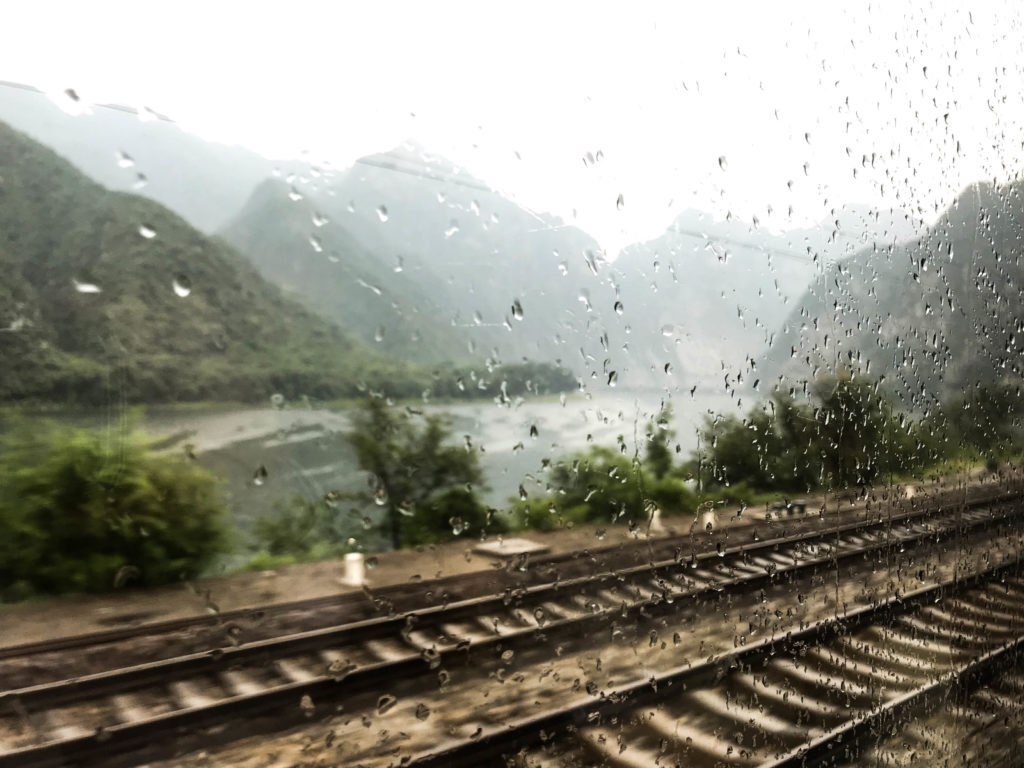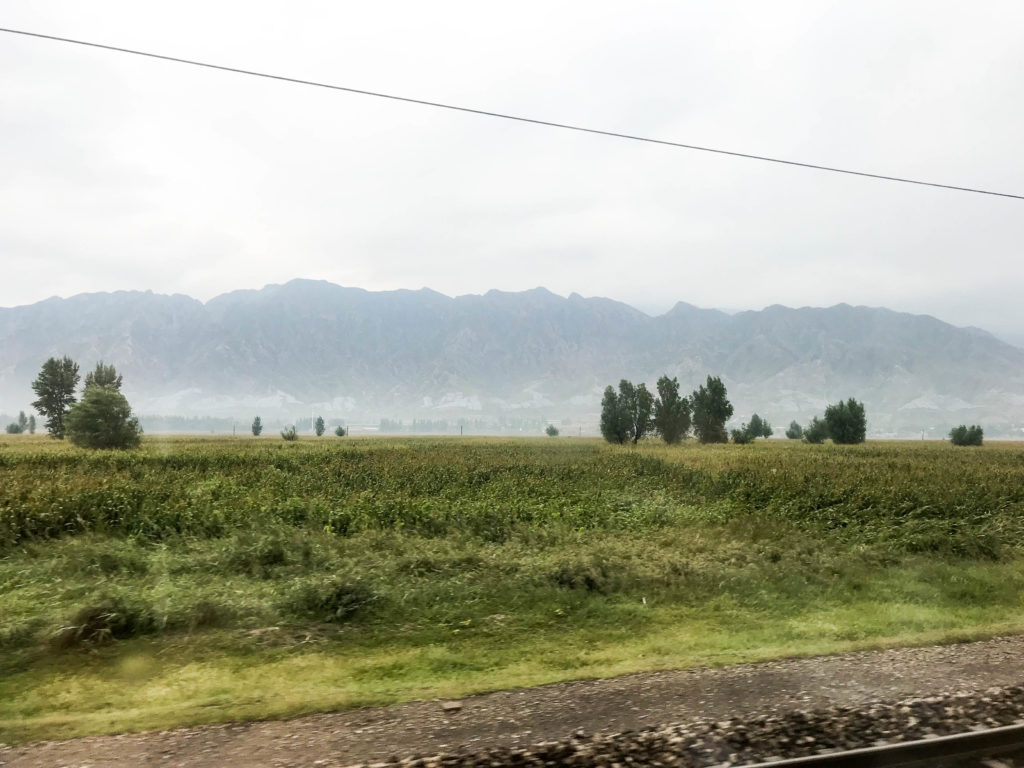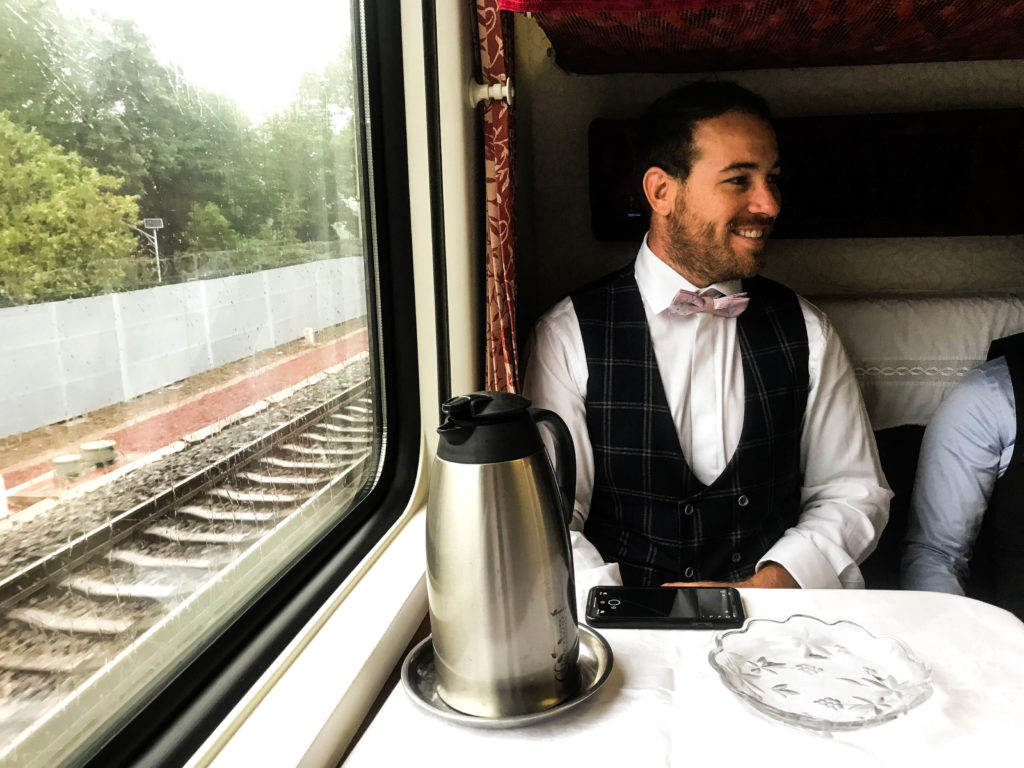 Although we were enjoying the views, we were now starving. We slowly made our way to the dining car which was several carriages toward the end of the train. What greeted us was a dull and lifeless very clinical looking setup. Three attendants sat at one of the tables on their phones. Only one of them noticed us arrive. She stood up and brought menus in broken English to our table.
Earlier, as the trained pulled away from the station it dawned upon us that they may not accept card payments on the train. But it's China we thought. Plus, we all had 4G internet signal on our phones. They probably manufacture those card payment machines over here we thought. We were in for some very bad news. As we held up a bank card, the non-English speaking attendant quickly swatted our hand away in annoyance and swiftly removed the menus.
We sat in despair. Regretting our late night out and hungover hurried morning. What were we thinking? How did we not have the sense to bring snacks? Idiots. I felt even more guilty at our situation, having caught many overnight sleeper trains in other parts of the world and knowing how important money and food are on long distance trains. We quickly studied a poster on the wall of all the stops on the way to Ulaanbataar and wondered if we would have time to get out and make a cash withdrawal or use our card at a station restaurant. It did not appear possible. We walked back to our cabins, demoralised.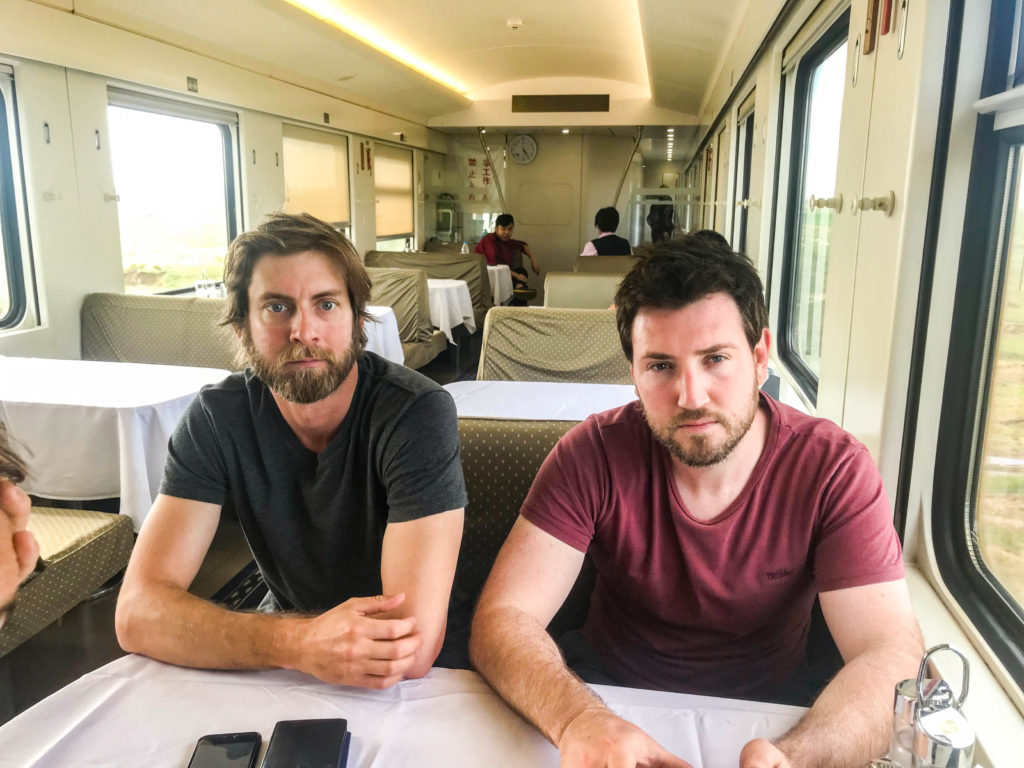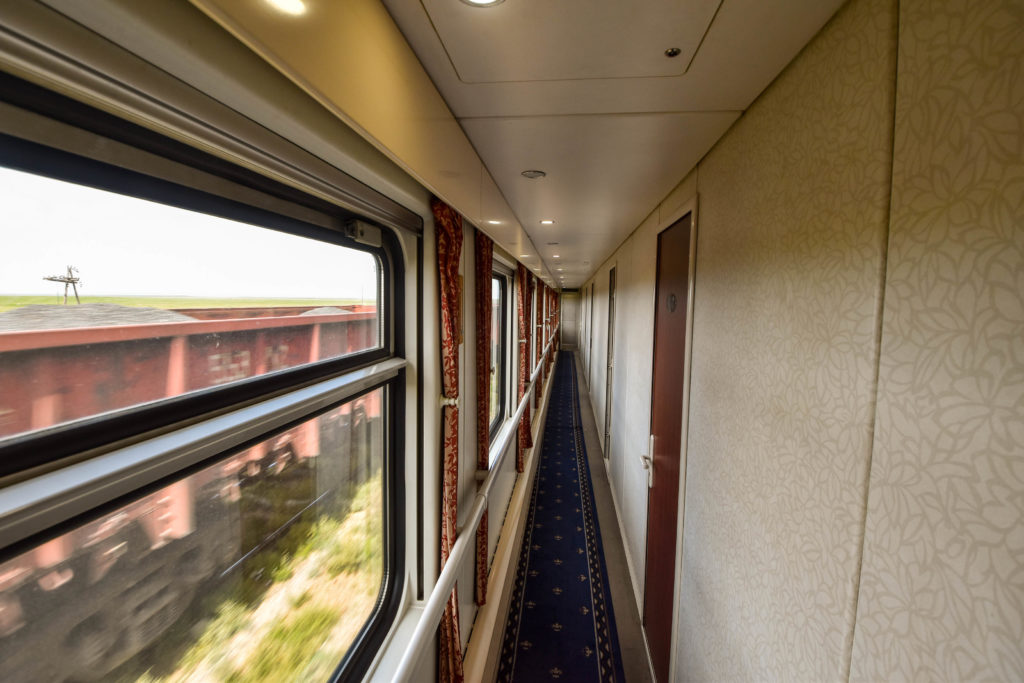 We resigned ourselves to the fact that we may not eat until we arrive in Mongolia. The view from the window was not a vast and endless flat emptiness. For as far as they eye could see. The door to our cabin was open and were in deep conversation when suddenly an Australian couple in their 60s walked past. They must have heard our accents, stopped and then they greeted us. Coincidentally, they only lived 1.5 hours away from me in Sydney. As people of that age tend to do at times, they droned on about themselves and their trip with little interest in who we were or what we were doing.
We must have all been thinking the same thing as we listened to their story up until their time in Beijing. Brett suddenly cut in and, among other things mentioned the predicament we were in. Having established a slight rapport in our 15 minutes of conversation we all wondered if they might be bale to help us. They didn't get the hint when Brett told them of our mistake in not bringing any snacks or cash. As he spoke they were eagerly waiting for a gap in his sentence to cut in and then told us about how their bank back in Australia had unknowingly given them fake Chinese currency. This had caused them much embarrassment at a restaurant in Beijing when they had attempted to pay a bill. We even mentioned that we had Australian money on us that we would be willing to exchange but to no avail..
After some time they left and we closed the door to our cabin in order to complain about how they had not offered to assist in any way. We were starving but did not feel good asking them outright for assistance. Surely they would be willing to witness us transfer them money online? Perhaps they didn't have enough cash to change with us? Fair enough we thought. We then decided to make our way back to the dining car to see if we could pay in Australian dollars or exchange money with the attendants. Happy to give them a favourable deal, we calculated the different between the cash we had and what it was worth in Chinese currency but they were not interested. Damnit.
A few hours later two more Australian women a similar age as the others walked past and stopped at our open door to chat. They explained that they were all on the same tour and had an Australian guide with them. In the same manner that it had in the previous conversation, our predicament arose to only faint interest. They suggested we could perhaps exchange some money with their guide. They appeared to be entertained by our situation and it seemed like it made them feel better about paying for an expensive tour with a guide.
An hour or so passed before we eventually worked up the courage to go and ask their guide if he wanted to exchange any currency. Scott and Brett volunteered for this endeavour and walked toward the front of the train looking for him. An assortment of loitering tour group members surrounded them as they entered into conversation with the guide. They were mainly retirees but there were a few solo travellers that must have preferred the comfort of a tour instead of embarking upon their own adventure. "About what, cash?" was the greeting they received when the guide was asked if he had a moment to chat.
Eventually a deal was struck, which certainly leaned heavily in the guide's favour. In lecturing tones members of the tour group chimed in at various moments during their conversation. Speaking like veteran travellers they asked them what they were thinking and how silly we were to think we could pay with card in the dining car. They responded explaining it was more of an oversight rather than naivety. Their comments that we have had 4G internet reception on our phones the entire journey so far and that China is the land of technology didn't sway any of the group's opinion.
Back in our cabin we realised that we had been given a pretty bad deal and we cursed the guide and his entourage. It was still enough for a meal and a beer each so we quickly made our way back to the dining car. Although ripped off, we felt victorious over the rude waitress and our spirits lifted. We decided that we could easily go without food until our arrival in Ulaanbataar the following afternoon. We returned to our cabin to enjoy the scenery which remained the same except for the occasional cluster of abandoned shacks.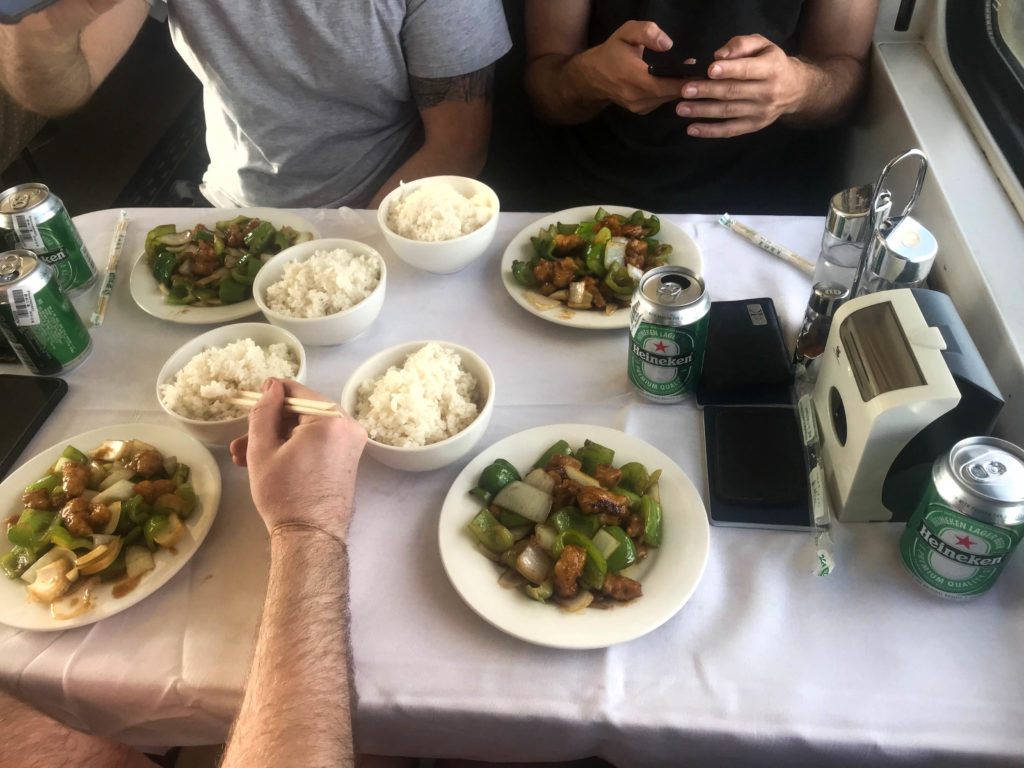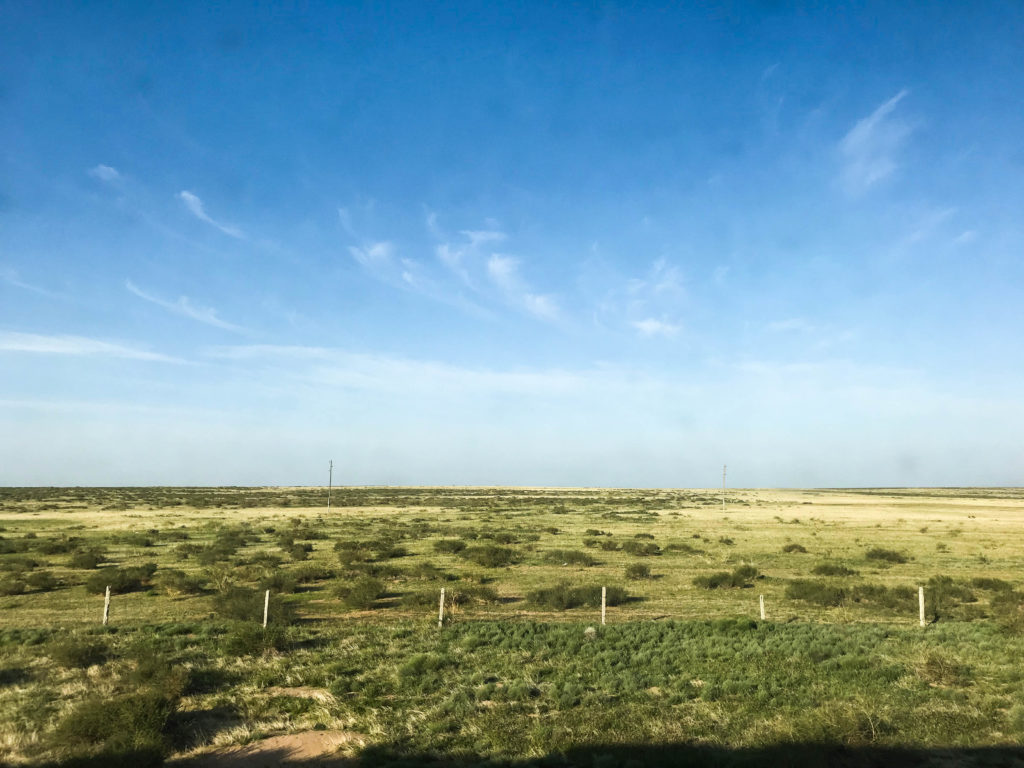 Evening was upon as and we shared a bottle of Chinese spirits we had left over from our night on the Great Wall. It tasted like mouth wash and the others were happy to receive a larger portion when I opted out. As our train approached the Chinese border a period of uncertainty came over us. The border crossing was to take four hours and we were unsure if we had to stay on or off the train during this process. As not only were we crossing the border, the train carriages had to have their wheels changed. The rail gauge is different in Mongolia as they used the same as Russia and other former Soviet Union countries.
We reached the border at around midnight, but first the train was broken up into different sections for the wheel changeover. An awful amount of shunting, banging and other noise descended upon us. We remained on the train as it was shunted into a shed, lifted up on jacks for the wheel change, lowered back down and then shunted out to rejoin the train. After this process had occurred, a friendly Chinese border policeman entered our cabin to collect our passports which were returned about an hour later. He was then followed by his Mongolian counter[art. With our visas checked and our passports stamped we settled into our bunks and let the clickety-clack of the train send us to sleep.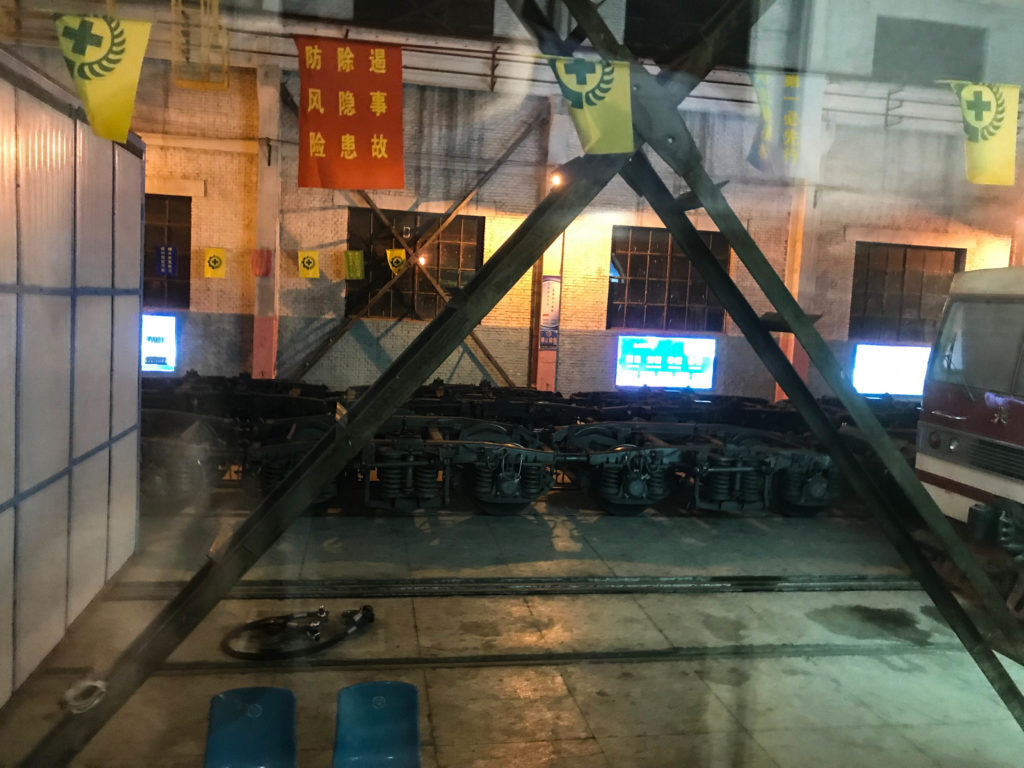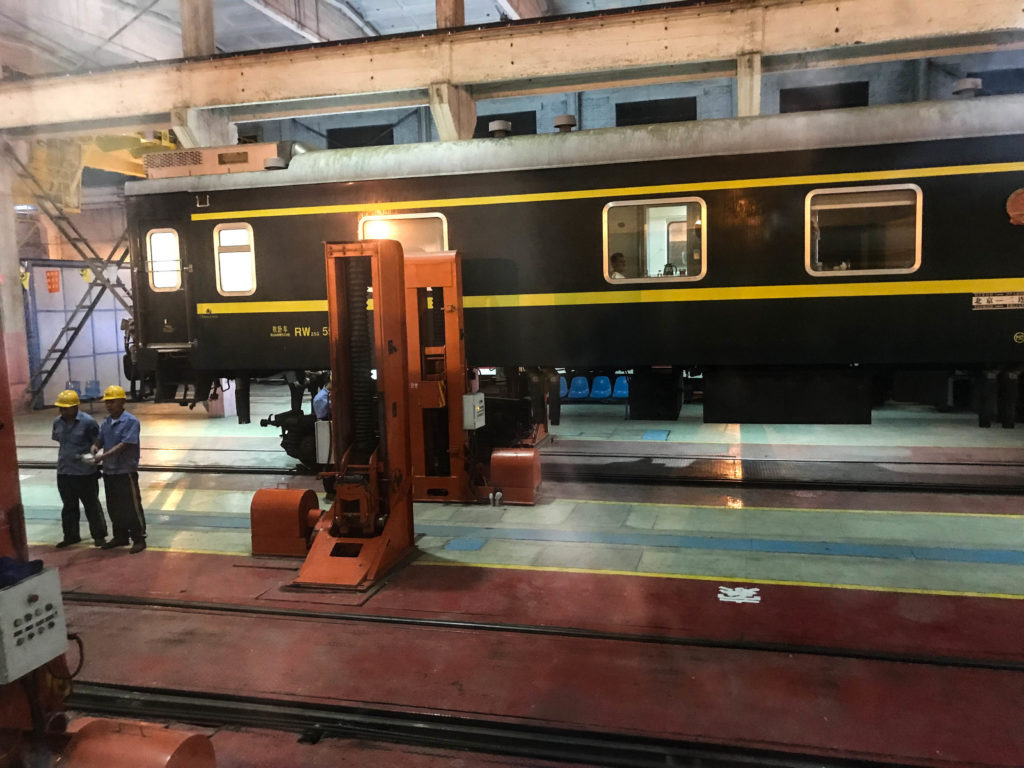 We awoke to a greener landscape dotted with hills and the occasional small village. Soon discovering that the position of our carriage in the train had changed. We decided to stretch our legs and see if anything else had changed. Opening the door to the next carriage we were met be an elaborately decorated dining car in a Mongolian theme. Carved wooden tables with padded seats formed four person booths surrounded by walls adorned with various decorations. Greeted by a friendly Mongolian man, he welcomed us, ushered us to a table and brought a menu.
Having enough Chinese money left for a jug of tea, it was all we could afford. All of a sudden and without us ordering anything the waiter placed four plates of fresh bread with jam and butter in front of us. I awkwardly explained in my best Russian that we only had enough money for the tea. He must have assumed we were all going to order a large breakfast from the menu he had given us. He did not seemed phased and indicated that we could have the bread for free. What a contrast from the harsh treatment the Chinese had given us. We decided to give him a $10 Australian banknote for his kindness. I'm sure he would appreciate it once he worked out how much it was equal to in Mongolian currency.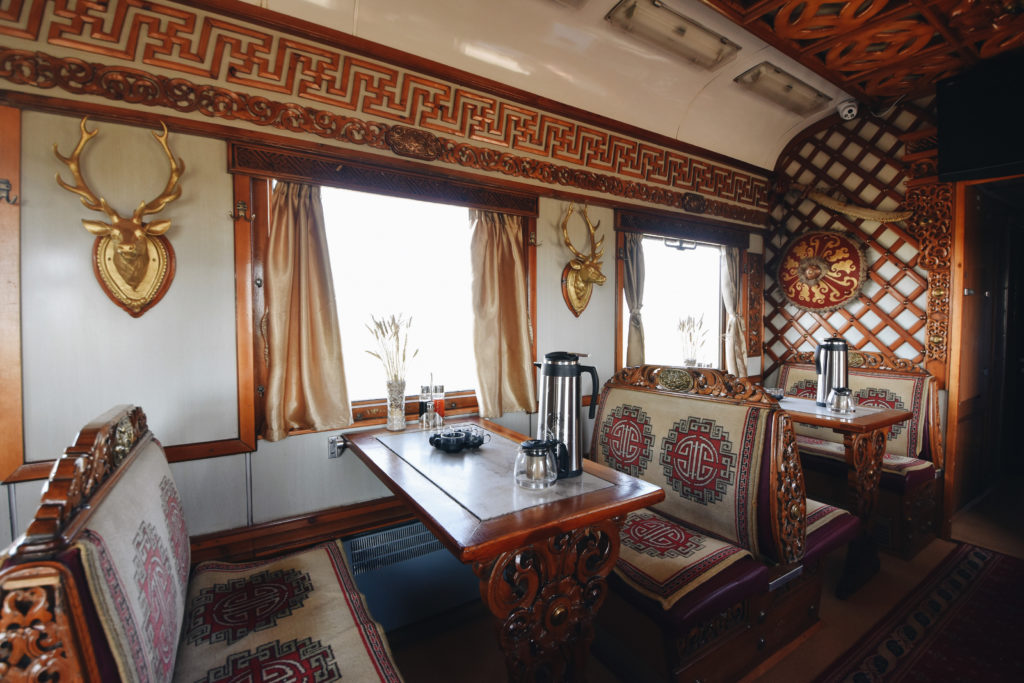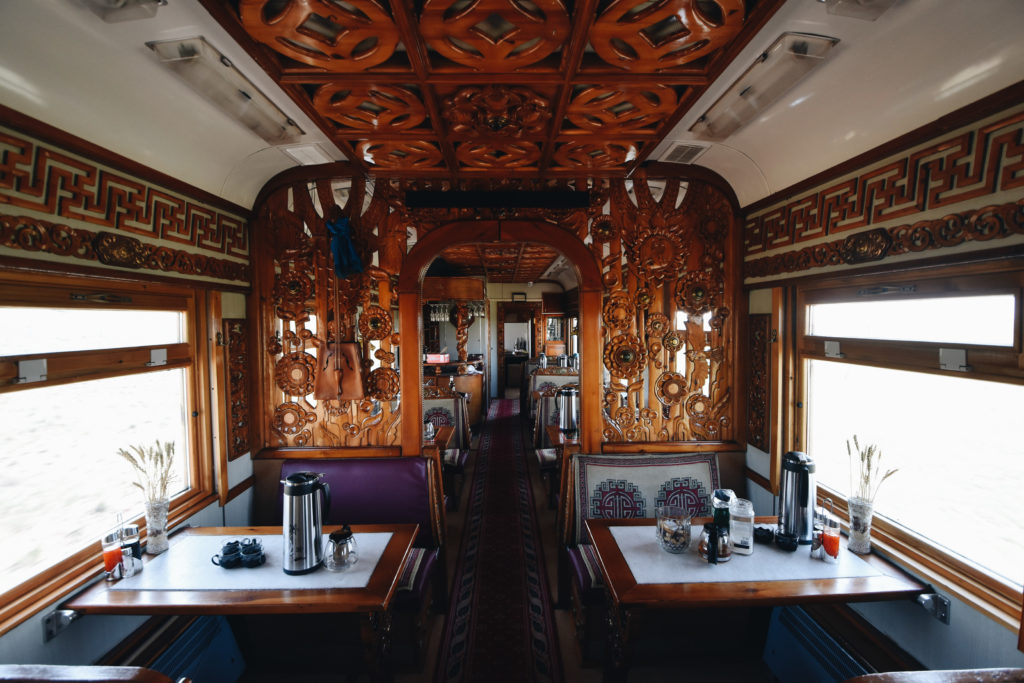 We were enjoying the scenery of Mongolia when our train started to slow down. Realised it was about to stop at one of the schedule stops before arriving in Ulaanbataar, we prepared to disembark. As we left the train at the small town of Dundgovi we were approached by old ladies selling homemade food. Once of them approached me and showed me something resembling dumplings in a plastic bag. I told her in basic Russian that I only had Australian dollars. Surprisingly, she asked me how much I had and said she would accept it. I thought about how the retirees from the tour group scoffed at us when we told them we had tried to use our Australian money in the Chinese dining car. Now this old Mongolian lady in remote Mongolia was willing to accept it. I politely declined her offer to buy her food but wished I hadn't looking back.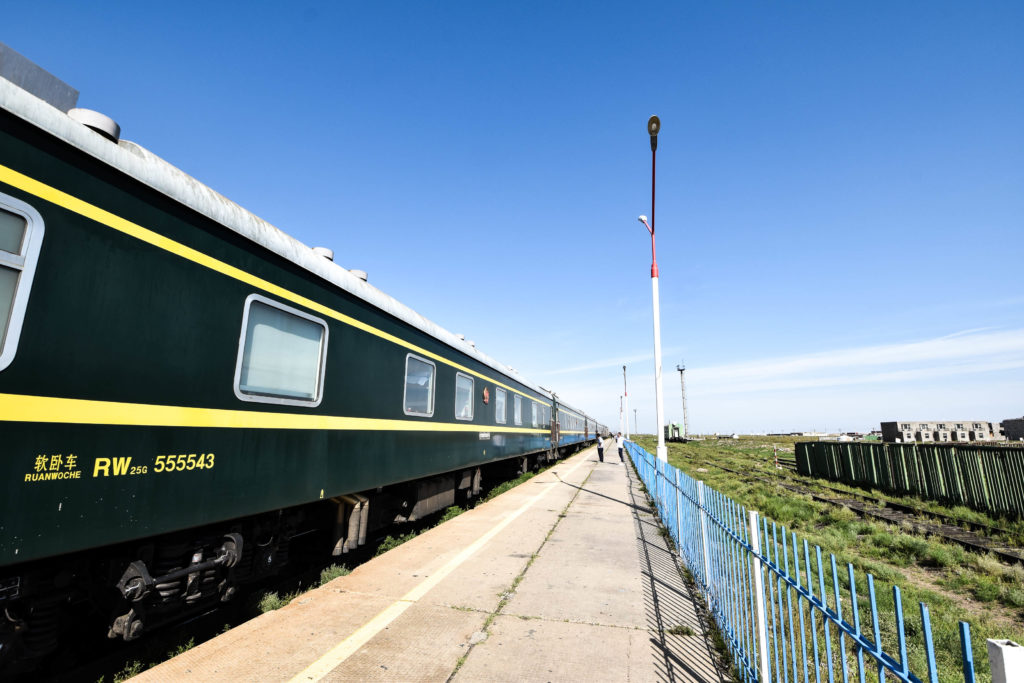 The train picked up speed as we drew closer to Ulaanbataar and the scenery had not changed much except for the occasional factory or village. As we reached the outskirts of the city we noticed the interesting mix of modern buildings and traditional round 'gers' beside each other. Sometimes even in the backyard of a modern house. We arrived in Ulaanbataar to find a grand old station and a well preserved Soviet-era steam locomotive to admire. We entered the station building and withdrew some of the local currency. A young Mongolian couple approached us and offered a taxi to our hotel which we accepted. They escorted us to a van belonging to a friend of theirs and we were off. This was the beginning of our Mongolian adventure.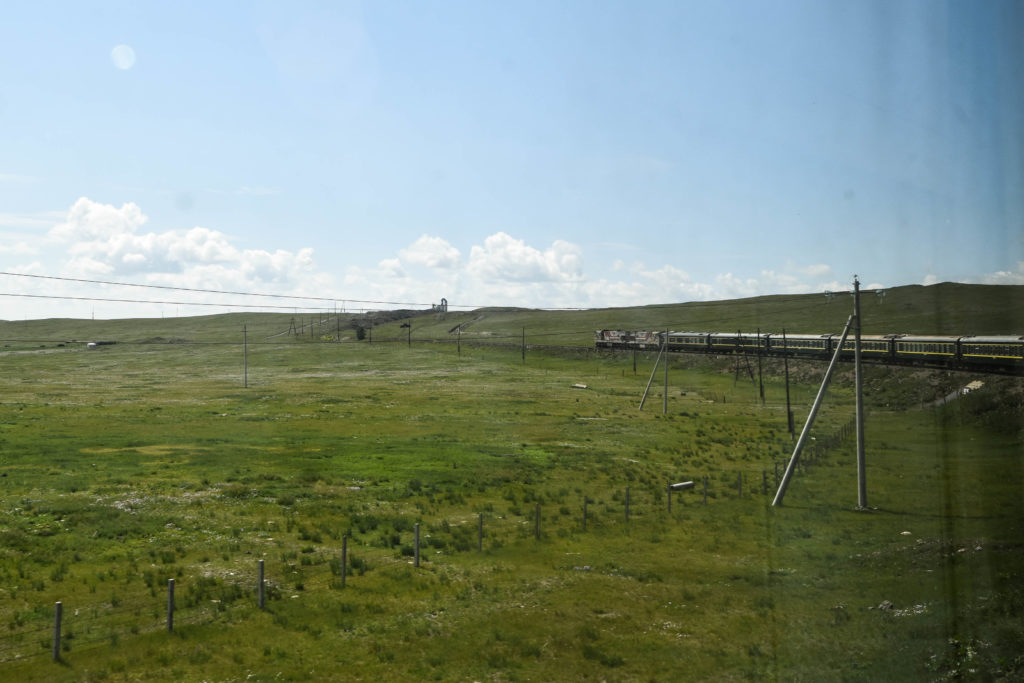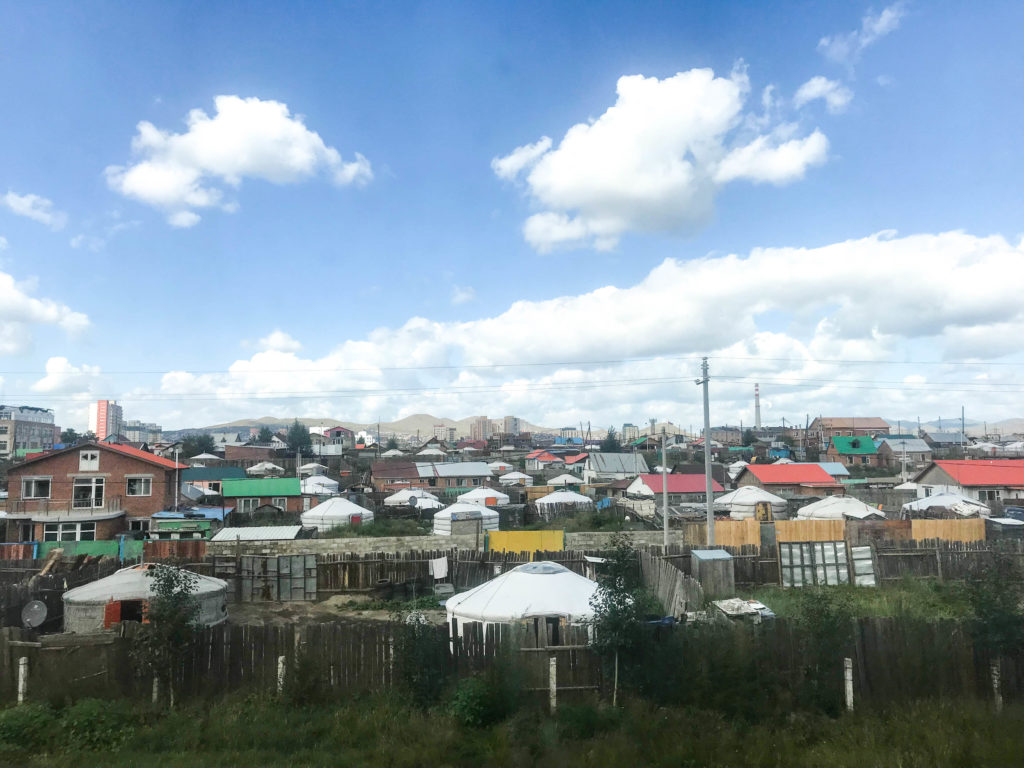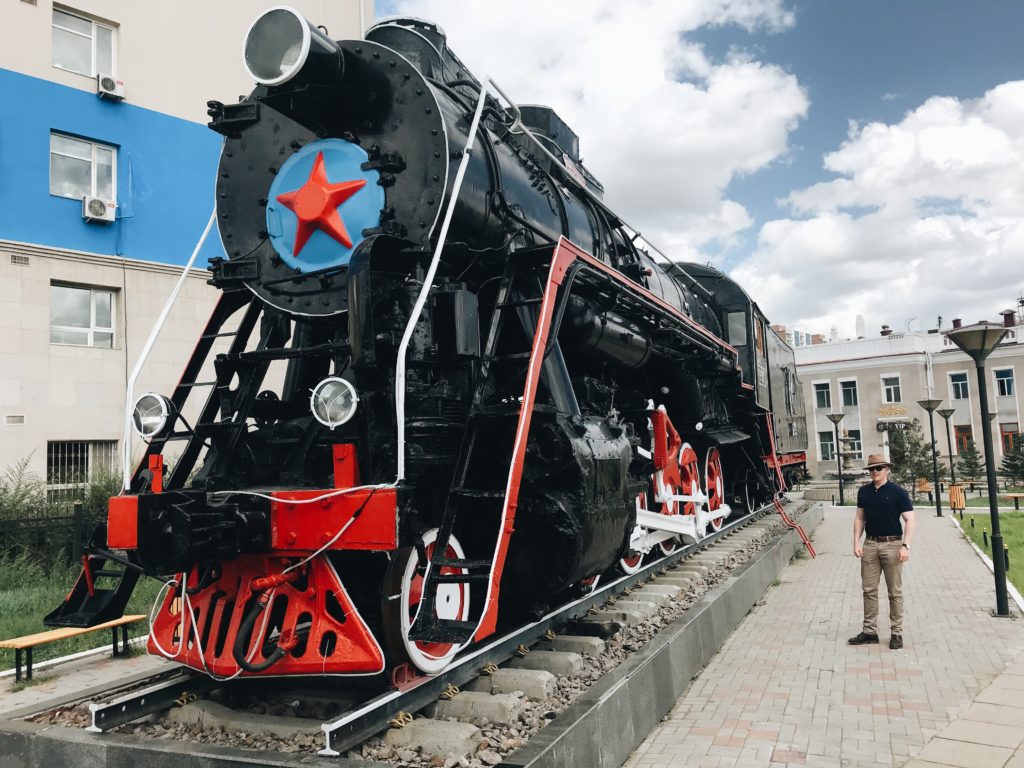 Comments
comments