A cradle mountain winter hike was set to be the highlight of our five day Tasmanian road trip. Tasmania is the island 240 km south of the Australian mainland and is home to amazing natural parks and world heritage sites. Flying into the capital city of Hobart on a Tuesday night, we were to hit the road the next morning and drive straight to Pumphouse Point on Lake St. Clair. After one night there, we would then spend two nights at Peppers Cradle Mountain Lodge before driving back for another night in Hobart via the small northern city of Launceston. Coming from Sydney, and since it was the middle of July, we were hoping for a spectacular winter wonderland. We were praying for snow, but to be honest we were expecting it to rain.
After a night at the amazing Pumphouse Point and lunch in Queenstown, a scenic and mountainous drive had us arriving at the Dove Lake car park with enough light left to enjoy the spectacular surroundings and views out to Cradle Mountain. It wasn't snowing, but at least it wasn't raining. The remnants of snow was visible atop the peaks of Cradle Mountain and Dove Lake was quite full from the significant amount of recent rainfall. The weather changes quickly here in Tasmania and snow was forecast for the following day. Unfortunately snow forecasts were often downgraded to rain instead. At Pumphouse Point we had spoken to another couple that had just spent three days here at Cradle Mountain. It had rained each day completely spoiling their hiking opportunities.

The night was spent sitting by the fire and enjoying some of Tasmania's finest wine. Studying the map of the various hikes we could do we decided that we would try and get as close to Cradle Mountain summit as possible. This can be dangerous in winter as the final stages of the hike requires scrambling over rocks and boulders. We would only go as far as we could without doing anything risky. I hadn't been sure whether to hire a 4WD for this trip or not. I had decided it was the best idea because if it did snow, often the road to the car park where the hiking trails begin would be open to 4WDs only. Our prayers had been answered. We woke to a landscape blanketed with snow which was still intermittently falling. After breakfast we wasted no time in setting off and beginning our hike. Driving past the "4WDs only beyond this point" sign, the extra money I'd spent renting the 4WD suddenly seemed worthwhile.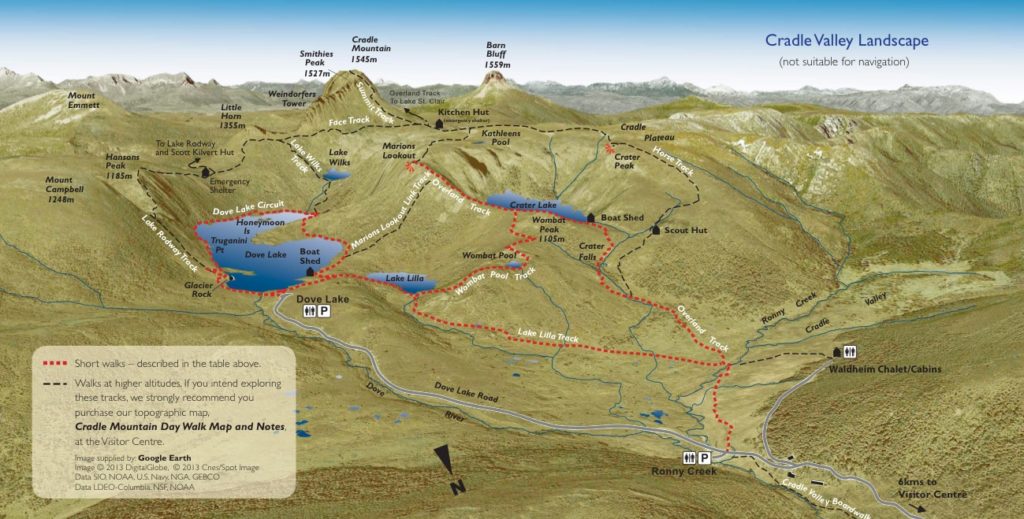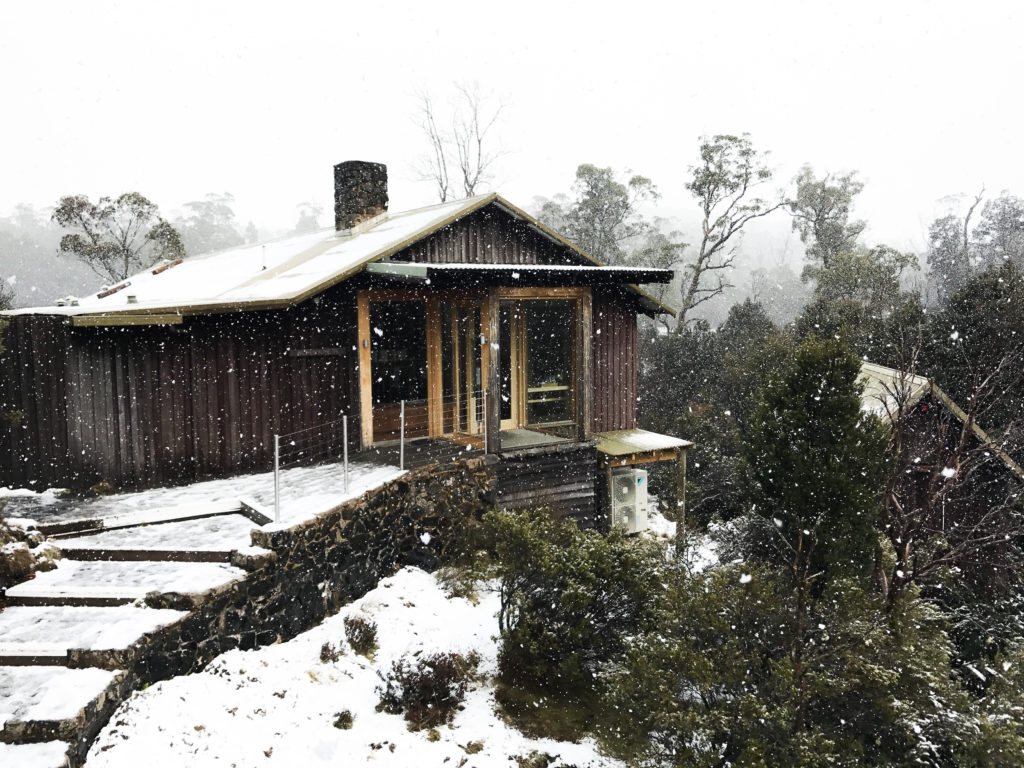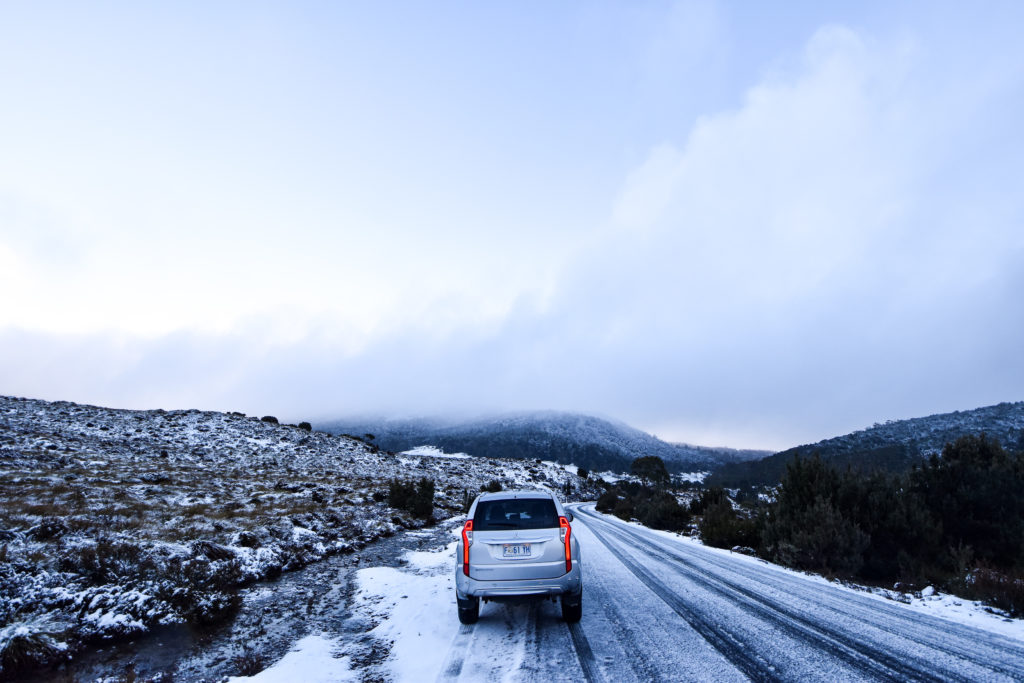 Only one other car was parked at Dove Lake as we arrived. The snow was falling heavier than it was when we set off. It soon stopped and the green misty landscape we had seen the previous afternoon was replaced with a snowy white one. Cradle Mountain's summit was not visible and we decided that we would only attempt to go as far as Marion's Lookout which was about three hours return. We wore non-waterproof jackets but had waterproof ones in our bag if the snow returned. Water and snacks would also accompany us in case we were going to take longer than expected. After enjoying the wintry ambience of Dove Lake we set off for Marion's Lookout. We could hardly contain our excitement as we celebrated the snow we had long hoped for.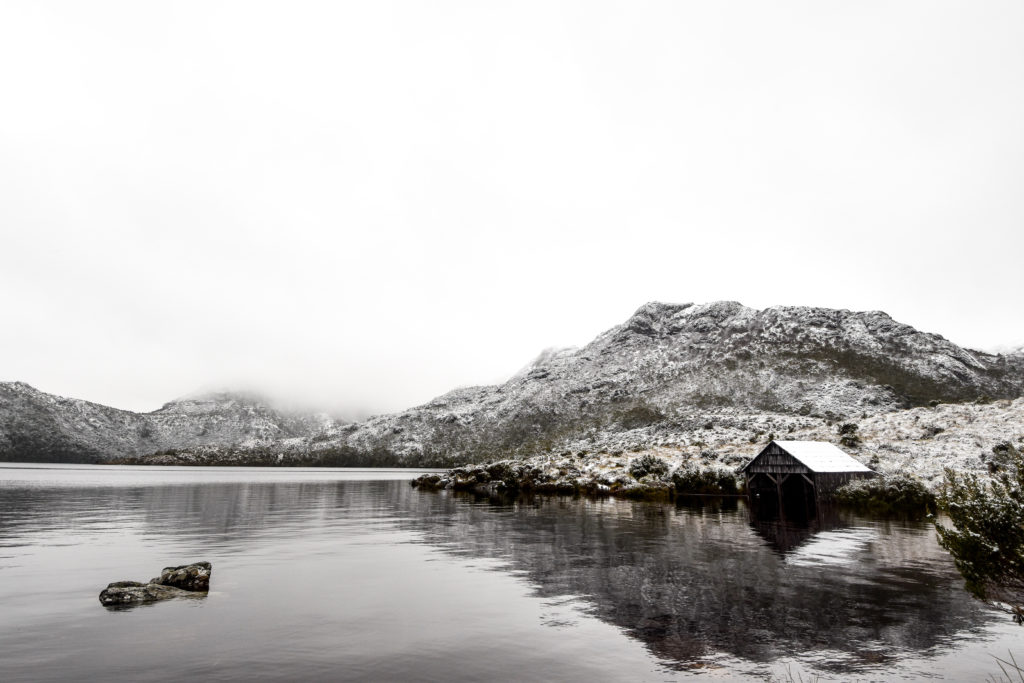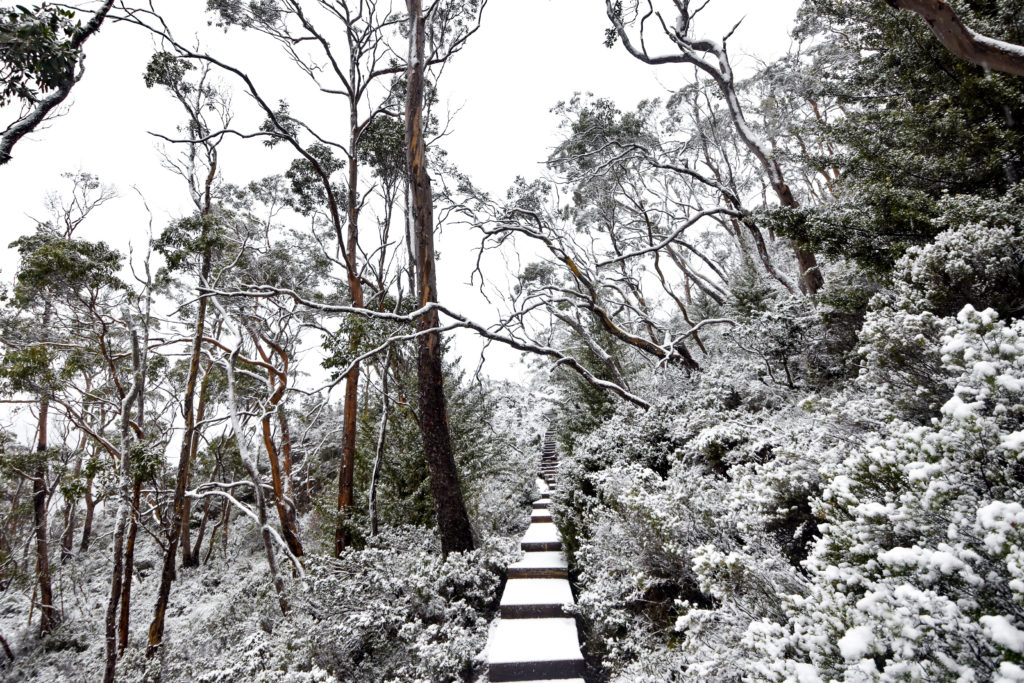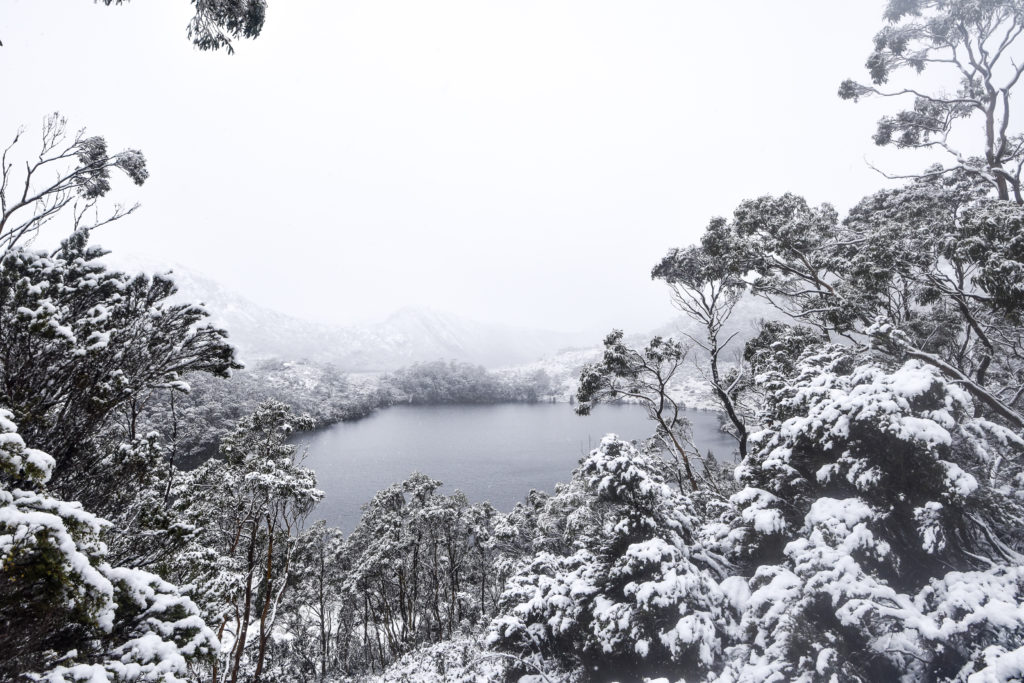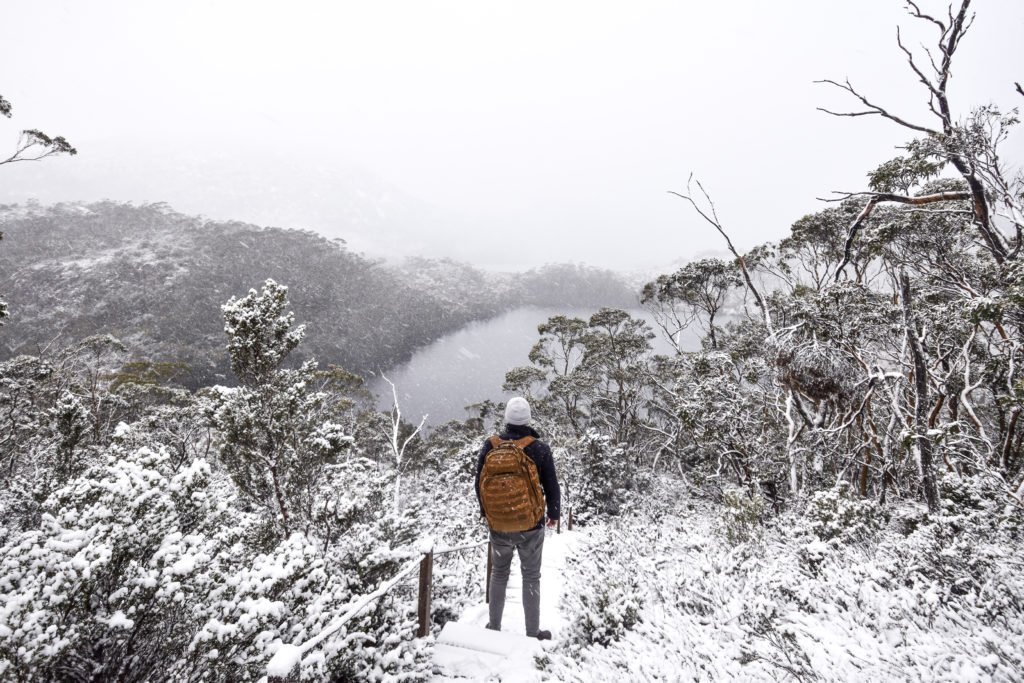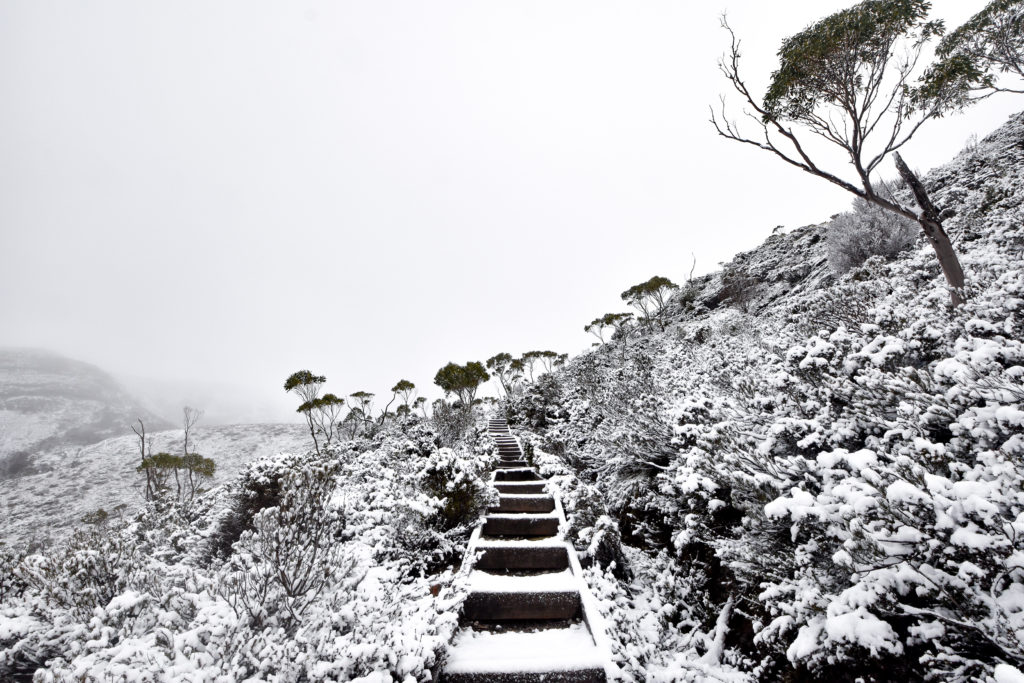 The snow was slowly getting heavier but would often stop completely before starting again. The trails are well maintained and often elevated off the ground. This allowed us to continue without much trouble. We soon arrived at 'Wombat Pool', a small pond. Someone had scratched the 'l' off the sign which ended up spelling 'Wombat Poo'. The setting was amazing and it was hard to believe we were in Australia as we stood amongst what could easily pass for a European winter landscape. We were happy to see that there were no other footprints on the track and that we had the whole place to ourselves.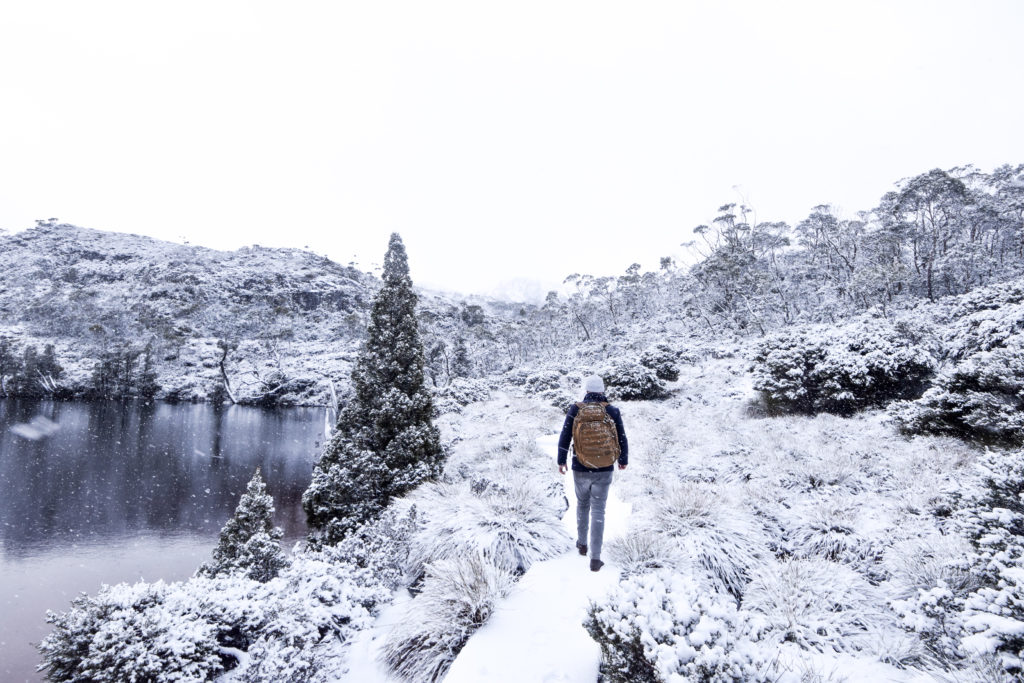 After a short break, we continued onward and upward toward Marion's Lookout. The elevated section of walkway soon finished and we continued along a slushy track in between knee high vegetation. The steep and jagged cliffs that surrounded 'Crater Lake' were soon visible on our right. We pulled off the track for some distance in order to get a better view of the lake and admire the dramatic scenery. The wind was blowing, but not strong enough to make us cold or cause discomfort.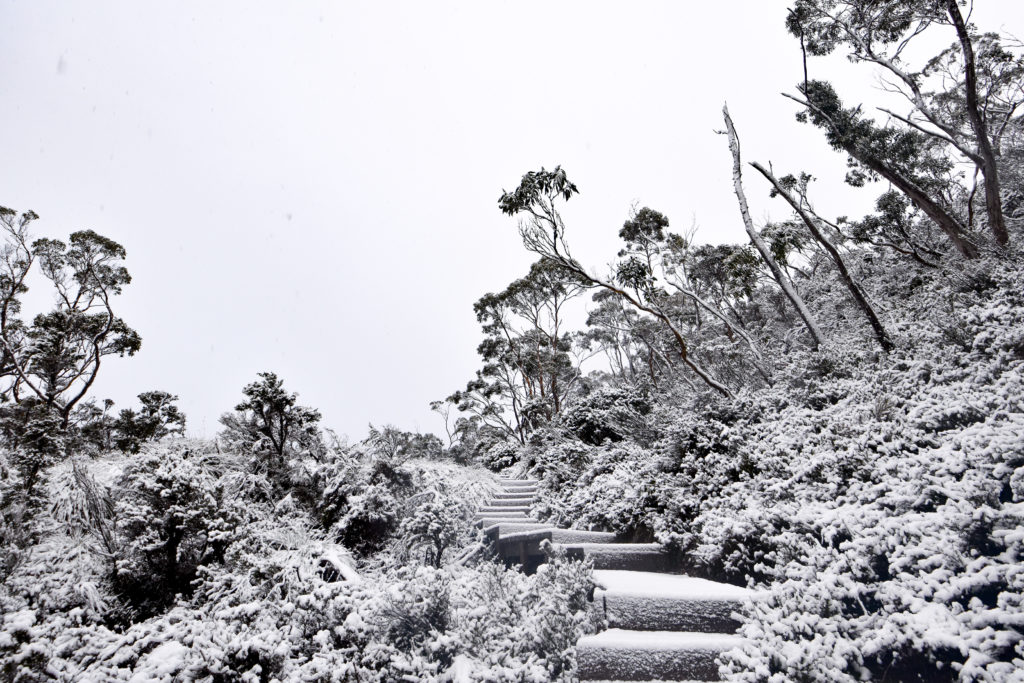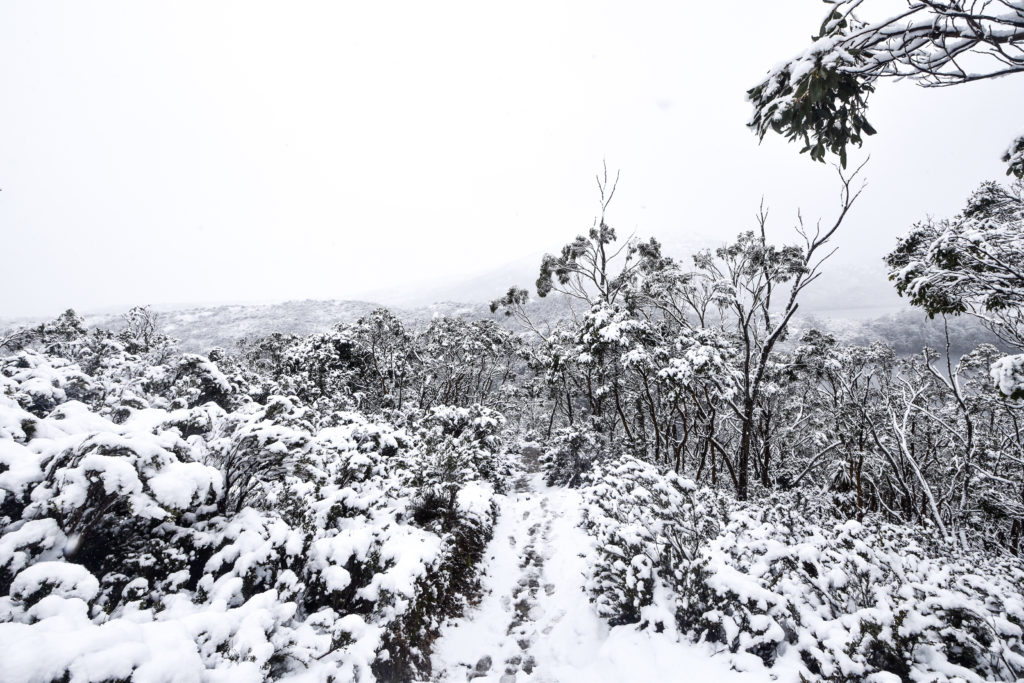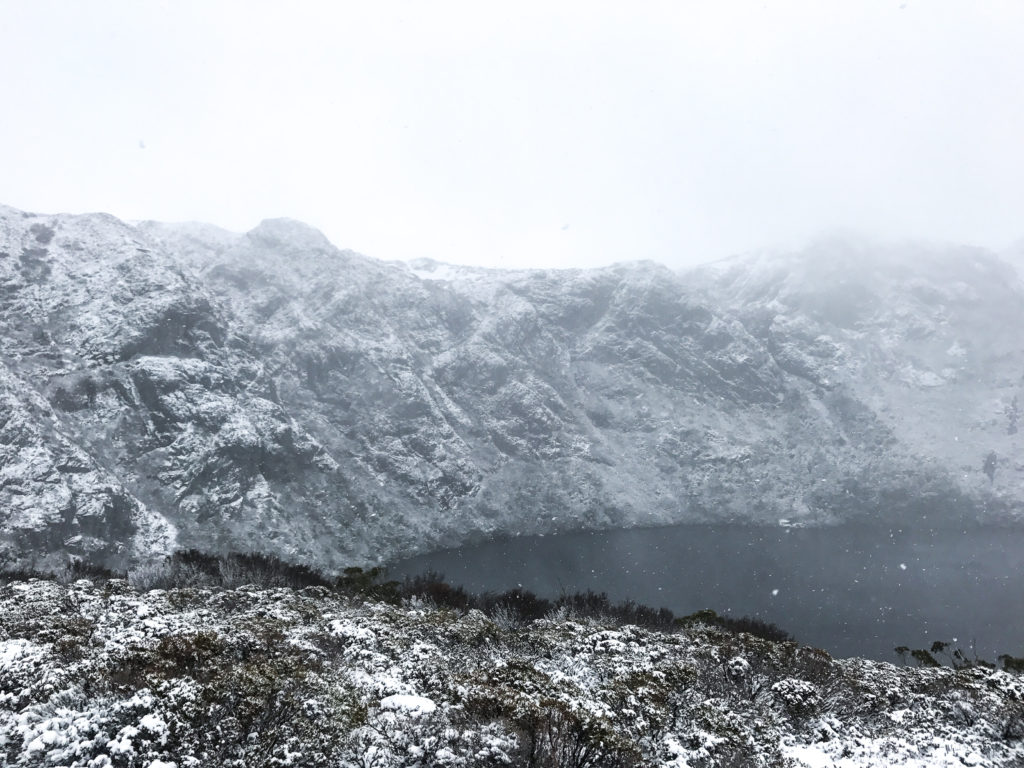 With the snow persisting we soon noticed the last and most challenging section of the hike ahead of us. The fairly flat track turned into a steep climb up steps carved into the earth. A steep and slippery section of rocks then appeared. We carefully ascended making the use of a chain bolted into the side of the rock to pull ourselves up. Arriving at Marion's Lookout all we could lookout at was a wall of white snow and haze. We sat on a rocky section overlooking what we could just make out as Dove Lake. The wind was howling as we enjoyed one of the snacks we had brought with us in our bag. Suddenly the sun began to break through the clouds and the snow cleared up. What amazing timing this was. We were afforded a very brief view of Dove Lake and the surrounding area. This didn't last long and the skies soon closed in on us again.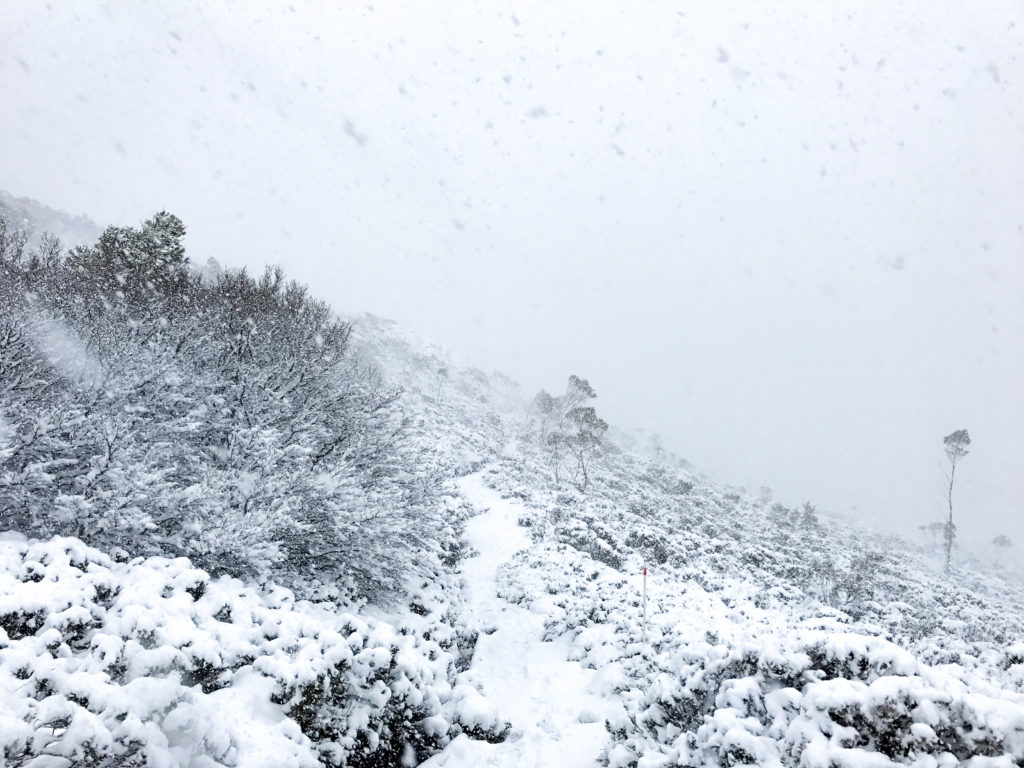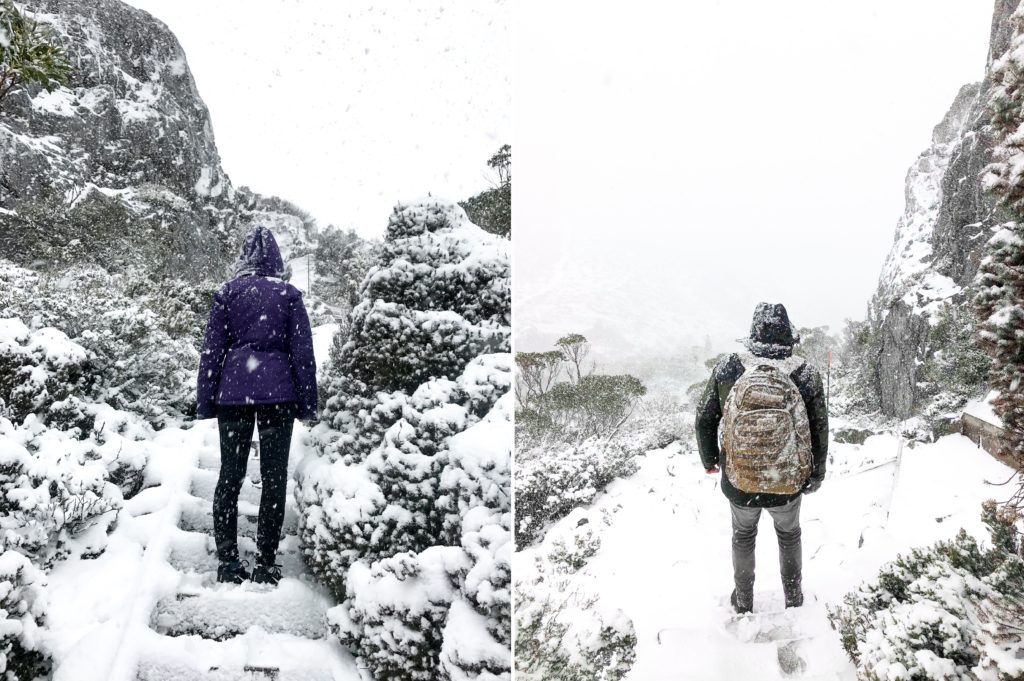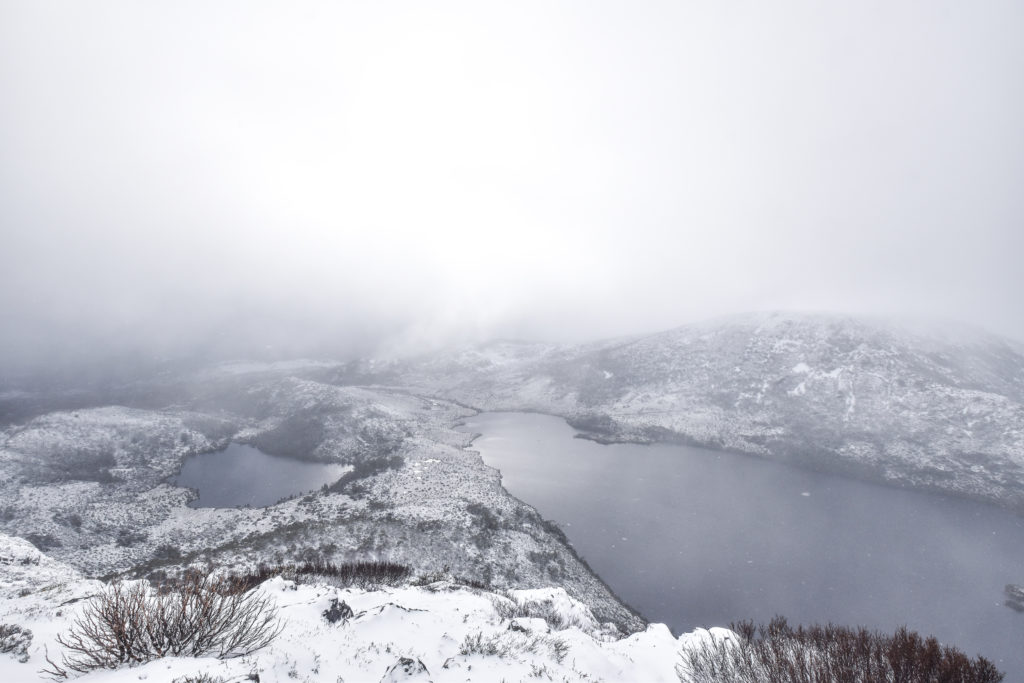 As we began to make our way back to the car the skies became clear, this time for an hour or so. We came upon a lone hiker who was the first person we had seen on the track all day. As a German form Bavaria he was used to such conditions and we traded stories about our adventures in Tasmania so far. On our return hike we were able to enjoy the views we had been deprived of earlier in the day. A spectacular view of Wombat Pool and the slightly larger Lake Lilla could be seen from a vantage point just off the main trail.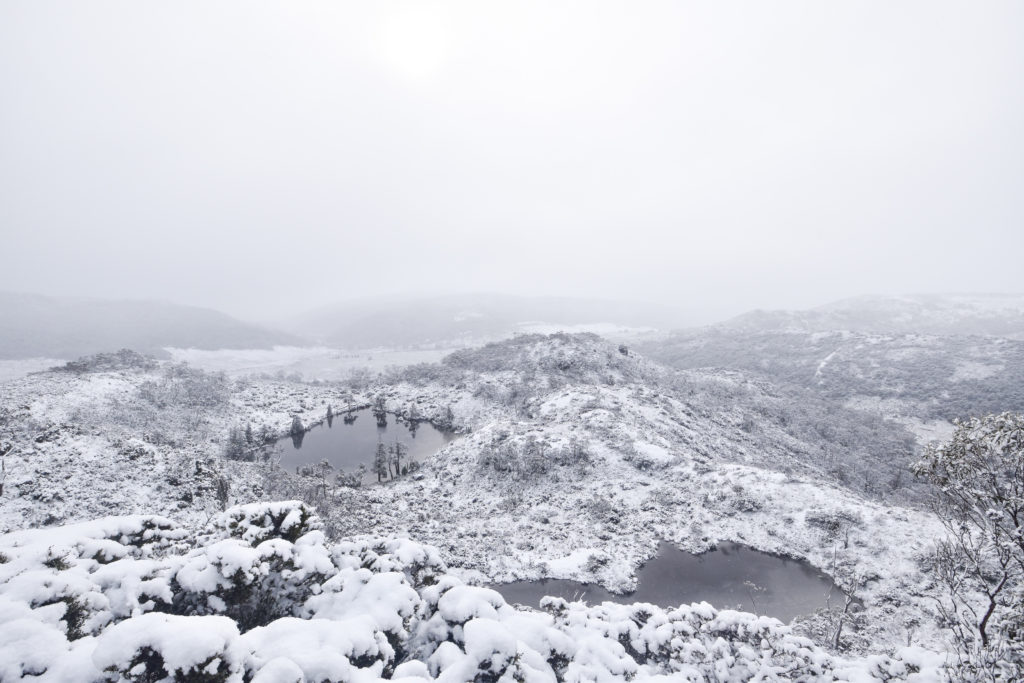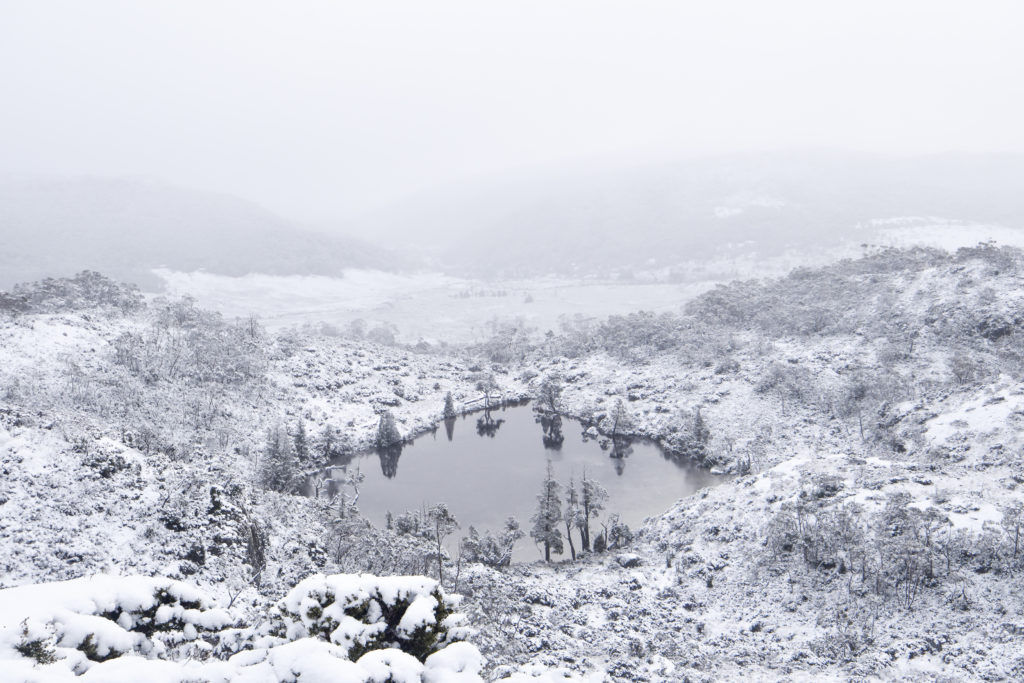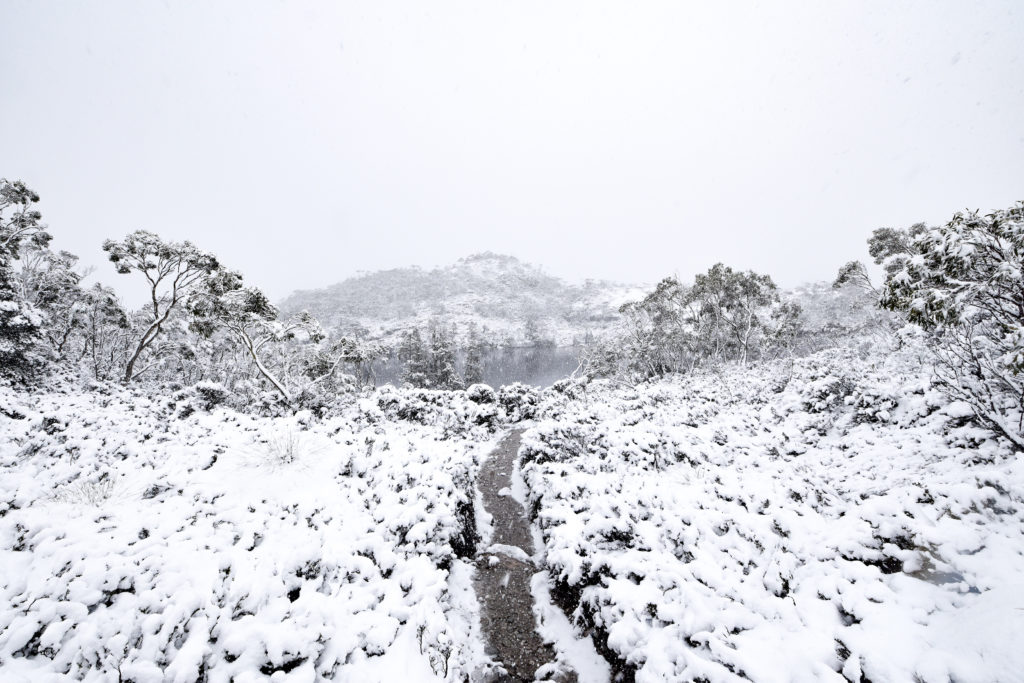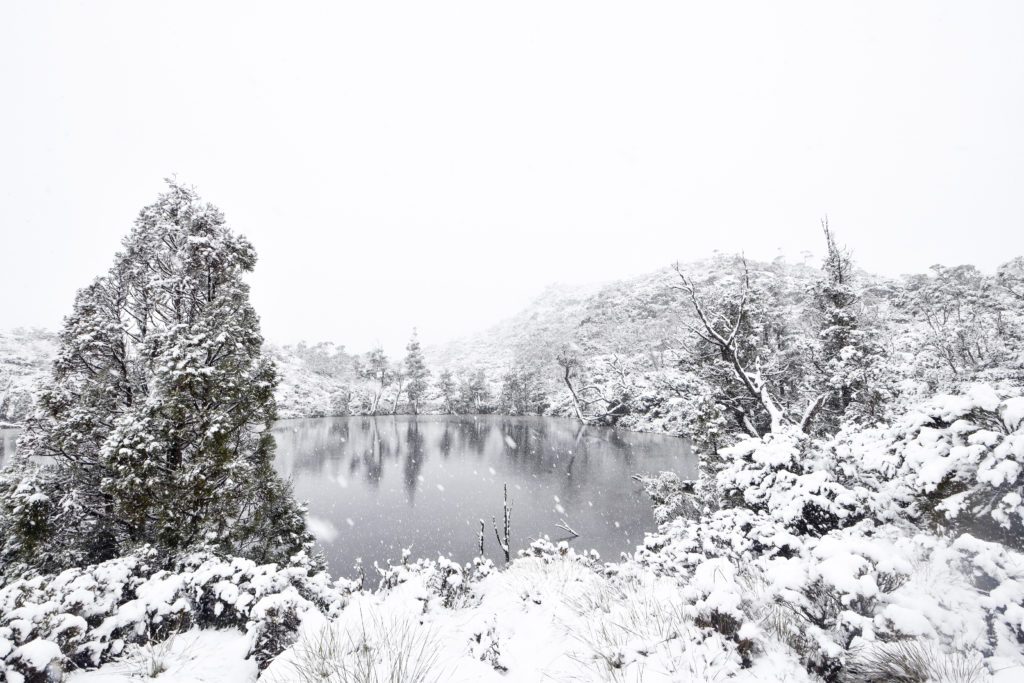 After four hours spent hiking and enjoying the snow, we slowly made our way back to the lodge. We stopped at numerous locations to admire the scenery and take photos. The scenery was truly remarkable and we were so happy we had been fortunate enough to see Cradle Mountain under a blanket of snow. We thought about the couple we had spoken to only a few days before who had spent three miserable rainy days here, unable to enjoy a full hike. The rest of the afternoon and evening was spent recovering in the lodge by the fire. The next morning we would continue our Tasmanian road trip back to Hobart via Launceston.
Comments
comments