Our Iceland glacier hike mission was off to an awesome start. We had been fortunate enough to see the northern lights through the plane window on the way over. Only thing was, it was the tiny, blurry window of the emergency exit door. Better than nothing I guess. It was actually the Stewardess that had came and told us to have a look as we had been telling her about our trip earlier in the flight. We didn't get to our hotel until about midnight, but still went for a quick walk to enjoy to enjoy the deserted sights. The coronovirus pandemic was looming, but international travel had not yet been severely affected. Our rental car attendant tells us that a lot of Chinese tourists had cancelled their trips due to the lock down in China.
It was great to be back in Reykjavik. But it wasn't Reykjavik that brought us to Iceland. It was the lure of the magnificent blue ice caves of Breiðamerkurjökull Glacier. I'd been once before, in January 2017 during a road trip around the whole of Iceland. Back then, we made the mistake of booking a short, two hour tour. They took us to one of the most accessible ice caves. Nothing could ruin the beauty of that deep, almost magical blue ice. But… the small cave was PACKED with tourists. All jostling to take and pose for photos. It absolutely ruined the remarkable atmosphere of it all. A far cry from the empty vast caverns of the tour company's website.
After a day and night enjoying Reykjavik, we rented a car and set off for the eastern coastal town of Vik. A detour north took us to Gullfoss waterfall and the nearby geothermal area which contains a constantly erupting geyser. A few hours later, we stopped to enjoy the dramatic views while getting to know some Icelandic horses. Not long after that, we noticed the spectacular cascading Seljalandsfoss waterfall in the distance, and couldn't find a reason not to stop there either.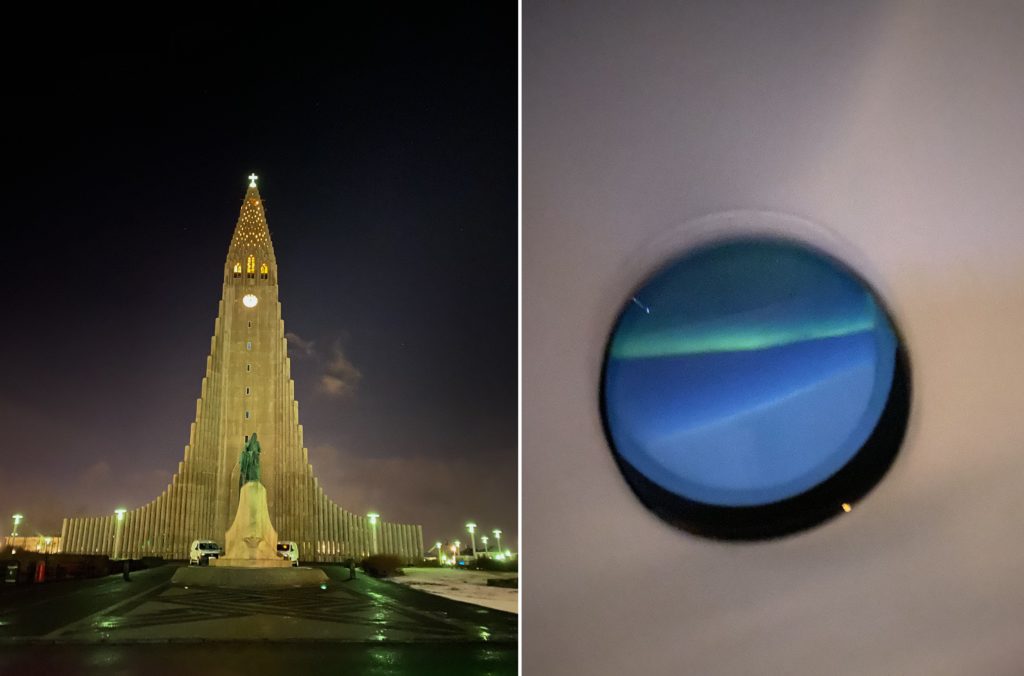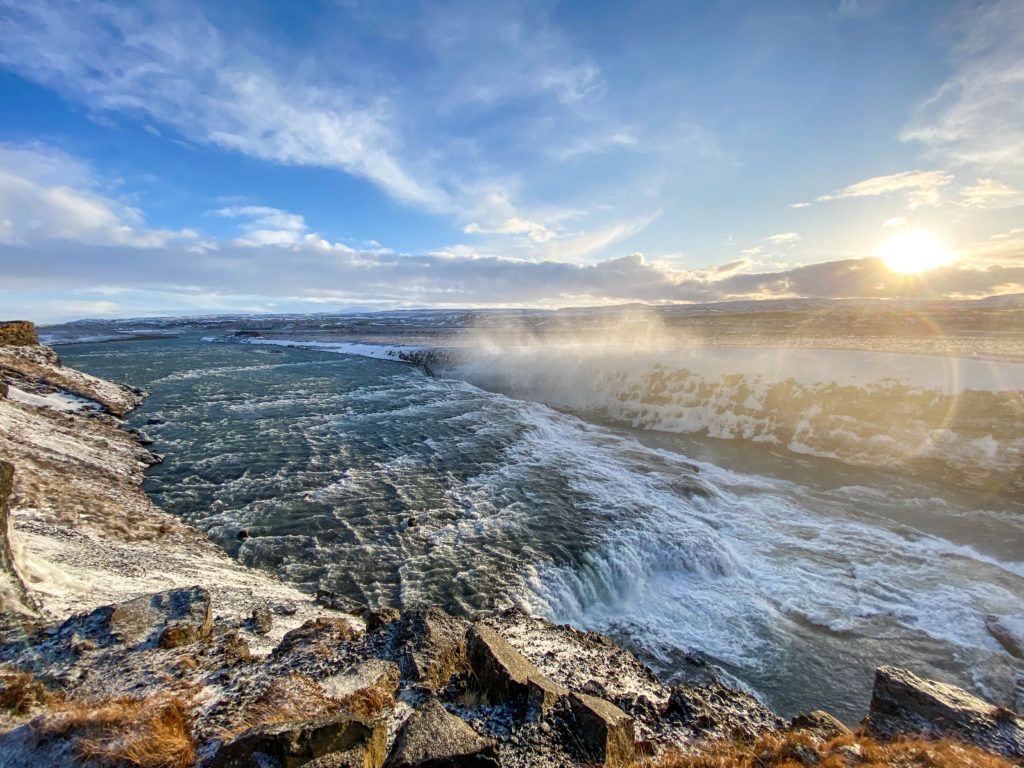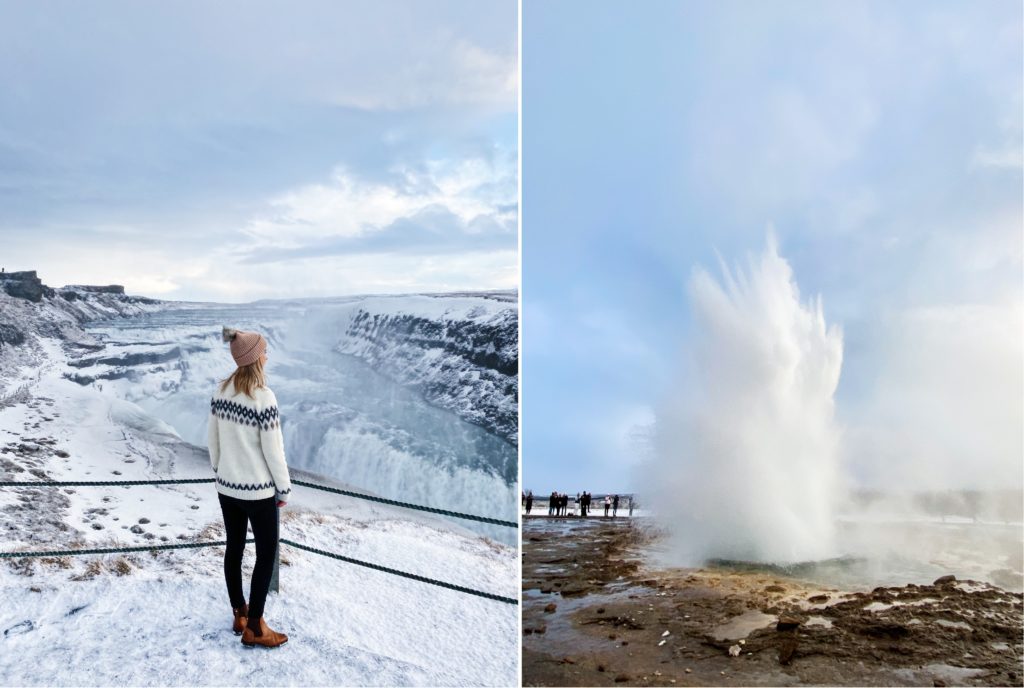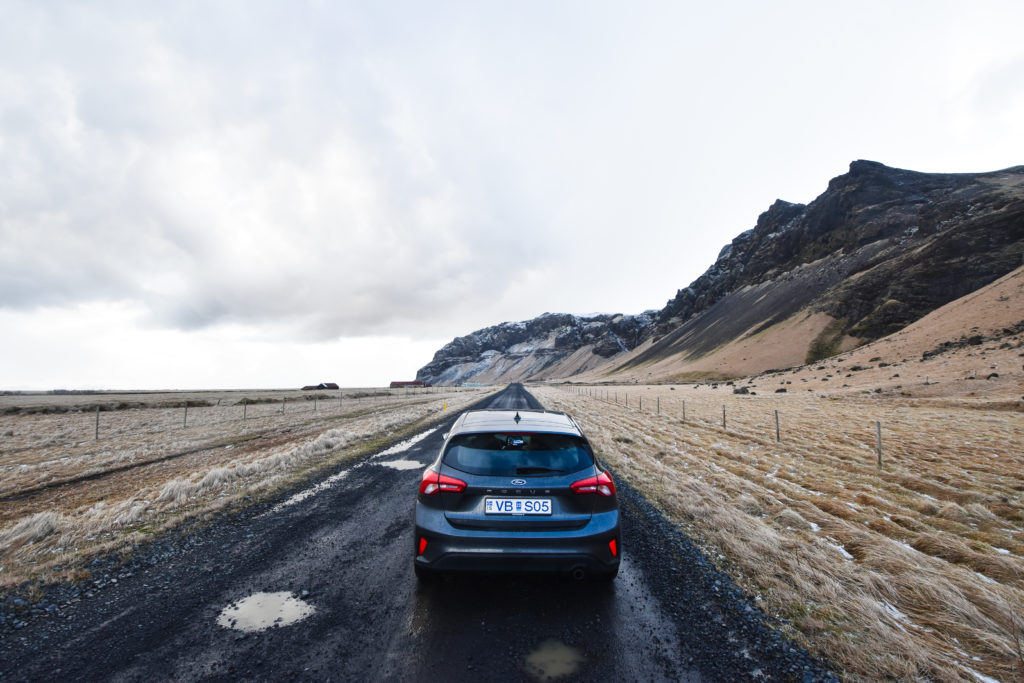 As we were in the middle of an Iceland winter, we had to be very strategic with the limited daylight hours we had. The plan was to stay in Vik for the night and then wake up super early to drive to the Jökulsárlón glacier lagoon where our hike would begin. We also wanted to stop at Reynisfjara, the black sand beach. This was right before Vik, so we would spend the last of our daylight hours here. It was spectacular. Snow was falling and the sun was still shining as it slowly set on the horizon. We watched the massive waves crash upon the snow covered black sand, what a contrast. The sea sure was angry. I hadn't even seen surf this rough back home in Australia.
We continued on to Vik and checked into 'Hotel Vík í Mýrdal'. The sunset seemed to linger, and there was still enough fading light to walk around Vik's coastline. A magnificent orange glow swept over the horizon as light snow continued. Noticing the lights of a small venue in the distance, we soon stumbled upon an awesome little bar and restaurant known as 'Strondin Bistro and Bar'. This was followed by some locally brewed beers at Vik's brewery 'Smiðjan Brugghús' which also has amazing burgers. The skies started to clear, so we walked up to a small hill overlooking the town in order to get a great vantage point to see the northern lights. It wasn't very dark but we had both been drinking too much to drive somewhere darker which would have improved our chances of seeing them. They never appeared, but the view of Vik alone was worth the walk.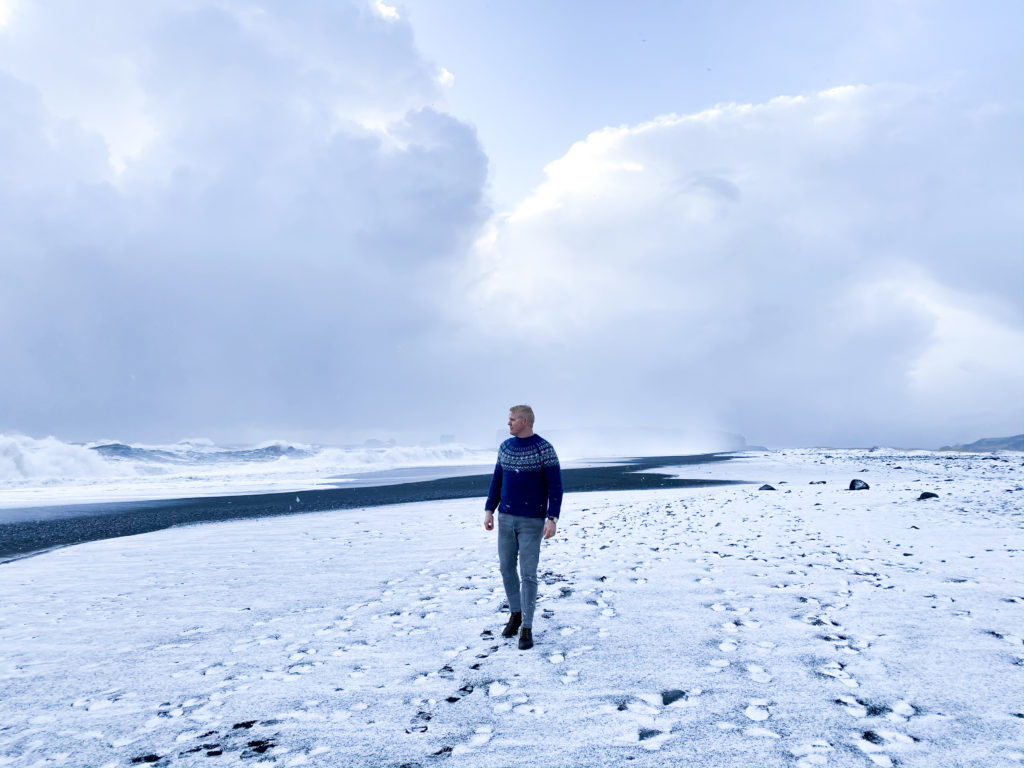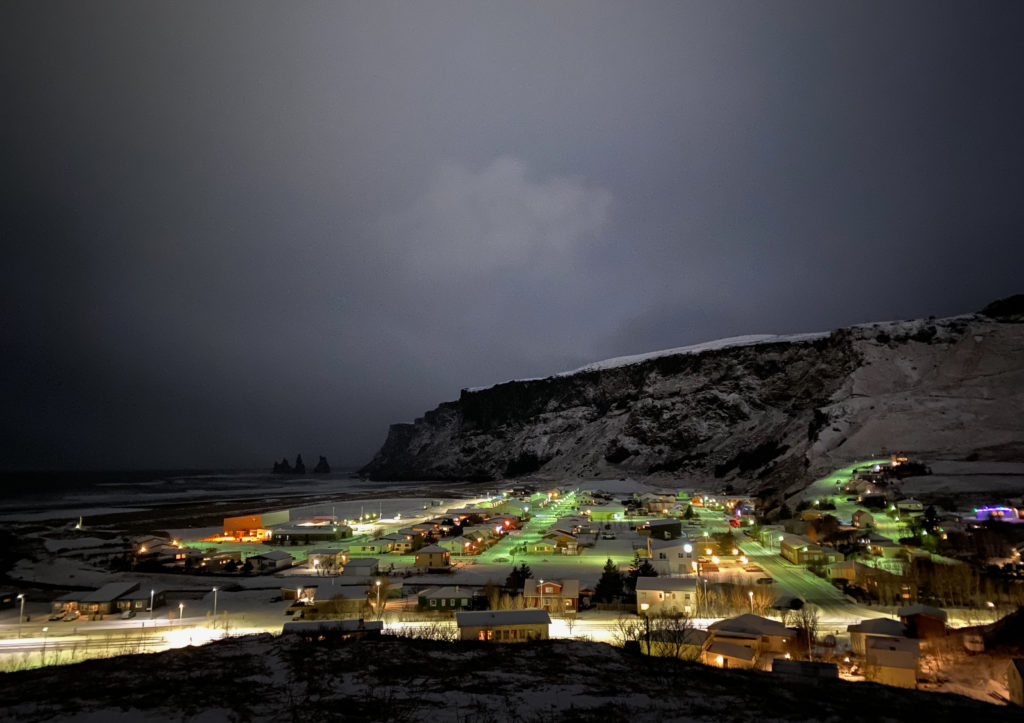 We woke early the next morning for the 2.5 hour drive east to Jökulsárlón. We had missed the hotel breakfast so were praying we could find something on the way. It was pitch black and snowing. The main roads in Iceland are frequently ploughed, so even though it was winter, there was no need to rent a 4WD. That is, unless you planned to go off-road or far from civilisation. I drove around the entire island during my winter trip back in 2017. We rented a 4WD for that, but throughout the whole week, even though we drove through some pretty heavy snow we didn't need to activate 4WD mode once.
As the sun began to rise it illuminated some of the most breathtaking scenery that I have ever seen. The area must have seen some heavy snow in the past few days as everything was just totally white. The most dramatic cliffs and valleys and greeted us as we drew closer to the glacier lagoon. It was frustrating not having anywhere to pullover and take photos. None of the towns we had driven through so far seemed to have anything open for breakfast so we started to worry we would go without food. Fortunately, as we arrived at the glacier lagoon we discovered that a small store had opened and were able to purchase food there. We spent half an hour enjoying the scenery of the glacier lagoon before locating our guide.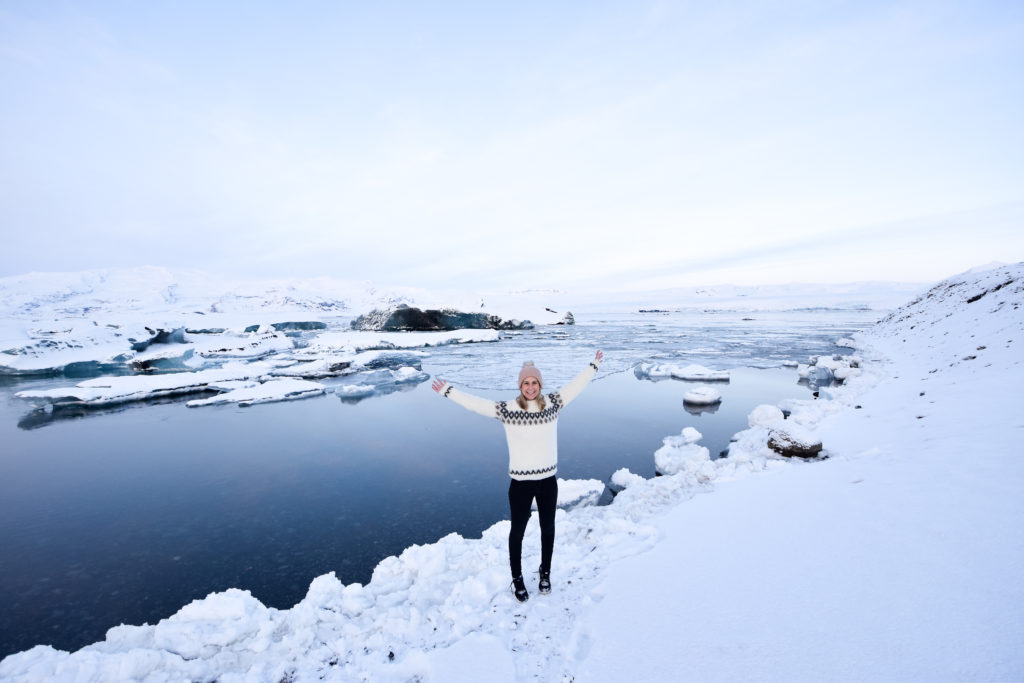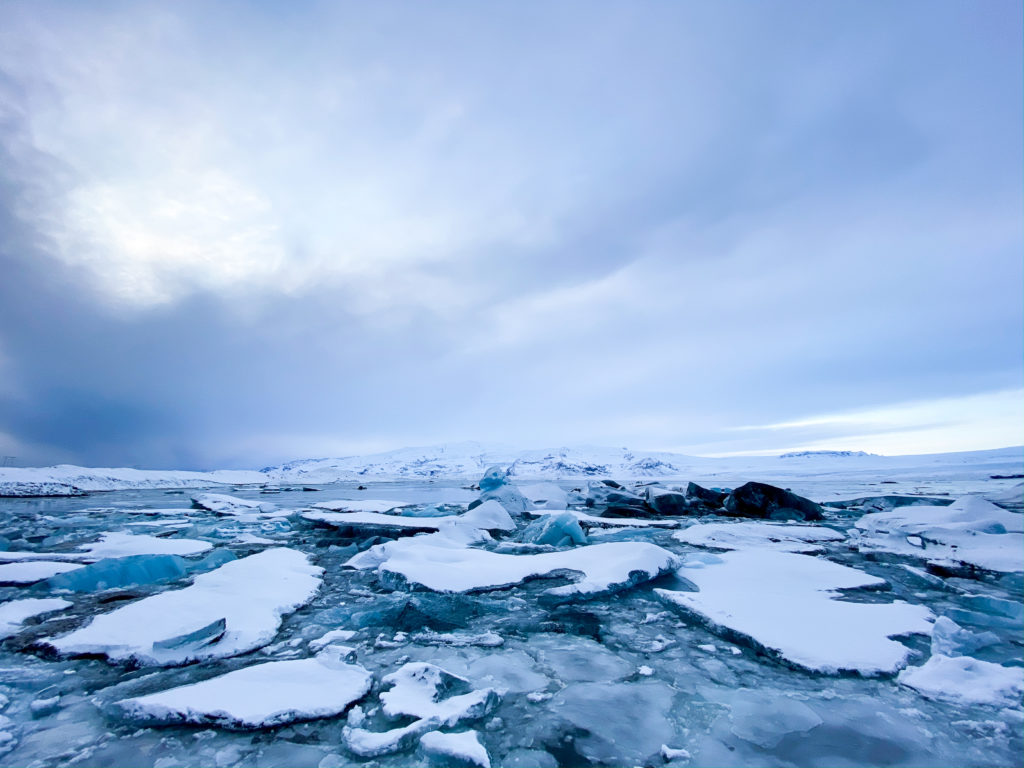 After meeting our guide, he introduced himself and issued us with our equipment for the hike. His name escapes me but it was hard to pronounce. He appeared to be a true adventurer and took with him a large bag containing all sorts of ropes, karabiners and associated glacier hiking and climbing equipment. We were to wear crampons and a harness as our hike involved some basic climbing down some steep ice walls. There was only going to be four of us on the hike. Just enough to fit in his super Land Rover Defender which seemed to be the ultimate ride for this part of the world. Once I asked him about it, he couldn't stop talking about how much he loved his car. A 20 minute drive took us to the bottom of a jagged mountain and quite close to the glacier. It beckoned us as we struggled fitting our harnesses and tried to work out how to carry our bag, crampons and ice pick.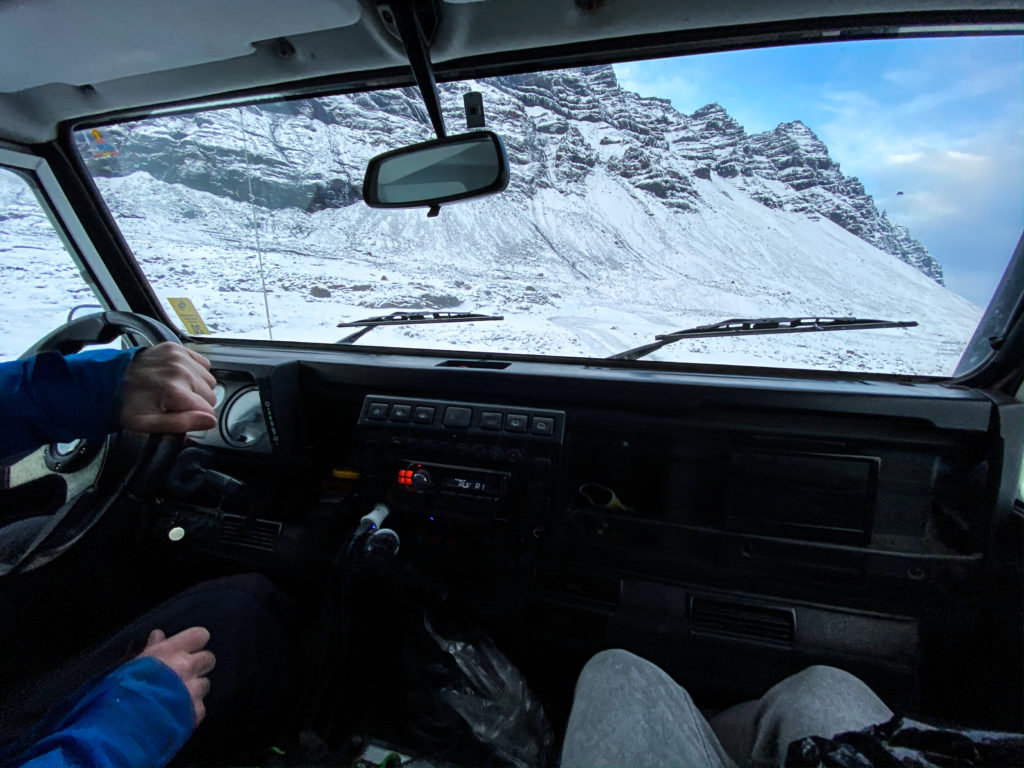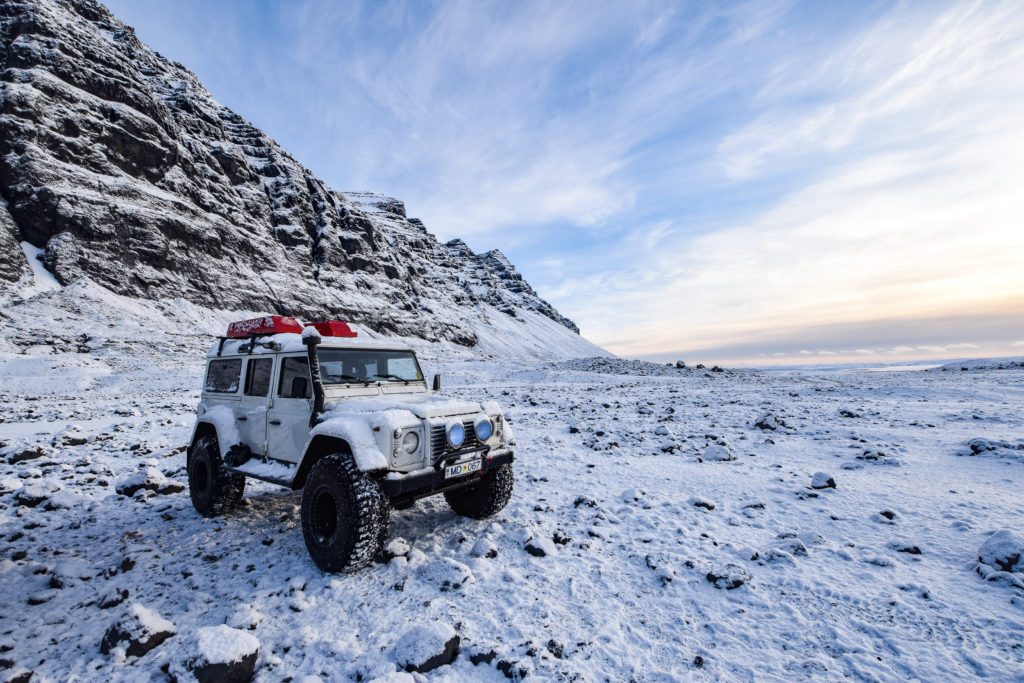 The snow crunches under our recently acquired hiking boots as we embark upon the trek toward the face of glacier. The guide points to various landmarks and large rocks. He recalls when the glacier's edge was at each particular point. He tells us that the glacier is receding, and fast. Glaciers always recede he explains, but never this quickly. We cross a rickety wooden bridge over a stream created by the melting glacier and soon we are at the face of the glacier.
Our guide tell us us to place our crampons and equipment down. We follow him along along the face of the glacier until we reach a low opening. We must crouch and crawl underneath the ice along a slowly flowing stream. After several minutes we arrive at a large opening and are completely surrounded by vertical faces of ice. As if it was placed there for decoration, a large diamond of ice is positioned facing upward, almost in the middle of the opening.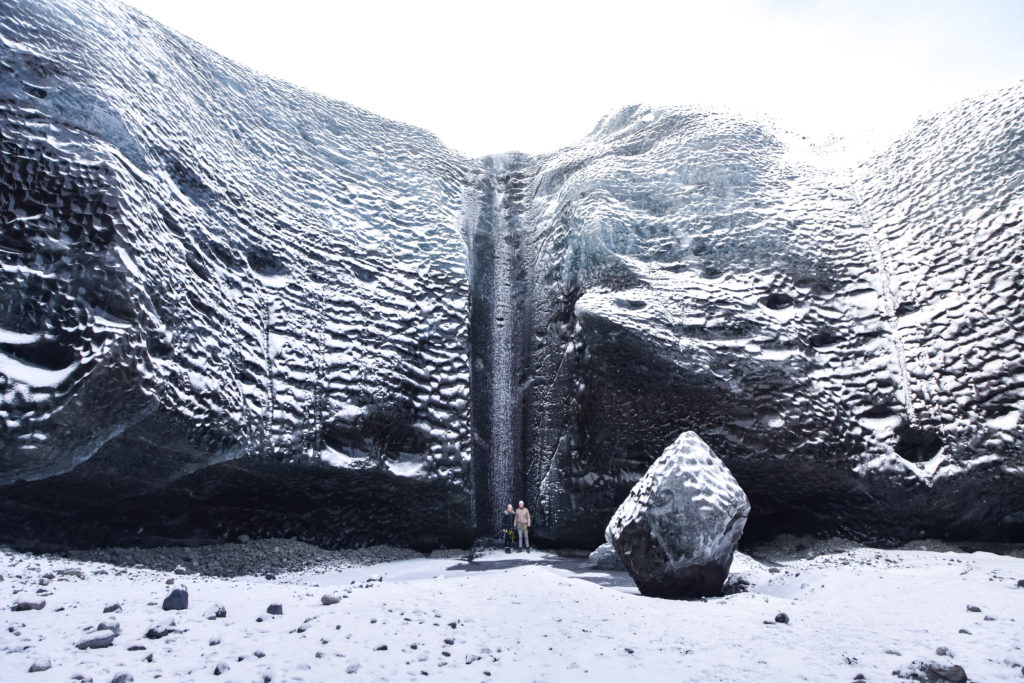 Returning back to our equipment, we fit the crampons over our boots and step onto the glacier. Explaining how to use our ice pick, our guide demonstrates how to swing and embed it into the ice if we are to slip and start sliding down a steep section of the glacier. We step onto the ice and start our gradual ascent, taking in the remarkable surroundings. The interesting thing about Iceland in winter is that the sun is never very high in the sky. It is always low on the horizon. This creates amazing lighting for photography, as it rarely too bright even when facing the sun.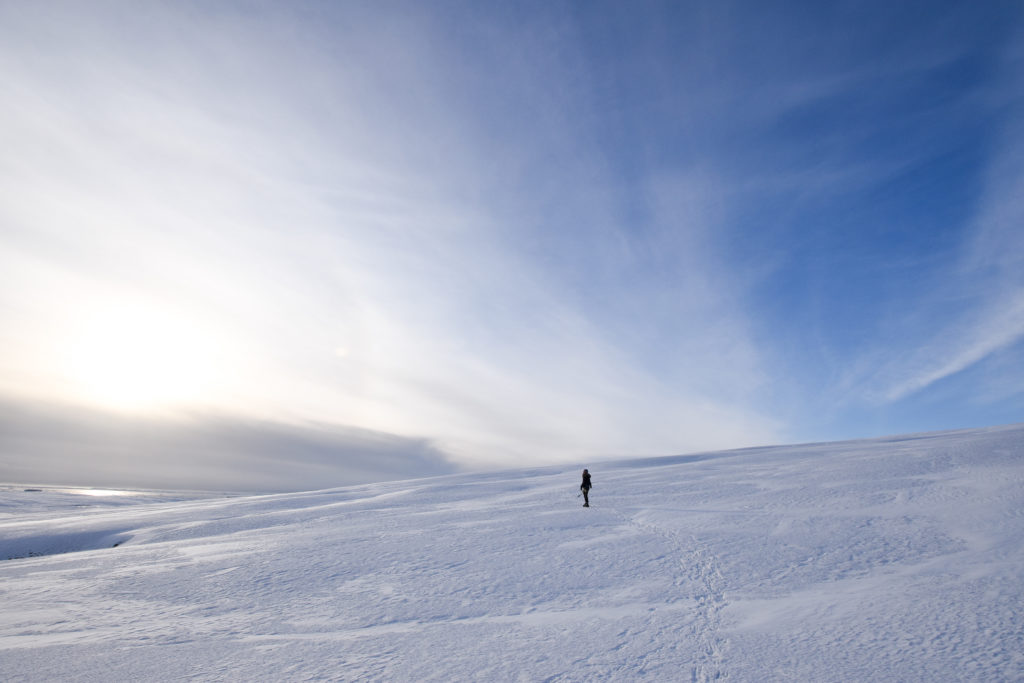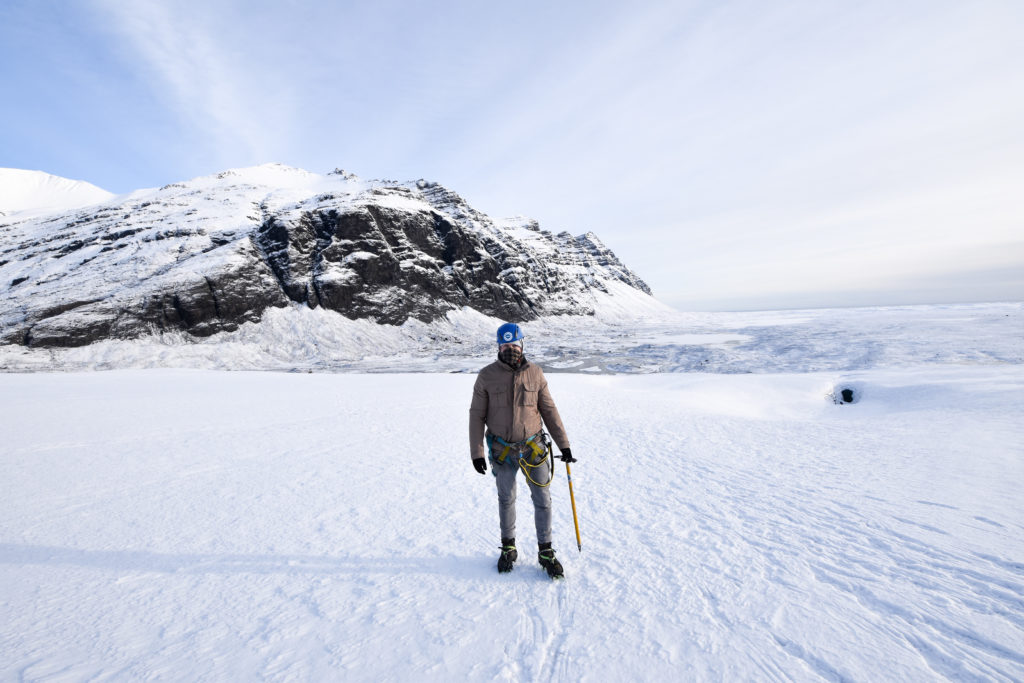 We notice a handful of other hikers in the distance. Apart from one short interaction with them, we have the glacier and ice caves all to ourselves. The excitement grows as we spot the entry to our first ice cave. They look like they've been carved into the ice with large machinery, but our guide explains how they form naturally as a result of melting ice. Sure that we will slip, we hesitate as we step into the cave's opening. Cautiously treading down a steep and narrow pathway, we are truly overwhelmed. I have never seen something so remarkable, so unbelievably blue. The ice seems to be the brightest blue when it is hidden from sunlight.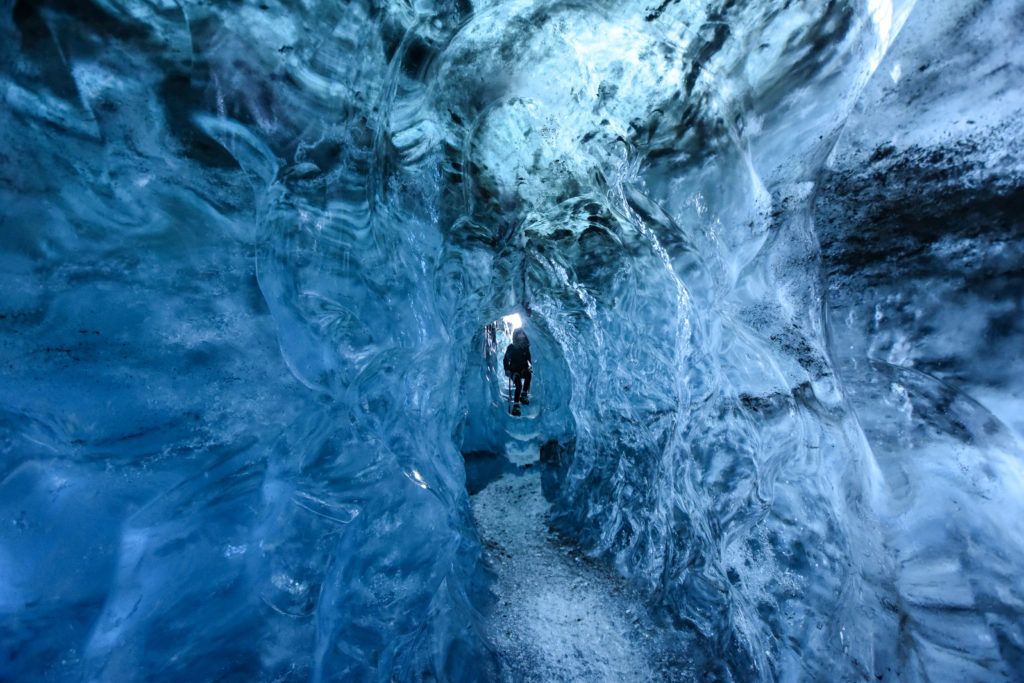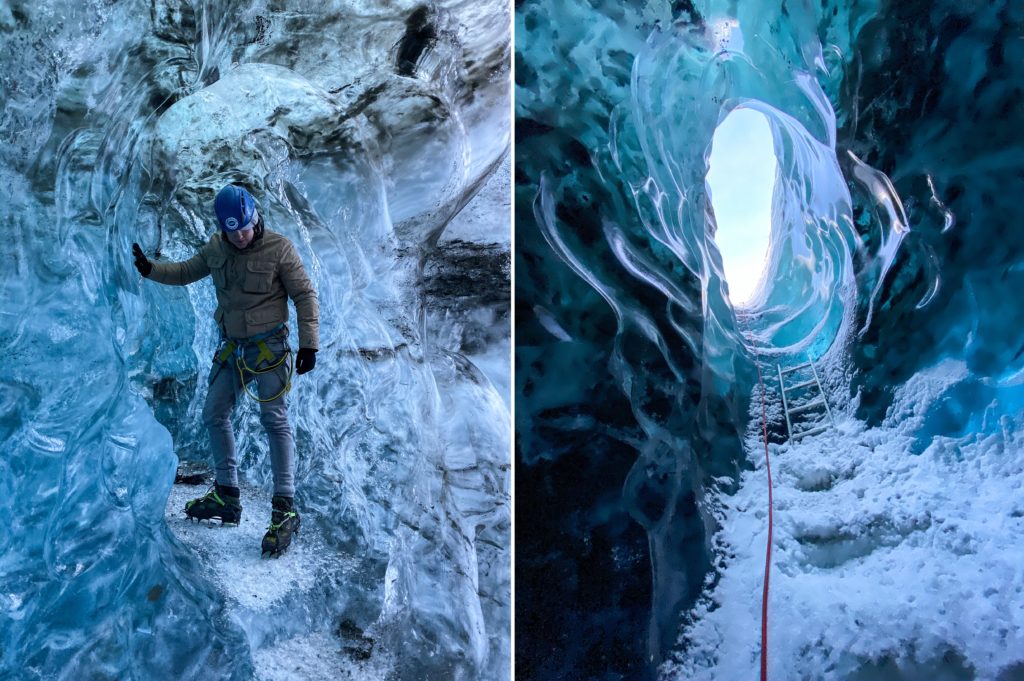 Crawling through a narrow section of the the icy blue labyrinth, we soon reach another opening and can't help feeling vulnerable as we glance slowly upward to the sky, completely closed in and surrounded by ice. Sand, dirt and tiny rocks can be seen within the ice. Slowly collected and frozen in time from when the glacier formed, thousands of years before us. The glacier was first observed by the human eye in around 900 AD when the first settlers arrived in Iceland. We continue through a winding valley of ice and eventually make our way back to the surface.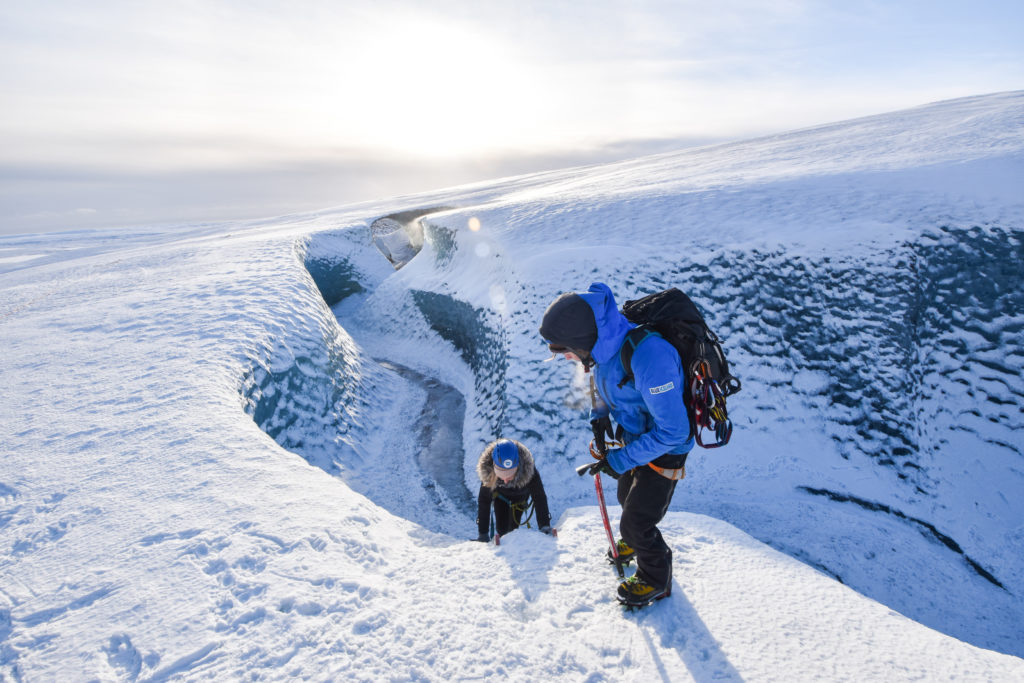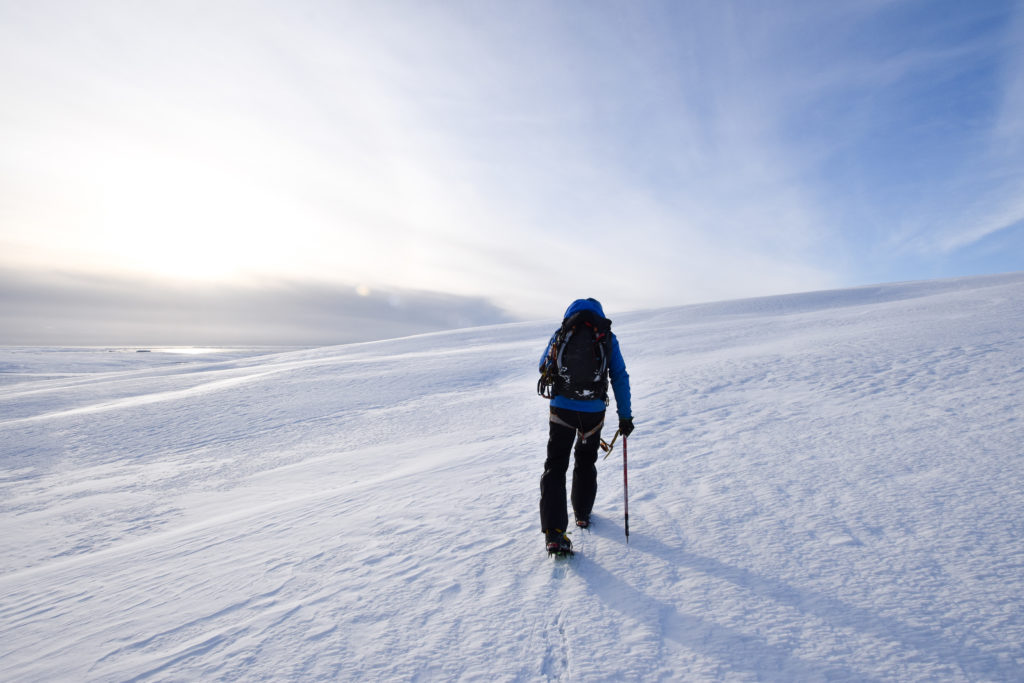 The expedition is now going to become more challenging. We trek further up the glacier until we reach a small valley that opens up to a narrow cavern which leads deeper into the glacier. Navigating our way through the heavily rutted and uneven ice path we arrive at a steep drop. Attaching our harness to a rope, one by one we conduct a slow backwards descent into the glacier. Funny, it is warmer down here between the ice than it is up in the sunlight.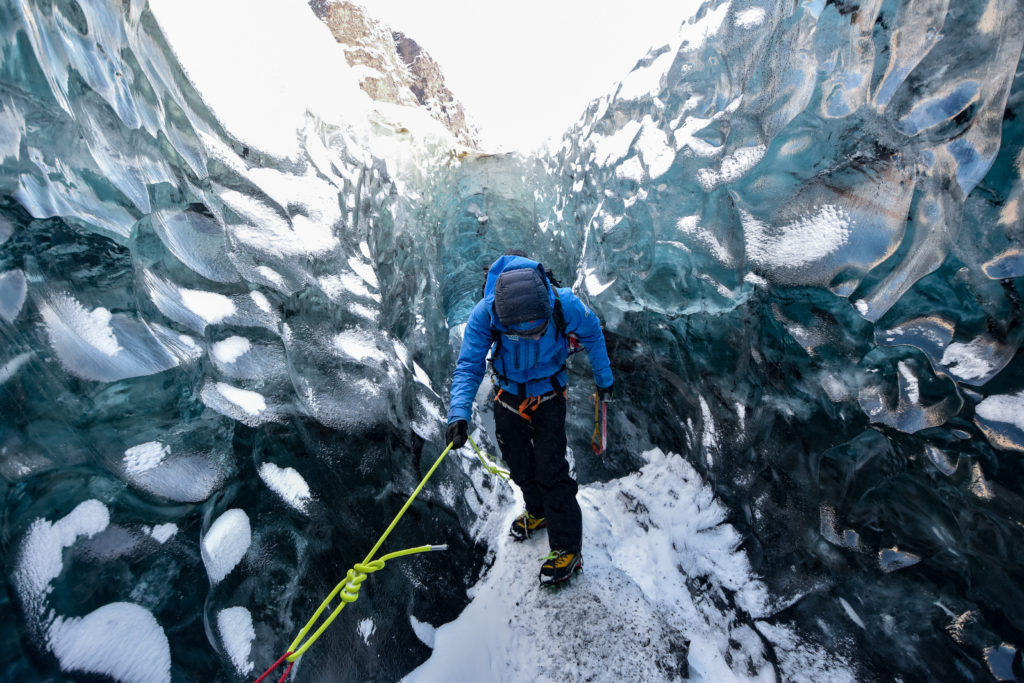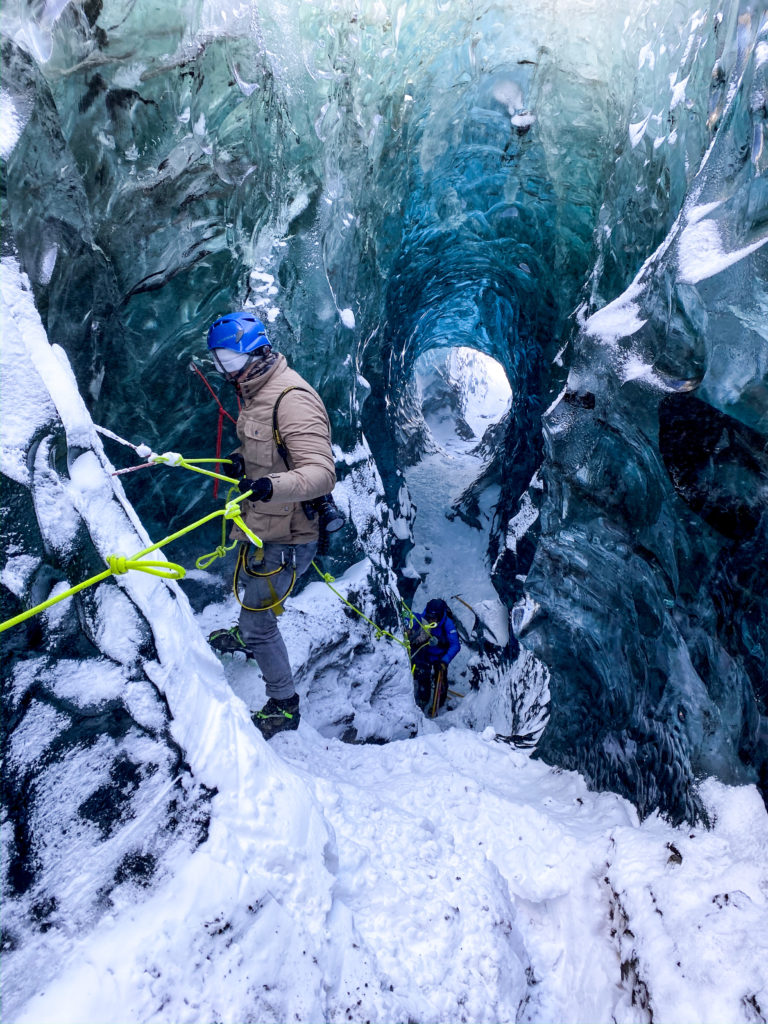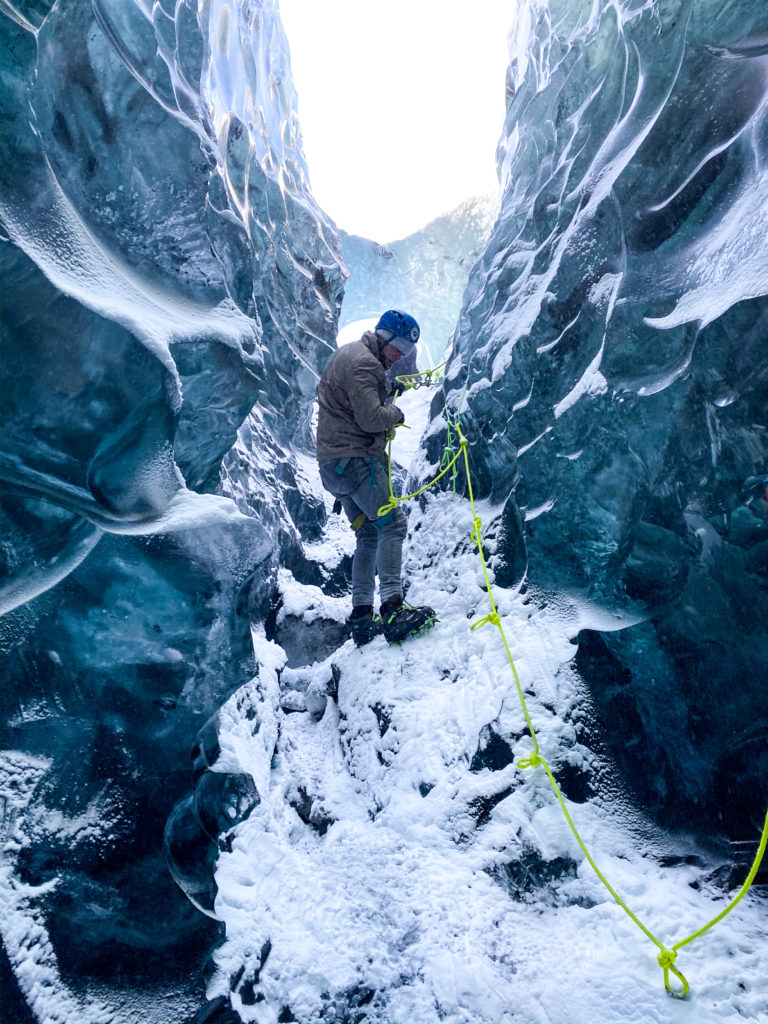 Our efforts were soon to be rewarded with what would be the highlight of our glacier exploration. At the bottom of our descent, we came upon the most remarkable cylindrical cavern. It lead down to another section of cave, where the ceiling had melted away exposing the sunlight. A flurry of snow blew in as we stood in silence admiring the large dimples covering the icy cave walls. We slowly made our way toward the opening, stunned by the beauty of the deep blue, glistening depths of a fast disappearing glacier.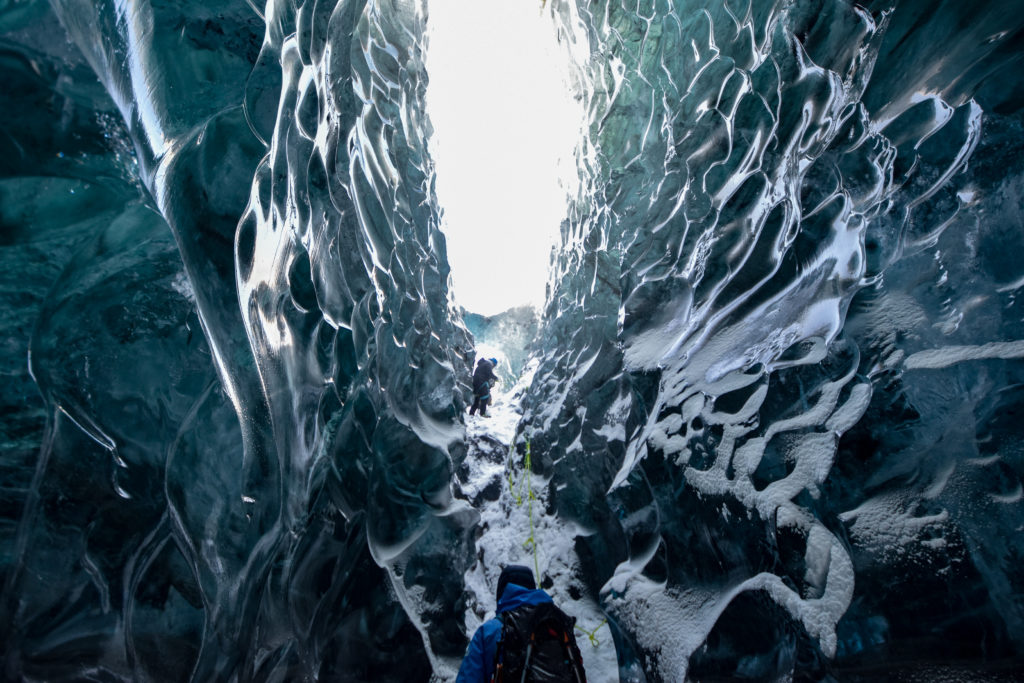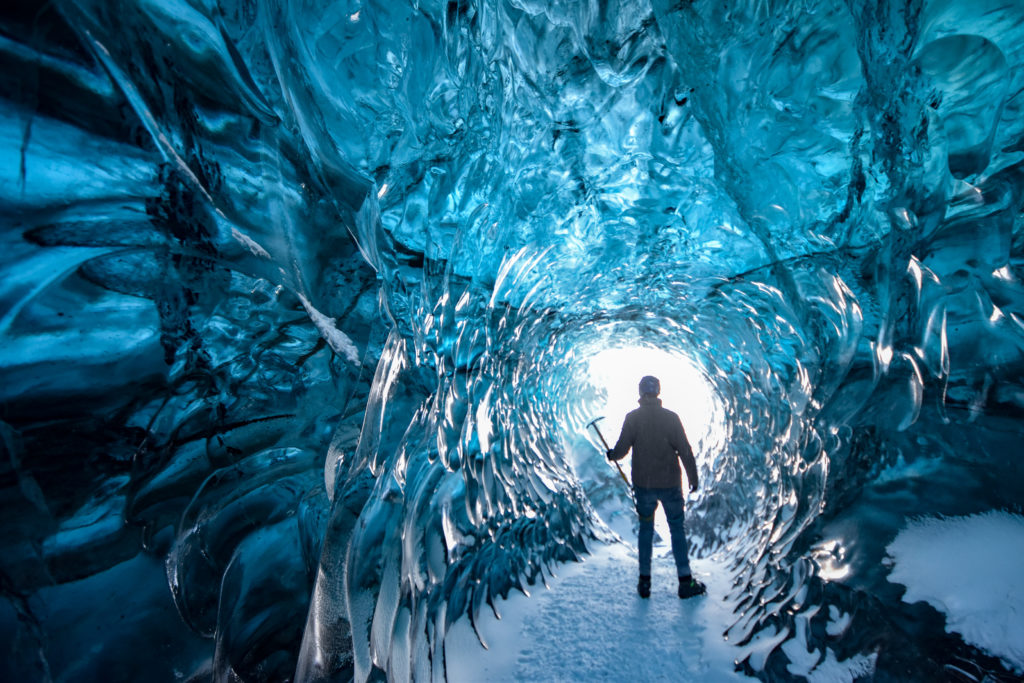 Continuing our slow descent back to ground level, we removed our crampons, harnesses and put down our ice picks. This next section reminded me why I had chosen a smaller, longer hike than the one I did the first time I was in Iceland. We walked along the face of the glacier to a large opening where large groups of tourists gathered around. Various tour groups were coming and going. Making our way through the opening, we soon had to bend quite low and then crawl. Following a stream under the glacier, and having to constantly stop for passing, crawling tourists, we eventually arrived at another large cavern. It was bustling with people form the various tour groups. Jostling for a position to take the same photos as their fellow tour group members.
Although it was still beautiful, it was very difficult to appreciate after having had ice caves to ourselves all day. We were in no hurry to stay and made our way back to the opening where we met our guide. As we walked back to our Land Rover I realised that these groups must belong to the small two hour hikes that I had undertaken on my first trip. An oncoming group passed us on the track and it consisted of a very enthusiastic and friendly fellow carrying an expensive camera and full length tripod. I knew they weren't going to the caves deep into the glacier that we had visited as they were not wearing any equipment. I felt sorry for him, as what he was soon to encounter in that small, crowded ice cave was surely to be a disappointment for him. There certainly wouldn't be any room for his tripod, not that he would be too tempted to use it with a dozen people spoiling his shot.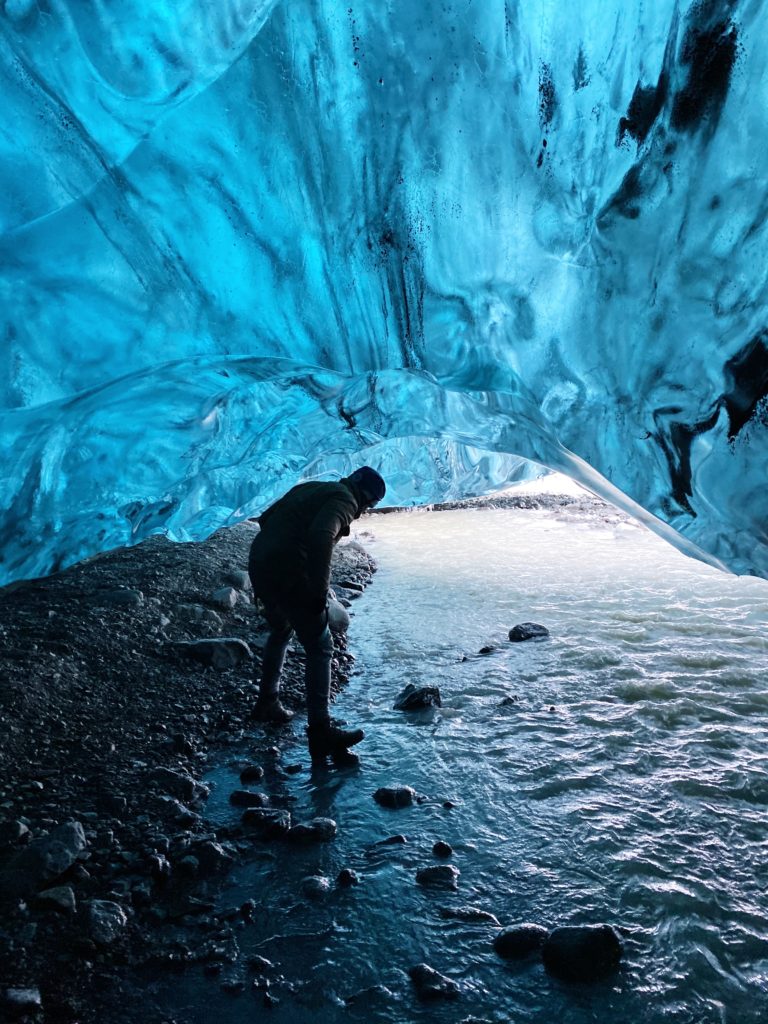 Driving back through the amazing scenery under a fading light we were fortunate enough to see some reindeer. They sure looked cold. We thanked our guide and decided to spend the last of the daylight at the beach near where the glacier lagoon flows out. As the glacier melts, chunks of ice break off which flow to the lagoon. As the tide goes out, these large chunks of ice wash out to sea. Returning as the tide comes in, they wash up on the beach where they slowly melt. This makes for an amazing sight.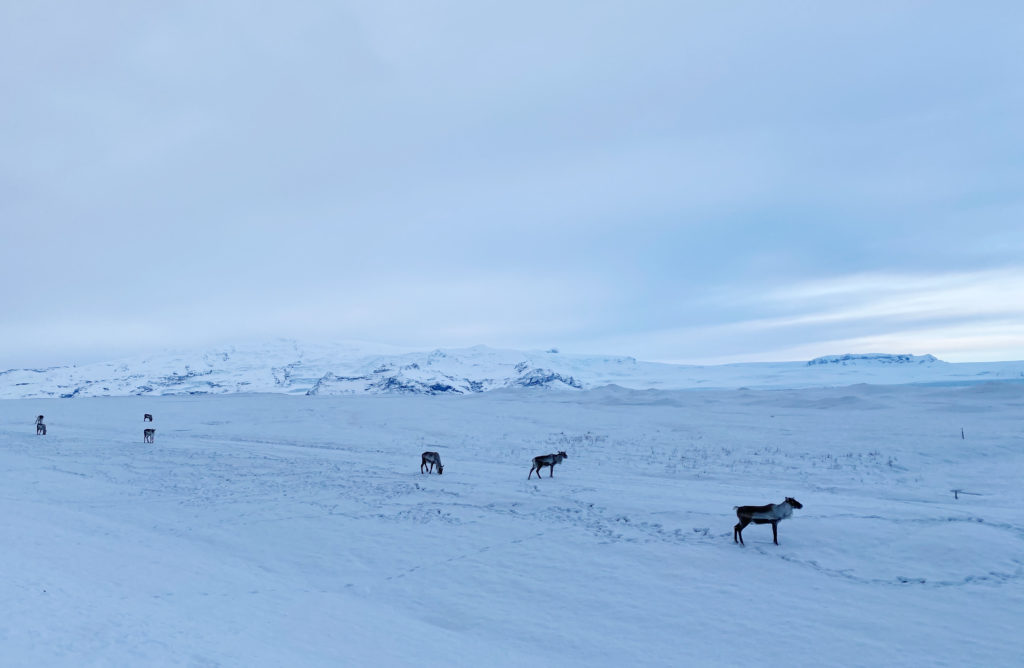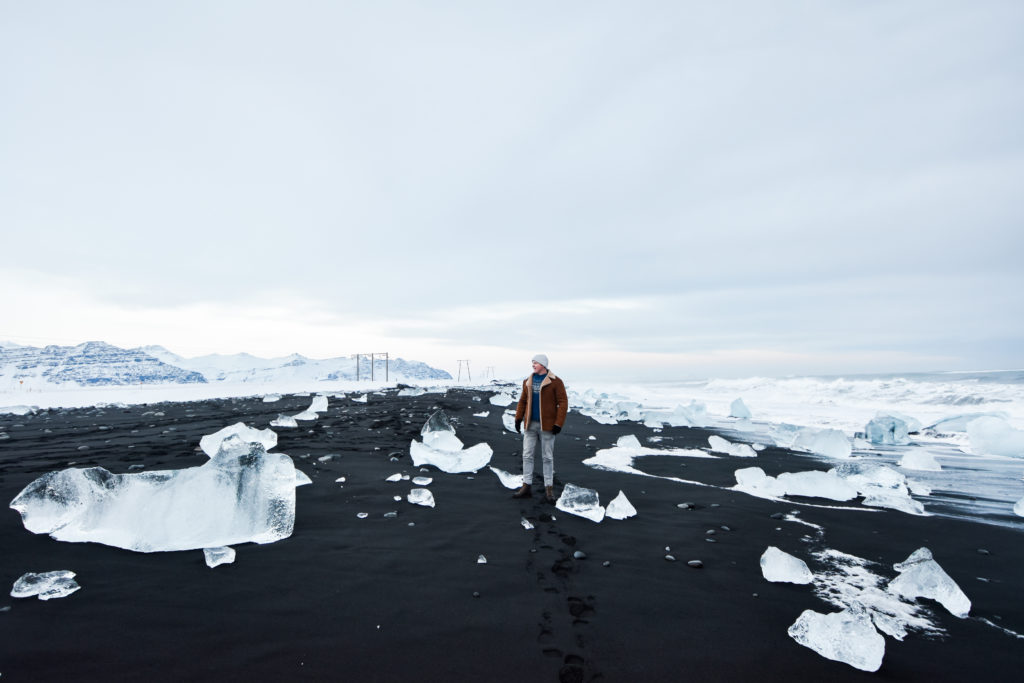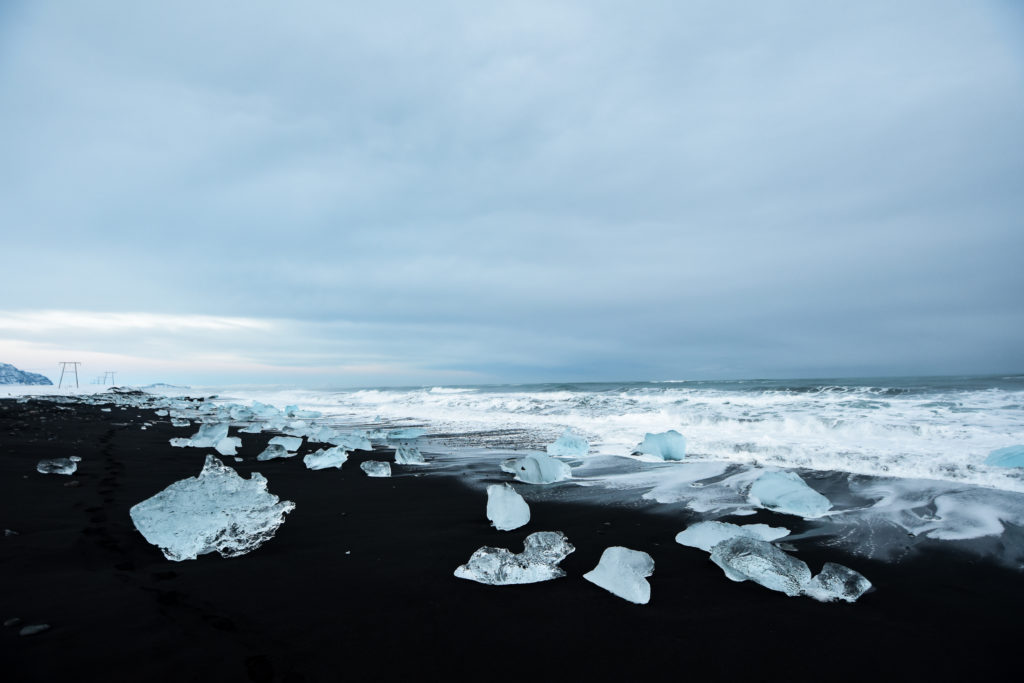 The light quickly fades as we commence the long drive back to Reykjavik. We soon grow tired and the five hour drive loses out to the opportunity to stay in Vik and visit the brewery again. I should have probably realised I wouldn't be up for a five hour drive after an epic glacier hike. It was doable but not so desirable. Returning to the same hotel, we check in and head straight back to the brewery for burgers and beers. The next day we drive straight to The Blue Lagoon where we spend three hours. The lagoon is very close to the airport. So it is a good idea to plan your visit either right after you arrive or before you leave. Oh, and don't forget, pay extra for a longer and more adventurous glacier hike. The short ones are crowded and are almost not worth it.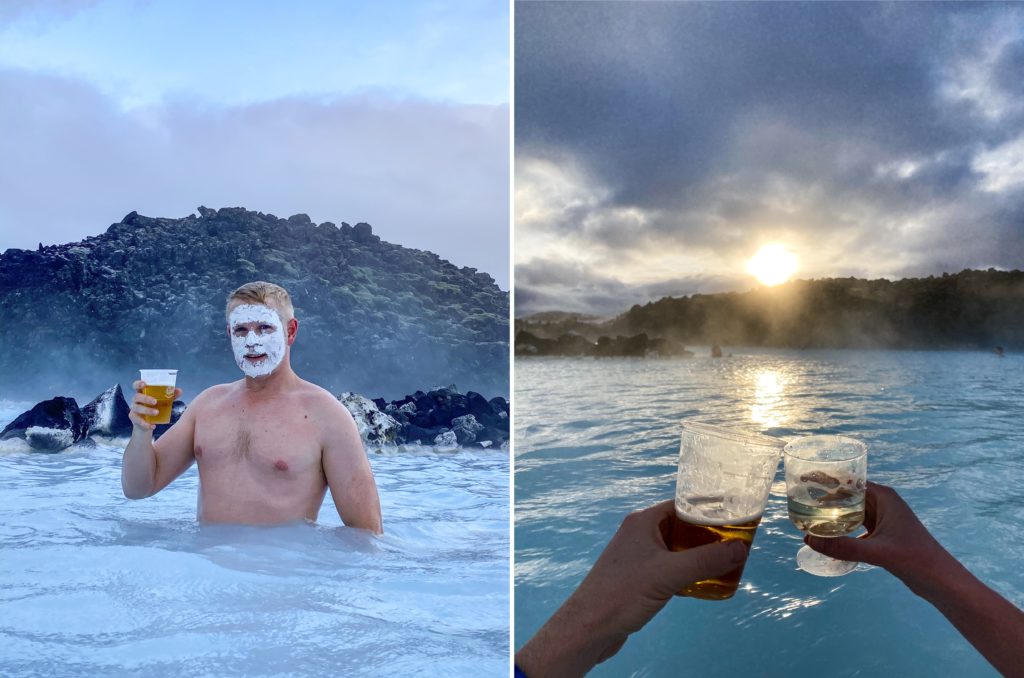 Comments
comments