The wind howled and ice blasted against my face. I was in need of shelter and a dark corner to spend a few moments while I planned my next move. I opened a steel door and entered a venue of an unknown theme, and straight away I could feel eyes glaring at me. I soon realised it was the boots that had drawn their attention, and surely nothing else. These boots had taken me where many men had failed, or where some simply hadn't dared to go. Someone began vomiting and a loud argument erupted, but that didn't stop me from ordering two shots of vodka from a silent bearded fellow. He had most likely never owned a pair of boots of such fine quality and robust construction. I made my way to a booth illuminated by a dim lamp with a cushioned bench arrangement.
The RM Williams Rigger Boots were hard to find, and it would be more accurate to say that they found you. They could not be seen on the shelves of any RM Williams store and were not even listed on the company's website. You had to approach the storeman with the right attitude and attire, and if you were successful then he might assist you in your search. If you were wearing a flat-brimmed cap of some description you would most likely be turned away. The boots were handcrafted and only made to order. They were the kind of boots that could start a war or allow a gentleman to achieve great financial success and prosperity when worn.
I had encountered mine by pure chance and chance alone. I had been at the Paddington Antique Centre which I had only discovered after becoming lost, but then realised that I was not lost at all. I was fortunate enough to see them hiding next to a bookshelf and partially hidden by a stack of books. Someone must have had them made to order and somehow ended up with the wrong size, probably their own fault I'm sure. I think someone must have been undecided on them as they appeared to have been deliberately hidden in an effort for one to buy time and arrive at a decision as to whether to purchase them or not.
They weren't in a box but were clearly as new and had never been worn. I walked out of there with not just a pair of boots but with a companion that could not disappoint. I can vouch for their quality, comfort and performance in a variety of climates and terrains. Depending on your gait the very back portion of the heel will wear away first. Wipe clean with a damp cloth before applying leather conditioner at least once a fortnight. Available in brown, black and chestnut. Extremely water resistant and in most men's sizes.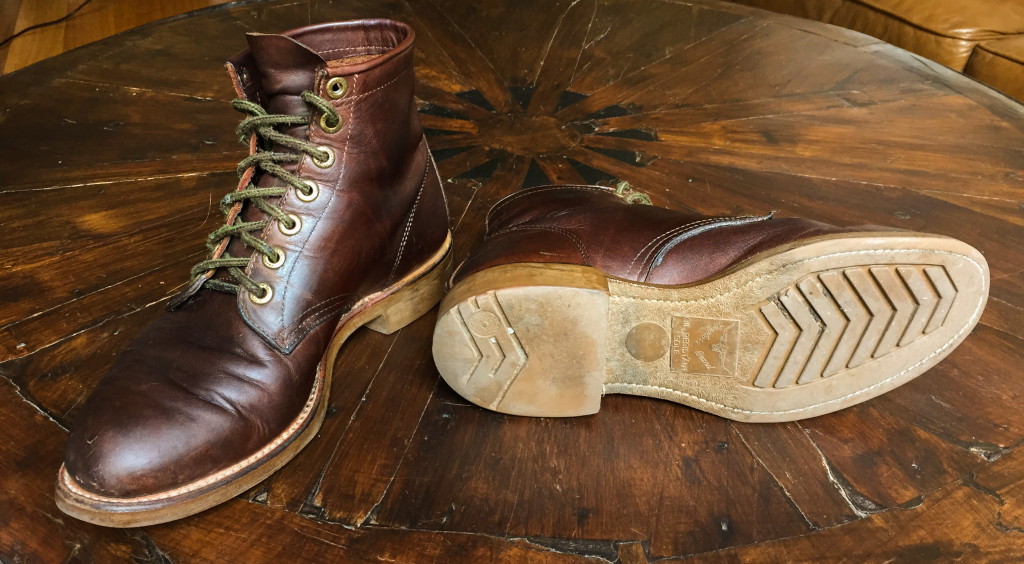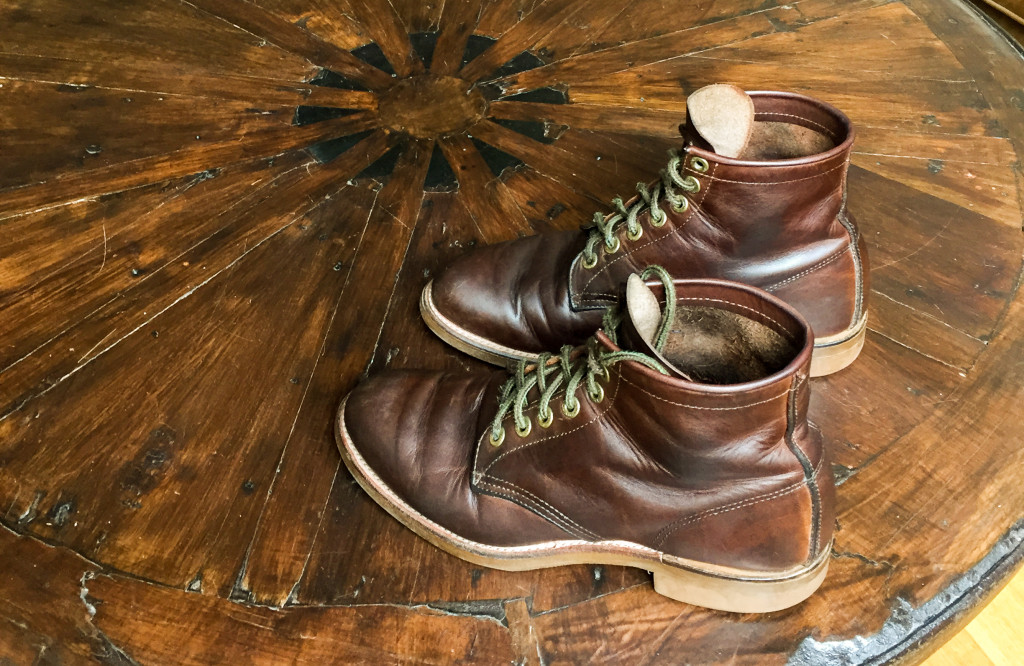 Comments
comments